NAOSHIMA ISLAND – ART, ARCHITECTURE, NATURE
For lovers of art and architecture, Naoshima is paradise and regarded as something of a pilgrimage, often the justification for their trip to Japan. Certainly, that was the case with TheEye's Magic Carpet group and a unanimous must-see for all of them. The buildings and most of the interiors were designed by the revered architect, Tadao Ando, and his emphasis on 'activating and inheriting' the beautiful landscape. Yes, it's all taken very seriously, after all this is Art Island.
Patience is a virtue and we are now on our way without the tiresome two trains and a ferry trip most travellers have to experience.
First, we check into our hotel, Benesse House, which is both a museum and a six-bedroom hotel.
The exhibits on display in our hotel/museum are mainly from the '70s and feature many artists from the original collection of Doris and Charles Saatchi, and a bit of a blast from the past for TheEye who worked for them in those far off days. It was a bit like meeting old friends after a long absence. One of the great benefits of staying in Benesse House is being able to explore the museum at night. We all agree it is magical.
Benesse House Museum
As always, when TheEye is in charge, no time-wasting is allowed. It is chop-chop and off to the Chichu Museum to see their fine collection of  Monets
TheEye has to come clean and admit although the museum is without question, stunning and the Monet paintings ravishing, there is an aura of intimidation which makes it quite a daunting experience.  It has the atmosphere of a  Swiss tuberculosis clinic. The mainly female staff wear white coats trailing behind visitors virtually treading on their heels to check the numerous ' rules'  are observed. No photography under any circumstances. Obviously no touching the artworks, no eating, drinking, no use of cell phones, no pens, bags or personal effects and any other instructions 'provided by the staff" which might possibly include no breathing.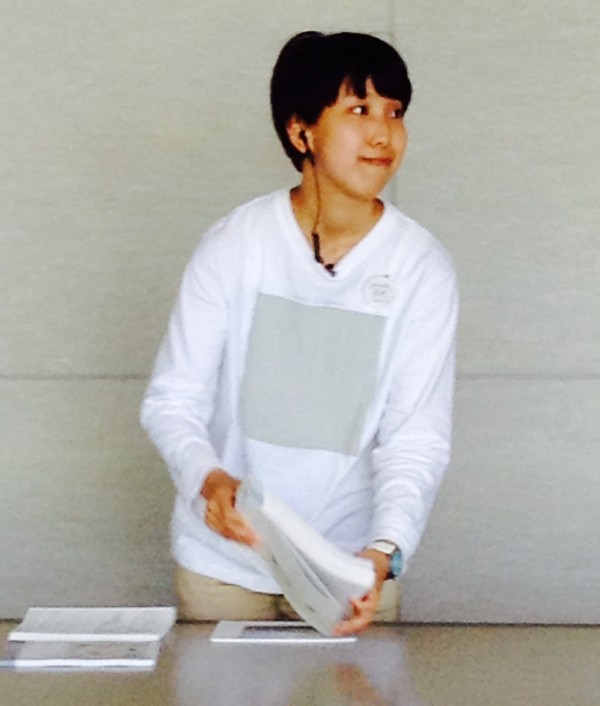 TheEye always regarded going to an art gallery as a pleasure. This was stressful even before entering the guarded gate to the entrance.  No photography from this point on including the exterior of the building.
There is a waterlily pond outside the museum which compliments the Monet paintings and…glory be on high…you are allowed to take photos of the pond!
The group were ecstatic. Proof they had been there.
The Oval is another of the Benesse House Hotels. Grouped around a central shallow pool over a rock surface which is open to the elements. The reflections are stunning, particularly at night, but the drawback is (and there always seems to be one) you can only get there by monorail for which only the residents have the key. There are elements of prison culture  – but be stoic, it's all in the name of art!
In the Honmura district of Naoshima, houses built over 4oo years ago have been restored and transformed by artists into works of art. It's fascinating and one of the highlights was Minamidera, named after a temple that once existed on the site and re-constructed by Tadao Ando into a 'light experience' by James Turrell. And it is indeed something of an experience. Visitors are led through a pitch-black corridor and stumble their way into another space of complete blackness where they wait for nearly 10 minutes until the light begins to emerge. Quite spooky and certainly surreal.
For TheEye the winner was The Art House Project, combining humour, wit and artistic creativity.
Hausha, once the home of a local dentist,  was turned into a wonderful fantasy home rather like 'the house that Jack built' by artist Shiro Otake.
It ticked all the boxes for TheEye. 
She would love to live in this crazy place herself.
After all the rushing it was time to leave Naoshima, having been culturally rejuvenated. We all agreed it is a great achievement, combining art, architecture, landscape and nature in perfect harmony. Even a dash of wit and irony.
So off we go and it's farewell to Japan. But where will TheEye be heading next? China, Vietnam, Burma or somewhere else?
Be patient and wait and see what adventures are next in store for you.