CHINA – DESIGNED, NOT MADE
2012: Unfolding Landscape
It is graduation time for art students in the UK and it brought back for TheEye her experience from 2012 in China with graduating students of Beijing's School of Design.
Not many people, including myself, knew much about art and design education in China but curating exhibitions of contemporary applied arts and design for 15 years at Sotheby's, I had encountered many Chinese students studying in the UK and had been impressed by their originality and forward-thinking 'can-do' approach.
So I wanted to see China's leading design college for myself with the intention of finding students whose work I could exhibit in London. I anticipated many hurdles, but I had already put on exhibitions with students from Eindhoven (Netherlands), Bezalel (Israel) and India and from a project with community crafts projects in Kwa Zulu Natal, South Africa.
China seemed both a great idea and a challenge.
Thanks to an introduction from Professor Paul Thompson, Rector of the Royal College of Art  I wrote to the Dean of the Design School at Beijing's Chinese Academy of Fine Arts (CAFA), Professor Wang Min. My timing couldn't have been better. The Professor had recently delivered a speech at a conference in Denver, Colorado, on a visit which had made him realise how little the design world knew about China and the role CAFA was playing in attracting the most talented and technically creative young artists from all over China.
So keen was Professor Wang to promote CAFA and the work of his graduating students that he made a trip to London specially to meet me. We found ourselves on common ground, and immediately declared a mutual interest in working together.
That is how UNFOLDING LANDSCAPE emerged.
A few weeks later I was winging my way to Beijing to select work for a selling exhibition at Sotheby's, in London. The problems of raising the money for transportation, insurance and a zillion other 'details' hadn't really sunk in. Neither did the pessimism of all the 'doubting Thomases' at home who had warned me that going on my own to China without an interpreter or a 'team' in tow was mad. And I would need to find sponsorship which wouldn't be easy. I brushed all that aside and believed, somewhat naively, that this could be a fantastic opportunity for an enlightened entrepreneur. After all, businesses all had their eyes set on opening up in China and I was sure they would be fighting to attach themselves to the emerging talent of Chinese design. If only life were so simple.
Fortunately, Professor Wang Min shared my optimism and enthusiasm. He felt it was well overdue for China to show its innovative rising creative stars – the next generation who would take the country forward in its fast-developing creative industries – to a worldwide audience, and the prestige of  Sotheby's in London who would be hosting the event certainly appealed to him. Whilst the work of CAFA graduates was regularly shown within China, it had never been shown, let alone promoted, internationally.
The prospect was both exciting and daunting. As the time of my departure for China became a reality, my confidence, I admit, was rapidly plummeting.
But the dice had been thrown and soon I found myself in Beijing on my first visit to China, alone, and more than a bit nervous.
My plan was to select work that reflected Chinese heritage, tradition, and sensibility – but with a contemporary aesthetic.
On my first day, feeling rather like Alice in Wonderland, I arrived at CAFA and found myself in the office of the Design School trying to explain who I was (in English) to a young man who only spoke Mandarin – talk about 'lost in translation'. I was close to tears of frustration when Ben Hughes came through the door. Ben, I discovered, was not only the academic head of Industrial Design at CAFA, but had come from Central St Martin's in London. No one at CAFA had informed him I was coming.
Combining Chinese heritage and modernity
Talk about a lucky break. Poor Ben. It might have been my stroke of great fortune, but it wasn't his. I grabbed him by the arm and said, 'what are you doing NOW' – I didn't wait for the answer and within minutes we were in a room with at least 10 heads of departments and a screen set up for a presentation of work. There were professors and department heads of ceramics, jewellery, furniture, photography, and much more…and few spoke any English.
Looking at hundreds of slides with a bad case of jet lag made it hard to keep alert and concentrate on what was clearly very interesting work in all the disciplines.
Although communicating was difficult, I instinctively knew that from the work I was seeing I could make a great exhibition which would prove what I already suspected: that Chinese students were smart, creative and added their own individual Chinese sensibilities to their designs and workmanship – a little like adding subtle seasoning to a dish. Professor Wang chose the title 'Unfolding Landscape' for the exhibition – a metaphor to convey the emerging landscape of contemporary Chinese design which, unlike Chinese contemporary art, had at that point been relatively unrecognised internationally.
Photography was particularly strong. Many students were inspired by the histories of their parents and grandparents and, seeing the rural villages, homes and schools where they had lived, were re-imagining and re-interpreting them through the lenses of their own imaginations and creativity fashioning fantasy worlds based on the stories which had been passed down in their families. The work was incredibly sensitive, truthful, insightful, and moving.
Thanks to talented and inspiring professors in the photography department of the Design School such as Wang Chuan, I found their best students pushing boundaries of diversity and experimentation creating novel work, often in a documentary style and sometimes also including fantasy styled tableaux.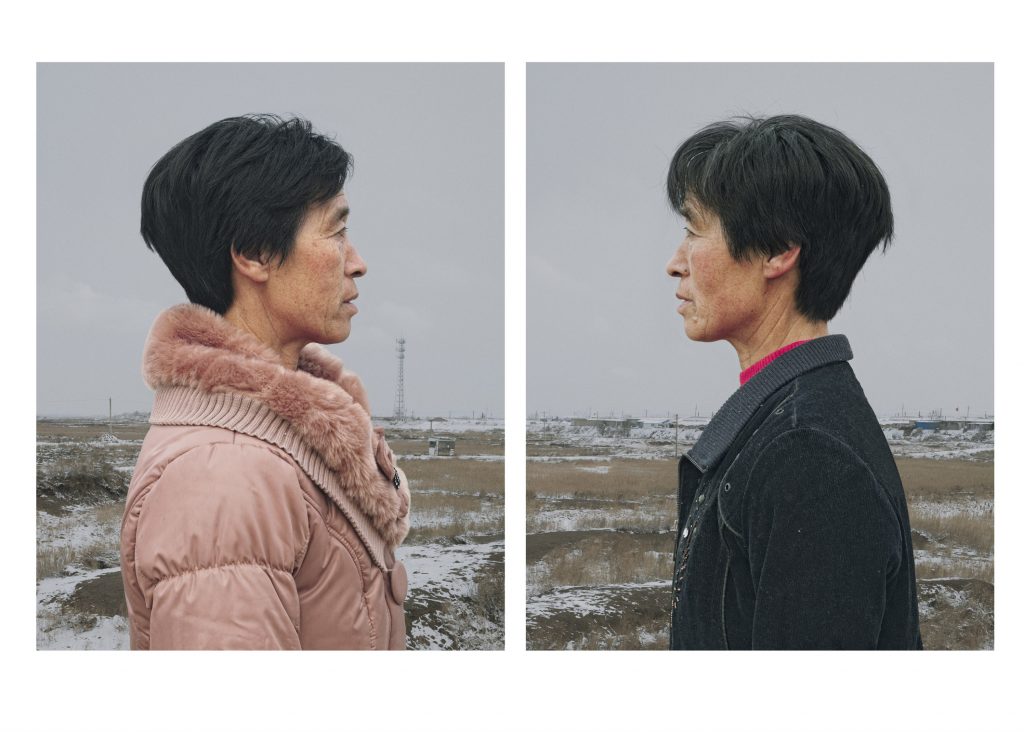 Across the board, it was fascinating to see the close relationship that the Chinese design students had with their history and culture in the experimental work I was looking at.
Professor Wang Min was clear in his mission: to re-focus the world's cliché perception of China from the long-familiar 'Made In China' label to a new 'Designed and Created in China' national brand image. He was determined to erase the then-prevailing notion abroad that China's skills lay virtually exclusively in mass-producing clever copies of clothes, accessories, cameras, watches, etc; and that its artists were cast in that mould with the best being highly skilled but having never produced anything original – or been able or have wanted to.
Professor Wang Min is currently Vice-Chair of CAFA'S Academic Committee.  He was recently named as one of China's 70 most important people in the design industry and has been the recipient of numerous other prestigious awards.
I returned to London determined to make sure this exhibition would happen and make its point. Miraculously, I managed to raise the sponsorship money. No, I wasn't selling The Big Issue. Another trip to Beijing coincided with Beijing Design Week, where I met Aric Chen (now the Director of Design Miami) and I also met the young designers whose work I had selected in the flesh. We had many relaxed meetings, chatting over tea and pastries and looking at slides of their work. What I loved were their curiosity and confidence and I made many friends.
The exhibition at Sotheby's in London was the important eye-opening showcase that I had planned from the outset. And it was a  great success. The Chinese Ambassador's wife came at the same time as the wife of the US Ambassador and the enthusiasm of both was evident.
Why can't politicians learn from the cultural internationalism of the art world?
Don't worry,  THE MAGIC CARPET IS RETURNING.
SOON.