FESTIVE NEW YORK
DAY 3: NEW YORK DELIS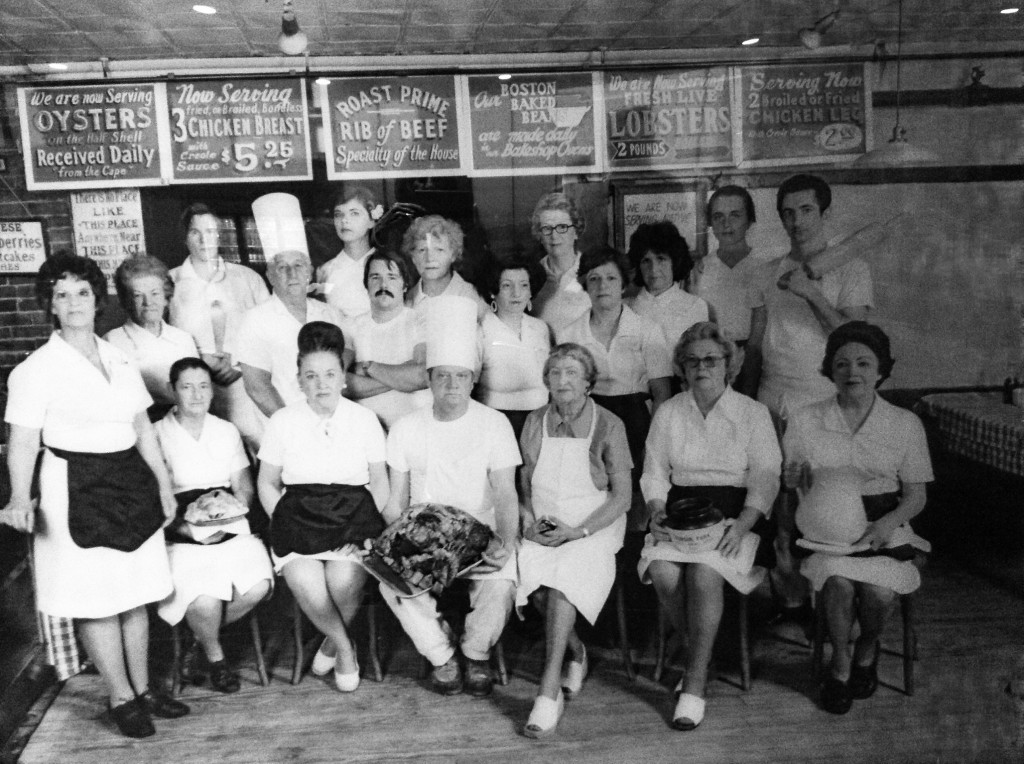 EATING  BADLY IS SUCH FUN.
New Yorkers are obsessed with food and equally obsessed with their weight. A friend complained no one tells  her any more how good she looks in whatever she is wearing, only how thin. The ultimate compliment. THE EYE would love to be a stick but it's not going to happen especially after eating in some uniquely New York delis that have been around forever.
Many aficionados claim Barney Greengrass on the Upper West side to be  the High Priest  of Delis, but being  a downtowner it's to the  Lower East Side THE EYE heads. Sadly no longer thronged with carts piled with assorted merchandise, and stores selling wholesale.  These days it's fashionable boutiques, vintage shops, tattoo parlours, cafes and restaurants. A few old timers still remain thank goodness.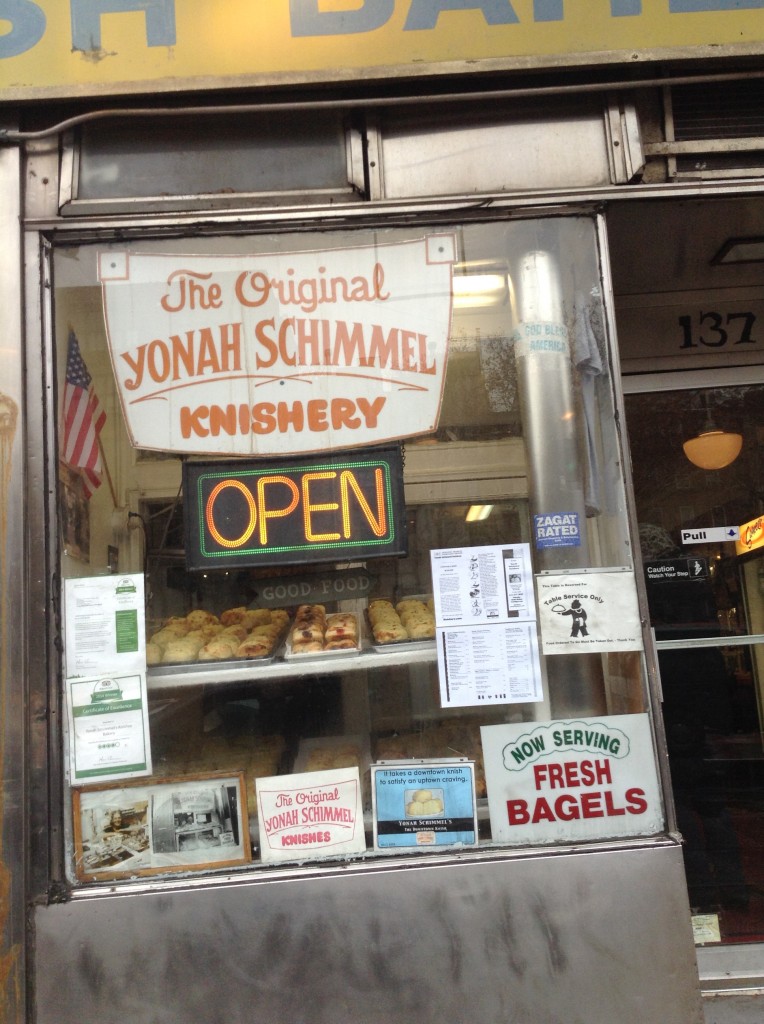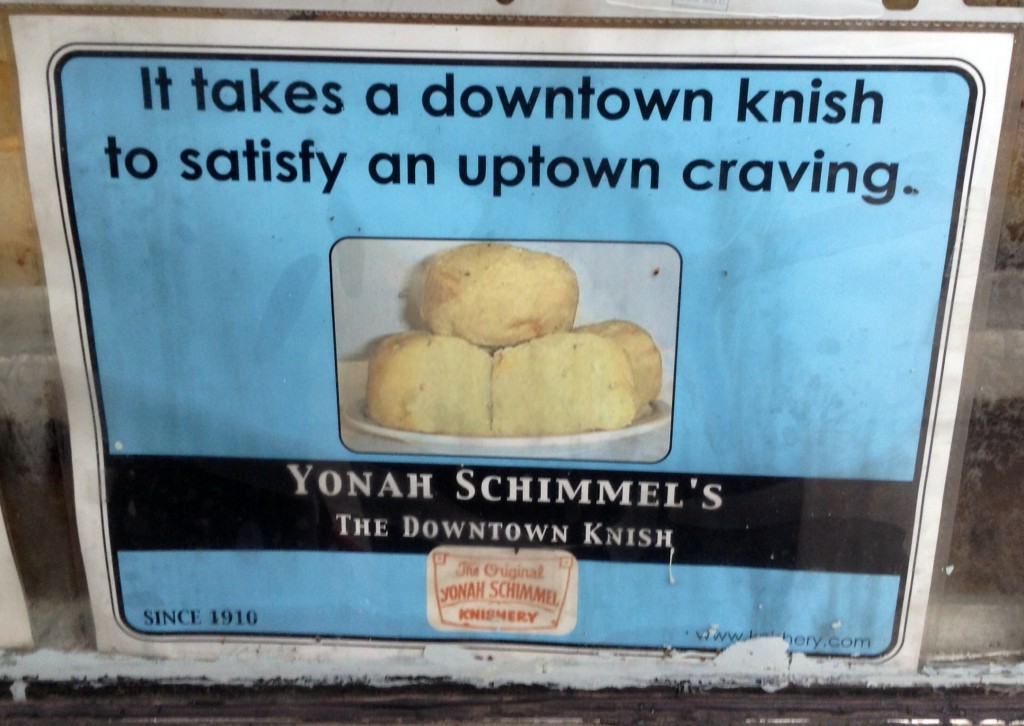 Brunch at Russ & Daughters on Orchard Street is foodie paradise. Even the terminally impatient EYE was happy (well, resigned) to a half hour wait (no reservations) to eat at the revered establishment's recently opened café. And well worth it. Loved the latkes, loved the tahini ice cream and pretty obviously the reason why 'sylph' is a pie in the sky dream for yours truly.
Russ & Daughters is a New York legend.  A documentary 'The Sturgeon Queens' was recently released telling its wonderful story. THE EYE has been a customer and devoted fan of their herrings, bagels,  smoked salmon lovingly sliced  by 'artists' so thinly it's almost transparent,  and other smoked fishy delicacies such as sturgeon and whitefish.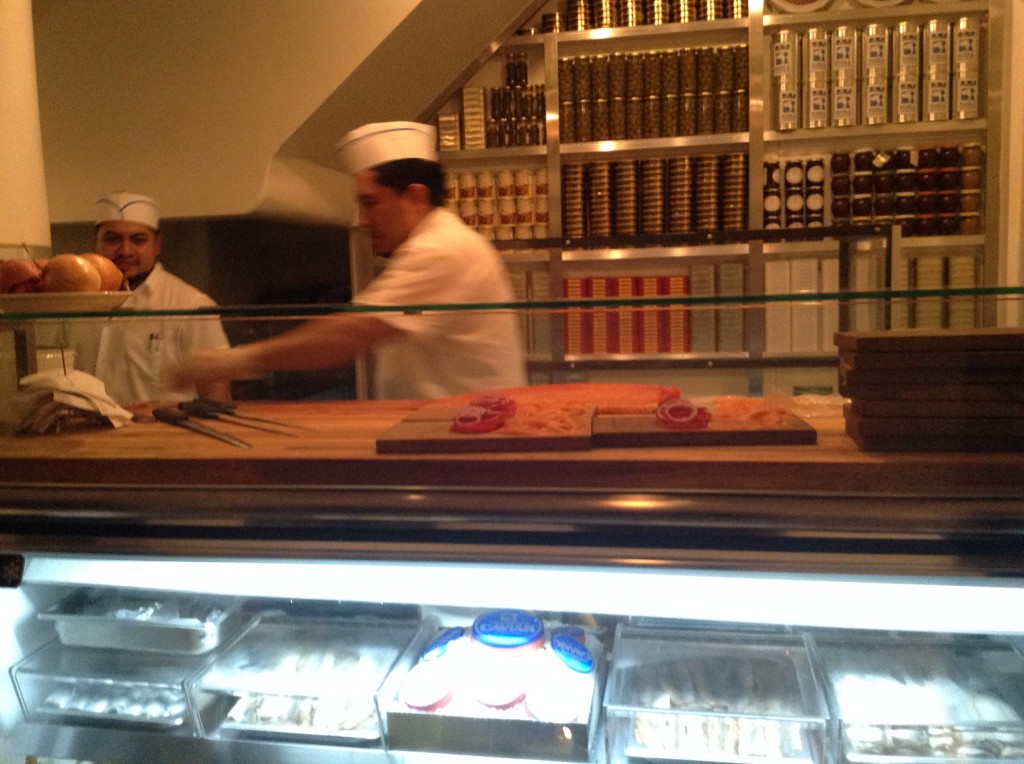 Round the corner in East Houston Street, Katz's Deli modestly claim, 'It would not have been possible for Katz's Delicatessen to survive 3 depressions, numerous recessions and two World Wars if we weren't THE BEST in New York City.'
A framed sign by the cash desk (cash only accepted) proudly reads, 'Send a salami to your boy in the army'.
But what really put Katz's on the map was the iconic scene in 'When Sally Met Harry' when Sally has the restaurant silenced by her 'orgasm' and an elderly female customer tells the waitress, 'I want what she has'.  One of cinemas  great comic moments.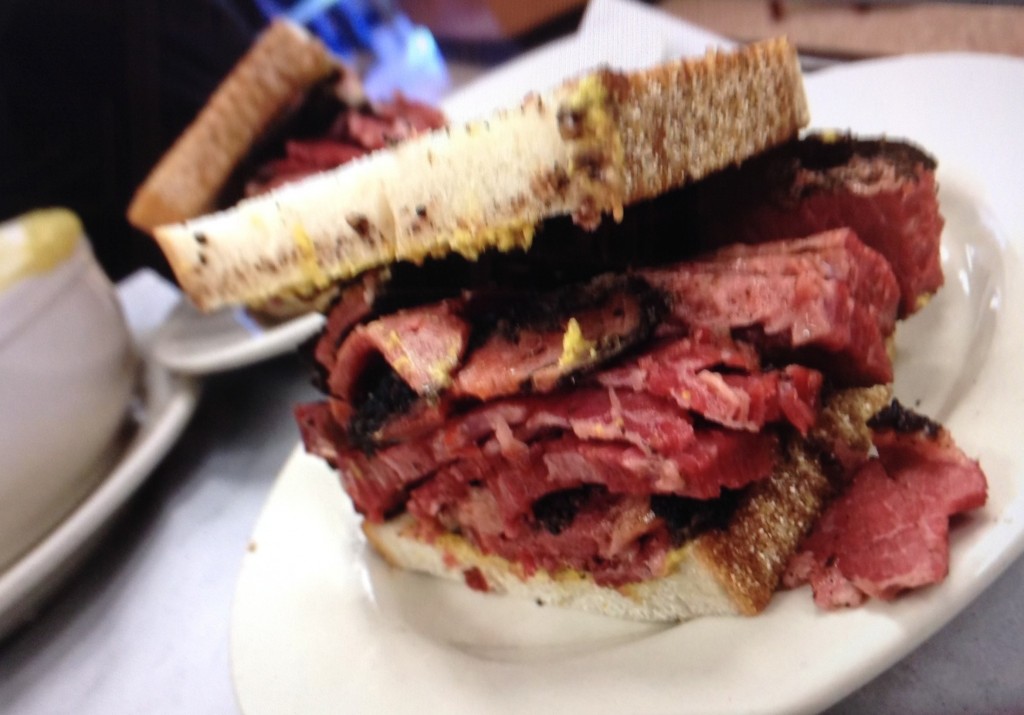 Sammy's Romanian off Delancey  Street makes no pretence at sophisticated, healthy cuisine. Pete Wells in the New York Times calls it 'The most wonderful, terrible restaurant in the world'; and THE EYE agrees with you, Pete. Sammy's has been dishing up ginormous platefuls  of chopped liver, brisket  and other artery cloggers to delighted diners since 1975. Customers flock from all over the world to indulge in culinary nostalgia. Much rowdy singing and impromptu dancing.  Strangers talk to strangers ending up friends. Portions are mammoth and pitchers of rendered chicken fat (known as shmaltz) -no olive oil in this establishment – for dousing over the already greasy cuisine sit on the tables. I dined there many years ago with friends, an experience I will not repeat.  The food did that for so long, I thought I was dying of indigestion. I would have to be dragged back bound, kicking and gagged. BUT it's all a matter of taste.
Quite a coincidence therefore to read a lengthy  article on the front page of last week's New York Times Food supplement extolling the virtues of 'schmaltz', regarded as the backbone of Eastern European Jewish cooking.
According to writer Melissa Clarke schmaltz is 'one of the most versatile and flavourful fats you can use.  Imagine', she says, 'the gentlest of butters infused with the taste of fried chicken, but with a fluffy lightness that melts in the mouth.  When properly made, schmaltz has a brawny, roasted character that comes from the bits of poultry skin that brown in the pan called 'gribenes' – the kosher version of pork scratchings!
All well, good and very delicious, but if ever there was a case for detox, a few meals in these establishments would make it a life or death necessity.