TheEye was conflicted whether or not to take her Magic Carpet group to China, given the health and other risks, and instead decided to re-visit an edited version of some of the highlights of a journey she and friends made in 2017. Something of an adventure lasting four weeks, covering over 8,000 miles and crisscrossing the country from Dunhuang at the Eastern end of the ancient Silk Road to Lijiang in the south close to the Tibet border. Eight flights, a seven-hour train journey, numerous long road trips and 12 hotels. How the world has changed since then and unlikely any of the places we visited would be possible or desirable in this 'new world'.
It made TheEye realize how spoilt she and her Magic Carpet group have been to avoid the hassle of airports, baggage and long tedious journeys. But it was fascinating, stimulating, interesting as well as strange, at times disturbing and very confusing.
We started in Beijing taking in the architecture, and seeing the sights from the sidecar of a nifty motorcycle. The best way to beat the horrendous city traffic, although our lungs must have suffered from the polluted air blowing in. This novel transportation means you can weave in and out of the traffic spotting things you might otherwise miss. A great and effective way to see all the 'sights' – Tiananmen Square, the Great Wall, The Forbidden City,  taking care to clutch on tight as we swerved around corners. TheEye could feel her stomach-churning. But the dilemma was: which buildings are original and what has been recently restored. It's hard to tell.  Many buildings were vandalised and destroyed in the Cultural Revolution and the new ones are accurate in every detail. A testimony to  Chinese craftsmanship and skills which takes us back to the point made by Professor Min Wang and 'Made (not designed) In China'.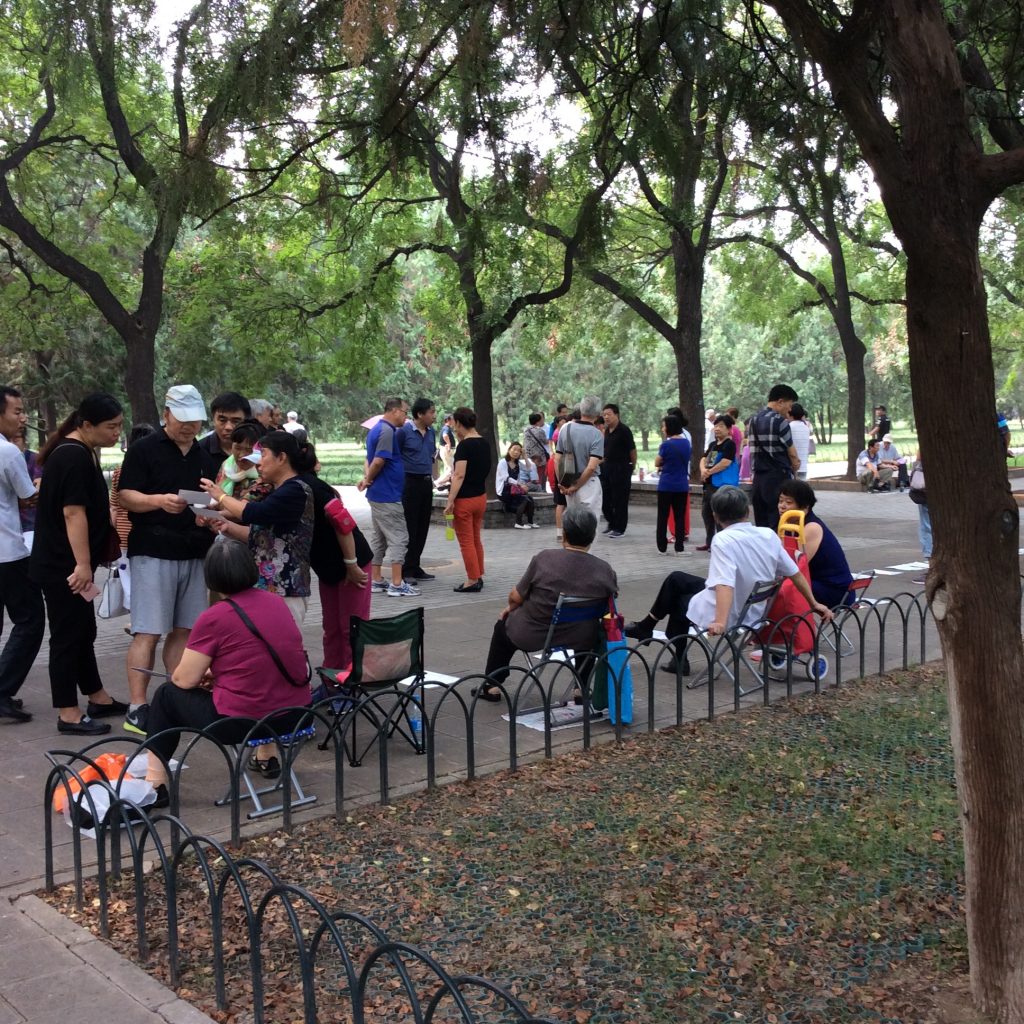 Matchmaker's Corner, where parents of unmarried sons and daughters go on Saturdays to (literally) matchmake their offspring with pictures and testimonials. TheEye was fascinated, but her snooping wasn't appreciated, and she and her group were quickly shooed away – a shame as she was interested to see what was 'on offer'.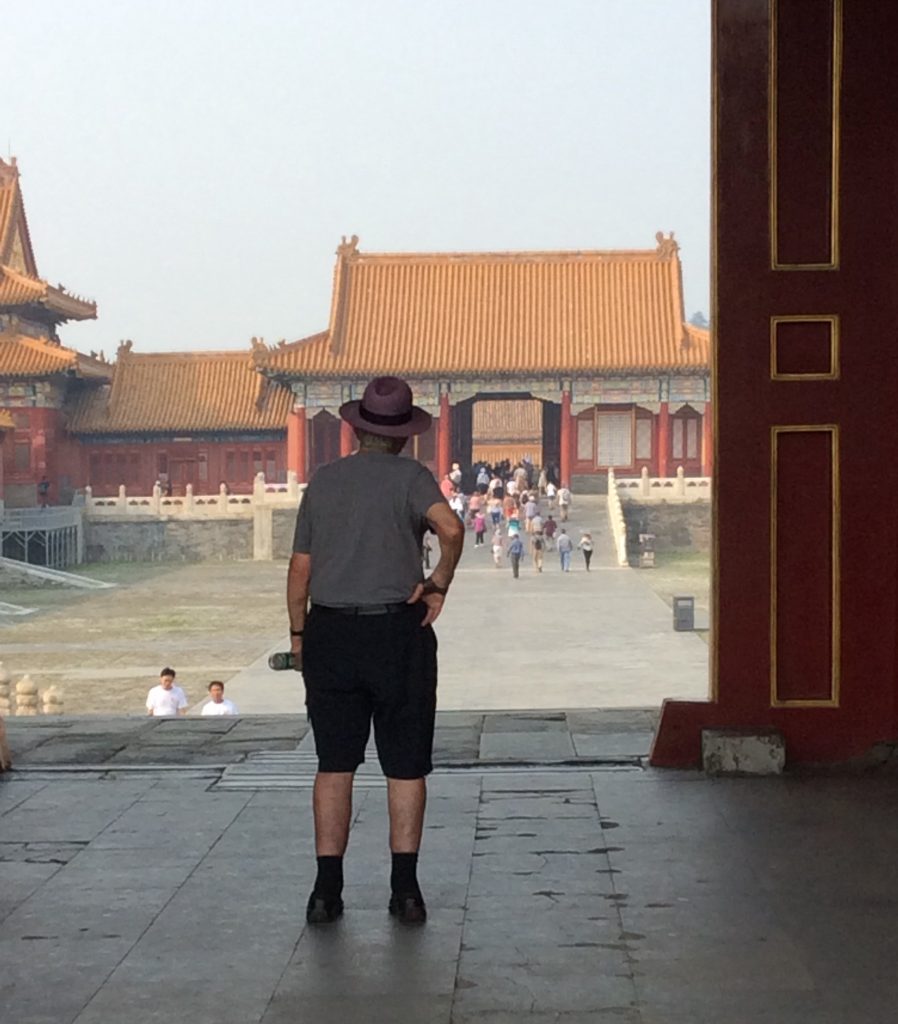 Watching people going about their daily lives – exercising, playing Mah Jong and other card games (Chinese are great gamblers, although it is officially illegal) was fascinating.
After our days of sightseeing in Beijing came to an end, the trip really started after a three and a half hour flight to Dunhuang, our first stop. The first challenge TheEye and her friends in Dunhuang had to confront was navigating the hotel breakfast buffet. The Chinese guests being far more experienced and buffet savvy were always ahead of the line piling their plates high with a rather eclectic international mix and match of food – dumplings with pancakes, eggs, bacon and maple syrup noisily slurped down using chopsticks.
Giant sand dunes on the edge of Dunhuang looking from a distance like a vast mountain range cover 800 square kilometres (roughly the size of Singapore).
Huge 'staircases' cut into the dunes  –  quite surreal and spectacular. It is almost impossible to walk in the sand and we had to be kitted out in high orange canvas boots to make it a little easier.
The next destination is Zhangye and the beautiful national park. A work of natural art and worth (almost, gasp, gasp) the trek up and the breathtaking views.
China has so much unexpected natural beauty.
Maybe the true highlight of our four weeks in China would be the Sunday livestock market in Kashgar, the Northwestern corner of China, about 100 km from the Kyrgyzstan border.
It has been in existence for 2000 years and you feel as if a time capsule has taken you back into Biblical times. Yaks, camels, cows, sheep and goats are brought in to be sold and surrounding areas filled with food stands and kiosks selling agricultural gear.
The men wearing their Sunday best clothes haggling vigorously.
Definitely not for the squeamish or vegetarians.
From the slaughter to the pot – lots of fatty meat swimming in…well, fatty liquid. There were many happy diners tucking in with relish.
It had been a long, exhilarating day. An eye-opener and probably somewhere none of us will have the opportunity to visit again.
One of the advantages of doing this travel blog is reliving many experiences and memories. TheEye will pause and continue the next stage of the journey in the picturesque old city of Lijiang, close to the Tibet border, the terrifying Tiger Leaping Gorge, a family-run embroidery centre and some wonderful food.
She looks forward to taking you there once she has recovered her energy.
Travelling takes it out of you!!