China: The trip continues
Leaving the historic Sunday cattle market, we headed to the centre of the ancient city of Kashgar. A city that seemed to have lost its historic character, nor become (like so many Chinese cities) another seething modern metropolis. There was a strange atmosphere of tension in the streets with roadblocks and a persistent sound of sirens. All rather depressing and we had little desire to linger any longer than necessary.
China is a country of extreme contradictions: super modern in many ways with advanced infrastructure – brilliant high-speed train networks, roads, bridges and turbines, high rise buildings and so on. Construction of new highways seem to happen in days, but there are numerous anomalies, toilets being one trivial example. Once you leave the big cities of Beijing and Shanghai, public loos are archaic and it's almost impossible to find a western toilet with a seat, toilet paper and other sanitary accoutrements. We're talking about recently built service stations, restaurants and, believe it or not, even some hotels.
A tip – take your own tissues and hand sanitisers.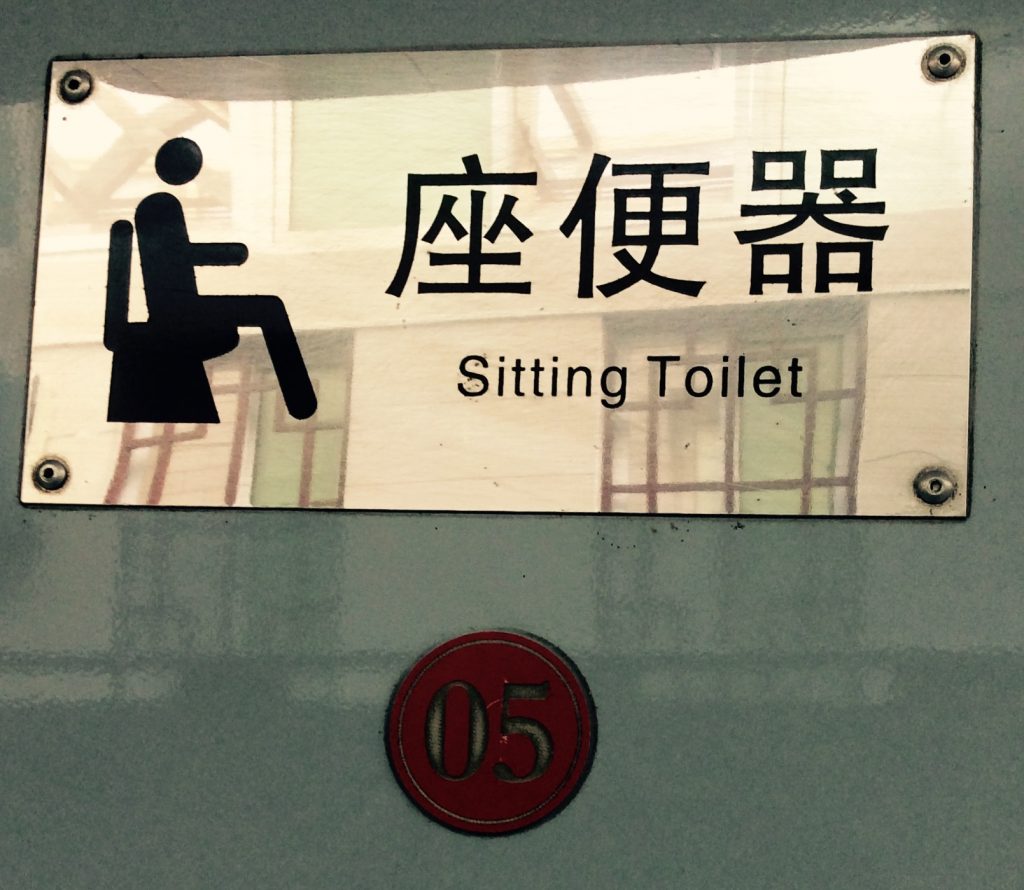 Travelling on, we arrived in the picturesque old city of Lijiang close to the Tibet border. The altitude is high and the air fresh, clean and unpolluted. The area is verdant and the fields full of flowers, fruit trees, corn and rice paddies. So different to the sandy dry desert area we had come from.
The highlight was a visit to The Leaping Tiger Gorge. Having visited a few waterfalls in her time, TheEye was planning to take her swimming gear and take a dip.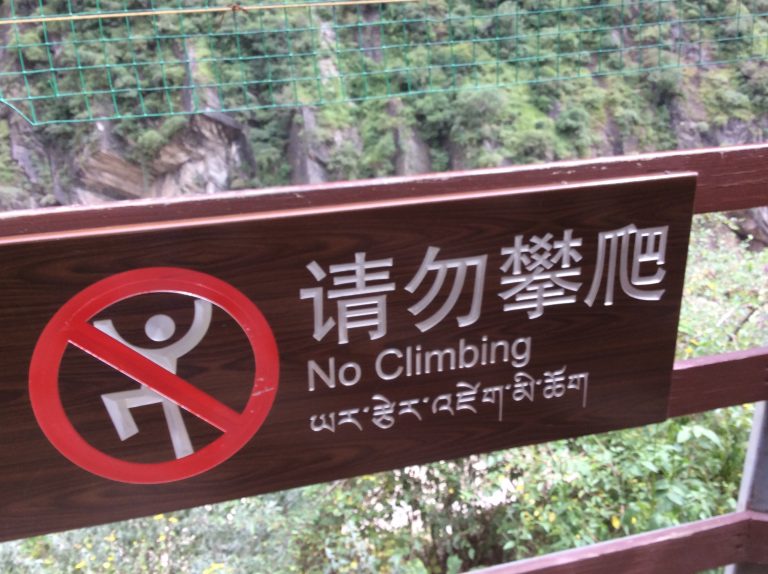 Some hope…after an exhausting walk down hundreds of precarious, steep narrow slippery stairs with the sound of the river thrashing below, was an alarming experience.
You hang on to the rail for dear life because one slip and you might end up literally washed away. There are rickshaw 'boys' who charge to carry people up and down the narrow stairs, but only one of our group chose this option and even he ended up walking much of the way back when he saw his 'driver' looking weary.
Once we had recovered from the excitement of the Leaping Tiger Gorge, it was time for a more relaxing experience, and we had heard much about the Lijiang daily food market.
It certainly didn't disappoint. As well as the usual produce – fruit, vegetables, meat, fish and dry goods, there are many strange, rather evil-looking roots and fungi used as ingredients for medical purposes for which the Chinese are so experienced.
Dried snakes, frogs and gruesome intestines of different unpleasant varieties, in jars we are accustomed to putting jam or pickles in, also eggs, some fermented for months.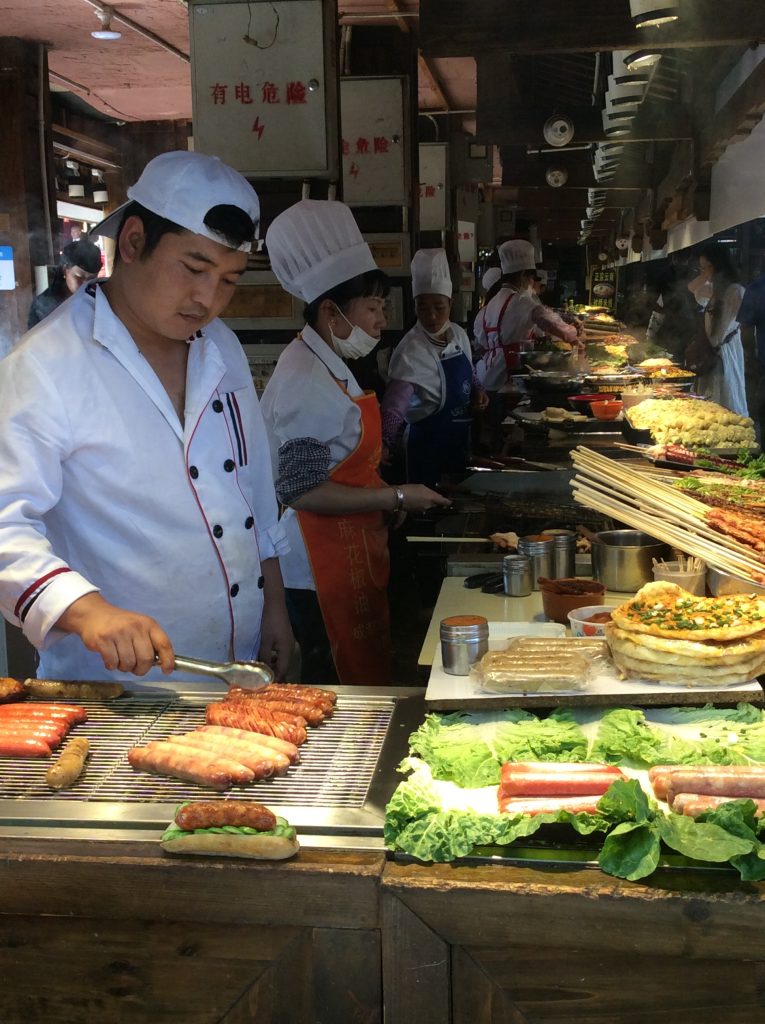 Cooking stands in the market – spotlessly clean and the food DELICIOUS. Spoilt for choice. Adjoining the market is a separate area, similar to Covent Garden with a lively atmosphere, packed with shops, boutiques and cafes, swarming with fashionable, savvy young people.
We made gluttons of ourselves at supper going from stall to stall in the open-air cafe area.  You order, pay and wait for your food to be freshly made. Spotlessly clean, utterly delicious.
TheEye was keen to visit the Baisha Embroidery Centre in a rural hamlet outside of Lijiang where three or four young members of one family work together. We really had low expectations when we walked into the studio to see the girls – sisters and cousins, probably in their early twenties, doing intricate machine and hand embroidery. Most of the work consisted of copying pictures they find on the internet, or in magazines  – either popular iconic Impressionist paintings – Van Gogh's Sunflowers being 'top of the pops', along with The Mona Lisa and rather corny Western Old Master paintings of the Laughing Cavalier school but TheEye admired their skill and didn't give up. She discovered her bonanza tucked away in a quiet corner of a back room. Hanging on a wall were a  few stunning hand-embroidered double-sided contemporary 'drawings' in fine black thread. They were quite unique and so different from the other very commercial work.
Could TheEye resist? Of course not and bought a beautiful figurative embroidery which the lovely gifted artist proudly removed from its frame, rolled up and was safely carried home.
A very happy memory of China.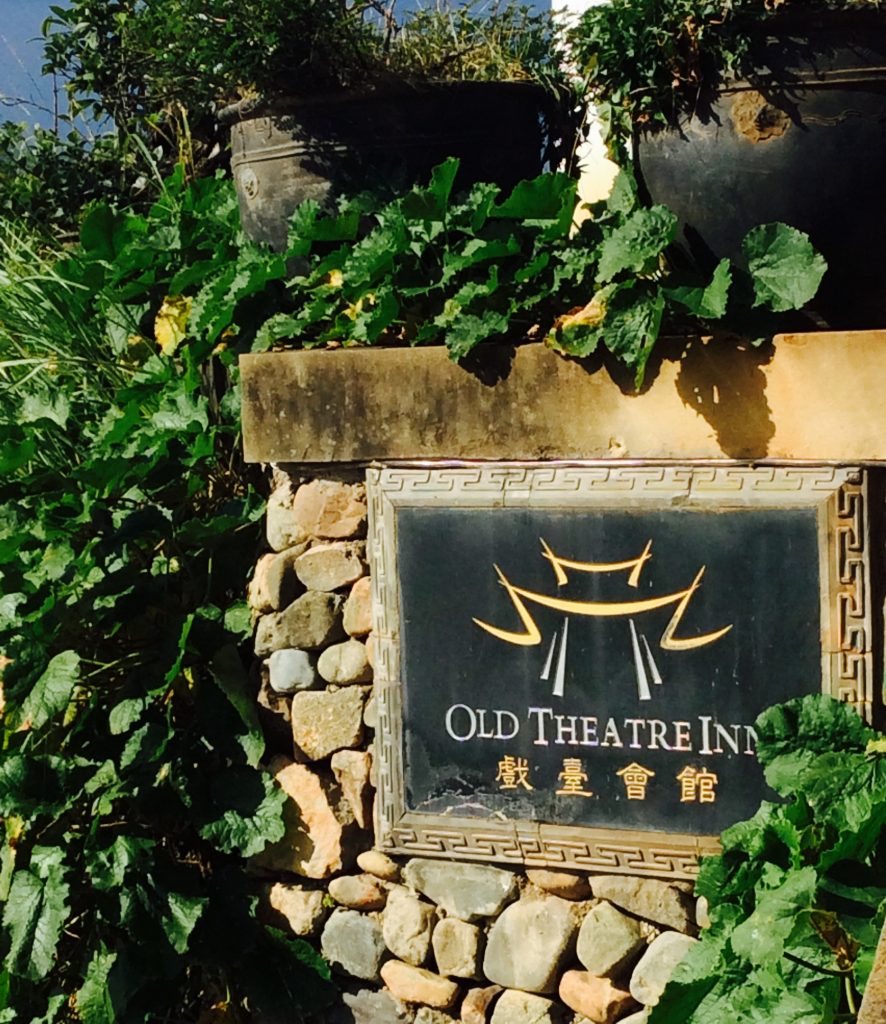 Another couple of hours drive through the lush countryside, to Shaxi, a small rural town popular with Chinese holidaymakers, students, and backpackers.  And no wonder why. It was a tonic to be in the middle of nature and the simple lifestyle. Beautiful flowers are grown commercially, likewise vegetables and fruit.
We stayed at The Old Theatre Inn where music and dance are still performed (the original stage and theatre sill exist).
All very picture-postcard. And next morning we climbed a steep narrow path to the top of a high hill crowned with a complex of caves containing rock carvings on Buddhist and secular themes. Finding a shady spot under a tree on our way down, we ate our picnic. So tranquil and peaceful. A little corner of paradise.
A snapshot of China we never imagined existed.
Could this be the same country as the one we are now hearing and reading about with politicians waging wars of words?
To quote President Xi Jinping: 'Don't Worry we (China)  have only one gear, and it's forward'.
And that alas has been a much-edited version of our trip to  China: a country with so much to offer and in many ways, admire.