CHRISTMAS AND CHANUKAH COME BUT ONCE EACH YEAR
AND WHEN THEY DO THEY BRING GOOD CHEER.
THE EYE loves happy festivities especially when presents and food play leading roles. 
Hanukah and Christmas usually overlap and THE EYE celebrates both with equal enthusiasm.
Hanukah, known as the festival of lights, commemorates the miracle of the re-dedication of the Temple in Jerusalem following the successful revolt of Judas Maccabeus against the Greeks.  A small supply of lamp oil barely sufficient for a day lasted for eight and Menorahs, the ceremonial lamp, are lit for each of the eight celebratory days. Parties, presents, and best of all, traditional latkes are eaten. Watching chef  Yotam Ottolenghi (THE EYE is a great fan) preparing latkes on The Food Programme a couple of weeks ago, THE EYE persuaded him to make them as a 'special' item to sell alongside their mince pies and Christmas cakes. And they did. Absolutely delicious, served warm with apple sauce, or as an appetiser with smoked salmon and sour cream. Ottolenghi's version has an added 'twist' with the inclusion of parsnip as well as potato to give a touch of sweetness.
Nothing beats Christmas. Staying at home after years of de-camping abroad with all the stress of packing – not just clothes but presents too – is a joy and a relief. Being able to see some of the numerous Christmas shows, which have very short runs, is also a new pleasure. THE EYE has seen some wonderful productions ranging from the tear jerking Snowman at the Peacock Theatre, an annual children's treat which cannot fail to melt the hardest adult heart and certainly melted mine to The Mad Hatter's Tea Party in the Linbury Studio at the ROH. ZooNation Dance Company's , manic, hip hop, version of Alice in Wonderland  is set in an old-style mental institution.  Sounds 'mad'? Totally, but so enjoyable. Brilliant break dancing, music and terrific singers belting it out had the audience dancing, clapping and whooping with enthusiasm.
Then there was MEOW MEOW – (real name, Melissa Maden Gray), an Australian cabaret artiste, and the spiritual offspring of  the unforgettable Sally Bowles immortalised by Liza Minelli and also reminiscent of  a young Bette Midler. Totally hilarious, completely outrageous and she has a great voice. Fresh, funny, raunchy  and  immensely talented, described by one reviewer as 'Michael Barrymore in fishnets'.  I laughed until I almost  cried and so did most of the audience. What a great start to Christmas!  Unmissible and delighted I didn't (miss it).
The Christmas Eve Festival of Nine Lessons and Carols broadcast live from King's College Cambridge is on Radio 4  on Christmas Eve is listened to by more than 30 million people all over the world.   We never miss,  but was amazed to read in an interview with the choir's director, Stephen Cleobury, that the boy soloist who starts the concert singing Once in Royal David's City unaccompanied  as the choir process into the college chapel  is not informed until a mere few seconds beforehand.  According to Cleobury 'there's an elaborate system of red lights. At a certain point the light starts flashing which tells me the announcer is saying they are crossing live to King's College Chapel I know I have 10 seconds.  At that point I beckon a boy forward and he will know what to do. The organist gives the first three notes of Once in Royal David's City just before we go live.' Quite a strategy for making sure all the boys are totally prepared in case they are the 'one beckoned'.
THE EYE takes Christmas cooking very seriously and it's always an agonising choice – goose or turkey? Oh decisions, decisions….painful decisions…..
The only fair way is alternating each year and this year it's 'turkey's turn'. Without wanting to boast or sound competitive about her culinary prowess, THE EYE would like to throw down the gauntlet and challenge Nigella to a blind turkey tasting.   Whilst the Domestic Goddess advocates a brine bath for her bird, THE EYE has found roasting hers wrapped in fine cheesecloth muslin produces perfection of succulence and golden crispness.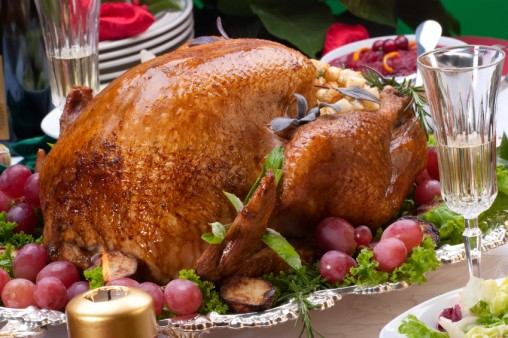 It was with great amusement that I unearthed a very old handwritten recipe a friend had given me a long, long time ago, given to her by a friend of her mother from a very fancy cookery course. She called the recipe  $millionaire's stuffing. Talk about vintage?SOME  of the endless list of ingredients included huge amounts of butter, eggs, chestnut puree, sour cream, double cream,  brandy, sherry, wine, chicken liver, redcurrant jelly, marrow roasted  from the bone and finished off with truffles soaked in yet more brandy. YUK.The preparation instructions went on for pages.  Did anyone ever make it, I wonder?  Sounds revolting.
Now the big event is a short countdown away and the packing of presents, tipping and shopping are (almost) completed, it's time to relax and enjoy. One final and most important thing….
Without sounding sanctimonious, it's also the time to put a generous cheque in the post to Crisis at Christmas , the charity that helps those who will be facing misery and loneliness whilst I am overindulging in a feast of  happiness with family and friends.