BERLIN ISN'T A CITY, IT'S A WAY OF LIFE
Berlin produces emotional reactions – many that are conflicting for THE EYE.
It has endured so much in its chequered history and now vibrates with energy and creativity but the destructive, tragic, past maintains a visible, dignified, dominant presence in the city.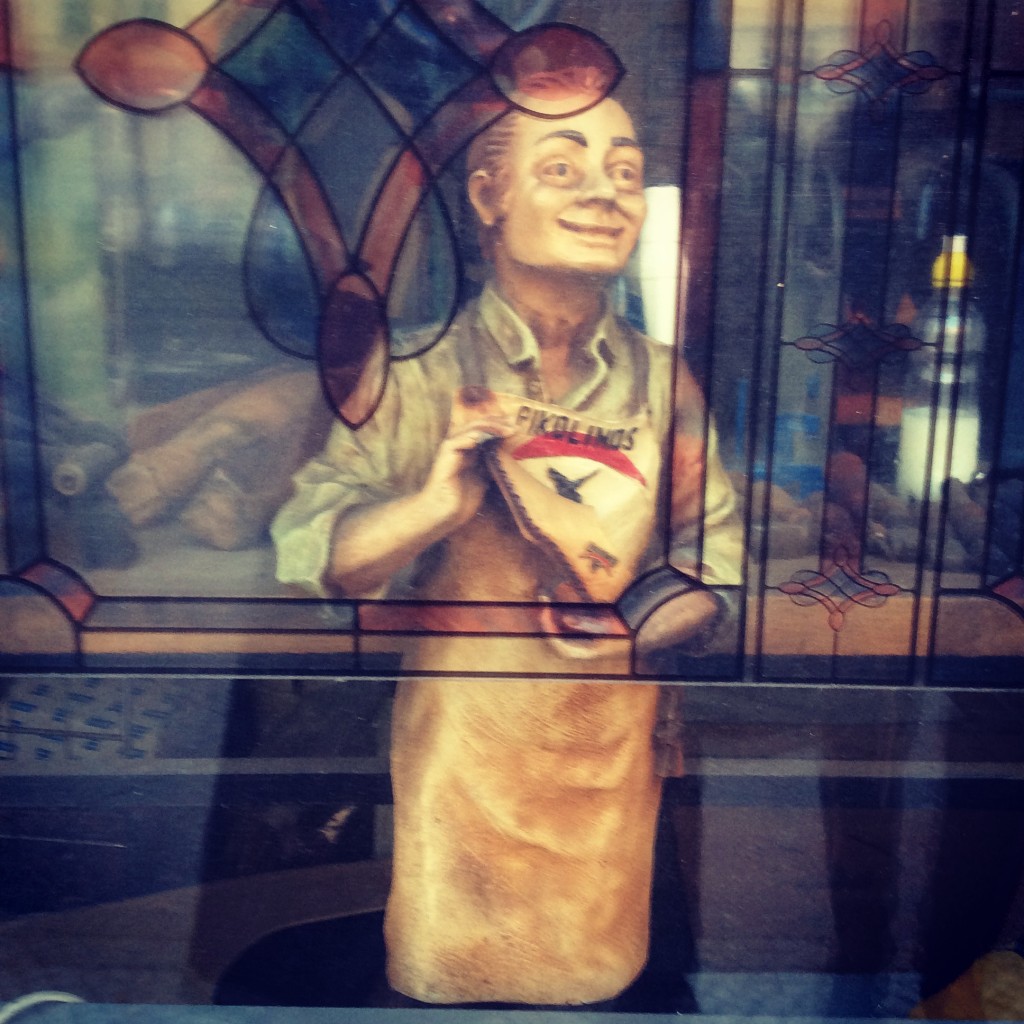 THE EYE and friends started with a wander to acclimatise – great stores and a visit to the famous Winter Market in The Gendarmenplatz. After a restorative mug of gluhwein we battled our way through hordes of happy people guzzling raclette, grilled sausages and typical, seasonal (high on the calorie scale) German fare. Plenty of live entertainment including a 'human Christmas Tree' and an amateur operatic group dressed in Vaudeville costume singing and performing their hearts out with much audience participation.
A GREAT START!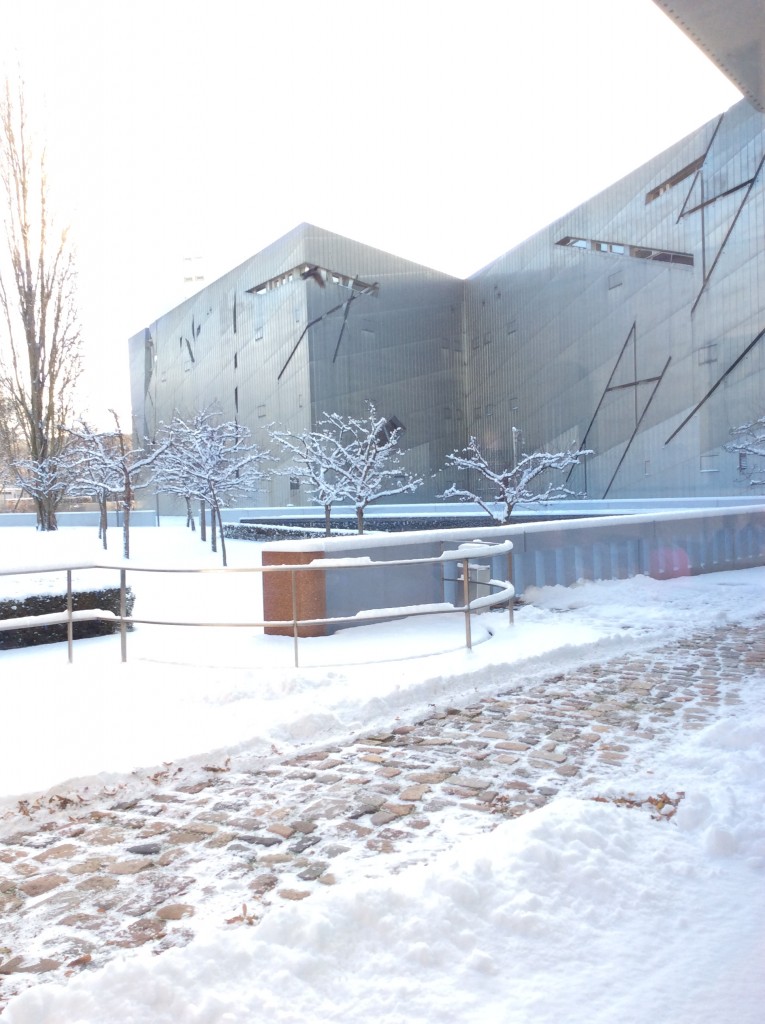 The Daniel Liebeskind Wing is an emotionally charged edifice of jutting angles with shifting displays about the tragic plight of the Jews in Germany and beyond over the centuries. Lessons never learnt, persecutions, attempted annihilation, courage, assimilation, unstoppable determination and brilliant creativity. It's all there in his stunning but disorientating spaces. Visitors navigate the galleries, get lost, find their way again. It heightens the disturbing experience. Berlin was the most cultured city in Europe, its Jewish citizens assimilated and very German. A fat lot of good it did them. What would we have done? Fled or stayed thinking it would 'blow over'?
Much to see, think about and try to comprehend. It's not easy.
Mother and Dead Son, a sculpture by Harald Haacke taken from a drawing by Kathe Kollowitz is incredibly haunting. A moving tribute to 'the victims of war and tyranny'.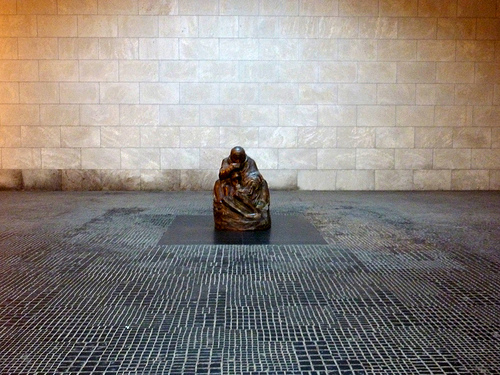 The look in the eyes of the grieving mother is hard to forget.
The Neue Synagogue built in 1857 – 66 was the proud showcase of the prosperous, respected, Jewish Community of Berlin, inaugurated by Bismark. Targeted and attacked  in 1938 during Krristallnacht, although not badly damaged, it was the Allied Bombs that severely harmed it in 1945 although the facade remained intact. The Moorish dome has since been re-built. Sadly no longer a synagogue, there is a permanent exhibition about Jewish life in Berlin and a glassed in area protecting the ruins of the sanctuary.
The area (Grosse Hamburger Strasse) is steeped in Jewish history.  A park, once Berlin's oldest Jewish cemetery, now has only one remaining  gravestone. The  father of Moses Mendelssohn, the founder of the German Jewish Renaissance.
Across the street is The Missing House, a memorial by Christian Boltanski in which the flank walls of a bombed out house have plaques with the names and occupations of former residents inscribed on the sites of their vanished apartments.  The space between the walls is just left empty and bare.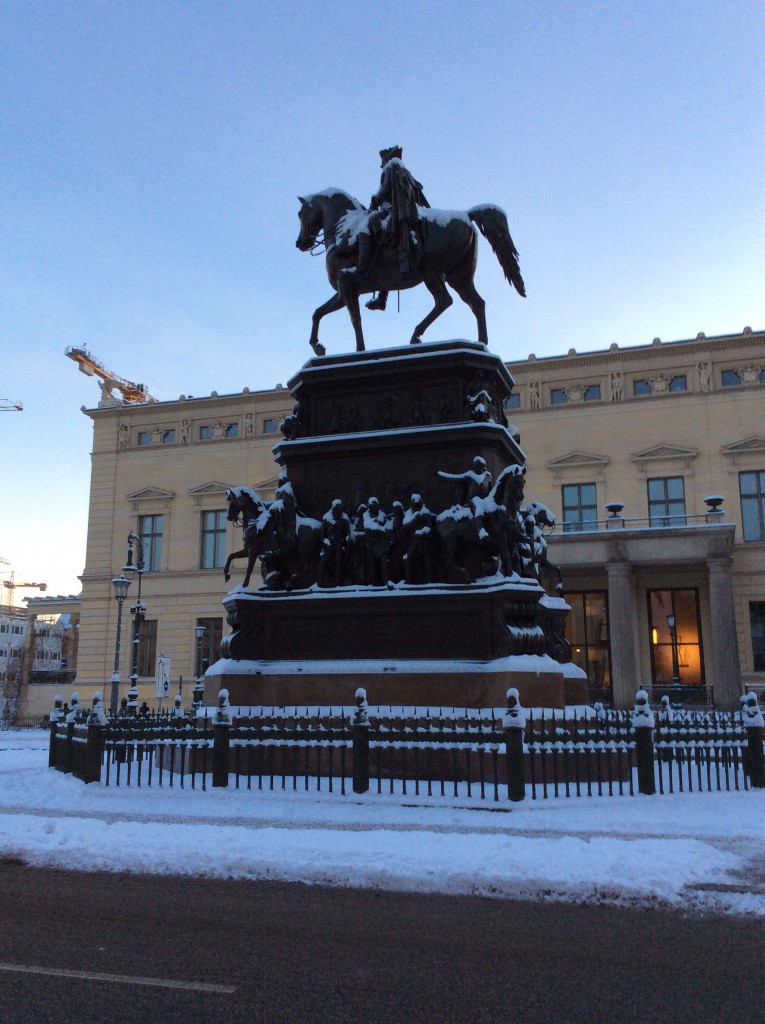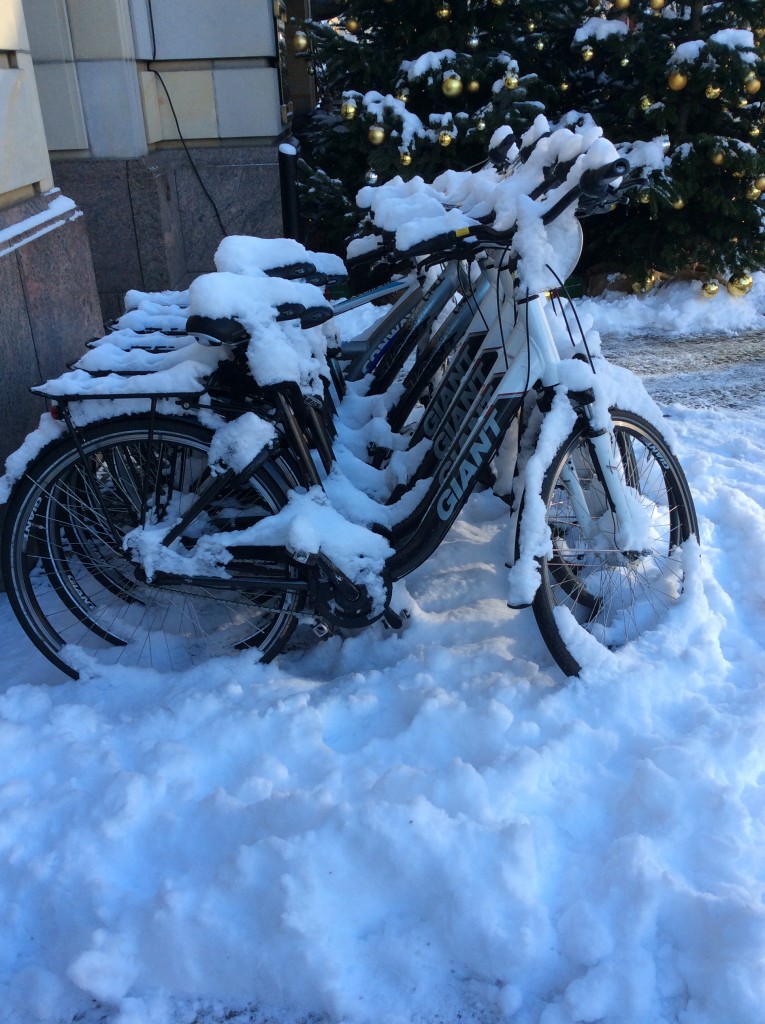 Museum Island houses several museums, some with remaining war damaged exteriors.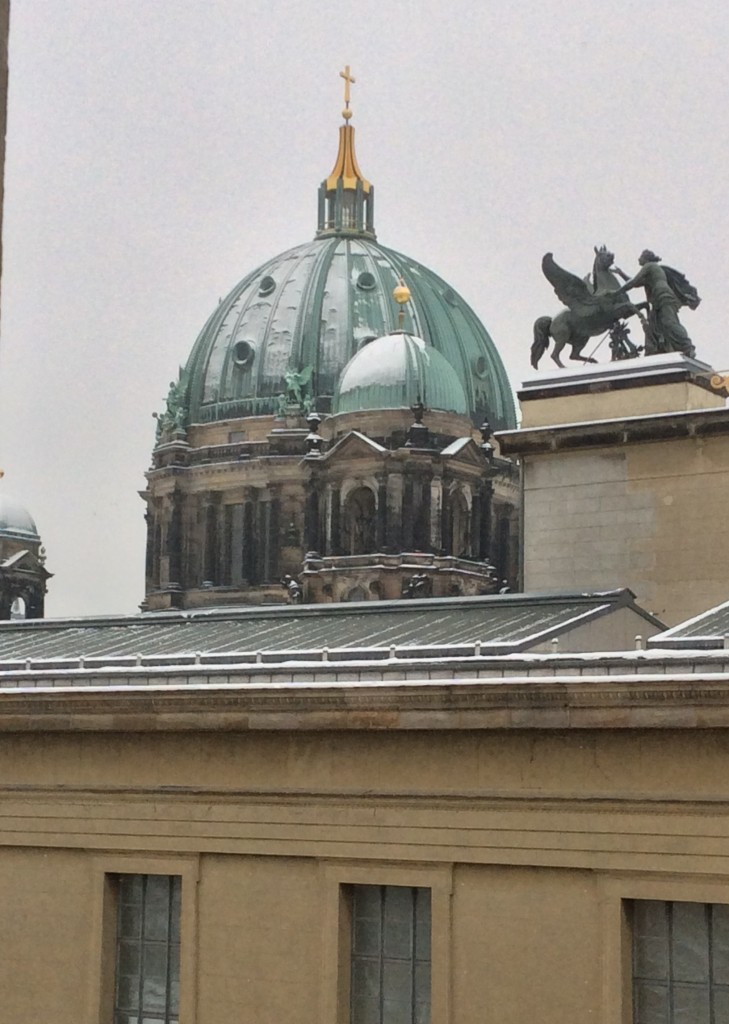 The Neues Museum (housing the bust of Nefertiti  – no photography allowed!), has been brilliantly renovated by David Chipperfield.  It took many years, bogged down by bureaucracy, but the result is a painstaking, respectful and uniquely creative restoration  of an extensively damaged much loved building. Inside, Chipperfield created a state of the art antiquities museum incorporating the very best of contemporary architecture using an extraordinary palette of materials (original and new).
Bullet holes were left in walls both inside the building and out, as a reminder of the devastation.
The collection itself is so accessible and easy to see and appreciate thanks to Chipperfield's sensitive design.
Nefertiti might be the 'pin up girl' but there is some strong competition.
Berlin over the New Year is festive and fun.
Music of all kinds too.
The Magic Flute at the Deutsche Opera was excellent. A very straightforward,  unlavish and presumably inexpensive production and the young, talented, energetic cast had lovely voices.
The famous New Yea's Eve Concert conducted by Daniel Barenboim with Mexican tenor Rolando Villazón and a repertoire of Argentinian tango music was a little disappointing. THE EYE had hoped for a more traditional New Years'y programme and was rather surprised Villazón sang using a microphone. A bit cheesy ! But all part of the Berlin New Year experience, so no gripes.
Dinner afterwards at GROSZ a gorgeous Art Nouveau restaurant full of elegant diners had a fin de siècle feel.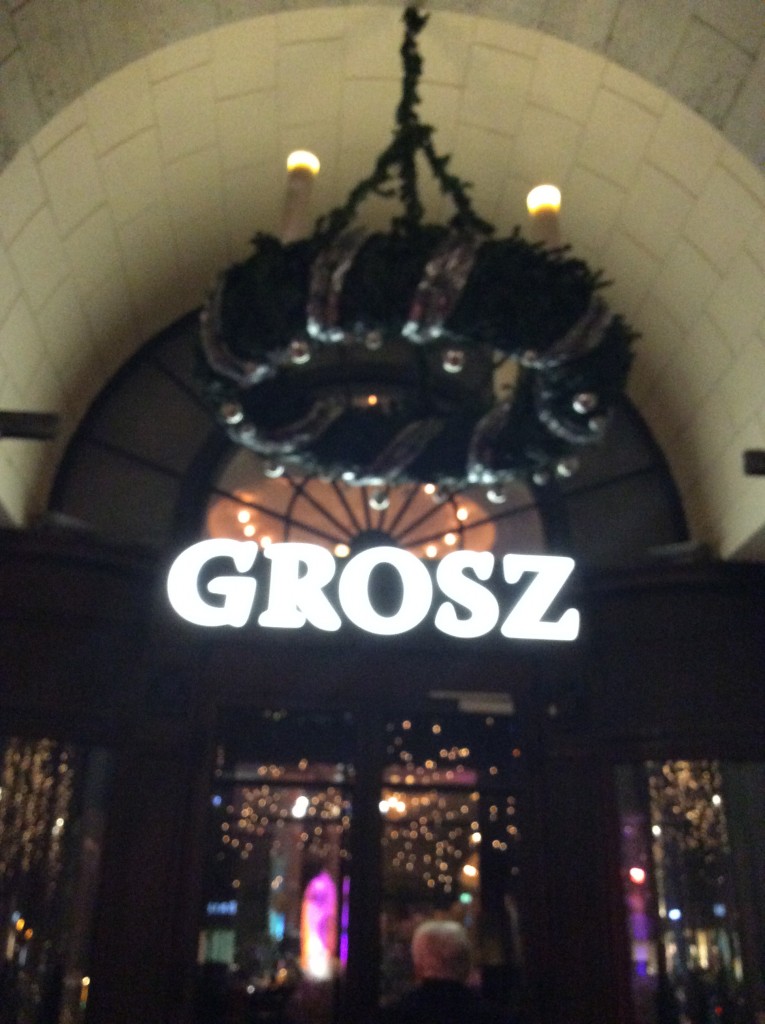 At midnight Berlin goes utterly crazy and the scene pretty wild. The sky is alight with fireworks, the bangs of explosives huge but I was quite terrified that fireworks were going off randomly in bottles all over pavements and roads. It seemed pretty out of control and dangerous  to say the least. Clearly Health and Safety regulations don't operate in Berlin.
Hard to believe it's now 2015.
And a very happy and healthy one from theeyedoesntlie.