THE BEAUTY OF THE HAND-MADE 1: "ORIGINALS"
"ORIGINALS"
THE EYE has always had a passion for beautiful work made by hand expressing individuality and originality.
For too long 'hand made' or (even worse, 'handcrafted') was used disparagingly, a second class citizen, regarded by toffy nosed 'design police' as aesthetically inferior to 'art'. Maybe their memories are still grounded in macramé hanging baskets and general 'craft fayre' merchandise?   But things are changing and a few years ago super cool Wallpaper Magazine endorsed 'handmade' with an exhibition during the Milan furniture Salone, which is now an annual event, extolling the desirability of things made by hand, often in organic, sustainable materials, often with small imperfections (an indication of authenticity – something made by the human hand is not impervious to error!)
Perhaps we also have Grayson Perry and Edmund de Waal to thank for this change of heart? Interestingly both exhibit their work in prestigious art galleries – Perry with Victoria Miro and de Waal with Gagosian in the U.S.
Each has a foot in the craft world and the other foot securely in the highly commercial.
For a real appreciation of unique craftsmanship you need to look at the work of designer and artist, Tord Boontje whose retrospective exhibition, ORIGINALS, opens this week at Sotheby's in Bond Street, alongside his wife, glass sculptor, Emma Woffeden.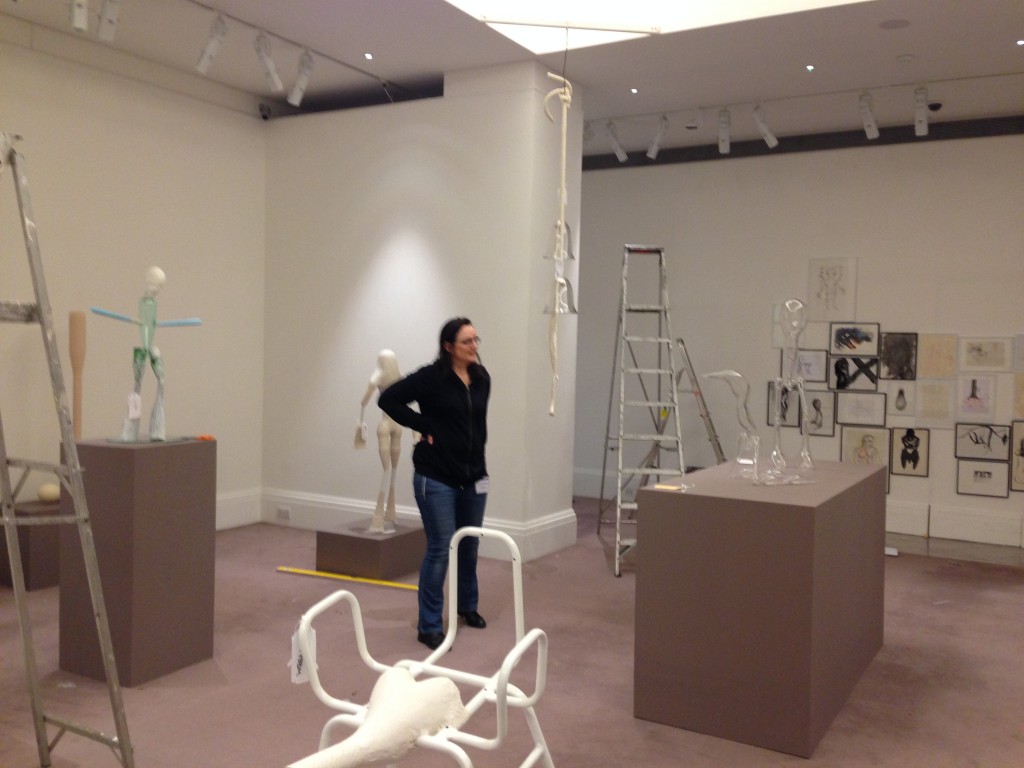 The exhibition runs from January 6th – 17th. .  
A must see.
Until recently Boontje was Professor of Design Products at the RCA. Feeling there was 'something missing in design', he bucked the trend for hard edged, minimal design with poetic imaginative, sensual work – furniture, textiles and iconic chandeliers for Swarowski using ornamentation such as embroidery and stitching all done by hand.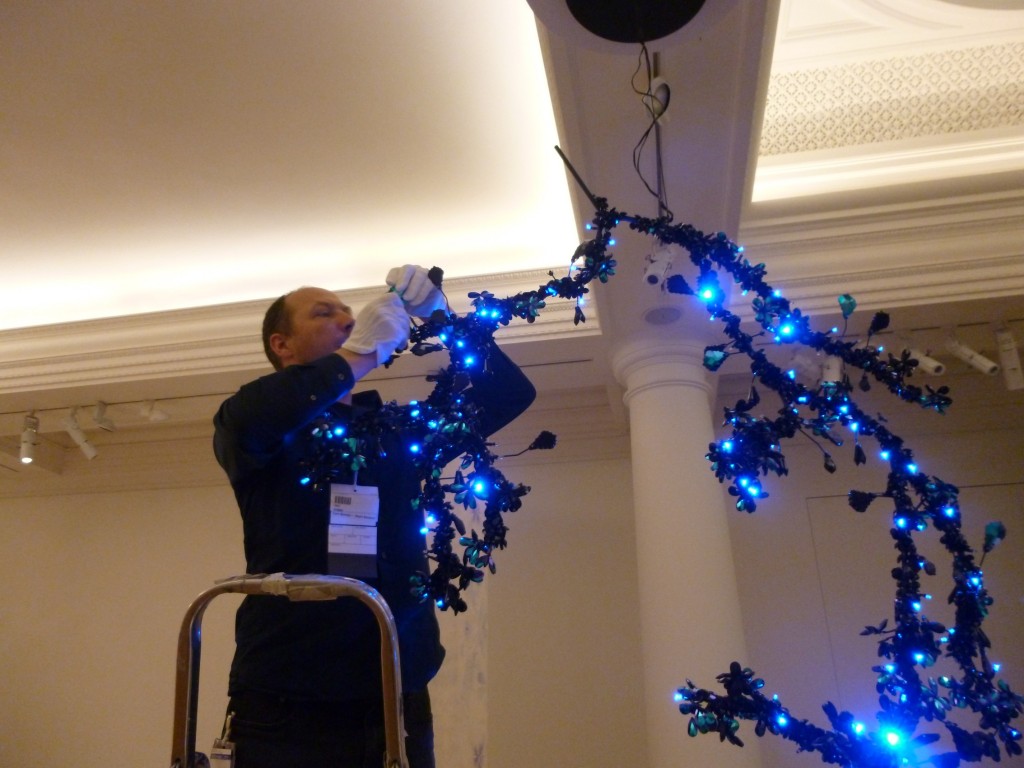 Call it fantasy or whimsy, with references to the fairy tale world of the Brothers Grimm, the added dimension of constant experimentation with new techniques and materials is extraordinary – creative, imaginative and very individual.
Boontje became fascinated with lace and incorporated it in many products and a far cry from traditional lace tea tray covers or handkerchief borders.
The Fig Leaf Wardrobe was a commission for the exclusive, niche Meta company, in 2008 and a tour de force in the tradition of 18th Century fantasy furniture.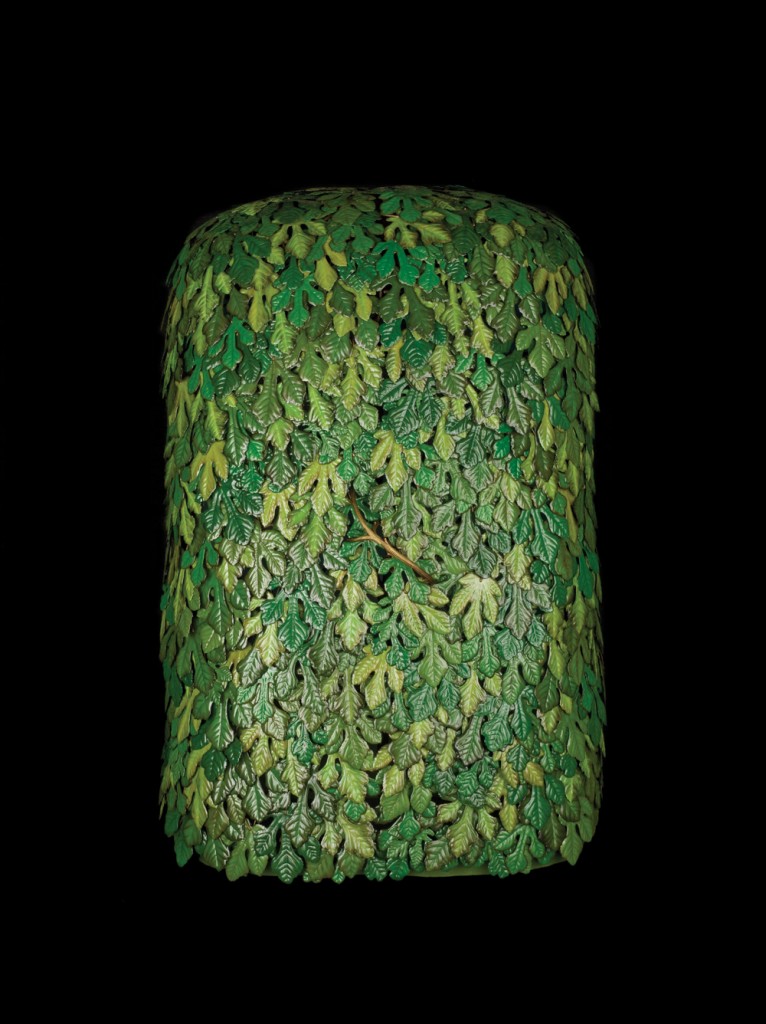 A couple of years ago I saw an exhibition of the most incredible furniture made by famous by late 18th century German furniture makers, father and son, Abraham and David Roentgen.   Staggering in its intricate details, secret doors, hidden openings.   Visitors were awed by the workmanship.   Tord Boontje's work could one day produce a similar reaction.
616 hand painted enamelled copper leaves were made by specialists in Birmingham (the copper centre of the world by the way), cascade over the doors, which when open, reveal a cast-bronze tree (made by artisans in Paris), with branches that act as hangers.
It's a remarkable piece of design and craftsmanship – a modern masterpiece.
Emma Woffenden's glass and bronze sculptures are strong and haunting . Many figurative and hard to believe that the material used is glass.
Handmade, once a word as toxic as a death threat, has a new, modern ring of desirability. THE EYE has never regarded being (in the words of Grazia Magazine) 'on trend' of any consequence. There certainly seems to be new respect for tradition, historical context and a more human, hand made credibility.
Galleries such as The Modern Craftsman are boldly committed to championing designers with a real fascination and desire to master traditional craft techniques in new and inventive ways to ensure objects made with love, time and skill are more than a passing fashion.