EYELIGHTS: LONDON DESIGN FESTIVAL
LOOKING BACK.
What I saw, what I liked and what best forgotten.
I love the V & A but it's so huge it could be a 19th Century Grand Tour under one roof.
It was the heart of London Design Festival and some eyelights included CREST  – Zaha Hadid's site specific structure in the John Madejski garden. I was there on a perfect late summer's day. People relaxing, picnicking and enjoying the sunshine.
'CREST' is a reminder that great design doesn't need to be intimidating to make a point. This isn't.
MICHAEL ANASTASSIADES, a designer for whom the word 'elegant' fits perfectly, collaborated with Flos to produce a stunning light installation, Ama.   Made from mouth blown opaline spheres and brass. It pays tribute to the pearl diving mermaids of Japan and resembles a luminous pearl necklace lying serenely on the gallery floor.
WISH LIST
I loved this project.
10 illustrious names in the design and architecture world nominated an 'emerging designer' to interpret the statement "what have you always wanted in your home but never been able to find?"
Most enjoyed by THE EYE was a collaboration between talented furniture maker, Gareth Neal ( though hardly an emerging designer) and Zaha Hadid of three huge, bold hand carved wooden vessels.
Gareth has a bureau in the museum's permanent collection and I am clucking because he was an EYE discovery spotted at New Designers when he graduated from Buckinghamshire University in 1996. I think I was the only person to even acknowledge him.
DESIGN JUNCTION was huger than ever this year with additional space in the bowels of the basement mainly for lighting exhibitors.
Too much to take in but a new photographic gallery theartfulproject had some very interesting, edgy (well priced too) unique editions on the ground level.
The intriguing motorized merchandize machine installation of hand made ceramics chugging around a conveyor belt from SODERLUND DAVIDSON was a real attention getter.
Over in Ealing (major schelepp) The Crafts Council presenteded Crafting Narrative Story Telling Through Objects and Making.
Guest Curated by Onkar Kular, it was a bit too conceptual for THEEYE's miserably short attention span but the imaginative catalogue will hopefully enlighten my understanding.
MALLETT'S the grand antique dealer in Dover Street staged a fascinating discussion Collecting Design: the Evolution of Collector and Maker chaired by Gareth Williams, ex V & A and RCA. Speakers were Rory Hyde -Andrews, curator of contemporary architecture and urbanism at the V & A, Eleonore Hailluitte, director of Mallet's Mita Collection and renowned designer Tord Boontje.
MINT has a reputation for showcasing the best young designers in an inspiring imaginative way that brings out the best in their work.
Mint's founder, Lina Kanafani curated a visually harmonious exhibition focusing on the influence of craft in design.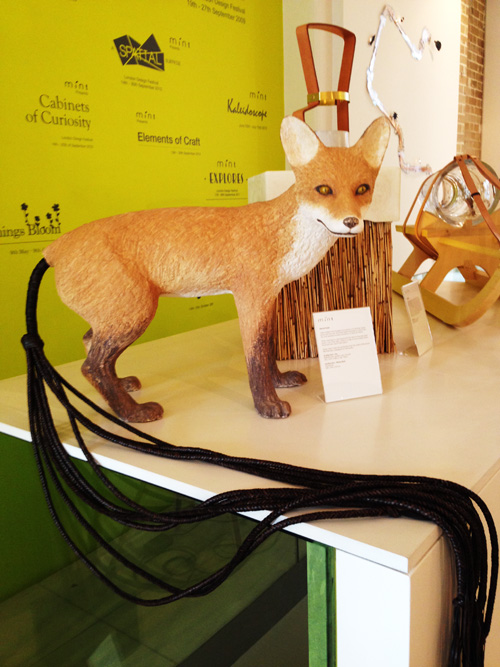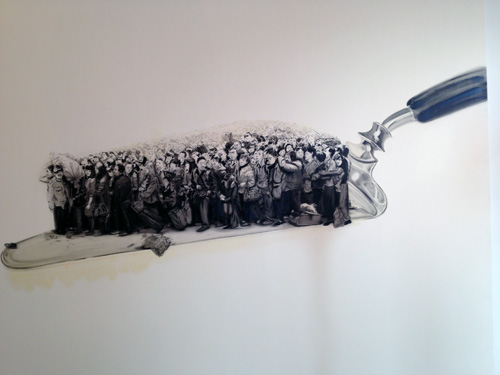 LIBBY SELLERS GALLERY in Berners Street promote designers who push new materials or get us to look at materials in an unconventional way.   Peter Marigold was showing a series of new wooden tables – interesting shapes, surprising colours.
I LIKE!
Good to see Paris Galerie kreo have swept into London with a new gallery on Hay Hill. I always stop in when I am in Paris to see what is on show from their stable of important designers. They refer to it as a 'design laboratory' dedicated to research. The founders, Clemence and Didier Krzentowski are now in Hay Hill Mayfair and the debut exhibition was a mouth watering selection of limited edition pieces.
Zipped into David Gill's Gallery in King Street as I am mad about chandeliers and wanted to see what people like Barnaby Barford, the Campana brothers and others produced. Lots of humour from Barnaby:
I also did a quick in and out at CARPENTER'S WORKSHOP to see the spooky limited edition black bronze cat lights by STUDIO JOB.
I can't imagine living with one of them , but clearly others can.   Their evil menacing eyes would give me nightmares.
Over at Somerset House I had to elbow my way through hordes of fashion folk as it was in the middle of London Fashion Week.   I have been reading a lot recently about the changing face of fashion – less showy, more modest, sober and publicity shy.   Whoever wrote those words please eat them ( and rest assured there are no calories in words).
The poseurs, the poseur photographers who the poseurs were posing for – it was a circus.
I was trying to find my way to ceramicist Kathryn Hearn's show of very new work in one of the vaults (to be more accurate, dungeons).
Kathryn runs the CSM ceramic B.A. course with the very talented Professor Rob Kessler (will be writing about him soon) also a successful commercial ceramicist, a crypto botanist and special person.
Kathryn's new porcelain pieces, Droves, Drains & Vermuyden, hand coiled, organically free and unrestrained in shape are very beautiful.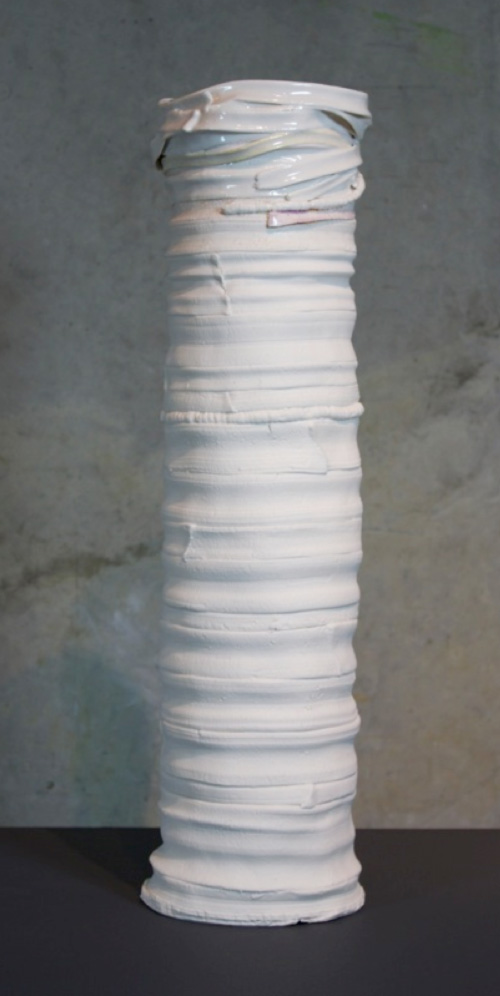 Last for a mention was in Trafalgar Square where I somehow managed to gate crash whilst things were in the last stages of being set up. Avoiding the disapproving eye of LDF Director Ben Evans I had a sneak preview whilst the designers were adding their finishing touches.
Jasper Morrison chose to call his 'home' House of A pigeon Fancier – "who else" said Morrison "would choose to live in the middle of Trafalgar Square".   He's got a point, although his was so immaculate and pristine that I couldn't really imagine it belonging to a pigeon fancier.
I really liked RAW-EDGES' where the design elements of the house could be collapsible, foldable, shrinkable and movable.
Maybe this is a serious solution to the housing shortage problem?