RUSSIA

ST. PETERSBURG
Beautiful St. Petersburg reeks of the history and the high  glory days of the Romanovs and their opulent, aspirational, extravagant,  tragic lives. Fortunately the treasures they amassed are still to be seen and marvelled at.
THE STATE HERMITAGE MUSEUM needs no introduction.
It has one of the world's greatest art collections housed in the former baroque Winter Palace and extraordinary surrounding buildings.
The collection goes back to Leonardo and Michelangelo and includes one of the largest number of spectacular Rembrandts including his masterpiece 'The Return Of the Prodigal Son'.
Young Art Lovers At the Hermitage
Now in a separate building it has the incredible collections of two men, collectors  way ahead of their time  –  Sergei Shchukin, a cloth merchant who died in 1936 and Ivan Morozov, a textile manufacturer, who died in 1921.
Both acquired 'modern' French art and had the ability to spot new trends and publicise them in Russia.
Shchukin was an early collector of French Impressionists – 'rejected artists' as they were referred to. Monet, Gauguin, Cezanne and Van Gogh.  He became one of Matisse's main patrons and owned 37 of his finest paintings.
Morozov also collected both Impressionist and Post Impressionist works of the highest quality which included 17 Cezannes and an outstanding collection of works by the great Russian artists. Thanks to the passion of these collectors, the Hermitage has a mind boggling amount of the very best Impressionist and post Impressionist works of art in the world.
Russian Ark, the film by director Alexander Sokurov (2002), is  the first feature film shot in one continuous take.   An unseen narrator guides an unknown visitor ('a ghost?') through the 33 rooms and 300 years of Russian history. Worth seeing.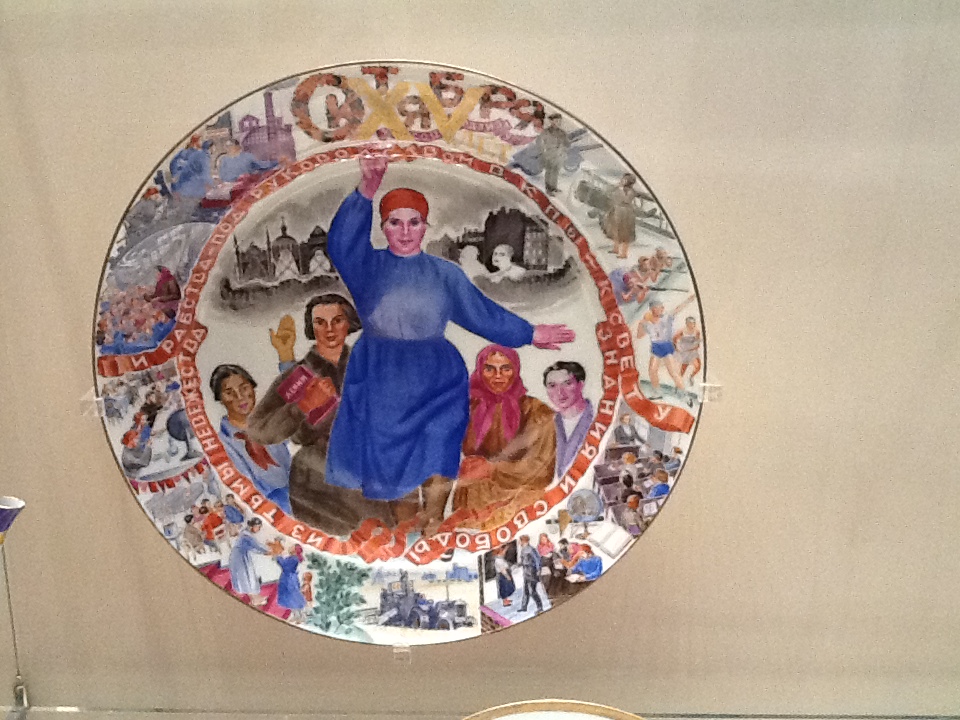 The Russian Museum has a fine collection of post revolutionary porcelain. Great propaganda for "Uncle Joe' and idealised depictions of rural life and peasants on porcelain from tea sets to vases and wall plaques.
'Uncle Joe' with happy peasants bearing gifts.
THEEYE loves discovering unfamiliar artists and Alexander Samokhvalov certainly fits into that category. Painter, graphic artist, theatrical designer, illustrator, writer and teacher, his work gave an impressive (idealised) overview of life in post-revolutionary Russia.
In the lavishly restored Shuvalov Palace, it's now possible to see the  incredible collection of Faberge amassed by Malcolm Forbes, later bought by Russian oligarch, Victor Veksellberg. It really opens a window to the opulence of the Imperial world.
The  'mega stars' are the Imperial Eggs (about 50)  and larger pieces but THEEYE's favourites were tiny, exquisite, intricate smaller objects. Pill boxes, longuettes, miniature sewing kits, even a dog whistle, which Faberge said, 'these little things are perfect gifts for people who long ago got tired of diamonds and pearls'. 
Best of all a minute 'doll sized' picture frame with small portraits of Princess Alexandra and her son.
MARIINSKY THEATRE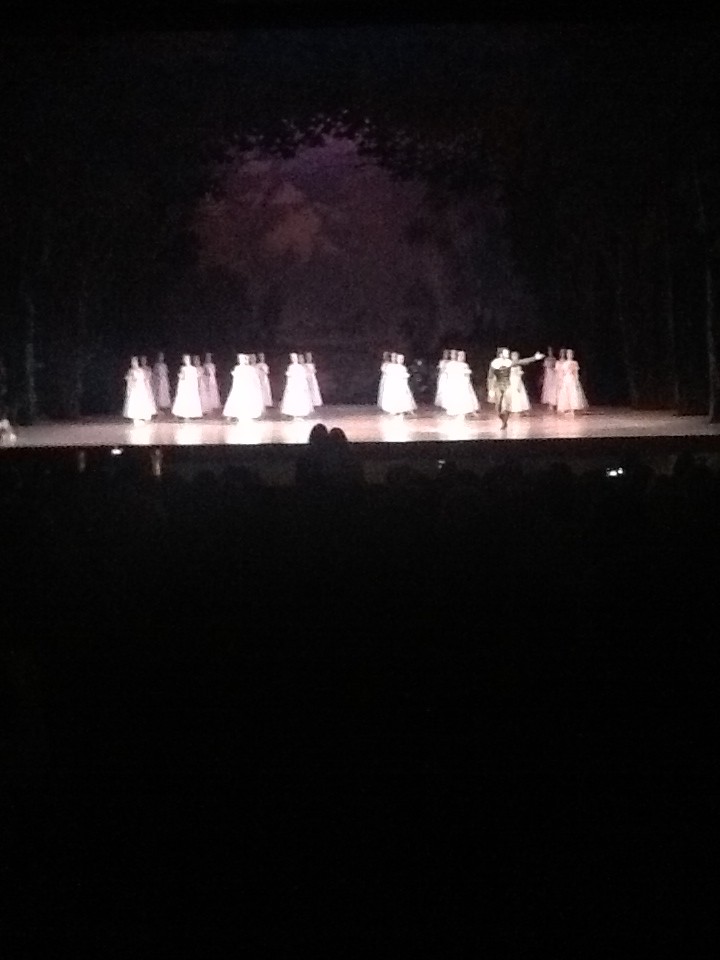 To the Mariinsky Theatre for Giselle, one of my favourite classical ballets.
Not a patch on the Bolshoi (or even the Royal Ballet) but none the less enjoyable and great for audience watching.
The Palace was totally restored and the interiors  remodelled in the classical style after being devastated by German troops in World War 1.  Things don't get grander (or gaudier) than this – what we refer to as 'bling' is positively minimalist compared to the gilt and gilding in the Palace.
Catherine was quite a woman – nothing or no one got in her way.  She wasn't even Russian by birth. Born Sophie von Anhalt- Zerbst, the daughter of an impoverished Prussian prince, she married Peter III and (allegedly) had him done away with by the brother of her lover at the time, Alexei Orlov.Catherine was a monster (also large and unattractive) who saw herself as an enlightened ruler.  She certainly championed the arts and created one of the world's most impressive collections of art and artefacts for the Winter Palace – now The Hermitage.
CATHERINE PARK
The Catherine Park, covered in snow when we visited are stunning – fountains, lakes –  breathtaking and nearby in Pushkin and Pavlosk are more sumptuous palaces with lovely grounds.
RESTAURANTS
I thought culinary pyrotechnics died out (burnt out?) in the '70's?   Not at Palkan, regarded by St Petersburg's 'elite' as the nearest thing they will get to dining like a Czar.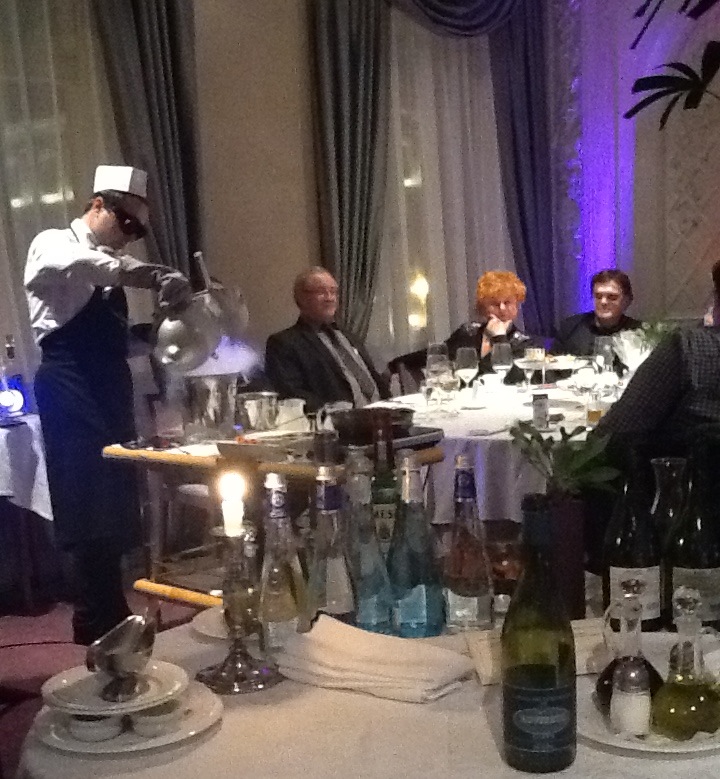 Goggles required before the liquid nitrogen gets going!!
THEEYE doesn't want to repeat  the experience.
Pretentious, over the top  involving a great deal of flames  and clouds of liquid nitrogen  –  a bit like a foggy bonfire night but less fun and mouthwateringly expensive (and that is with a deeply depressed rouble ).
Still you can't win them all and the merry  clientele were a good side show with lots of toasts with vodka and champagne.
HERE COMES THE BRIDE