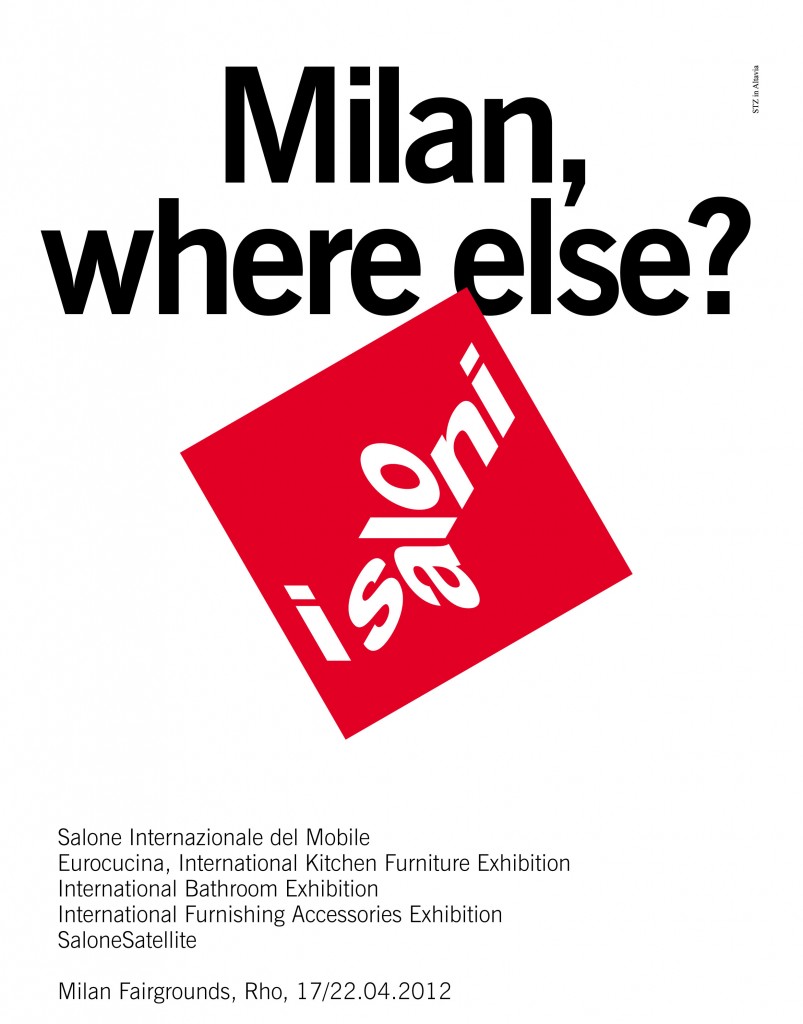 'Will we  see you this year?' people ask.
No need asking  where –  MILAN.    Of course.
 The
Milan Furniture Fair
is  unique. It started in 1961 as a showcase for the Italian furniture industry. A reputation it still maintains  for being the biggest design and furniture fair in the world, with over  300,000 visitors last year . Designers, journalists, museum curators, retailers and customers from all over the world flock to the city. So popular is the event that hotels have the chutzpah to get away with not only hiking their prices but enforcing a four night compulsory stay. Outrageous. Whilst most of the serious business takes place within the Milan Fairgrounds (a huge exhibition complex northwest of the the city centre) it's the vibrant satellite shows, exhibitions and events spread in different areas throughout the vast sprawling city which excites 
TheEye
.
Press releases, images of products –  many  tantalising, some plain dull – invitations to 'cocktails' and dinners,  have been bombarding my computer for weeks. TheEye has literally been drowning and her poor printer is on a go-slow.
With so much to see and limited time it's essential to be organised and very selective  –  it's impossible to cover everything.
The Fair has its detractors but  I was most interested in the opinion of
Alice Rawsthorn
,  design critic and former director of the
Design Museum
, who has been a Milan 'regular' for many years. In the current issue of
Frieze
magazine she argues that the Salone and the fringe events have 'unintentionally reinforced the popular stereotype of design as a superficial, stylistic tool steeped in consumerism' whilst designer
Jasper Morrison
 suggested re-naming the Salone del Mobile, the 'Salone del Marketing'.
They both have a point – up to a point.
Aggressive marketing campaigns are a necessary  by-product of this highly commercial event.
Morrison is launching several products including a chair for the
BBB Chair Collection
and an elegant USB multi port charger for multiple devices. He would have more reason to complain if they weren't well marketed. The criticism seems a little hollow.
There are, as Rawsthorn says,  'shameless promotional stunts, seemingly unrelated to furniture,' but no one is forced to go to these events or spend time looking at things of no interest. What you see is individual choice and a matter of personal taste.
TheEye always returns from Milan refreshed and invigorated with new ideas.
All you need is fine weather, comfortable shoes, plenty of stamina and a good map.
THE ENTIRE CITY CELEBRATES  THE SALONE
If you aren't able to make it to Milan yourself,  just follow TheEye for all THE FUN OF THE FAIR.