Mayfair, Bermondsey and Peckham and the odd pit stop in between.
A visit to see Solange Azagury Partridge's new collection CHROMANCE – A LOVE AFFAIR WITH COLOUR was a treat – I have known Solange for more years than either of us care to admit – since her early days working  for  decorative arts dealer, Gordon Watson, as his shop manager in Fulham Road.
Solange is so talented. With no art school training , she  learnt her skills the hard way,  and is now a leading brand. Her jewellery is gorgeous.  original, creative, sexy  and stunning.
Her showroom opposite The Connaught Hotel in Carlos Place is wall to wall unabashed  luxury from the waft of  delicious 'Solange' candles to the cases of exquisite jewels.  She is constantly coming up with new ideas.  In the late '90's I curated a design  exhibition of outdoor furniture at Sotheby's and begged a reluctant Solange to design a table reflecting her jewellery. She was far from convinced but I persisted and she  eventually gave in. The two divine  tasselled tables she produced were sold within minutes of the show opening –  I bitterly regret not to me.
I love coloured stones and the Chromance Collection is inspired by vibrant colour. Jewelled Smarties. Multi coloured gemstones, rubies, fire opals  and emeralds cleverly mixed with lacquer, ceramic and enamel.
A glamorous group of clients were  'oohing, ahing', trying on rings, earrings and bangles and seriously shopping.  In between this exhausting activity they also managed to eat lunch and drink the odd glass of champagne.
BERMONDSY AND TRACEY EMIN AT WHITE CUBE
THE LAST GREAT ADVENTURE IS YOU
A fantastic show. Painted, embroidered and bronze nudes holding their own in White Cube's vast galleries.   A short film with Emin talking about the ageing process was touching, insightful  and utterly sincere. I previously  thought her dominating  presence got  in the way of her very fine work, but having seen this exhibition I have had a reflective re-think.
At a dinner recently I was  in the unlikely situation of defending Emin when an opinionated guest dismissed her work  as 'trivial and a flash in the pan'. A classic example (in his NOT  so humble opinion) of the Emperor's New Clothes syndrome.   I fervently disagreed.
Emin  is one of the few artists of her generation that understands how to  draw and is passionate about it
The Guardian called the exhibition 'An expressionist master class in communicating passion' and urged every student, every teenager who loves art to see it. It is a lesson (the article concluded) in how to be a real artist.'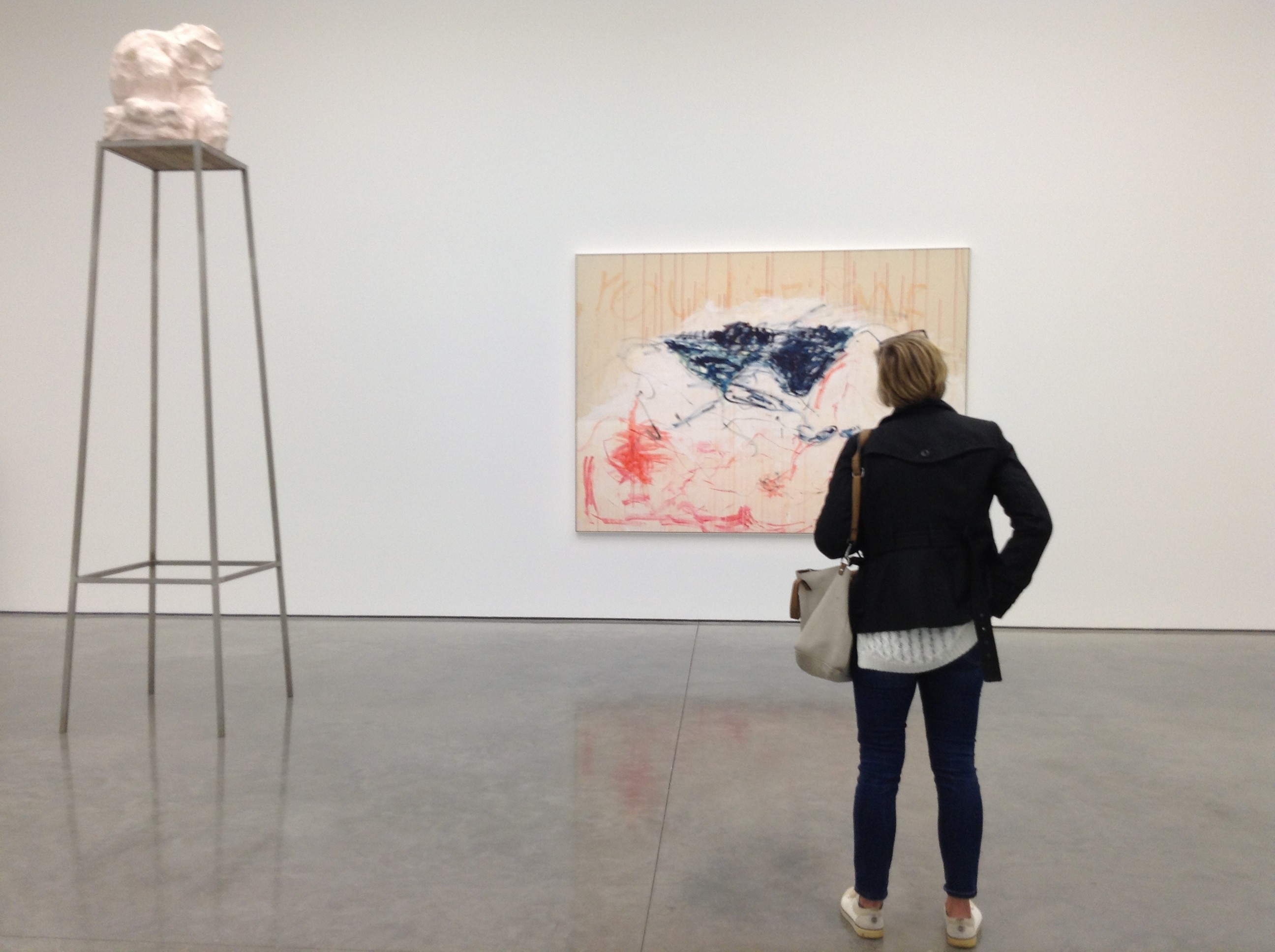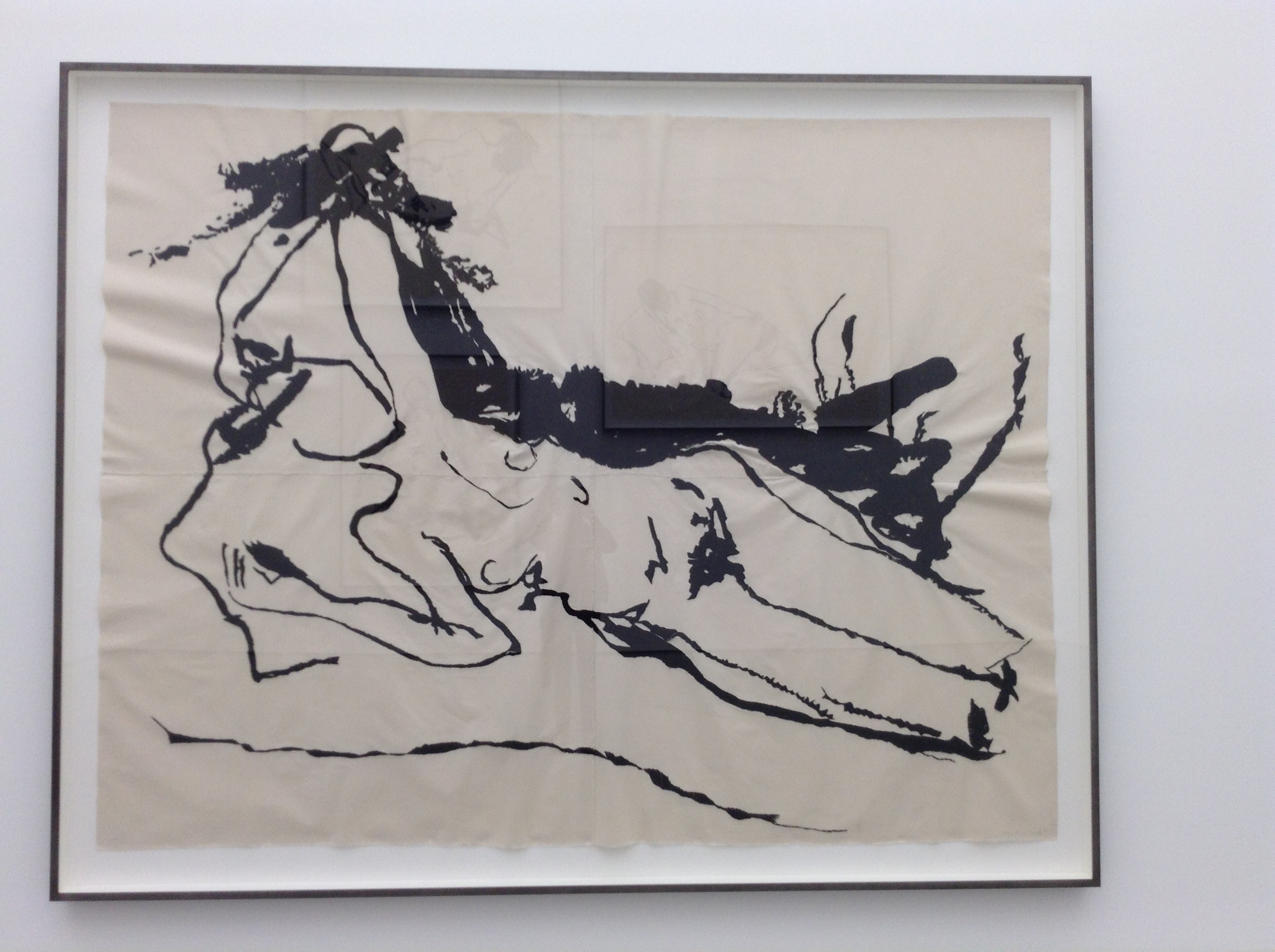 PECKHAM in the pouring rain, and the opening of NEWFOUNDLAND,  a joint exhibition between book binder and jeweller ROMILLY SAUMAREZ SMITH and potter supreme and best selling author ('The Hare with the Amber Eyes') EDMUND de WAAL in Edmund's  elegant, spacious studio.
Romilly Sumarez Smith's is quite  remarkable, not least because she is wheel chair bound and unable to move any part of her body. Unable  to touch her work with her own hands,  she says she can see it 'feelingly'.  The making process is done by LUCIE GLEDHILL with whom Romilly has worked since 2009.  It's much more 'an act of translation' than a collaboration.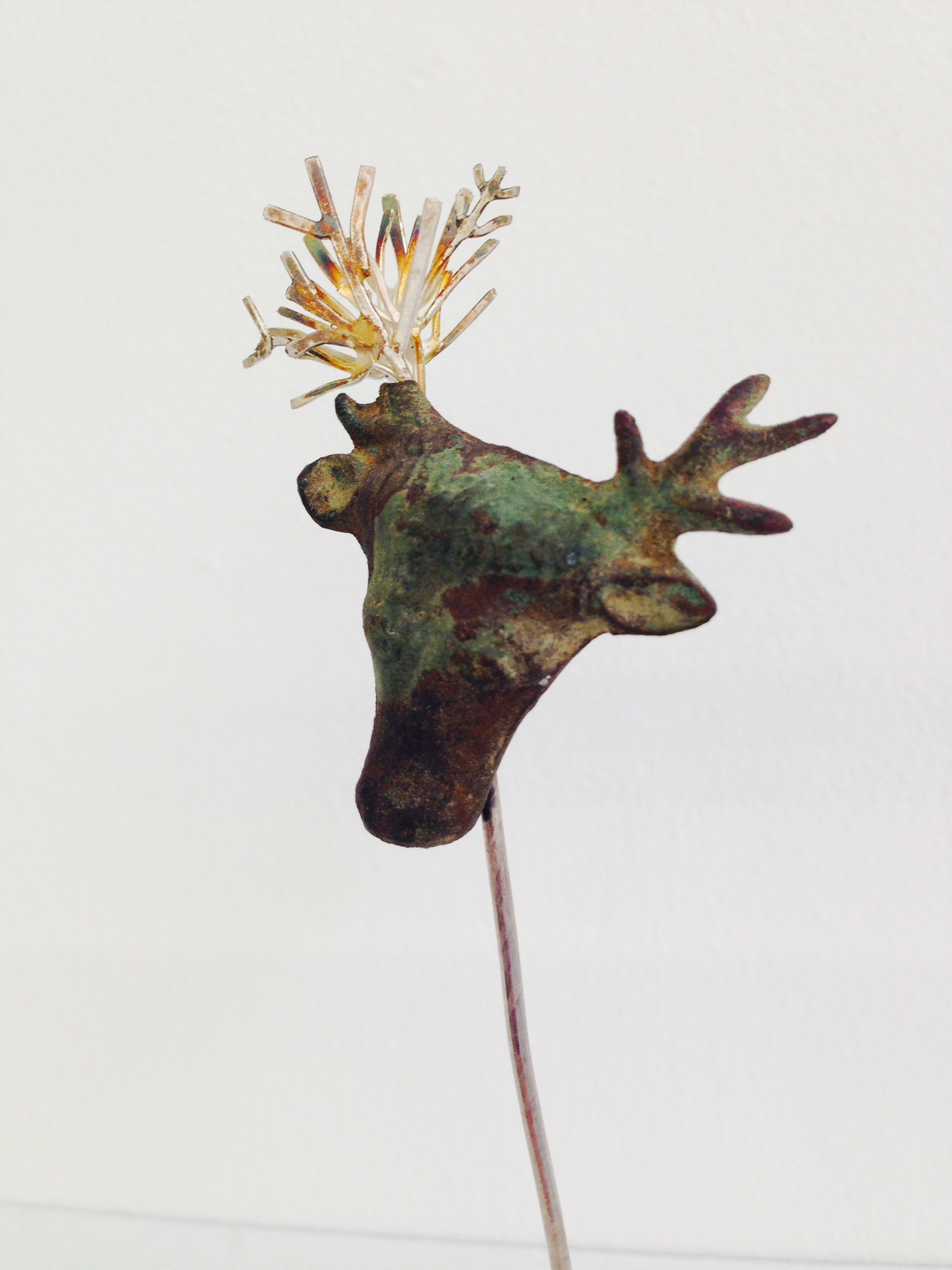 In 2011 Romilly  began to pick up fragments of the past being sold on eBay by metal detecting enthusiasts.   Roman nails, gimlet –like buckles,  buttons, coins, bridle charms and other assorted bits and pieces of seemingly no value.   Her  pieces are small, almost surreal with elements of the baroque and the belle époque.  Joyful, radiant and quite remarkable.  Some are similar to tiny, intricate sculptures.
Edmund's vessels sit in groups on shelves not in the vitrines of recent work. Sitting in groups with intervals of space between them, they appear to be delicate and fragile with touches of gold in different shades in the glazes.  It was a  wonderful marriage of sensibilities and sensitivity.
Alas, only for two days but for THE EYE worth crossing town for.
Last stop to the third site specific commission for LAUNCH PAD, established last year as a platform for  emerging artists who haven't yet exhibited in the U.K.  Selected artists are invited to respond to the domestic environment of contemporary art collector, Sarah Elson's home.  Brooklyn based artist Rachel Foullon's creation,  CHOKER, in mixed materials, seemed  to be mournfully gazing down from the wall,  faceless, in a bonnet.  Haunting.
THE FINAL HIGHLIGHT  – LAST BUT DEFINITELY NOT LEAST.
A very special dinner at Sally Clarke's restaurant in Kensington Church Street. In aid of The Edible Schoolyard Project ,an initiative started by Alice Waters, creator and chef of Chez Panisse in Berkeley, California. The project's motto, 'How we eat can change the world', to encourage awareness, appreciation and the transformative values of nourishment and community stewardship of the land.
School children learn to take pride and get pleasure from growing, harvesting and preparing nutritious seasonal produce.
The delicious Chez Panisse menu included produce grown and donated by local schools including Colville Primary School, Fox Primary School, honey from Notting Hill Prep and Fox Primary in Kensington and tomatoes from Southbank and Avondale Primary Schools.
Great cause, fabulous food, good company. Fun, lively evening.