TOKYO – HELLO AGAIN AND GOODBYE
The well-travelled Eye knows countries have their pluses and minuses for tourists. There are invariably small niggles  – hotels not up to scratch, food, transportation, communication and so on – but Japan is hard to beat, scoring high on the plus rating. Safe, clean and everything WORKS. People are polite and helpful and the shopping …Say no more?
Whether it's a card, a cake or clothes, it's all so tempting and purchases no matter how small are beautifully wrapped.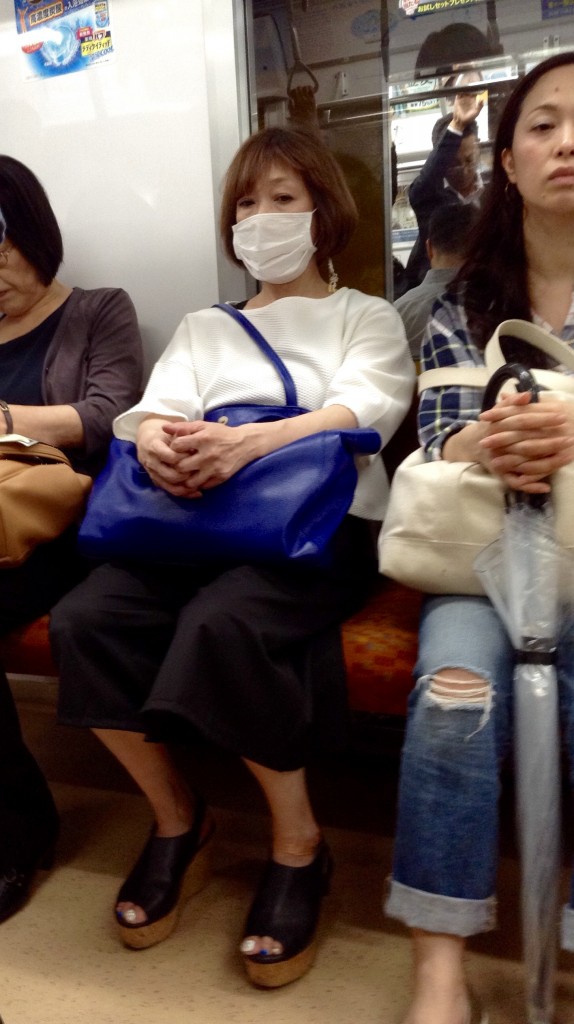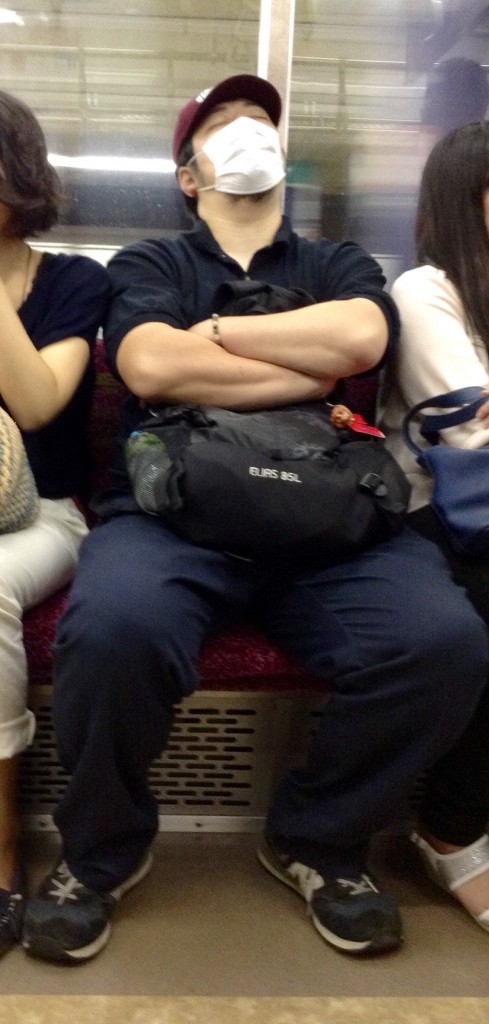 THE SUBWAY
The subway might seem a bit daunting to start with. Huge stations, multiple exits. You need a good map. Work out where you are and where you are going, but once you conquer the initial hurdles it's the most efficient way of getting around, although contrary to expectations the traffic is nowhere near as heavy as most other cities including London and taxi fares are sensible.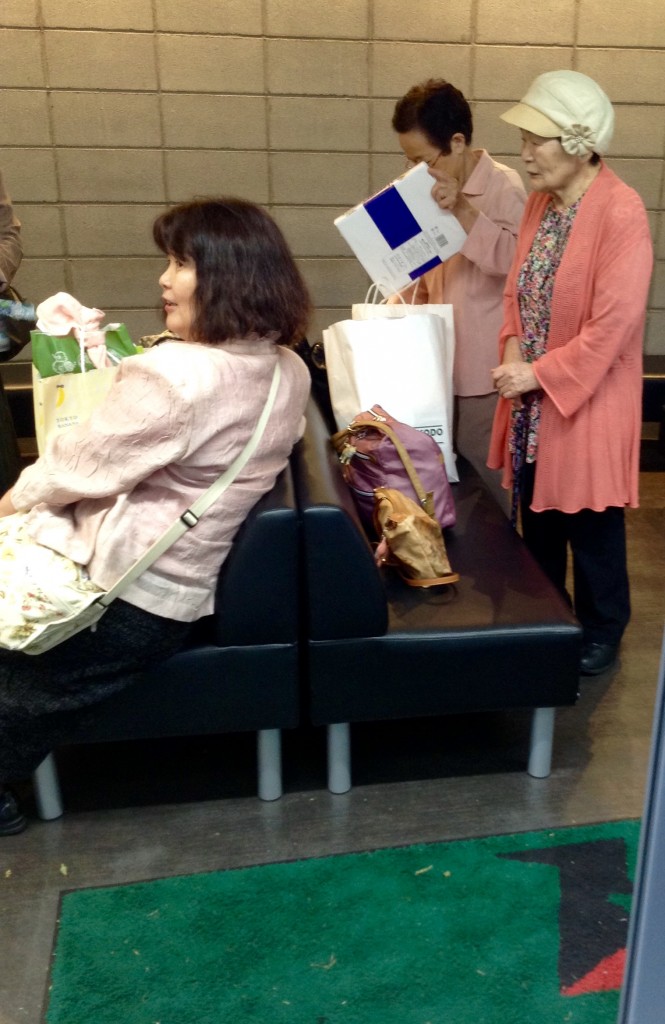 Make sure you have the complete address of where you are going written in Japanese (any concierge or restaurant receptionist will oblige) and off you go.
LAST SUPPERS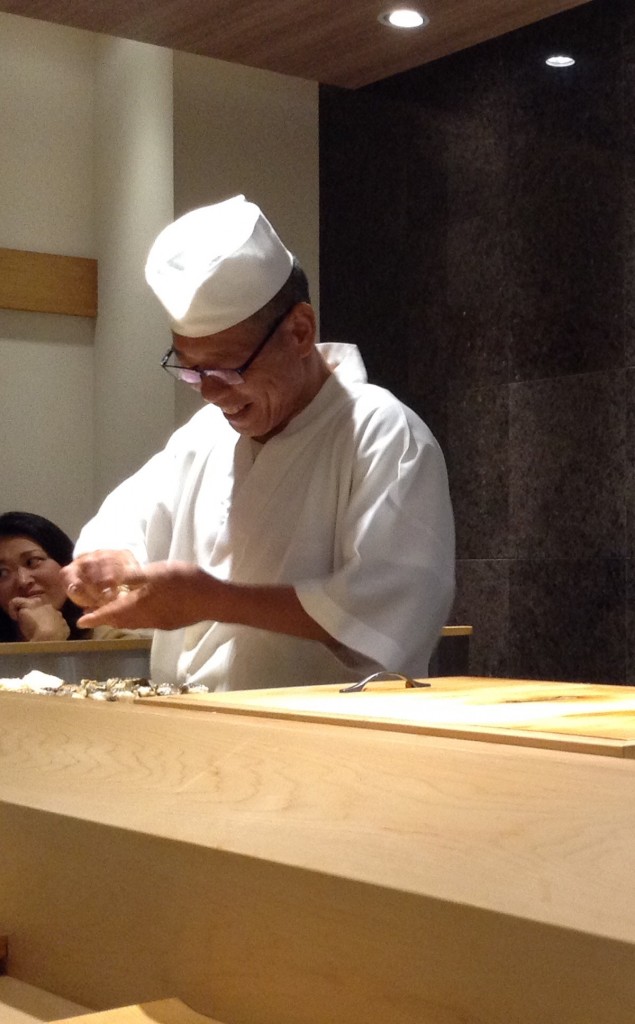 Best sushi of our trip was at Sushi Bar Yasuda where the dextrous Yasuda not only constructs delectable bite sized sushi from the freshest fish (often two or three varieties of each), but keeps the small number of diners around his counter entertained with gossip, mainly concerning details of the acrimonious parting of the ways with his ex business partner in New York.  It's a floorshow and Yasuda is a character!
Yakumo Saryo in a traditional Japanese house, set in a peaceful garden, even the handrail is a piece of art.
A recommendation from two stylish and informed friends had TheEye making a longish journey to Meguro- ku, a fairly nondescript suburb for lunch at Yakumo Saryo – but so much more than lunch.
A truly one of a kind experience, where food, decor, every tiny detail, come together in total aesthetic harmony. It could be twee, it's not.  It's pure pleasure.
Tea is taken in the tea ceremony room made correctly and served in two different ways. There is a little shop where traditional Japanese sweets such as manju dumplings and namagashi (all hand made on the premises) can be bought, as well as the exquisite paper plates and cups. Even the packaging is heavenly. Wish I had bought more.
TOILETS – THE BIG CULTURAL DIVIDE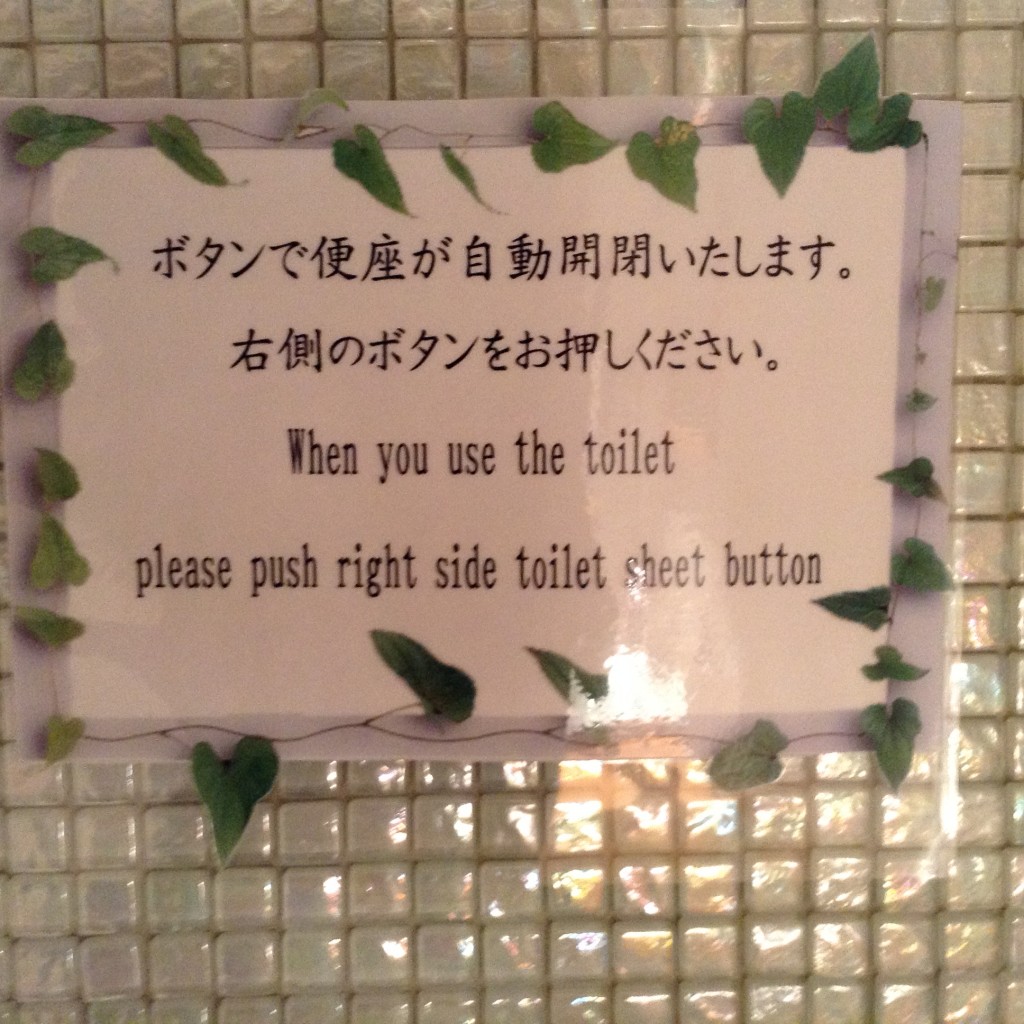 There are many cultural rules of etiquette to be observed in Japan. Bowing takes a bit of getting used to – who bows first and who stops first! Very important. Handing people anything is done and received with TWO HANDS. Walking up and down escalators is a strict rule – keep to the left side. Queuing to get on to the subway is very orderly – no barging in. People are well and neatly dressed. It's an orderly society but the one thing that totally mystified TheEye were the toilets.
Toilets have mysterious lives of  their own in Japan. Heated loo seats are standard and very nice they are too.TheEye could happily have spent her entire holiday sitting on the loo. I pity Japanese visitors to the West making contact on a freezing cold seat. What an unpleasant shock to their systems. They must suffer from constipation for weeks. The comforting warmth is not, however, the whole story. It's the mystery of how to flush that found TheEye frequently crawling on her hands and knees desperately looking for a handle, a button, anything that might result in a flush. Some  flush as you lift or lower the seat, some activate when you wave your hand. The most bizarre was opening a door to find the seat lifting simultaneously.
A chance visit to a sanitary showroom and a look at the most costly and luxurious bath currently on the market. The infinity bath for which you would need a huge bathroom, perhaps a new house? A bit of a monster but you can apparently lie for hours with the taps going and the water laps round the sides without spilling over – must be high on someone's list, but not TheEye's.
ALL GOOD THINGS COME TO AN END
Finally time to leave after a memorable visit to this unusual and mysterious country, BUT we will return….and soon.