GRADUATION – ROYAL COLLEGE OF ART
After years of rather  squashed premises,  the RCA is now in two fine locations, Kensington and Battersea.  The Battersea campus houses the spacious Dyson and Woo Buildings.
TheEye began at the RCA Kensington to see DESIGN PRODUCTS, always a stand out show, full of innovative ideas, many way above her non-technological head.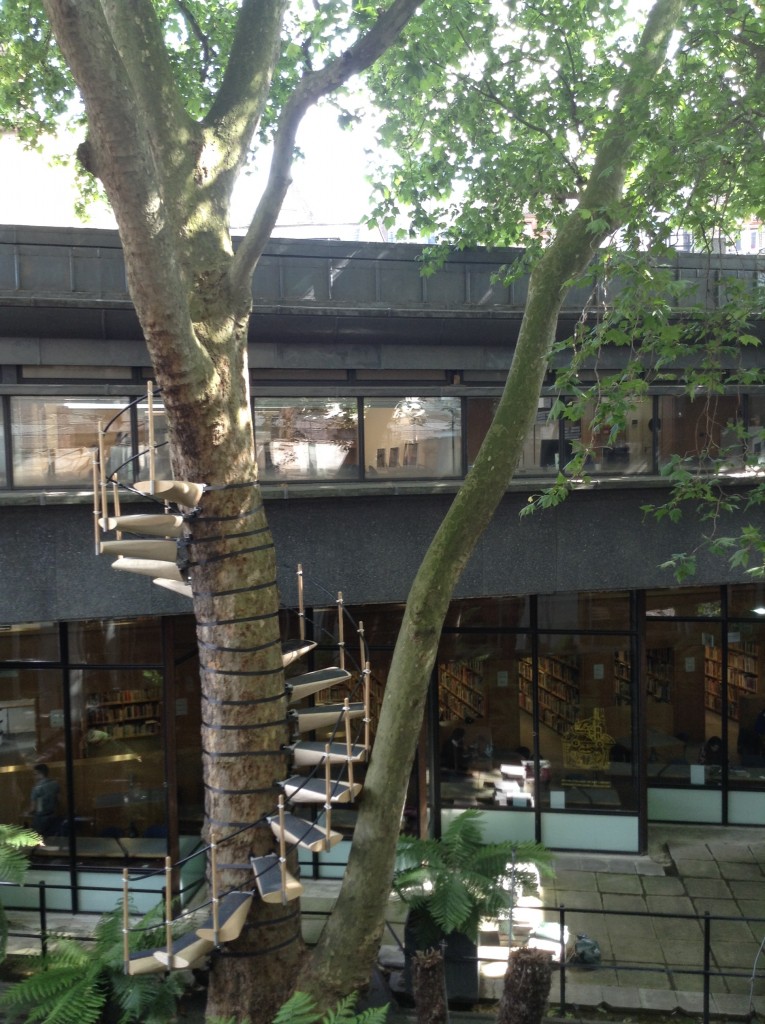 Way above her  head (in the literal sense) was the CANOPY  TREE STAIRCASE, designed by Thor ter Kulve and Rob McIntyre, a really fun and very commercial idea. Like most good ideas it's simple. A modular system of steps around a tree trunk allowing people to walk up into the canopy above.  Easy to assemble, won't damage the tree in any way and best of all, a wonderful place to go, read a book and hide away, sight unseen, from the world.   A good idea for Dragon's Den!!
The final hours before the show opens are always frantic – last minute hitches to be overcome. Stands have to look good, work well presented. Students and tutors are painting, assembling and perfecting their stands. There is quite a lot of tension but it's all right on the opening night.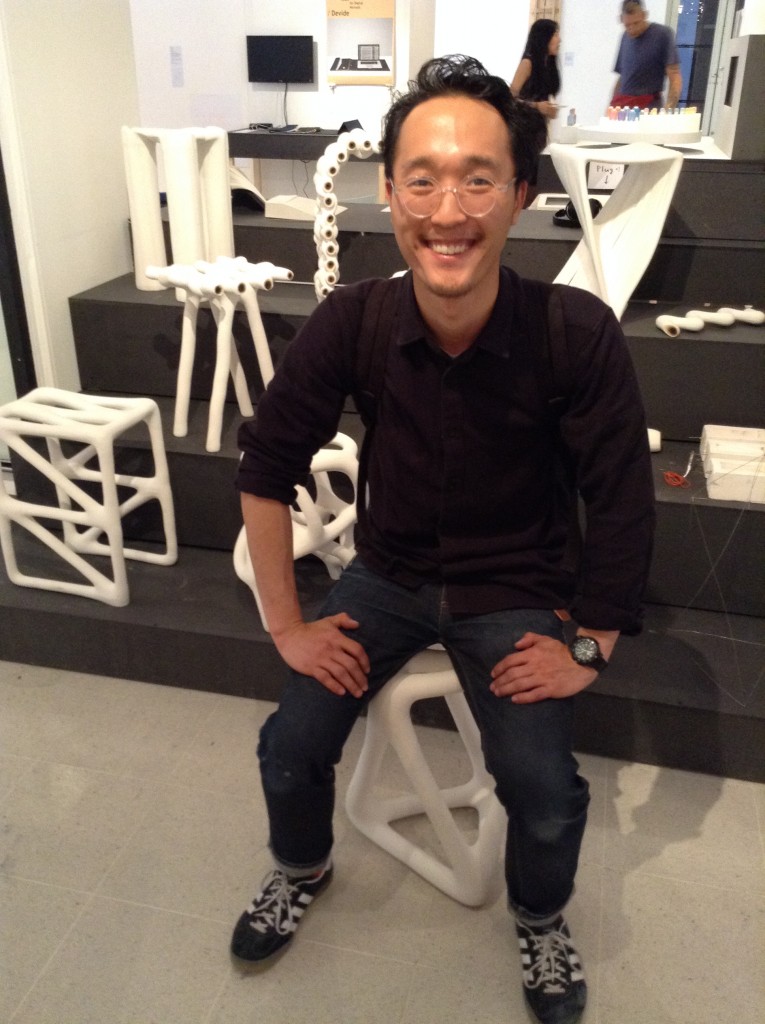 Technology is a strong point at the RCA and there are always enthusiastic crowds admiring the cars and other devices –  but this is not TheEye's 'thing'.
SO MUCH MORE  her 'thing' are TEXTILES and this is a fantastic  department under the leadership of Professor Clare Johnston, who is now moving out of teaching into a research role at the RCA.  Her successor Anne Twoomey is a well known designer who will be equally inspirational. Once again this year there was a big variety of styles and ideas.
Over to  Battersea for a tour of the Fine Art Department (painting, sculpture, video and photography and often a combination of several techniques ) with Professor Juan Cruz in the splendid Dyson Building. The work spans the incredibly conceptual (single dead fly on a white highly varnished wall) to refreshingly 'old fashioned' figurative painting with much in between.
Interesting to see how people react to different styles.
OVER TO THE SPANKING NEW WOO BUILDING FOR CERAMICS AND JEWELLERY WITH PROFESSOR JUDITH MOTTRAM
This is Professor Mottram's first year as Dean of Applied Arts and therefore her first graduation show and she was justifiably  proud of the consistently high standard of her graduating students.
Many visitors were on a shopping spree, buying jewellery and ceramics.
TEXT ABOUT HER
As the only post-graduate arts college in the country, the  RCA more than  lived up to its formidable reputation and many congratulations to all the talented, incredibly dedicated  graduates and their tutors.
A GREAT SHOW.