THE BOWES MUSEM
TheEye had a big treat last week and worth getting up at the crack of dawn to catch the 7.30 a.m. train to Darlington.
YVES SAINT LAURENT – 'STYLE IS ETERNAL' at the wonderful BOWES  MUSEUM in Barnard Castle County Durham, a small country town in the the heart of Teesdale. In 1998 TheEye curated SPIRIT OF THE TIMES with a theme that the museum's founders, JOHN BOWES and his French wife, JOSEPHINE, were the first official shopaholics. TheEye felt a spontaneous affinity with the somewhat eccentric idiosyncratic pair with a compulsion for shopping and francophilia that turned shopping into an art form.
The entrepreneurial John Bowes, illegitimate, much loved son of the 10th Earl of Strathmore became a Liberal M.P. and industrialist. He made a fortune from coal and shipping, but his real interests were theatre, race -horse breeding and the arts. Bored with England, he moved to Paris where he enjoyed a lively social life, and met, fell in love and eventually married actress, singer and amateur painter, Josephine Benoîte Coffin – Chevallier.
Together they indulged in their love of shopping with carefree abandon patronising the finest stores, the most fashionable decorators and art galleries, and the new International Exhibitions, where they purchased art and artefacts of  all kinds. Furniture, china, glass, silver in huge quantities. You name it, if it caught their fancy, it was theirs. They shopped till they dropped (Josephine died at the age of 43, so maybe it was a rarely known case of consumer consumption?)
Made in 1773 by James Cox, the swan was bought by John Bowes at the Paris International Exhibition of 1867 for £200.
Josephine was a fashionable dresser, and an early client at The House Of  Worth. A portrait of her dressed in a pink ball gown wearing a single strand of pearls hangs in the grand reception room.
For 'SPIRIT OF THE TIMES', The House of Dior lent a magnificent ball gown designed by John Galliano from one of his early collections at Dior to go underneath the picture. The train trailed the length of the entire gallery. A dresser from came from Paris to install it, which took two painstaking days!
Having stuffed their homes with their purchases, they went one big stage further and commissioned a fully fledged French chateau to be built from scratch, perched high in the countryside with views of the Pennines  – not as a home for themselves –  as a museum to house their collection of  fine and decorative European art  from the 14th century up to their time (mid 1800's). Josephine had discovered the young Emille Galle working on his father's stand at the Paris International Exhibition and became one of his first patrons. There are many examples of Galle glass in the museum.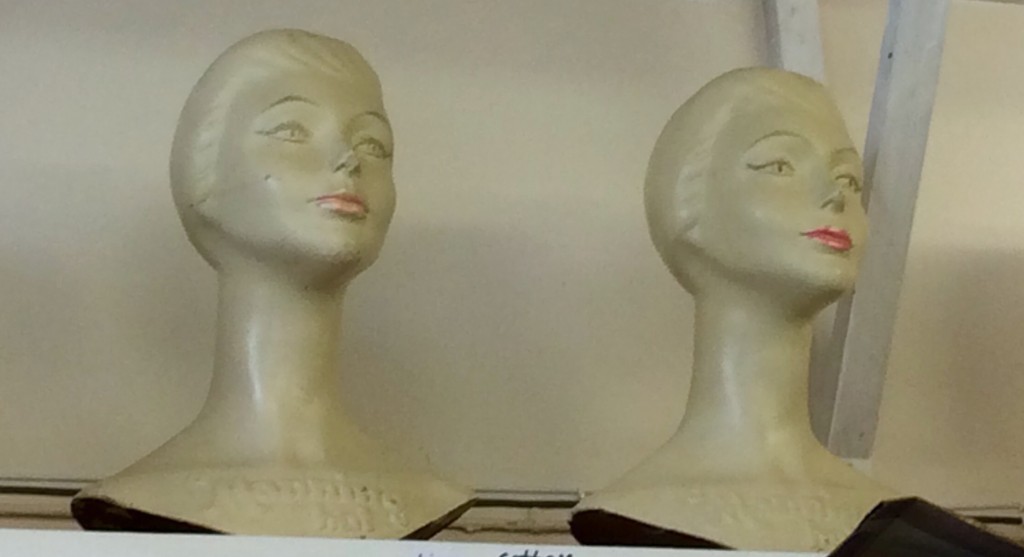 The Bowes has one of the finest fashion and textile departments in the U.K. (the largest collection of  lace in the world) under the curatorship of Joanna Hashagen, whose vast breadth of  knowledge is only surpassed by her passion, imaginative, original approach to display and presentation, dogged determination and infectious enthusiasm. A potent combination of assets!
No doubt qualities which contributed to the decision by the FONDATION PIERRE BERGE to hold the first YVES SAINT LAURENT exhibition in the U.K.  at the Bowes Museum. The exhibition celebrates the timeless modernity of YSL's style, and demonstrates, in his words –  'What has always come first to me is respect for a metier that is not quite an art, but which needs an artist in order to exist'.
As a teenager of no more than 15 or 16, he produced a programme of his designs (YVES MATHIEU SAINT LAURENT COLLECTION) and paper dolls and staged a fashion show in his family home. Each guest received a fully accessorised doll and catalogue as a memento when they left.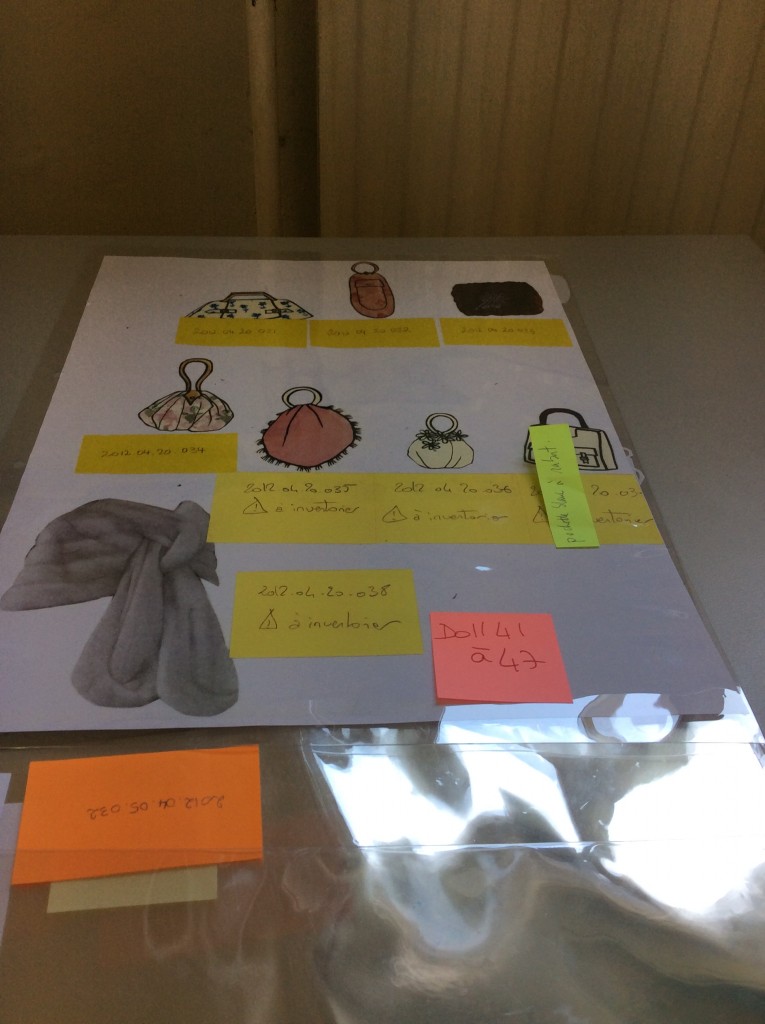 Having been an assistant to CHRISTIAN DIOR, who he regarded as 'a brilliant teacher', Saint Laurent became artistic director in 1957, at the age of 22, of the HOUSE OF DIOR following Christian Dior's death.
He presented his first collection 'THE TRAPEZE' in 1958 and in the same year, his second collection at Blenheim Palace, home of the Duke and Duchess of Marlborough attended by the young and very pretty PRINCESS MARGARET, to raise money for the British Red Cross. He also met Pierre Berge, his life long partner. Together they founded the house of YVES SAINT LAURENT, which officially opened in 1961.
YSL offered a fresh approach to fashion directed at the modern woman with a new and surprising silhouette each season. Often simple, sometimes sumptuously exuberant, with homages to his favourite artists using the refined embroideries of MAISON LESAGE, exquisite feathers and flowers from LEMARIE and striking ABRAHAM prints.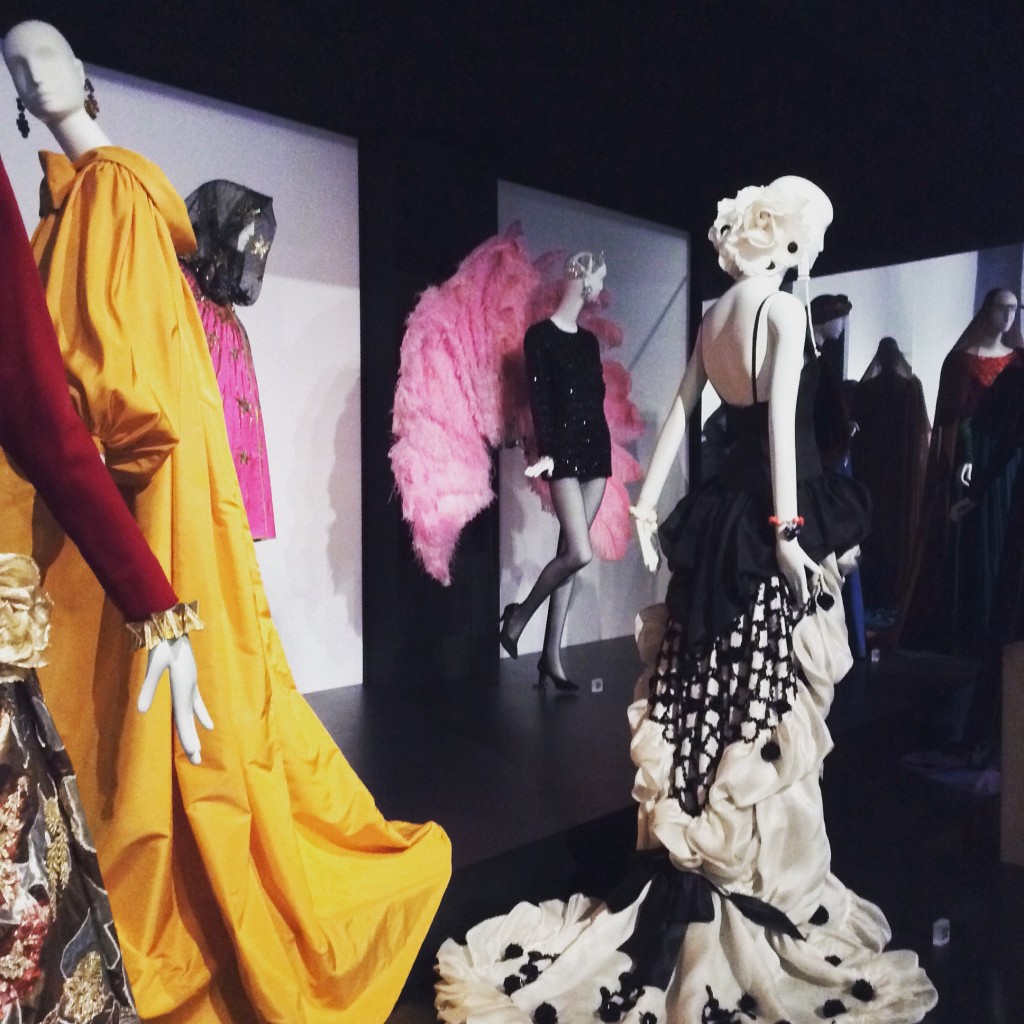 Signature pieces included the fisherman's reefer coat and sailor blouse in 1962, the evening tuxedo in 1966 and most famously 'TRIBUTE TO MONDRIAN' (his favourite painter) in 1966:  'I suddenly realised that dresses should no longer be composed of lines, but of colours'.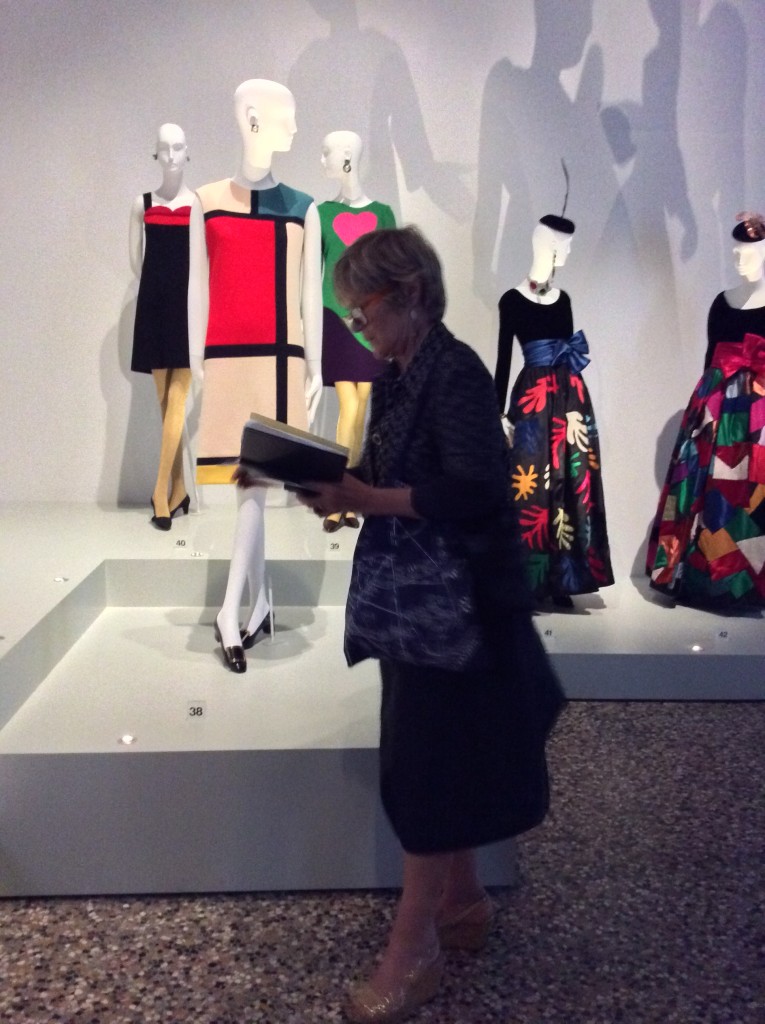 By having a woman embody a painting in the form of a garment, YSL democratised the high art usually found only in museums and contributed to giving it the more widespread appeal typical of 1960's Pop Culture. Some of his designs made use of actual subjects of certain paintings – VAN GOGH's 'Irises and Sunflowers', MATISSES's cutouts, BRAQUE and 'HARLEQUIN', a result of his association in 1969 with ANDREE BROSSIN de MERE known for her woven and printed fabrics, who made the patch work for the YSL 'HOMMAGE TO PICASSO DRESS' in 1979.
'I SUCCEEDED IN BECOMING THE MAGICIAN WHO TRANSFORMS PLAIN CLOTH INTO BROCADE, A MIRROR INTO A LAKE, GLASS INTO GEMS, RIBBONS INTO A FOREST, TULLE INTO MIST. THE SPELLS CAST BY THE THEATRE SEEMED TO ME A MORE LIVING AND MORE LUMINOUS RETREAT THAN REALITY.'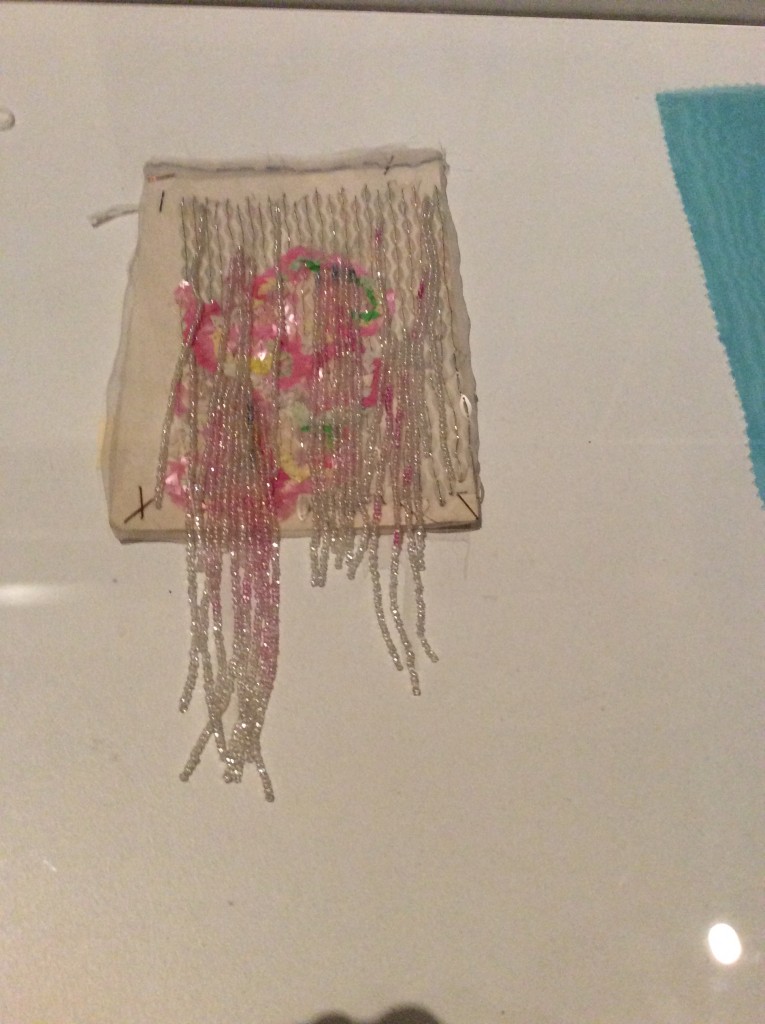 Saint Laurent was inspired not only by French culture, but by Africa, Russia and Asia, enriched by his own love of art and artists.
Saint Laurent's influence transcends trends and the vagaries of  'fashion' – he will always be regarded as one of the greatest and most influential designers to have lived. His inspiration lives on and like other legends, will continue. Seeing the captivated crowds (the exhibition promises to be the most successful in the museum's history) – awestruck students, lovers of fashion history and general museum public, is quite thrilling.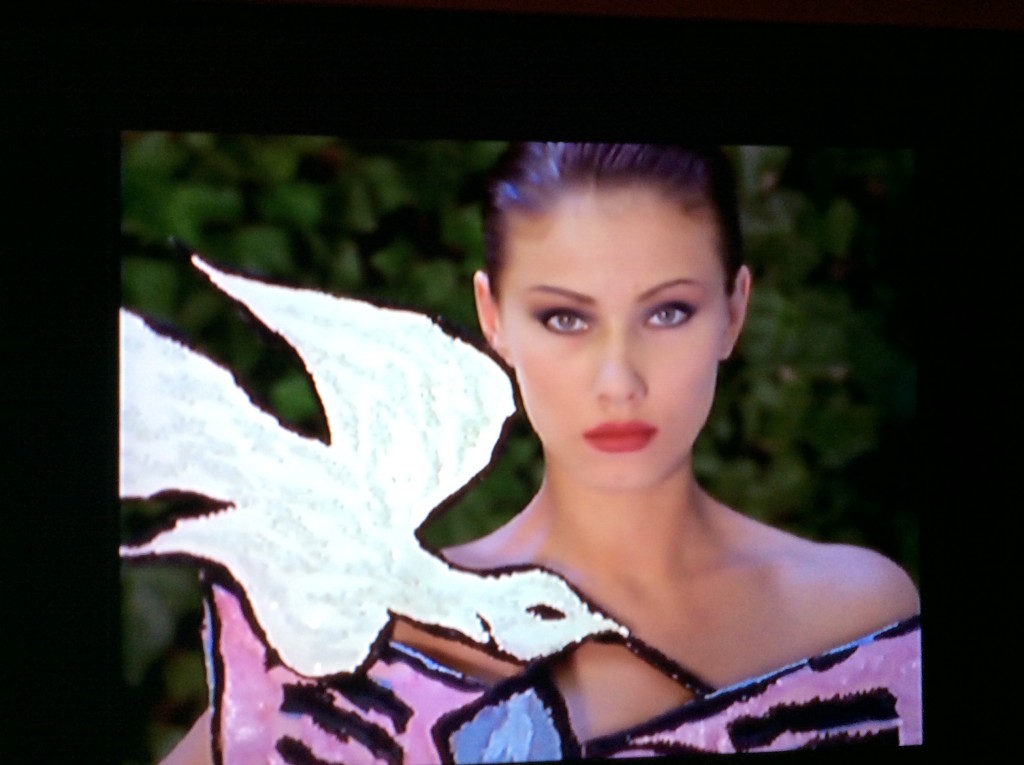 Brilliance and genius shines through.