THE WHITE ROAD – a pilgrimage of sorts
EDMUND DE WAAL | ROYAL ACADEMY
Edmund de Waal is a force of nature. This is no exaggeration. He ranks high in TheEye's list of exceptional achievers that make her wonder 'how do they do it?'
Potter 'par excellence' and best selling author (The Hare With The Amber Eyes) and now 'The White Road'.
Writing was originally something of 'a side line'. His publishers predicted 'The Hare With The Amber Eyes', a magical and fascinating family saga exquisitely told, would have 'limited, niche appeal' and might, (looking on the bright side) sell about 6,000 copies. Even sophisticated, seasoned publishers make mistakes (this was pretty massive) and to say they erred on the conservative side would be an understatement. The book has been translated into 18 languages, giving pleasure and delight to the many hundreds of thousands worldwide that have read it.
Acknowledged to be the UK's most celebrated living ceramicist, with collectors all over the world buying his work, he has a major show opening at the Gagosian Gallery in Los Angeles in January 2016. Quite an achievement for 'a potter'.
Edmund is a natural storyteller, captivating his readers and taking them along, as companions and confidantes, on his literary  journeys. His writing style lacks pretension or condescension and makes what could be complicated and possibly torturous reading easy and enjoyable. Books you don't want to put down. No mean feat, particularly on a subject with as unlikely general appeal as white porcelain, the rare material he has worked and obsessed with for decades.
'The Hare with The Amber Eyes', a memoir traces the (mis)fortunes of his ancestors, the Ephrussis, once one of Europe's richest banking families, on their tragic journey of art and loss. THE WHITE ROAD is equally personal. 'It is really quite simple, a pilgrimage of sorts – a  chance to walk up the mountain where the white earth comes from'. He recalls the first pot he made was a white bowl when he was five, and his bemused teacher saying 'we have all these wonderful colours you can use' but young Edmund was having none of it and insisted he just wanted white. 'An augury for a life of white bowls' he adds.
According to Edmund 'White is an aura. A staging post to look at the world from. White is not neutral:  it forces other colours to reveal themselves. It moralises – it's clean when nothing else is clean, it is light when the most things are heavy. It is political. It is enmeshed in the world'. 'The book is about why the colour is so important and why I make white things'.  It is the history of his day job – crafting porcelain. Poetic, beautiful, expressive words.
The book signing and the exhibition reception at The Royal Academy was heaving with Edmund fans –  more expected for a popular celebrity than a serious writer and artist. But Edmund is a rare human being. There were the inevitable speeches from Royal Academy President, Christopher Le Brun, and Edmund's editor, but it was Edmund everyone really wanted to hear, and no one in the crowded room (including his wife Sue and their three teenage children) was disappointed. With the same easy writing style , he speaks in public eloquently, modestly and with natural charm.
A born communicator –  rare for an artist, when delivery is often awkward and self conscious (and to be honest in most cases, not terribly interesting).
And this is no conventional exhibition space — 
'interventions' in the library and Print Room
with an interior designed three decades ago in a gallery originally used to house the R.A.'s collection of white marble sculptures and casts.
The Print Room vitrines have been filled with manuscripts, poems, and a selection of ripostes about white.
The white pages of Tristram Shandy, Samuel Beckett, the score for John Cage's 4'33, several examples of contemporary 'white' works of art which include Rachel Whiteread and Robert Ryman and significantly, Edmund says 'one of the first pieces of porcelain made in the West, a delicate cup from Meissen.'
Shelves of books in the library have been displaced by a drawing, a sculpture or a vitrine. Vessels are placed on a tabletop and high up is the fragment of a twelfth-century corbel head of a saint. A marble lantern by Ai WeWei is juxtaposed with a porcelain table by Amanda Levete Architects. This is an exhibition in a working library. An opportunity to discover the  unexpected in quiet spaces.  Intended as a journey through things that displace the world through white.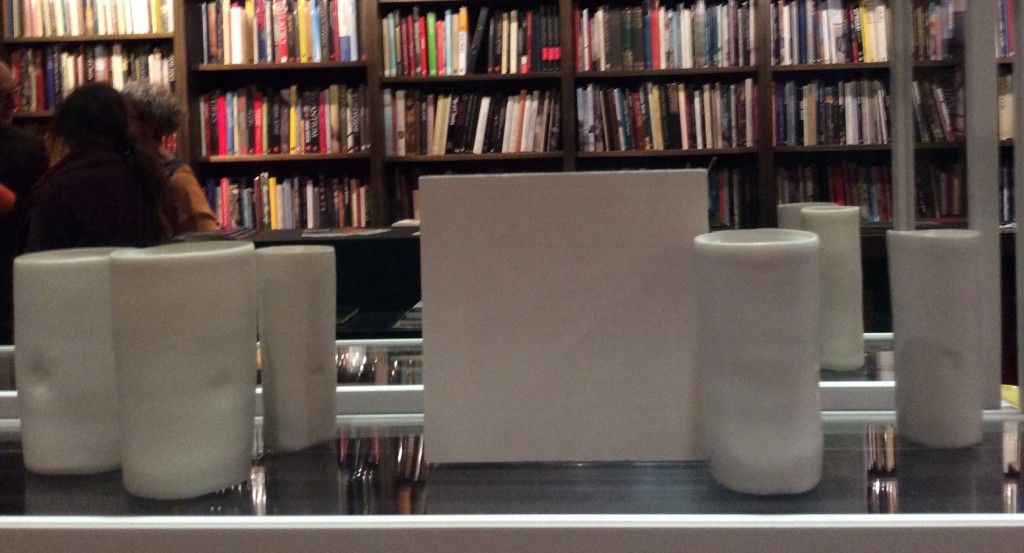 In the same way Edmund's books challenge but don't overburden readers with too many dry facts, the exhibition puts visitors to the test by making connections with the other objects. With all the enjoyable distractions of  an opening night party, TheEye felt conflicts of concentration (too much meeting, greeting and kiss kissing)  to do adequate justice to this fascinating, absorbing exhibition, and a return visit is already planned (alone) to give the time it deserves for serious thought and reflection.