London Design Festival Soundbites
WHAT CAUGHT 'THEEYE'
'My Grandfather's Tree' at Somerset House was a good place to start. Max Lamb insists he is not a craftsman, merely 'good at making'. Sorry Max, I beg to differ. He designs but also makes elegant and unique furniture, ceramic tableware and engineered marble.
When a huge ancient ash tree that dominated the landscape next to his Grandfather's cottage in the Yorkshire Wolds started to rot and was, through necessity, forced to be cut down, Lamb decided to give it a dignified 'afterlife'.  The tree was cut into 131 logs of average 'furniture' height and turned into functional, beautiful objects. And where the old ash once stood, a second generation of young trees are emerging from its roots.
MALLET DESIGN HOUSE
A fascinating collaboration fusing 18th century techniques with 21st century designs. Legendary Mexican silversmiths Tane, Milanese jewellers, Pomellato and Calico Wallpaper – an innovative young Brooklyn based wallpaper company (fabulous).
Zeev Aram was one of the first serious design retailers in the U.K. Now in his 80s, he has lost none of his enthusiasm & commitment. His support for design and his continuing encouragement of young makers and designers remains unflinching.
TheEye has long admired designer Michael Anastassiades for his elegant, distinctive lighting and simple items of occasional furniture and accessories often crafted in marble and other 'pure' materials.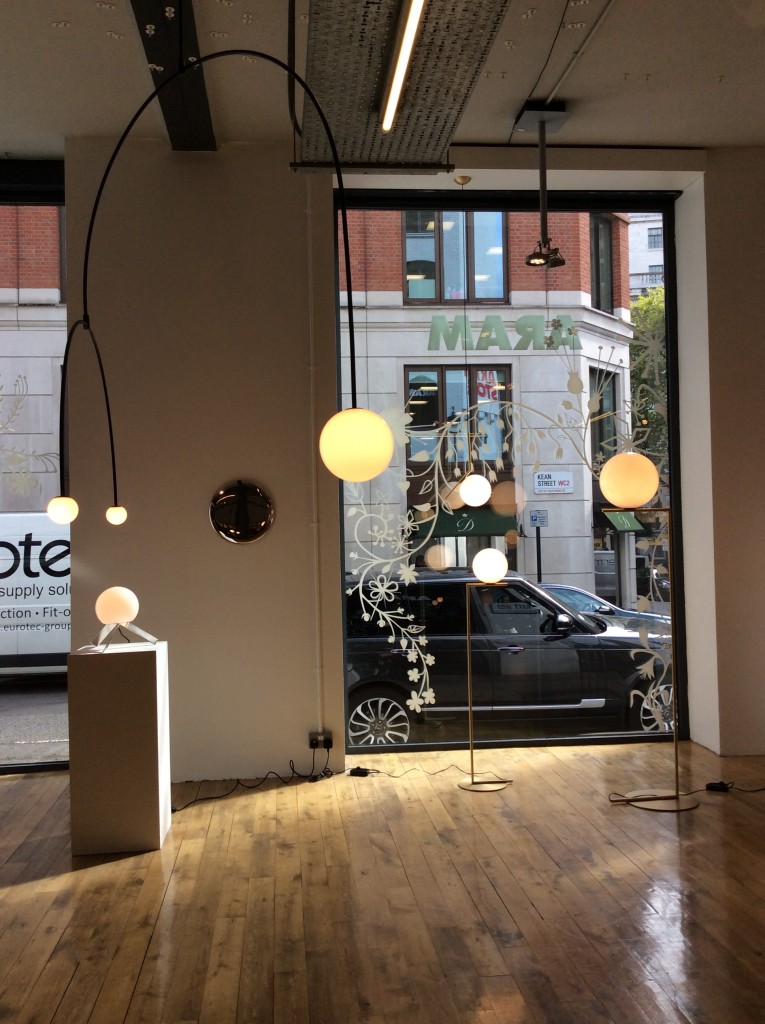 DESIGNJUNCTION IN TWO LOCATIONS
TheEye needed a long rest to recover from this marathon of exhibits. It was hard to take in all she saw when time was limited, but being of an intrepid nature, she wasn't daunted starting off in Victoria House, Bloomsbury Square before limping over to The College in the former premises of  Central St Martins, a Victorian maze of corridors and endless rooms and studios.
Lighting at The College was particularly strong.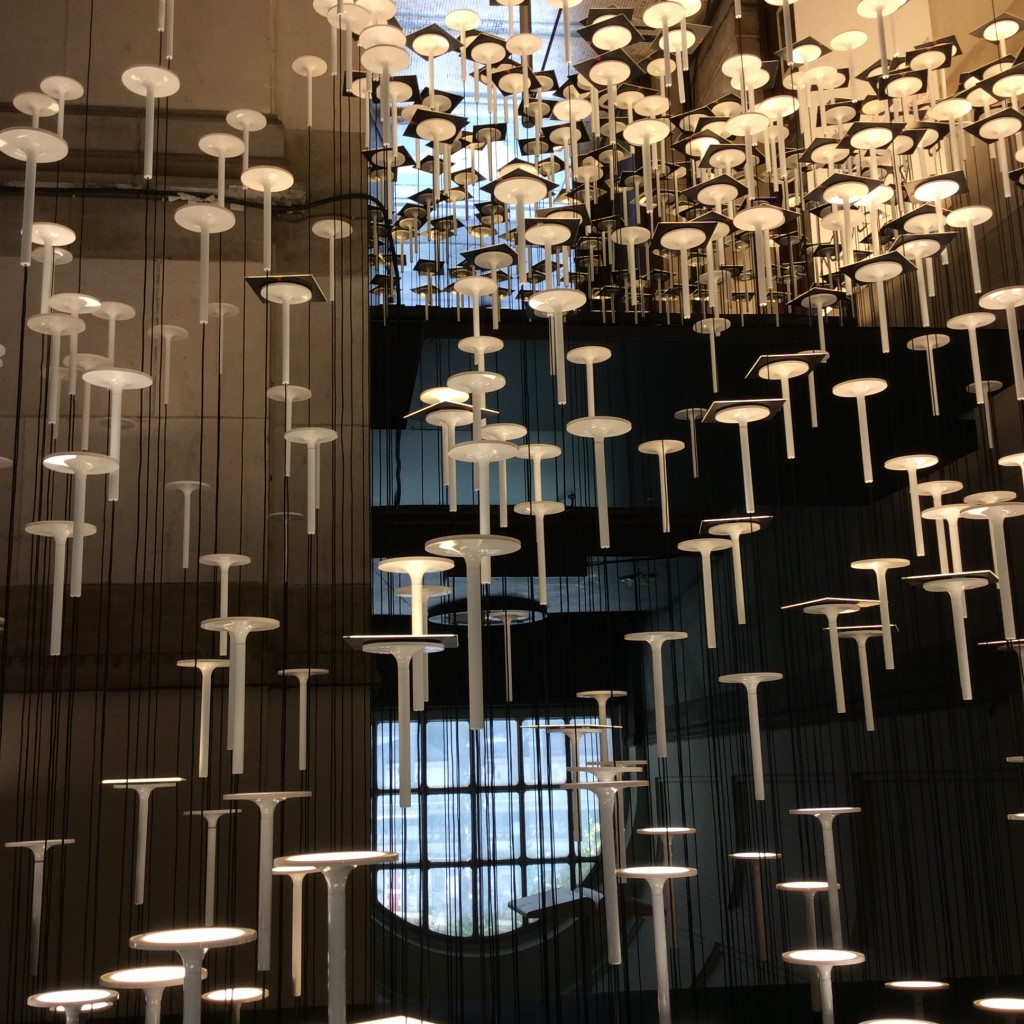 Smaller, independent, niche brands were the strength at Victoria House. 
MINT
Lina Kanafani has a great eye and in common with Rossanna Orlandi in Milan offers young international designers a breakthrough opportunity to show their work  – often in unusual materials. Mint is always a worthwhile experience.
SHOREDITCH
Over to Shoreditch and Hoxton Square.
Benchmark Factory hosted & curated by The Future Laboratory in their Elder Street headquarters was a top choice for TheEye.
Combining design with craft and industry showing new work by Lindsey Adelman, Max Lamb and the wonderful Eindhoven based designer/craftsman, Kiki van Eijk, there were demonstrations (all comers welcome to try their hand), and interactive displays. Also an excellent, healthy selection of food. TheEye eyed it but was off and running.
'LUXURY GOODS'
A wonderful totally irreverent celebration of the ridiculous created by Anna Lomax.       
'Created out of a love for the genuine fake and what luxury can mean' and in common with TheEye, a continuing obsession with POUND SHOPS.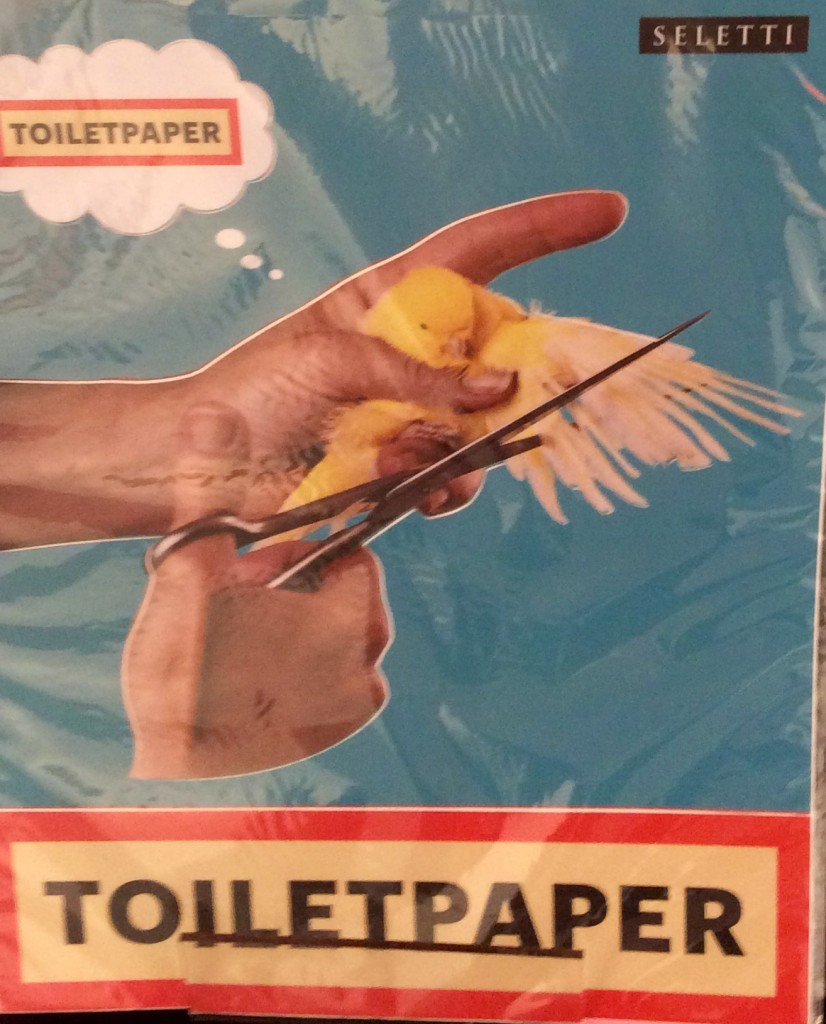 Whilst in a mood for a bit of enjoyable questionable 'good' taste (whatever that means) amongst all the VERY worthy well designed objects, TheEye was over the moon to find a gallery displaying  the divinely outrageous Andrew Logan's new offerings. Never one to hold back on excess, this was quintessentially 'in your face'  Logan.  LOVED IT.
THE V&A
TheEye picks her three winners.
BARNABY BARFORD  — 'TOWER OF BABEL'
In 2002 TheEye curated 'WASTE FOR TASTE' at Sotheby's. Barnaby, along with Martino Gamper, both recent graduates of the RCA, were exhibitors. Not much of Barnaby's work sold – possibly TheEye was the sole customer! –  but it caught the interest of 'über dealer' David Gill, who gave him an exhibition in his Southall space. He has gone from strength to strength and is one of the galleries most successful designers.
Comprising of 6.000 fine bone china shop fronts built up like a favela, TOWER OF BABEL is intended as an interrogation of the consumerist society we live in and stands as a monument for the great British past time of shopping. All the shops are for sale and visitors could choose and pay before the Tower is dismantled.
They were selling like hot cakes.
THE CLOAKROOM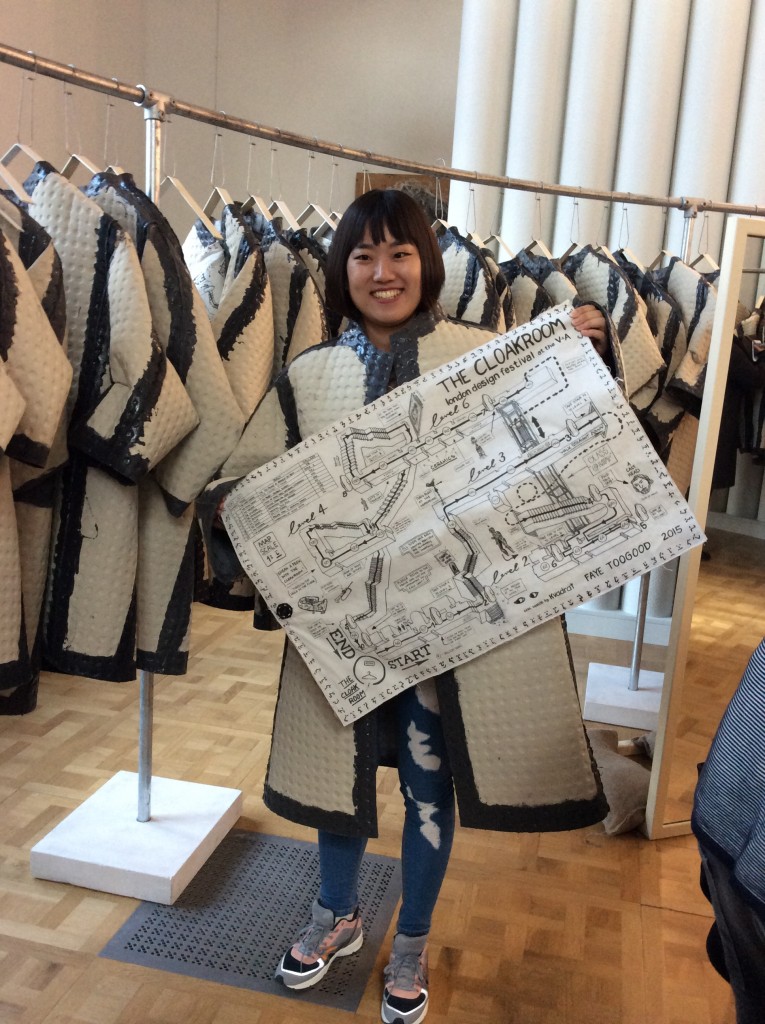 Faye Toogood's installation started in a literal cloakroom. Visitors were invited to check out one of Toogood's 150 voluminous Oil Rigger coats made by Kvadrat, a hight tech compressed foam textile, equipped with a sewn-in map to guide them round the Museum 'on a journey of discovery' to locate the ten sculptures Toogood made of her favourite objects in the V& A.
Loved this.  Everyone loved this.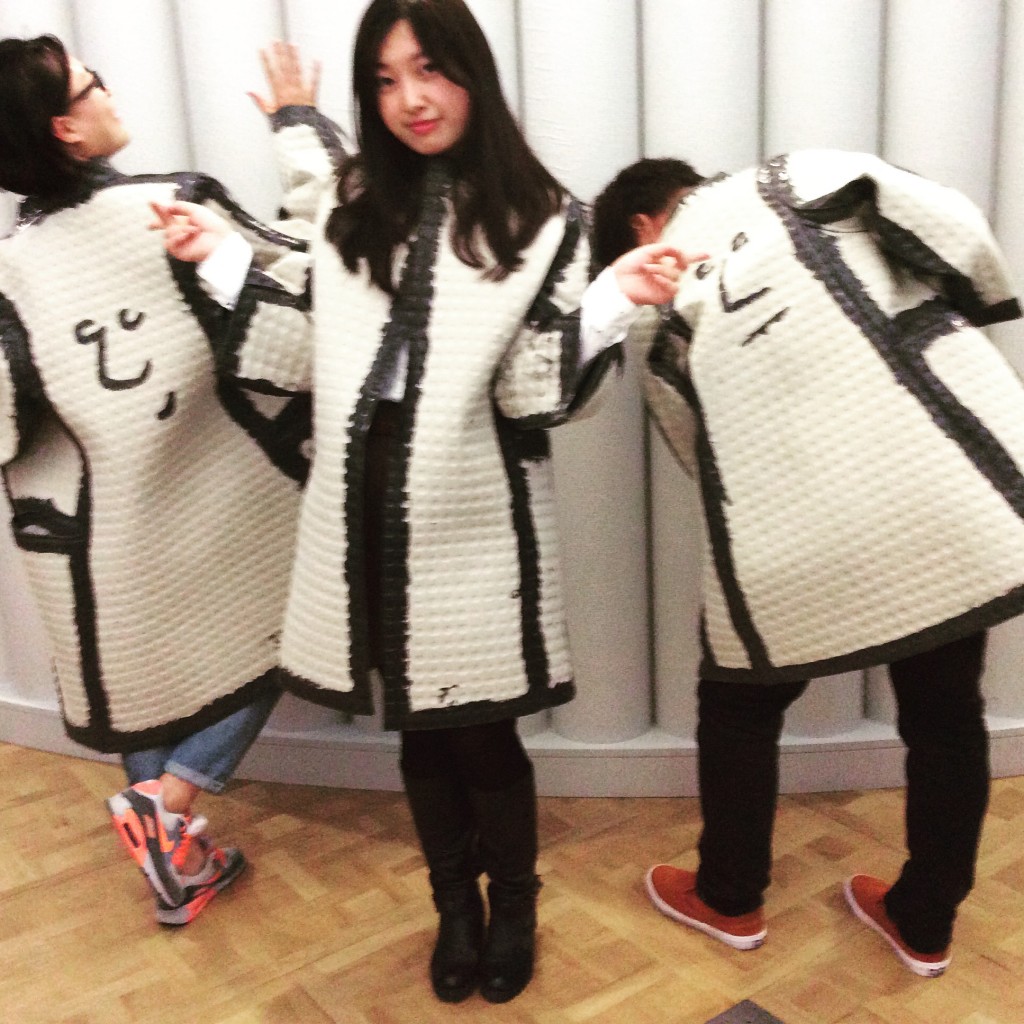 CURIOSITY CLOUD by MISCHER & TRAXLER in collaboration with PERRIER-JOUET
An installation in the Norfolk House Music Room by the renowned Austrian design duo inspired by Art Nouveau to which Perrier-Jouet's distinctive motif is attributed.
Playful, thoughtful and alluring, it was one of the V &A's most popular attractions and had crowds patiently queueing to enjoy the experience.
CURIOSITY CLOUD is part of an ongoing collaboration, 'Small Discoveries', celebrating moments in nature and how people interact with the natural world.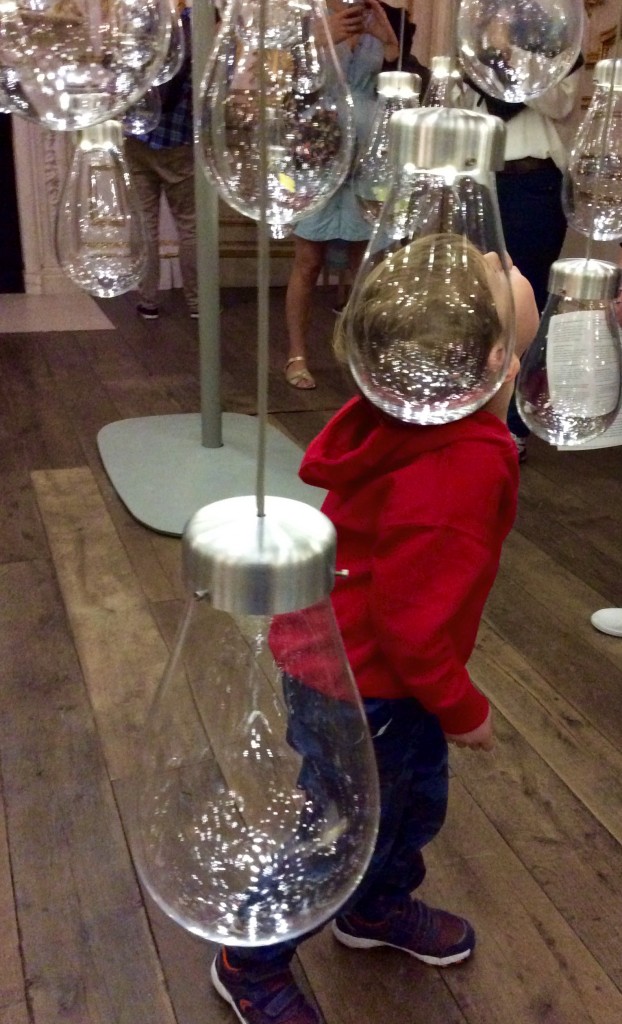 FINALLY TO SELFRIDGES FOR THE HUMOROUS HIGHLIGHT OF THE WEEK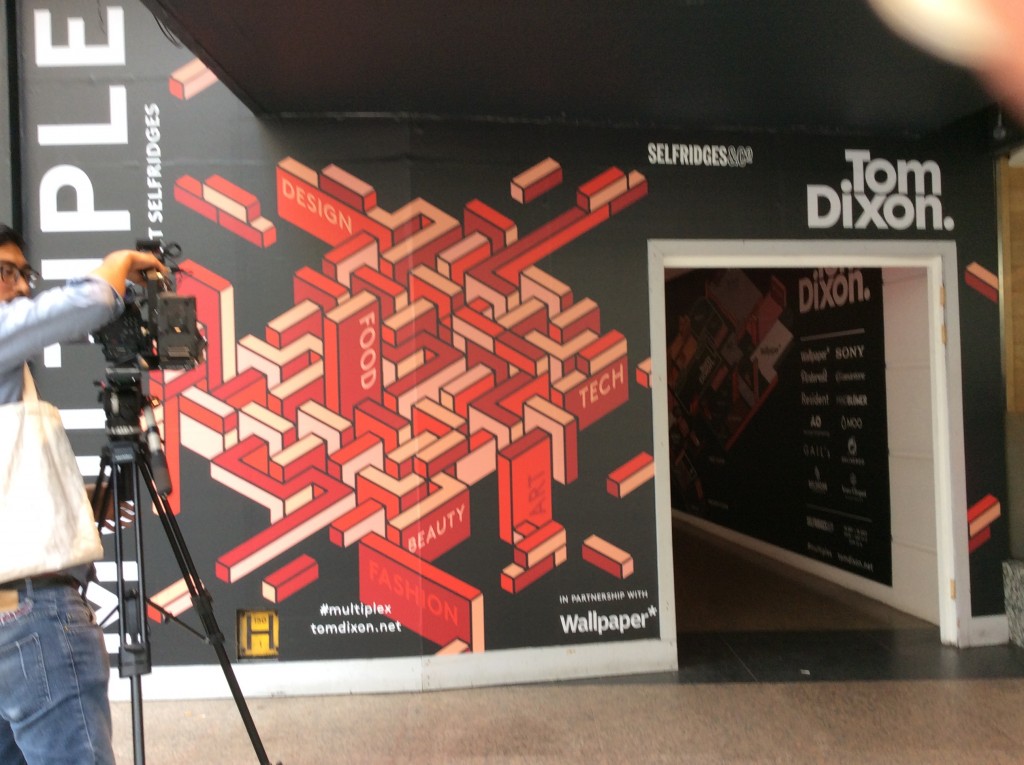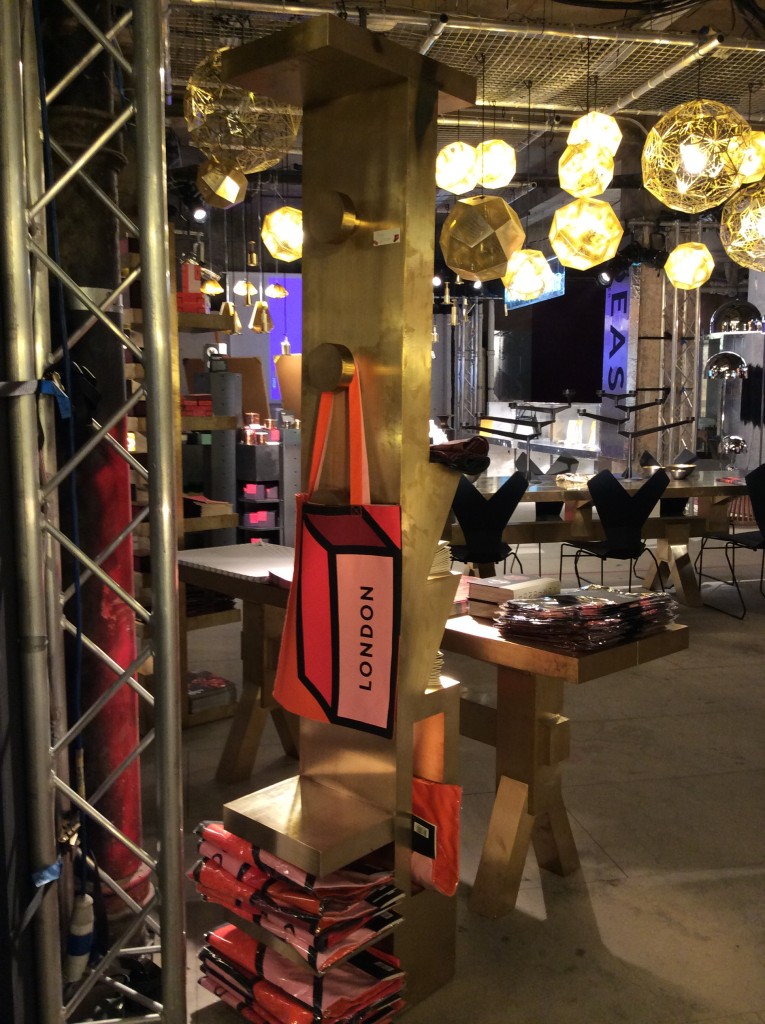 Tom Dixon's vast emporium had its own entrance – a superstore within Selfridges selling….well, everything, including a cafe.
Very impressive and 'very 'Dixon'. TheEye arrived as the man himself was delivering a lecture with projections, including a shot of himself frolicking in the waves on a Caribbean island, to an audience of Chinese architects and designers listening intently via an interpreter. TheEye had the distinct impression the translator herself, was somewhat 'lost' – certainly regarding Dixon's humour and playful irony. Ron Arad, (possibly the next to perform?), was looking somewhat concerned, no doubt rehearsing his own words very carefully.
Would make a great scene in a sitcom and just the gentle light relief TheEye needed after a very full on and exhausting week of impeccably designed tables, chairs and  lighting.
FINALLY
A brief sprint through the QUEEN'S PARK DESIGN QUARTER.
By now enough was well and truly enough.
TheEye had one regret – Not making it to Greenwich Peninsular to see Alex Chinneck's 'A Bullet from a Shooting Star.'
Well you can't do it all and she didn't wake up to see the red moon either. Now that's a real regret.