FABRIC OF INDIA AT THE V&A
THE FABRIC OF INDIA
TheEye has a long and enduring love affair with India – and India for her is all about colour and vibrancy.  Nothing encapsulates it more than the amazing and diverse textile skills  – spinning, weaving, printing, embroidery, beading or dyeing. It is astounding. Textiles tell stories and history and not just the sumptuous beaded embellishments that have adorned clothing and decoration for the super wealthy for generations. Wealth, power and religious devotion were (and still are) all expressed through textiles. There is also a kaleidoscope of regional styles – embroidery for example is a specialty of the western part of the country, from Gujarat and Rajasthan to Baluchistan and the North West Frontier. Wedding saris costing many thousands of pounds, take months to make with complex  designs, are out of this world (also extremely heavy to wear!) Specialist silk weavers in Verenasy will only take commissions from clients they know. Waiting lists are long because the reputations of these masters of their trade are legendary.
One of the great treats of visiting leading Indian designer Sabyasachi Mukherjee's salons during the 'wedding season' is watching a bridal group (usually mother, daughter and sisters) trying on saris for the numerous celebratory dinners and parties that will take place before and after the wedding itself. Of course there has to be a different outfit for each occasion and this includes the jewels too. It's  pure theatre. And this isn't just for the super rich, even the poorest invest in special clothes and jewellery which are a large part of a girl's dowry.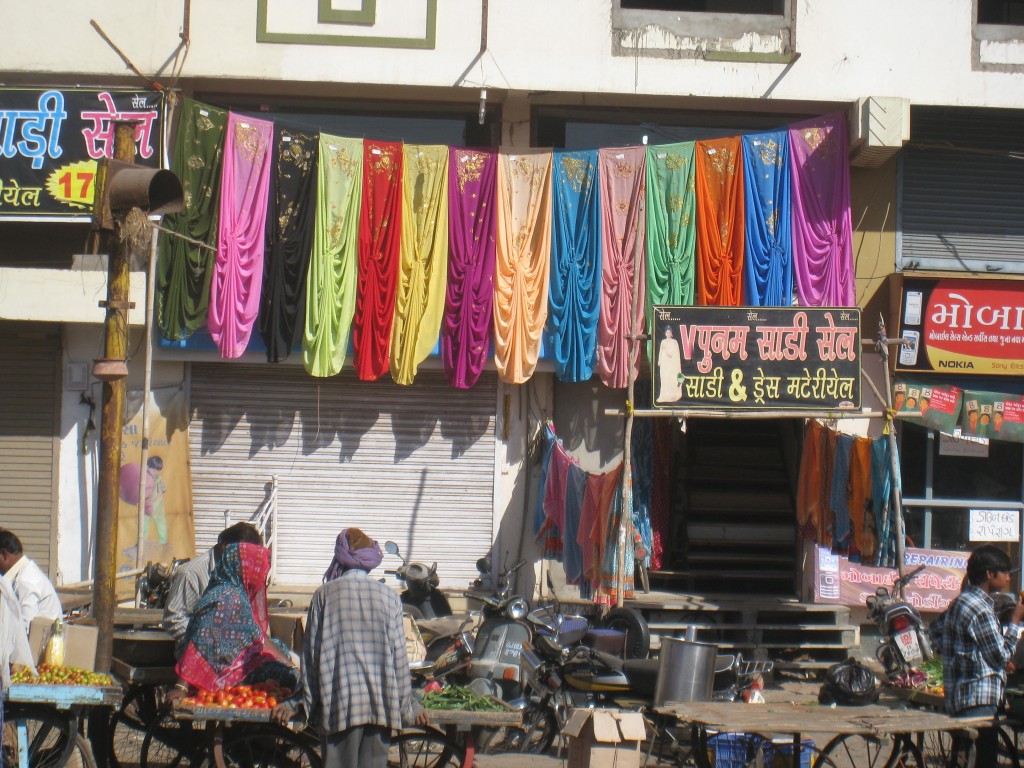 Fabric Of India at the V&A explores the  world of Indian hand made textiles and the variety, virtuosity and innovation of its important textile tradition. The museum, by the way, has the largest collection of Indian textiles in the world – more than 10,00 pieces, from the simplest weaves worn by poor farmers to the lavish embroidered silks of Mughal emperors and maharajas. This is the first time an entire exhibition has been devoted to the subject and focuses on the historical and political importance of  textiles to the country.
As the world changed, in the 19th century chintze became very fashionable and started global export as Indian dyed cotton fabrics were coveted by the highest levels of European society threatening to eradicate Indian handmade industry. Imitations could be produced more cheaply in British mills and imported to India, flooding the market and radically altering its economy. The Swadeshi (Own Country) movement called for Indians to stop buying foreign goods and by the early 20th century, Indian textiles became a symbol of resistance to British rule. Mahatma Gandhi put the revival of his country's hand-loom industry at the centre of his fight for independence encouraging the mass spinning, weaving and wearing of traditional khadi cottons.
In 2008 TheEye decided to take a trip to Gujarat to visit different textile communities and not wanting to risk boring her husband emailed a few women with a similar interest. In the end there we were, a group of five similarly obsessed, from Italy, Austria, the U.S. and the U.K. including my great friend, jewellery designer Jamini Ahluwalia based in Mumbai, who speaks  several local Gujarat dialects – a huge bonus. The great thing was having the luxury of time to look without having to worry about our partner's low boredom thresholds. We spent hours in a bus covering long distances in very rural areas.
The furthermost outpost was 30 kilometers from the Pakistan border for which police permits were required (but in true Indian style never looked at).
We spent a scary night sleeping in not very well insulated tents in the freezing cold desert with howling dogs and male only staff that reminded us of Osama Bin Laden who was still on the loose then. Needless to say none of us had a great night's sleep. A relief to find we were all alive in the morning and keen to defrost and depart.
Such a fascinating trip but dispiriting to see how many craft communities specialising in very individual and specific techniques are fast disappearing. Skills that had taken a lifetime to perfect are no longer attractive to young people who are lured to the big cities for the more lucrative prospects of driving cabs or working in hotels, and these Master craftsmen are becoming part of India's fading cultural history.
Italian designer Luisa Cevese is renowned for her products – bags, and home ware accessories using different material fragments. Luisa was one of 'our' group and discovered a treasure trove of fabrics, remnants and even discarded threads from looms which she took back to Milan and formed the basis of her 'Inspired By India' Collection. She also went to the (very) early morning sari market in Mumbai in the stifling heat but her quest was very successful and she returned to the hotel laden down.
The V&A exhibition ends with India's contemporary fashion scene. Although facing challenges from the influx of Western dress styles, the sari has not been abandoned by today's designers. Some have re-invented the traditional sari making them more stylish to appeal to a younger fashion aware generation, many of whom would prefer shopping in London, Milan or Paris.
According to exhibition co-curator, Divia Patel, 'some of the new designers are making the sari more fashionable and fun for young women – something to get genuinely excited about wearing.'