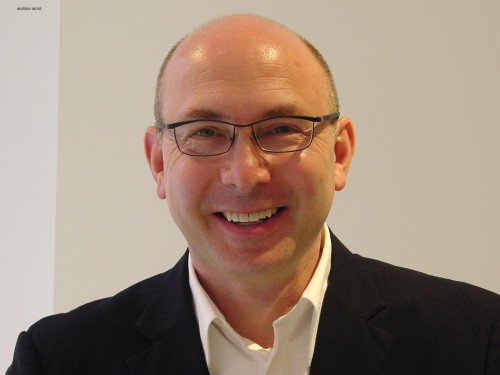 My  friend and soulmate Murray Moss is in town this week for the launch of his recent book about the legendary Danish silverware firm and its designer — 'GEORG JENSEN : REFLECTIONS'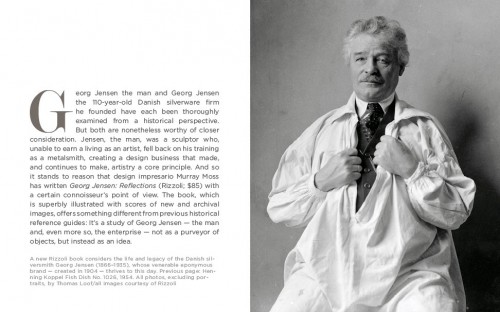 In the world of design, Moss is himself a living legend, described (by journalist Jennifer Kabat) as 'no ordinary mortal, but one who has defined the design decade, and helped shape how we see objects'.
The Moss back story reads like a good script – born and raised in Chicago, his father was a successful engineer and both his parents were somewhat eccentric. They wanted the young Murray  to have a cultural life, piano lessons etc. and they allowed him to decorate his own room, which he did with objects from the gift shop of a Chinese restaurant. After a BA from New York University in 1971, Moss trained as an actor , mainly appearing in experimental productions where he became known for playing mad men and wearing straitjackets and a brief stint as a trapeze artist.
Abandoning acting for a career in fashion, a successful partnership with designer Ronaldus Shamask ended acrimoniously, but during numerous business trips to Milan Moss became stimulated and indeed obsessed by the magic of design – 'cool, modern objects like lamps and vases integrated into daily life often in historic buildings'.  He shed fashion to pursue his new dream and in 1994 opened 'moss' in SoHo, New York. Disregarding all conventional retails rules, it was a unique concept, more about art than design – a shop/gallery that was fresh, exciting, stimulating – and well…. just different from anywhere else. Bold, opinionated, uncompromising and daring in its approach to the way objects and furniture were  displayed and sold.
The museum – style presentation of objects in rather formal locked glass cases, each piece meticulously labelled, dated and described. The blurring of industrial production and studio craft (Dutch designer Hella Jongerius, whose 'one off' work is in museums world wide, also designs for companies such as Vitra, Ikea, and the airline KLM). The eclectic mixing of periods, styles, sensibilities, ( Sevres, Nymphemburg porcelain figurines, Venini, Dieter Rams rigorous shelving).
moss had the confidence to sniff out potential (often unknown, recent graduates) and his incredible vision established the careers of people such as Maarten Baas. In 2004 having spotted his work at the Eindhoven Academy degree show, he purchased several iconic pieces of furniture and shipped them to Baas's studio to be burnt for 'Where there's smoke' collection exhibited in the gallery.
Others to benefit from the 'moss seal of approval' include Studio Job, Tord Boontje, Luisa Cevese, Claudy Jongestra; he also put the Brazillian Campana Brothers on the international design map. The  list seems endless.
moss was not pretentious, no tip toeing around in hushed, awed silence. There were always cheeky surprises, and plenty of humour.  moss did things 'their way' and customers loved it. Sheep or reindeer kitted out in festive Santa Claus hats were seasonal  best sellers, their doleful, somewhat bewildered faces  gazing out of  the  store  window onto Greene Street, brought  smiles to the faces of  passers by – what other design retailer would have the confidence or chutzpah for such a prank?
In 2012 , and seemingly out of the blue, moss closed and Murray was diagnosed with Parkinson's Disease. It was a dramatic and unexpected turning point. But with guts and the spirit of a true trooper (maybe the trapeze artist in him?) there has been no self pity and the Murray Moss show rolls on. As a major part of his life changed, another evolved.
He and his partner of 40 years, ex Sesame Street producer, Franklin Edward Flewelling Gretchell, (just can't resist getting it all in) established MOSS BUREAU.   ('I didn't downsize' he says, 'I completely abandoned high street retail but continue to represent artists and designers).
MOSS BUREAU offers a range of services including changing the look of retail operations in major museum stores across the U.S. (the Philip Johnson Glass House was one of the first). Working with restaurants, and assisting private and institutional collectors, including the renovation of a Park Avenue duplex. He has taken on several 'curatorial assignments' including at the Warhol Museum, public speaking, giving Master Classes at academies, universities and cultural institutions and is a member of the Faculty of the New York School of Visual Arts. All this and writing are part of the new packed agenda.
A book of wonderful vintage press photos and unexpected juxtapositions, 'TERTIUM QUID'  (Latin for 'third thing') is dedicated to the memory of his sister, Jean Moss Weintraub, who died a few years ago. The photos collected from newspaper archives which he says he 'combed through in the wee hours when unable to sleep' are predictably perceptive, humorous and quirky.
Murray is currently on a whistle stop visit to Beijing consulting with the CEO and architect advising on a new flagship Jensen store and meeting designers and architects.
London next.
THE EYE can't wait!