Another year? Can it be possible? But yes, here we are again in the gifting season.
Present — chore or pleasure?
For TheEye, it's both. True, you can sit at home and click away, no trailing around in crowded stores, and it all gets delivered, but TheEye isn't much of a clicker, she (quite) likes the shopping experience.  Here are a few ideas that would go down a treat for her and a few places she will be heading to make her purchases.
In the pre-festive season (early October onwards,) there seems to be an endless stream of 'Fairs' (in some sad cases, known as 'Fayres'). People selling from their homes, open studios such as Cockpit Arts in two locations, Clerkenwell and Deptford, where designers and makers have open days and sell directly to the public. The RCA has a popular selling weekend with work made by students and graduates, and several museums have high-quality gift  shops – The V&A tops my list as a shopping destination worth a detour for original gifts and cards.
Starting with the obvious. TheEye can never have enough deliciously scented candles and I mean delicious, not those pungent, overpowering  'Christmassy' horrors, heavy on pine and incense which might have been fine for the Three Wise Men bearing their gifts, but the only gift they give TheEye is a massive migraine.
Diptyque fragrances come in subtle aromas and, whilst on the fragrance track, what can be more luxurious than wonderful soaps, bath salts, lotions and potions – anything that makes bath time a pleasure? O.K., it's a cliche, but so what? It's nice to feel pampered.
Italian brand Farmacia Santa Novella claims to be the world's oldest pharmacy. The distinctive packaging never changes – simple and unfussy. I particularly love 'Melogramo', their signature scent. The main branch housed in an old Convent in Florence is a tourist attraction, but there are two small stores in London – Piccadilly and Walton Street. You can't go wrong  – a perfect gift for those who "have everything."
Whilst on the subject of those impossible individuals, ASSOULINE (their motto: "how to live richly") in Piccadilly (also in Brook Street) is gloriously decadent and sophisticated. The interiors are designed to feel exclusive and clubby with comfortable sofas and chairs. The Piccadilly branch has a cafe where you can sit and relax. Along with vintage titles, specialist art, photography, design and 'coffee table books' (so large and  heavy, not for reading in bed), Assouline sell leather goods, thick Italian paper cards, embossed albums and a range of  'Library Candles' – Paper, Leather, Havana and 'Wood'. Clearly this is something of a trend. A company called Demeter has come out with a range called 'Paperback' which, they say, is meant "to evoke a trip to your favourite library or used bookstore –  sweet and lovely with just a touch of the mustiness of old paper". TheEye will be passing on this one and, likewise, DZING by L'ARTISAN PARFUMEUR, which apparently smells like cardboard, gets another thumbs down.
DESIGNER'S GUILD is the perfect 'one stop' shop for quirky one-off gifts.
Lovely ceramics, jewellery, TheEye's favouriteMilanese designer, LUISA CEVESE's stylish and very practical bags in all sizes from overnight bags to purses and her original table accessories in Designer Guild's distinctive colour palette. They also have a children's department.
BOOKS
Amazon might be cheaper and more convenient, but TheEye loves bookshops (and hasn't succumbed to Kindle either)  and there are still plenty of superb ones around with knowledgeable, helpful staff. Genuine book lovers in fact.
Don't knock Waterstones, it's a great shop, with a vast and comprehensive selection, Daunt Books is excellent, particularly good for travellers, Lutyens and Rubinstein and Hatchard's in Piccadilly ('the Ritz of bookshops' ) is like a civilised time warp.
Hatchard's now has an outlet in Sotheby's run by Richard Buch, a charming, smart, amusing American man. You can spend hours indulging in book talk with him.
Books for Cooks specialises in food, cookery and wine books from all over the world.
It also houses a small cafe and at weekends a knife sharpener takes a pitch outside the shop – a very good service, particularly at this time of year.
ALIX SWAN creates beautiful and original handmade books using high quality textured paper and traditional binding techniques. With her own charming quotations and illustrations, she re-tells favourite fairy tales and stories. I have given box sets of her stories to countless children (wonderful baby birth gifts) and adults too and confess to owning and cherishing a few myself. My absolute favourite is The Red Shoes, which has a tiny pair of sequinned shoes. Dorothy would be very proud. She also makes wood veneer posting cards based on traditional postcards.
You can't get it right for everyone, and some friends and family might be happier with a voucher to spend on an indulgence they wouldn't normally treat themselves to.
What about giving a facial or massage, for example, or day in the spa.
TheEye is a great fan of beauty therapist ALEXANDRA SOVERAL.  Alexandra has magic hands and an hour's treatment with her makes a divine Christmas present and can be used at any time – long after the festive season is over, in the gloom of Winter, when you need a good pick me up.
What about a photograph?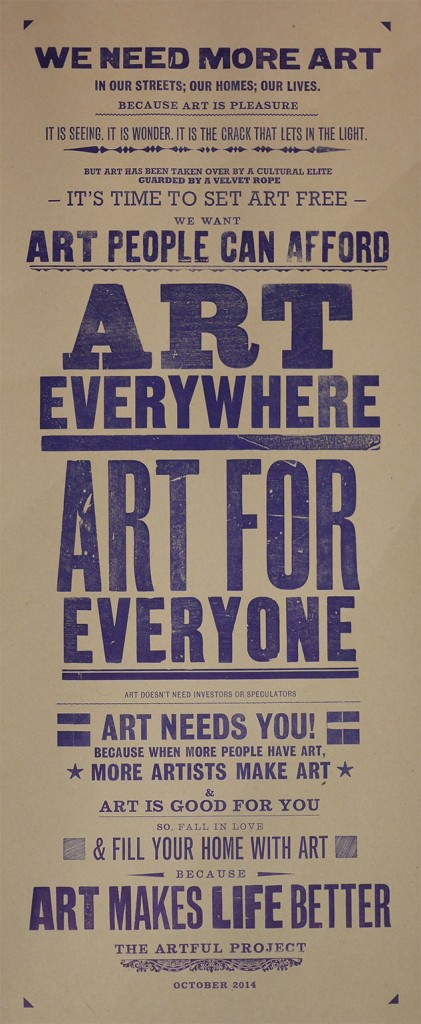 An inspired idea. From a portfolio of photographs in a wide price range,  you can purchase a very stylish gift voucher (good enough to frame) and it will be sent to the lucky recipient who can select a photograph.
But TheEye is leaving the best to last….
JEWELLERY (of course)
I first met Jessica at her Central Saint Martins Graduation show and was fascinated by her very special jewellery – every piece tells a story.
Her popular hand-stamped and personalised wax seal collection, which she calls 'The Love Story, Paris 1946', is really popular, particularly for fashion conscious young women – my god-daughter is a HUGE fan.
Jessica also designs a range of bespoke jewellery including charms, brooches, earrings and very witty cufflinks.  She sells either online or from her studio in Betterton Street, Clerkenwell.
Another Saint Martins jewellery graduate, ALICE CICCOLINI, worked with the British Council based in Delhi for several years. When she returned to London she took an M.A. jewellery degree. Alice designs rings, earrings and necklaces using glorious vibrant coloured gems which are hand made in India in the studio of one of the last Jaipuri Meenakari trained enamelers. Alice's designs, inspired by the patterns of the Silk Route, are 'showstoppers' – unusual, decorative and simply stunning… TheEye knows!!
Pippa Small is almost a one-woman institution.
Her pretty shocking pink shop in Westbourne Grove is full of the distinctive jewellery for which she is so well-known. Pippa is not just a jeweller, but an extraordinary person – she travels the world, often alone, to dangerous places most people wouldn't consider going to, sourcing ethically mined stones and her anthropological background is very evident.
I know no one more generous and special and all my friends have something of Pippa's they cherish. She will be on many 'what I want for Christmas' lists.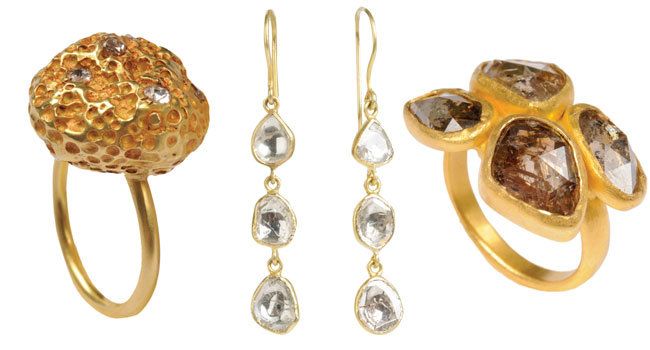 Well, best end on a high note and you don't get much higher than Solange.
Anyone who has visited the sexy boudoir style townhouse salon in Mayfair of Solange Azagury Partridge will know that her chic, witty jewellery is irresistible.  The sort of jewellery that makes you not only look good (well better!) but feel good too. Her iconic 'Hotlips' ring  – a best seller- is available from H&M for £69 in several colours ( a great gift).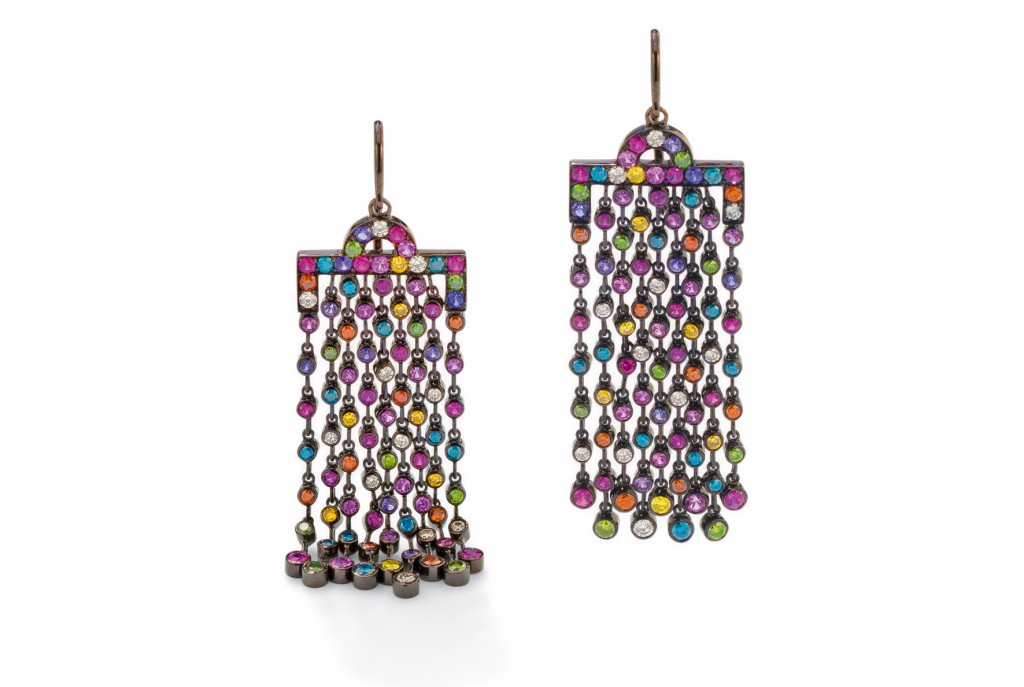 Then there are the 'stocking fillers' – the music, of course, box sets (The Affair please), HMV is brilliant. Anything cashmere from socks and gloves to hot water bottle covers and track suits (heavenly for snuggling on a plane journey).
And a word of caution to anyone that might consider a spot of  're-gifting'. Dangerous. If it's a book you are thinking of passing on to someone else, check the inside cover for an inscription and even a box of chocolates can be perilous. Be sure of the sell by date?A friend once received a fine box of chocolates only to discover one missing!!  It formed the storyline of a hilarious Seinfeld episode.
And on that happy note, good hunting!