PASSIONATE COLLECTORS
TheEye is fascinated by people who collect not just for financial reward (in today's world this seems to be more and more the priority), but with real dedication and passion. Investing in pleasure can be just as rewarding and the story of ALAN AND PAT FIRTH makes the case.
For three decades, Alan and Pat Firth spent all their money buying pottery by masters such as Lucie Rie and Hans Coper. Their collection has been described as more comprehensive than the V&A. Their family knew nothing about the treasure trove, piled up precariously inside the couple's bungalow in Temple Newsam, a suburb of Leeds.  Every space was filled – from the attic to the garage. Pat Firth died in 2012  and when Alan – a senior probation officer – died in April aged 80, without leaving a will, his nephew and niece wanted it cleared out so they could sell the house.
They called in Jason Wood, the ceramic specialist at Adam Partridge, a local firm of auctioneers, to make a valuation. When he entered the three-bedroom bungalow he compared it to opening Tutankhamun's tomb, saying, 'I now had some inkling as to what Howard Carter might have experienced – nothing quite prepared me for actually seeing it in the flesh. The sight was quite overwhelming.' At a marathon ten-hour auction, 350 lots sold for almost £1million – 10 times the value of the house itself.
Thanks to the Firth's meticulous documenting, Mr Wood was able to work out the couple spent a total of £27,000.  The star piece was a large stoneware ovoid pot by Hans Coper, bought for £124 in 1975, which fetched £50.000 in the auction.
Firth's nephew and his wife were 'overwhelmed' with the outcome of the sale, and had no idea of its value. In fact, they didn't realise its importance. Needless to say, they are very happy.
TOOTS ZYNSKY'S fluid, vibrantly coloured, undulating glass sculptural forms are uncompromisingly beautiful. She is an artist TheEye has admired for many years and came close to purchasing on several occasions, but somehow, the price always seemed  a notch or two beyond her reach. A recent exhibition at THEMES & VARIATIONS forced a decision. 'Buy or you will regret' was her mantra.
She bought and couldn't be happier.
Toots Zynsky was born in Boston and is one of the founding members of the Pilchuck Glass Center and the 2nd New York Experimental Glass Workshop. In 1985, she became the first contemporary glass artist to have a piece directly commissioned by the Museum of Modern Art.
Her signature technique, 'filets-de-verre' or fused and thermoformed glass threads, is inspired by her love of music, dance and art. 'Painting' with coloured glass filaments she coaxes, folds, pinches and caresses the semi-molten compositions into luminous sculptural pieces.
The 'finished products' belie the traditional concept of glass as transparent and fragile. Toots Zynsky's innovative approach and technique are alive with shimmering colours. They have a genuine sense of movement often lacking in studio glass.  Her mastery allows the heat fused glass threads to absorb light so it glows and comes alive.
Is Toots Zynsky 'an investment'? TheEye couldn't care less. She is living with something she loves, which is giving her great pleasure and making her very happy.
BEAUTY IN THE UNUSUAL
RUI XU
TheEye first met Rui Xu as an associate professor in the Fashion and Textiles Department of the School of Design at CAFA (Central China Academy of Fine Art), in Beijing.
She divides her time between London and China collaborating with artists, scientists, dancers and musicians which make her work so interesting and multi-dimensional.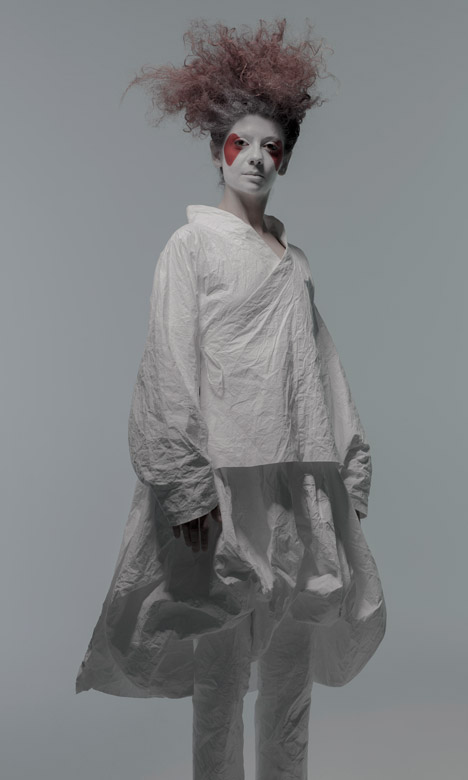 Rui Xu is a painter and designer re-discovering the links between current fashion and Chinese tradition using calligraphy and embroidery on her stunning garments.
'My ambition', she says, 'is to revive the spirit of ancient Chinese literati society into today's fashion. I want to bring the loftiness and luxury of Chinese noblemen and noblewomen and empower the spiritual freedom to the wearer of my garments'. She wants to present the high culture of China rather than its well known 'China town' culture. Dressing, like painting and music, has always been dominant in Chinese culture and Rui Xu fuses the witty and playful essence of this into her designs.
Collaborating with Dr. Kinor Jiang, a textile specialist and artist at the Hong Kong Polytechnic University, their combined expertise and experimentation has resulted in a stunning collection of wearable art in delicate fabrics such as silk taffeta, organza, voile and crepe with applications of metal plating. Fashion that speaks to the mind as well as the eye.  Dr Jiang employs scientific and advanced technological methods in the production of fabrics. Sounds a bit daunting but the results are stunningly beautiful.
THE CHANT OF BREATH, a mesmerising fashion art performance at the Saatchi Gallery. Part of the NEW CHINESE ART exhibition.
A magical fusion of art, dance, music and fashion.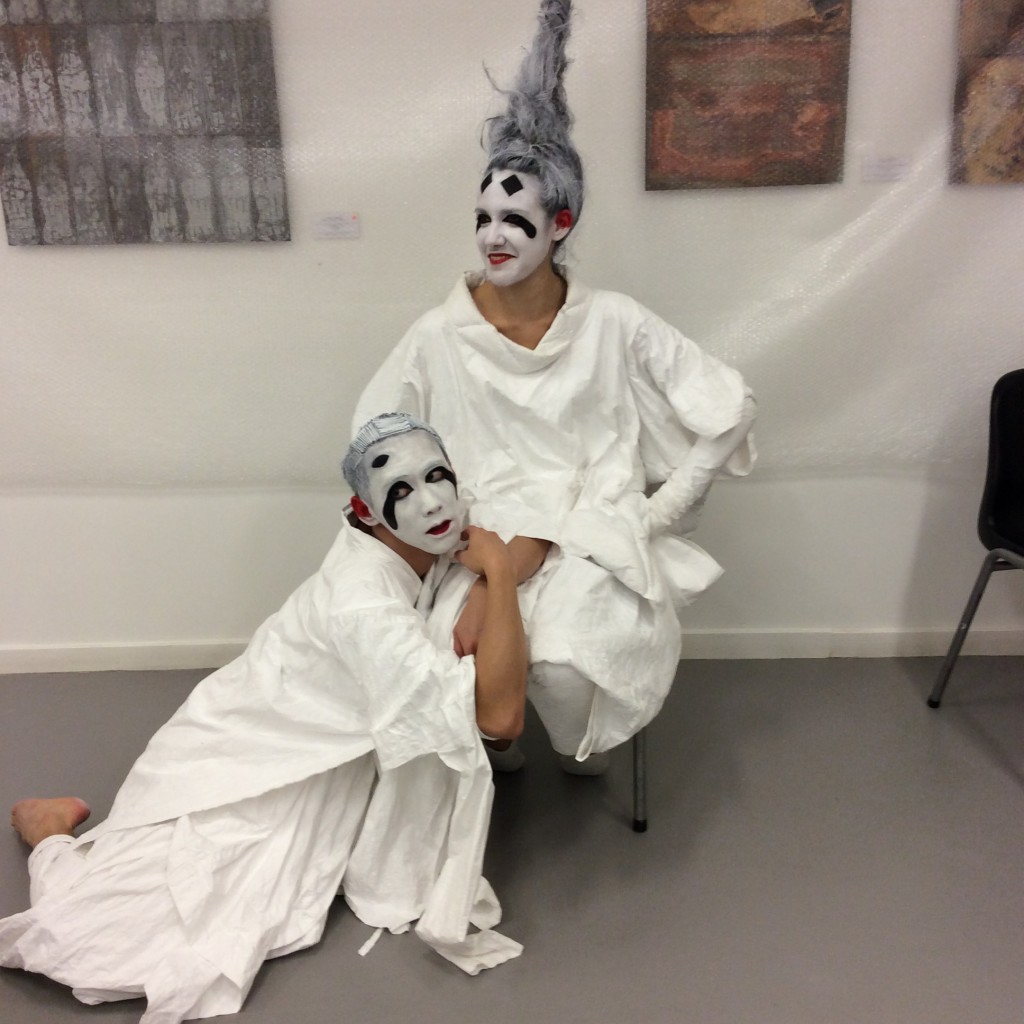 Six dancers wearing delicate paper costumes and extraordinary wigs and makeup moved as if they were the brush and ink writing down calligraphic characters with rhythmic breath.
TheEye loves Rui Xu's aesthetic and the gorgeousness of the fabrics. Is another 'investment' about to be made?
TheEye is very tempted.