PALM SPRINGS – DESIGN OASIS
In the mid-1920s and 30s, Palm Springs emerged, like a phoenix in the desert – a playground for the sophisticated, rich and glamorous with modern swinging mid-century lifestyles. Those were heady days when stars were stars and cigar-chomping movie moguls were larger than life. They chose Palm Springs for its beauty, seclusion, and easy proximity to the studios – stars were under contract to be within an hour and a half drive to Hollywood should they be called back to the set unexpectedly. And 'they' all had homes there from the late '30s onwards –  Bob Hope to Sinatra to Elizabeth Taylor. Elvis spent his honeymoon with Priscilla in a rented house now filled with memorabilia including his pyjamas, bathrobe, cook books (how many ways can you cook a hamburger?) and white suits.
The extraordinary desert landscape inspired ambitious talented architects influenced by early modernists such as Le Corbusier, Gropius, Mies van der Rohe and Frank Lloyd Wright with an architectural vision referred to as 'Desert Modernism'. The buildings enhanced the beauty of the desert environment and incorporated the taste and expectations of Hollywood celebrities, affluent 'snowbirds' and an aspiring post-war middle class. They featured 'honest materials' – glass, wood, steel, stone and concrete, that were handsome as well as practical. Desert Modernism defined a lifestyle of elegant informality – modern structures of every size and function: residential, commercial, civic, religious and institutional.
Ostentation was replaced with an understated sense of style and quality of design. Buildings were positioned in the aesthetic space between sand, mountains and sky. Residential developers, Alexander Houses and Similar Homes, featured open-beamed ceilings, floor to ceiling windows working with architects such as Albery Frey (Palm Springs City Hall), David Wexler, Richard Neutra, Stewart Williams, William Krisel and others.
The Glory Days lasted until the late '70s when Palm Springs lost its popularity. 'Modern' styles were no longer considered fashionable and newer Valley resorts lured the crowds away. The sleek angular buildings fell into disrepair and architectural treasures languished whilst new developments sprang up in derivative styles. Fortunately, fashion is a swinging pendulum. Things go out of favour and for no rational reason find favour again and the fortunes of Palm Springs revived when a new wave of enthusiastic modernists and design lovers returned to the city.
Palm Springs is a 'must' for anyone interested in modernist design and architecture. A unique time warp, well preserved under the watchful protective eyes of vigilant conservationists.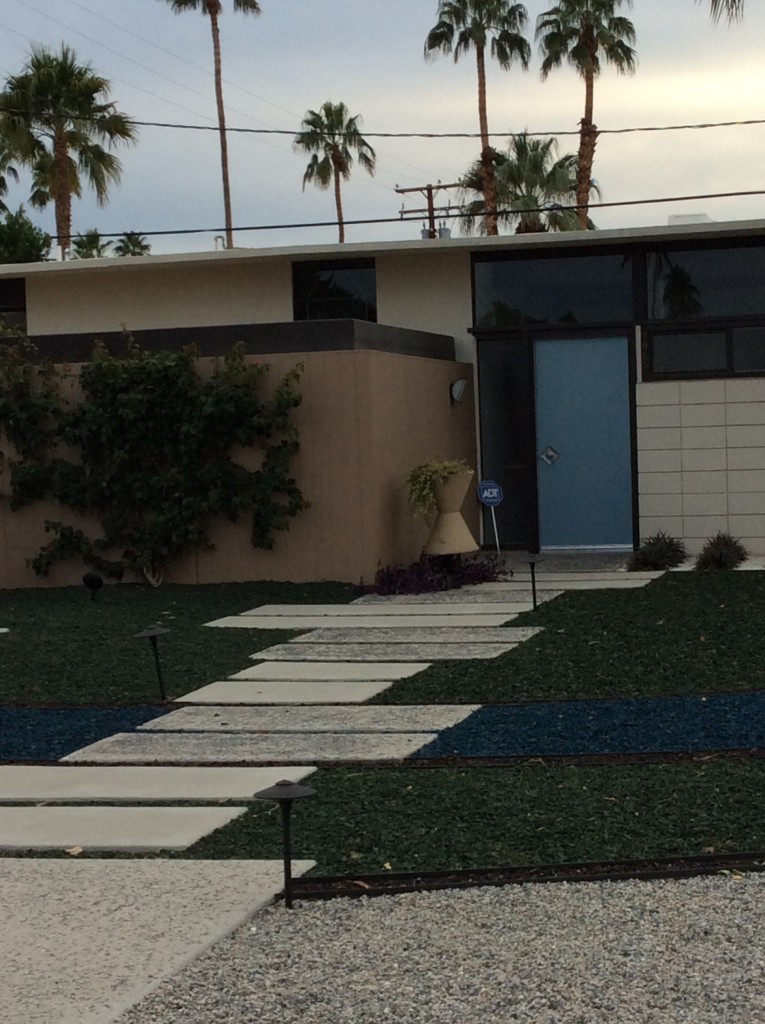 Today's new residents include fashion folk, designer Tom Ford and actor Leonardo DiCaprio all committed to maintaining the integrity of the design.
DiCaprio is praised by conservationists for restoring his home and obsessively sourcing original details.
Palm Springs is now a centre for the design community with galleries and stores in abundance, a monthly Design Fair and the annual Modernism Fair in February is a major event in the design calendar, attracting serious dealers and collectors from all over the world.
 Palm Springs Film Festival in January is considered a good venue for pre-Oscar  networking attracting big names.
This was TheEye's second visit and she will be returning, but now it's a road trip to a very different architectural 'Mecca' – LAS VEGAS, where vulgarity knows no limits.