FUN AND GAMES – 'PEGGY SUE'S' AND VEGAS
ALL ABOARD AND OFF WE GO….
High culture is a wonderful thing and TheEye is all in favour, but there's nothing like lowering the tone occasionally with some bad taste and fun.
And you don't get lower down the taste ladder than LAS VEGAS.
There might be Steve Wynn's collection of Picassos at the Bellagio Hotel and fine wine and dining but Las Vegas is all about spectacles –  choreographed illuminated fountains, flashing neon signs. Size matter as long as it's BIG and BRASH.
Even the long drive from Palm Springs was an adventure. Alas, no time to stop in the JOSHUA TREE NATIONAL PARK where the atmosphere and eerie prehistoric landscape give you a creepy feeling that dinosaurs might be lurking behind the rocks.
A strange part of the country with the dubious claim to fame of having the biggest crystal meth 'industry' in the U.S.
'IF YOU KNEW PEGGY SUE…..'
The highlight of the drive for TheEye, (a big Buddy Holly fan), was the quick stop over at 'Peggy Sue's Diner'.
TheEye's affection for Buddy goes back a long way. She once organised 'Buddy Holly Day', a  concert sponsored by Paul McCartney at the Kilburn Odeon. So long ago it's a fuzzy, distant memory –  but the concert lineup consisted of the remaining somewhat long in the tooth 'Crickets' (those in the band that survived the fatal air crash that killed Buddy).
Back to Peggy Sue's Diner…and  words cannot describe the 'food' – WHITE – greasy, tasteless. There you have it. TheEye might have turned up her snobbish nose at the unhealthy unappetising plates, but most of the colourful customers were in calorific heaven (probably where they will end up sooner rather than later if they keep on eating it).
Another two and a half hours drive with barren land on both sides of the road and the only sight of interest as we neared our destination were the enormous towers of IVANPAH,  the world's largest solar electric generating system built on 350.000 acres in the MOJAVE DESSERT.
A vision straight out of a science fiction movie. Grey skies. Menacing low clouds. The huge towers seemed almost touching infinity against a backdrop of scrubland, desert and rocky hills. Hardly what you would expect within a short distance of the razzmatazz and glitziness of Las Vegas.
A brief stopover at a friend's very successful SPORTING LIFE BAR (the reason for our trip) in the 'residential' area of Las Vegas (people do actually live there) and a game of Scrabble and darts to unwind, whilst others shortened their life expectancies eating everything deep fried from pickles (yes, deep fried gherkins) to 'wings'.
CAESAR'S PALACE
If you haven't been to Las Vegas, it's hard to know where to begin. There's nowhere like it –  probably just as well!
The 'Eiffel Tower' next to The Grand Canal (The Venetian Hotel) and The Roman Empire (Caesar's Palace) …
People get married in gondolas, on 'the Rialto', and many visitors are happy to do a grand tour of Europe without leaving the U.S. and better still they can play the slots, enjoy a spectacular show (Elton John, Mariah Carey, Celine Dion, Cirque de Soleil, top magic acts …you name it. The Chippendales to 'Menopause the Musical' ). Then there are 'dining experiences'. Every top chef across the globe is represented. Why go to 'Paris-France' when you can dine at a top Michelin restaurant or have a blowout at Nobu? Las Vegas is a 24 hour, 7 days a week town. The lights are always confusingly bright. Is it 7 p.m at night or 7 a.m in the morning? Who knows, who cares? NO ONE whilst they are in Vegas. It's another world, another planet.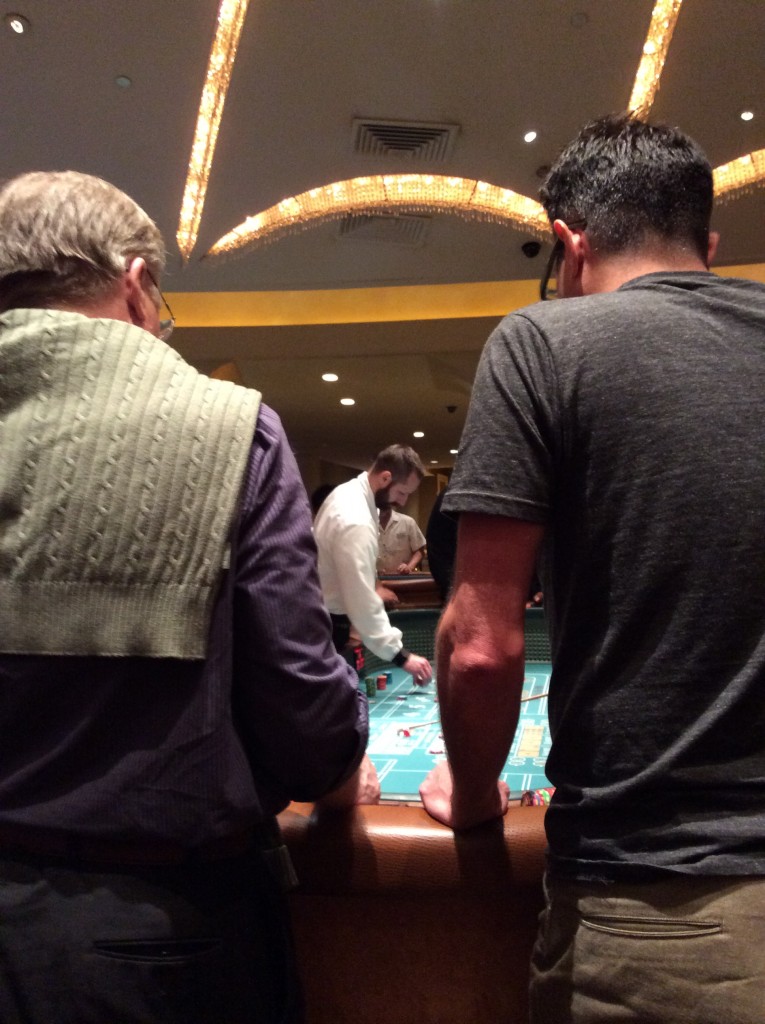 Cautionary leaflets piled high on the reception desk as you check out  –  'KNOWING WHEN TO STOP' but the damage (if any) will have been done.
A long way to travel for one night, but with a free suite at Caesar's Palace and complimentary dinner at NOBU it was ….well  'an experience'!!
Back to London where art music and culture aplenty await.