Apologies for February, TheEye might have been a little harsh in her last blog (FEBRUARY -WHAT'S THERE TO LIKE?). Well, wouldn't you be after a continuous cold and assorted side effects since Christmas? Enough to turn a Saint into a Sour Grape.
THINGS HAVE LOOKED UP
First of all, TheEye leaves for India at the weekend on her annual trip with Mr. Eye and travelling companions T and R –  'no shows' last year. R caught pneumonia skiing and was very ill in bed. T, a rather resentful Florence Nightingale, not being a skier or in any way attracted to the idea of a 'holiday' spent shivering and cold in the snow or getting sozzled on schnapps and fat on schnitzel, could only say "if God had meant us to hurl ourselves down hills on two pieces of metal we would have been born with poles rather than legs." I don't think this point of view has much popular support, so TheEye will swiftly move on to some good things.
THE BAFTAs


TheEye loves nothing more than a good movie and it has been a good year. 'Carol' failed to pick up an award, but Brooklyn won 'Best British film'. A 'feel good' film in the best way, with wonderful acting by lovely Saoirse Ronan. She doesn't need to open her mouth, her face says it all.
REVENANT pocketed a clean sweep of awards including best film, best director (Alejandro González Iñárritu) and best actor (Leonardo DiCaprio). It's not a subject that appeals to TheEye's sensitive constitution and she was thrilled to see Brie Larson win best actress for 'Room', a wonderful, disturbing film with an outstanding performance from Jacob Tremblay (9 years old) who was on screen for the entire film. Quite amazing.
Spotlight, about the campaign by journalists on the BOSTON GLOBE to expose child abuse amongst the Catholic clergy, won best screen adaption. A serious film that didn't sensationalise its toxic subject.
CHRISTOPHER WHEELDON  TRIPLE BILL
ROYAL OPERA HOUSE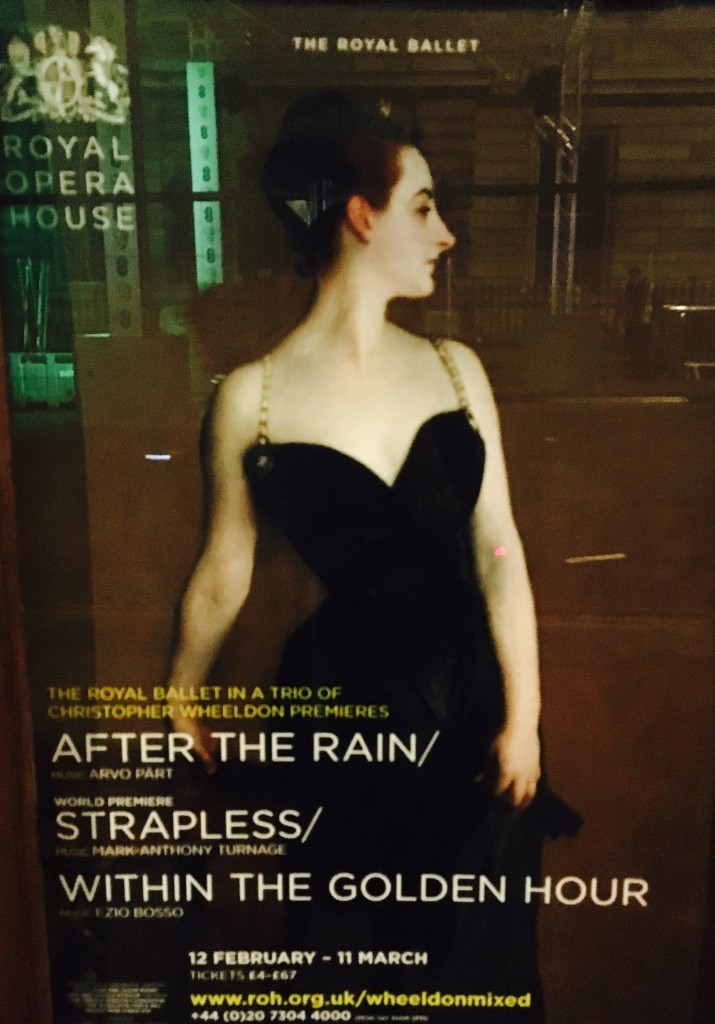 Glorious first night at the ROH for a trio of Christopher Wheeldon ballets. All new to the Opera House, although AFTER THE RAIN and WITHIN THE GOLDEN HOUR have been performed elsewhere.
STRAPLESS is the story of Amelie Gautreau, subject of the iconic painting by John Singer Sargent, and was the highpoint of the evening with stars Natalia Osipova and Edward Watson dancing the title roles. It still seemed a bit of a work in progress, and in need of  tightening up. The story, which shifted back and forth in time, was confusing. Enjoyable rather than awesome. To quote Roslyn Sulcas of The International New York Times, 'no one gets it right every time and with 'Strapless', Mr. Wheeldon has run into trouble'. TheEye agrees.
The other two ballets more than compensated.
'After The Rain' with Marianela Núñez and Thiago Soares dancing like angels to the sublime music of Arvo Pärt and 'Within the Golden Hour' with four principals including Matthew Golding, Sarah Lamb and Lauren Cuthbertson. Made ballet look like something new. Astonishing.
A memorable evening.
PLINTH IN COLLABORATION WITH IKON GALLERY
TheEye went to Plinth, the überstylish pop-up design space in Great Russell Street. A Georgian house, bang opposite the British Museum opened by co-founder's Chloe Grimshaw and Paul Franklyn.
There until March 19th – but hopefully there will be an extension of time?
Plinth specialises in contemporary art and design editions and this was a collaboration with Ikon Gallery, Birmingham. Imaginative displays making full use of the building's quirky idiosyncratic spaces, nooks, and crannies on four floors. Limited editions include work by artists such as Richard Wilson, Richard Deacon and Richard Wentworth (so many Richards ), Cornelia Parker and others. Opening night was packed with people enjoying a glass whilst listening to Chloe's dad, architect Sir Nicholas in conversation with Richard Wilson. Another evening of conversation is planned.
THE MUSEUM OF INNOCENCE at SOMERSET HOUSE
Having read Nobel Laureate Orhan Pamuk's extraordinary evocative novel, The Museum Of Innocence, TheEye was intrigued to visit the exhibition of the same name in Somerset House with a few other members of her Book Club. A physical manifestation of the novel, set in Istanbul in the mid 50s, it tells the story of wealthy socialite Kemal Bey's obsessive love for a beautiful shop girl, seen through the mementos and keep-sakes of the couple's ill-fated romance.
Apparently, in Istanbul everyone smokes. It's customary to offer one another cigarettes – the rituals of lighting  up, the way people hold their cigarettes, the way they flick ash and even how they stub them out –  all form part of a significant sign language.
THE PIANIST OF WILLESDEN LANE   'A STORY OF FAMILY, HOPE AND SURVIVAL THROUGH THE WORLD'S MOST BEAUTIFUL MUSIC'
ST JAMES THEATRE
Something very special – a one-woman play and piano performance by Mona Golabek based on her book, the true story of her mother Lisa Jura's journey from Vienna to London on the Kindertransport and her experiences of the difficult war years in London warmly and movingly told. Lisa's unwavering quest to fulfil her ambition (and that of her mother who she never saw again) of becoming a concert pianist. A remarkable story, a remarkable performance and not many dry eyes left at the end.
HIGHLIGHT OF THE WEEK
AWAY DAY IN PARIS
LOUIS VUITTON EXHIBITION OF SUITCASES, TRUNKS AND TRAVEL ACCESSORIES.
GRAND PALAIS
'VOLEZ VOGUEZ VOYAGEZ'  –   'FLY, SAIL, TRAVEL'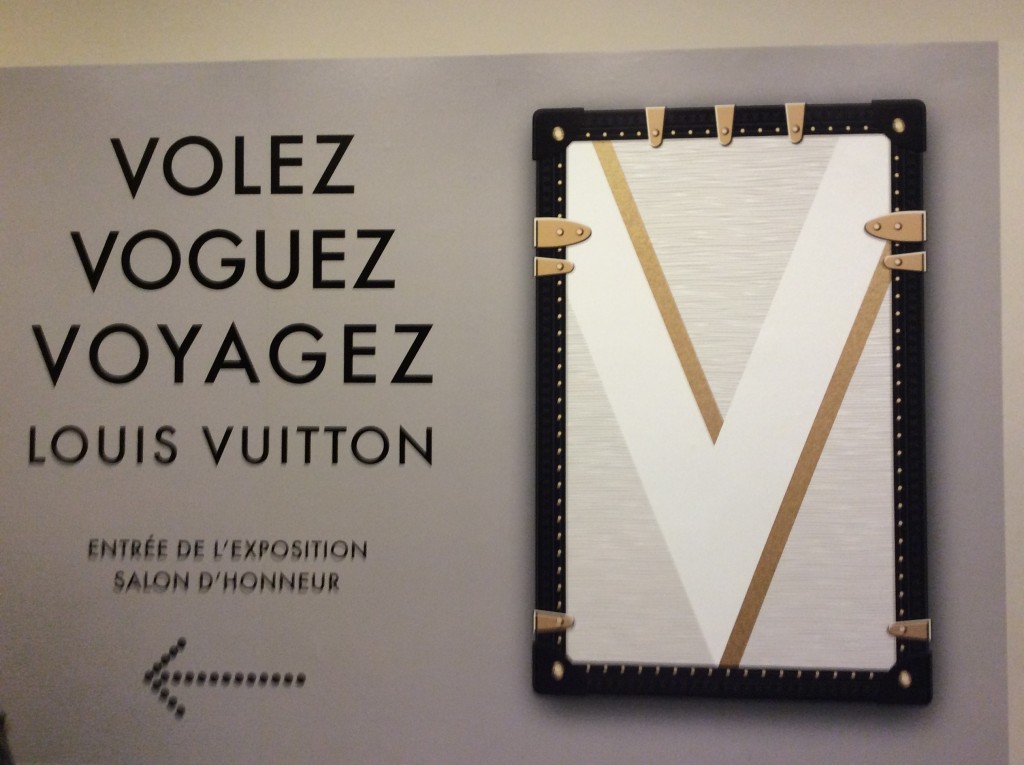 TheEye doesn't mean to gloat, but if you haven't seen the LOUIS VUITTON exhibition at the Grand Palais, you missed a treat.
A gorgeous show telling the fascinating story of Vuitton's 'Grand tour' with signature travel pieces dating from 1854 until today, curated by Olivier Saillard and designed by artistic director and set designer Robert Carsen. It navigates visitors on a journey and gives an insight into the craftsmanship, creativity and innovation of this historic company. If you thought Vuitton was just over priced arm-candy, think again!
A train with carriages and you see images of scenery and a variety of terrain through the windows. Noises, a flash of the Orient Express, add to the travel experience.
Some modern highlights include a Damien Hirst medical cabinet featuring Hirst's signature skulls, a suitcase in natural cowhide which once belonged to Douglas Fairbanks fitted with 40 different items including bottles, brushes, manicure kit and so on. Never imagined suitcases could be so interesting.
TIME TO GO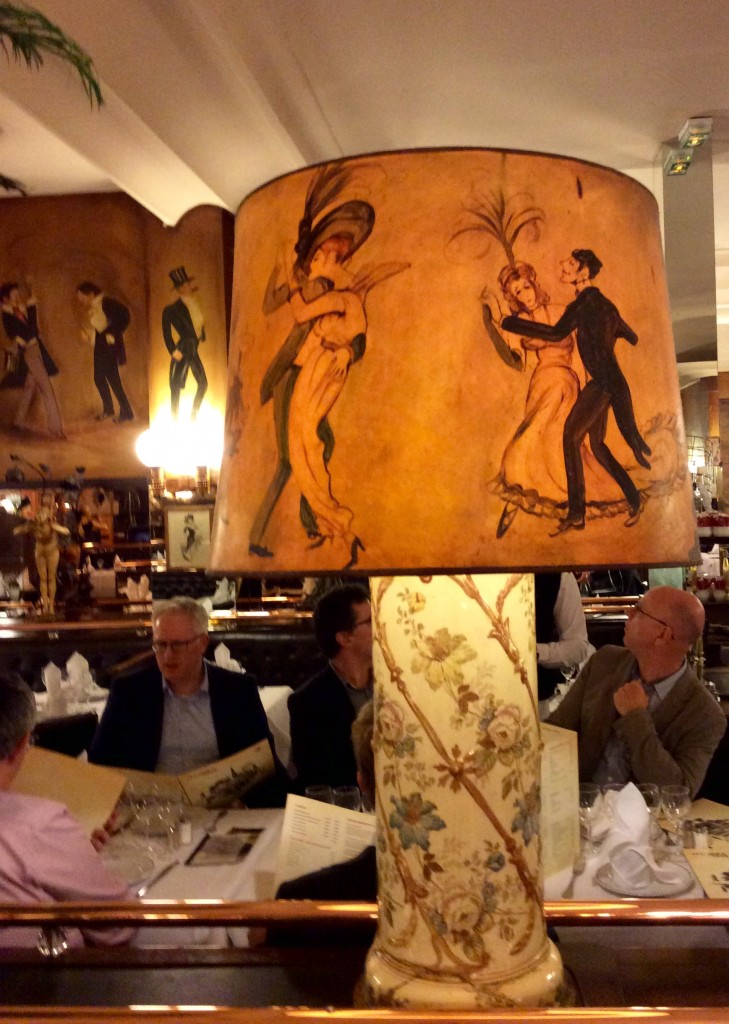 An early supper at Terminus Nord Brasseries across the road from the Garde du Nord station with its original 1920's decor.
Wall murals, lighting. Stunning and the food isn't bad. Full of happy travellers.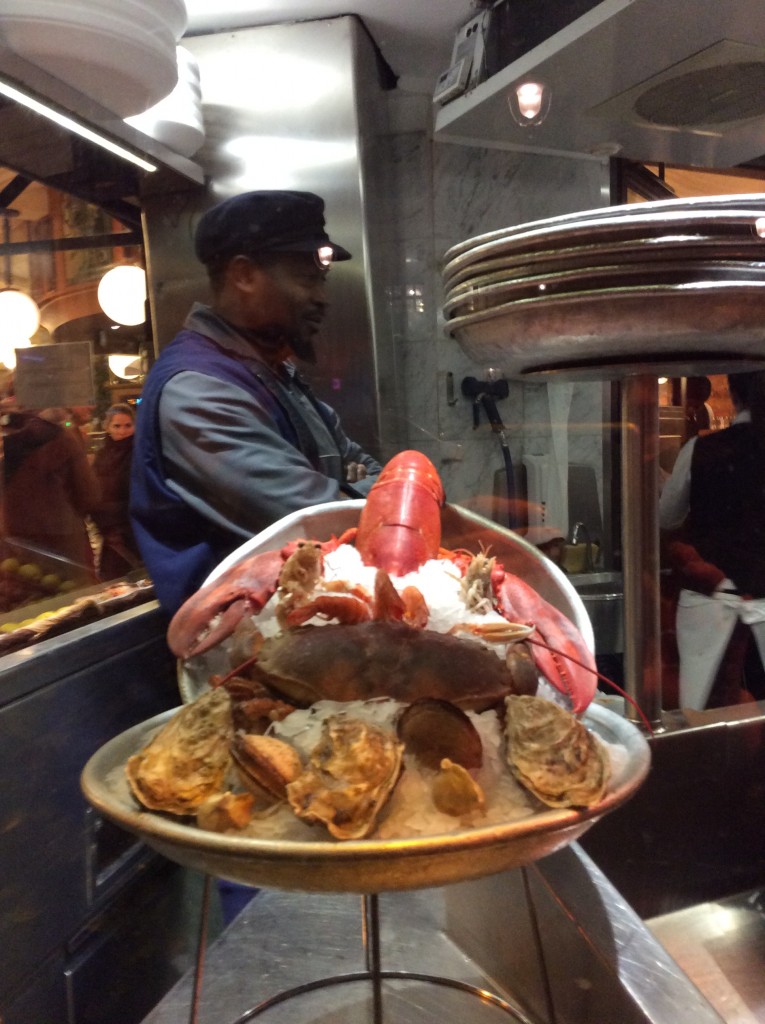 Paris and back in a day.
Melanie Clore
All love to Melanie Clore, Joint Chairman of Sotheby's Europe and brilliant head of the Impressionist and Modern Art Department.
After 35 years she is leaving and will be sorely missed.  
They say everyone is replaceable, but not sure Melanie can be. She's unique.
A brilliant business women, knowledgeable, passionate and enthusiastic about the art she so loves and is so committed to.
Boundless energy, great style and full of  fun. A great mother, but always time for her numerous friends and colleagues.
Best of all in the art world, where most people take themselves FAR too seriously – Melanie has a wonderful and wicked sense of humor. A great friend and a source of inspiration to so many. A bright, rosy and VERY successful new life awaits.  We will all be watching.
TheEye is on holiday and won't be blogging for a couple of weeks – but no doubt many adventures to report on her return.