Quiet Goa Bustling Bombay
It has been some years since TheEye visited Goa and there has always been a bit of a reluctance on the part of her fellow travelling companions to return.
However, persuaded by the lure of a new small secluded hotel (only eight rooms,)  and…NO! TheEye is not 'sharing', we decided to give Goa another chance.
Goa is a schizophrenic place if places can be schizophrenic and, from what TheEye is told, rather like Ibiza in that respect. Horribly overcrowded beaches, lots of drinking, partying and drugs on the negative side.
Secluded beaches, lovely old churches and Portuguese architecture on the positive.
It's still possible to find good beaches, some private and secluded, and busy market towns such as Mapusa in North Goa.
MOG MUSEUM OF GOA
When you think of Goa, culture doesn't immediately spring to mind. It's beaches, rest and fun. The odd excursion to the old Portuguese area in Panjim to admire the many churches and the restored houses in Mapusa, but art…I don't think so.
MOG is the initiative of artist Dr. Subodh Kerkar who gave up his medical practice to pursue a passion for art, experimenting with different media and specialising particularly in installation art.
An art museum in Goa seems a bit of a conflict of interests – contemporary art and Goa's hedonistic reputation don't exactly go hand in hand. But Subodh Kerkar, the Managing Trustee of MOG, has made it a thriving cultural hub and the foundation attracts visitors with a lively programme of concerts, art classes, workshops, seminars and a cultural literacy programme. The intent is to 'establish a bridge between the old artistic traditions and contemporary expressions, making art a part of life'. Kerkar himself is a prolific artist using a vast range of unlikely materials including mussel shells, recycled tyres, paper, fabric and other waste. With mountains of plastic waste littering the streets in Goa (and elsewhere in India), this is a much-needed contribution. Kerkar is a bit Richard Long, a bit Andy Goldsworthy, but it all looks fresh and innovative and the museum is an excellent addition to Goa.
BUSTLING BOMBAY
Mumbai/ Bombay?  Up to you, but most of TheEye's friends born and bred in the city haven't changed and Bombay sounds so much nicer.
Ironically, there is apparently a movement to get it 'officially' changed again.
TheEye loves this crazy city where everything seems to be 'on speed' and the traffic only gets worse. You can sit gridlocked for ages, with beggars carrying young children and babies, tapping the window and tapping the heart strings. What should you do? Ignoring hard-hearted advice to look the other way, TheEye rolled down the window to give money to find, as by magic, from out of nowhere, 15 strong determined hands thrust through the window. Wherever you go, allow more than plenty of time.
But it's full of life and vibrancy and each visit offers new experiences.
CHOR BAZAAR   –  THIEVES MARKET
CHOR BAZAAR is a serious antique market and TheEye went with her great friend Maithili Ahluwalia, owner (in TheEye's opinion) of the city's most stylish lifestyle store, BUNGALOW EIGHT. Now relocated to the grounds of the cricket club where it started life ten years ago, it is a cool airy space. Clothes and jewellery, accessories and pieces of carefully selected furniture, ceramics, glass add to the interesting, well-curated mix.
Maithili is a regular visitor, especially now that she is renovating her new home – a beautiful Art Deco flat – and there are some specialist dealers in Art Deco lighting, furniture, glass and so on. Most have come from private homes, old cinemas and hotels. It's rich pickings if you have a good eye and even better negotiation skills. Maithili has both!
Knowing TheEye's love of antique fabrics, especially vintage saris, Maithili offered to take her to visit 'one of the best dealers in textiles' in India. As if Chor Bazaar wasn't filthy enough, we walked into an alley with a building in the final crumbling stages of collapse. As we started to climb what was left of a staircase, she casually mentioned that she hoped I wasn't worried about RATS. Surprise surprise, my love of textiles lost out to my fear of rodents. Yes, TheEye is still regretting her wimpishness at the treasures she missed.
PORTUGUESE FISHING VILLAGE
TheEye loves this tucked away pocket handkerchief corner in the heart of Bombay and the opportunity to visit dress designer James Ferreira's family home where he has lived all his life, stuffed with eccentric memorabilia. James is gracious and hospitable and allowed us to wander around asking innumerable questions.
Bombay has many hidden secrets and it's a treat to discover them.
DHOBI GHAT LAUNDRY – Bombay's biggest human-powered washing machine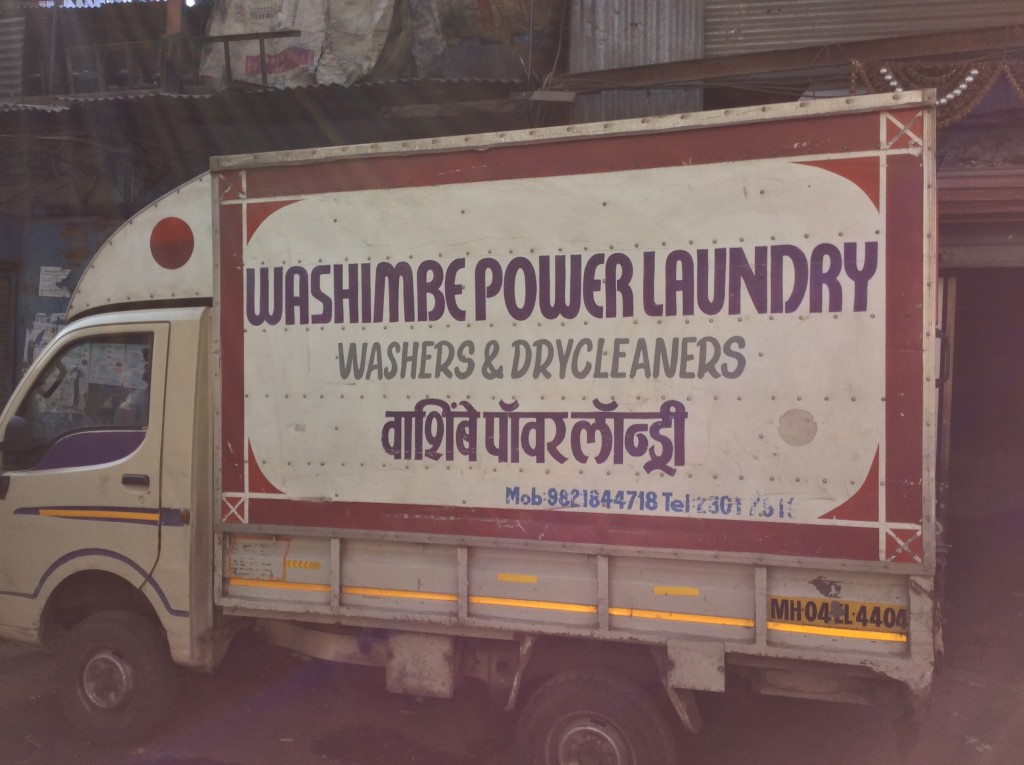 The 140-year-old Dhobi Ghat laundry is a sight to behold and should rate high on the list of any visitor to the city.
Thousands of kilograms of soiled clothes and linen are washed by hand in over a thousand open air troughs.
Like everything in India, the Ghat has its own rules of engagement and various hoops and middlemen to negotiate before being allowed into the washing area. But the 200 rupees each (£2) were well worth paying.
Most sightseers prefer to observe from the road above – cheaper, certainly cleaner (the floor of the ghat is awash with dirty water and TheEye had water seeping into her sandals).
KHADI SHOP
IN GANDHI'S FOOTSTEPS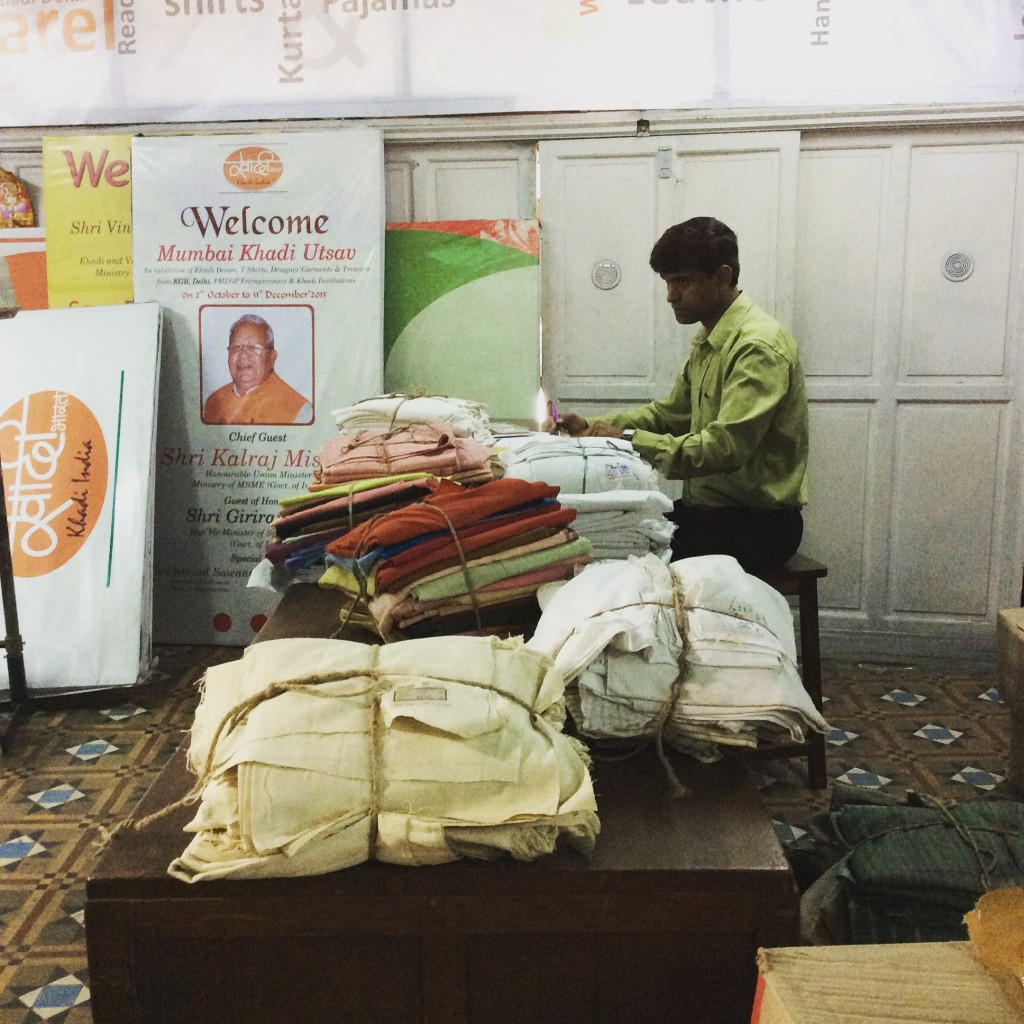 Following the example of
Gandhi
,
The Khadi Shop
is a Bombay institution selling hand spun cotton clothes and homeware.
And pure organic lotions and potions worthy of Mahatma. Hardly stylish, the decor is drab and utilitarian, lots of dark wood shelving, the KHADI SHOP is a time warp of out of sync with new aspirational fast track India.
Catch it before it gets re-developed as one day it surely will.
To say it's arcane is an understatement. Technology hasn't cramped its style, but paying with chits is a slow, exasperating nightmare.
For a taste of India as it was, it's an experience.
For such a sophisticated vibrant city, Bombay lacks a great selection of good restaurants, particularly if, like TheEye, you prefer not to eat in one of the large hotel restaurants.
Trishna, the famous fish restaurant. is still a favourite, although the often grumpy management and the milling crowds jamming the cramped reception area with sometimes long waits for tables can be annoying. The food (tandoori pomfret, incredible crab – they bring the live blighters to the table wriggling and squirming for customers to choose), salt and pepper calamari and much more, does make up for everything. Quality and freshness of the fish are outstanding. Swati is a great veggie restaurant best for lunch, but no reservations and often long queues waiting in the hot sun outside. Table, near the Taj Hotel, is buzzy with interesting 'fusion food' and loved by cool Bombay types, drinking cocktails and eating with one hand and operating their iPhones with the other.
BOMBAY CANTEEN (No, not Mumbai Canteen) in an area similar to Brooklyn, Lower Parel in Kamala Mills is a combination of Bombay nostalgia meets industrial-chic.
It's a buzzing area of bars and clubs, design, film and commercials studios and full of lively energy. Chef Floyd Cardoz has re-invented Indian street food and his small plates are tasty and delicious.
Oh, where does the time go to? There is never enough to do everything and next year there have been rumblings about a trip to NEW ZEALAND.
Beautiful, ravishing scenery, TheEye knows, but all those sheep?