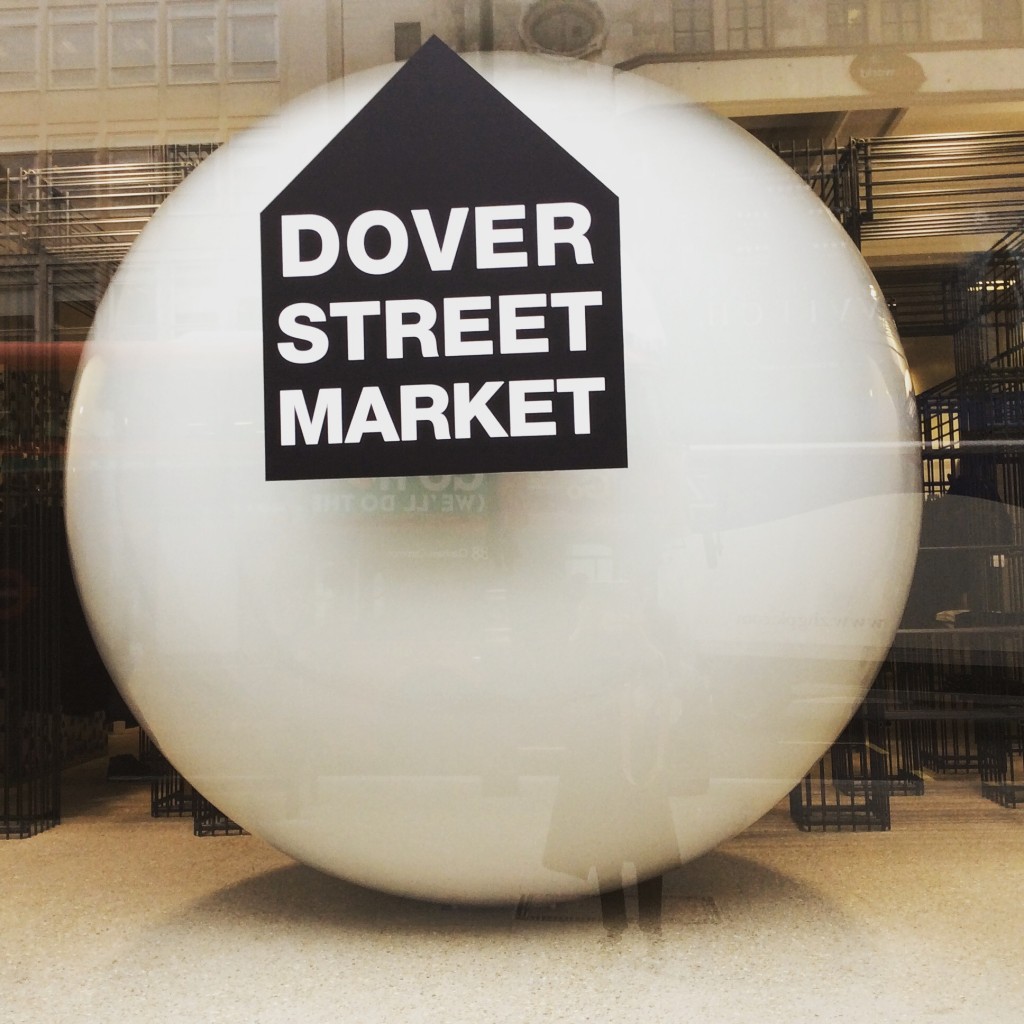 Rei Kawakubo, the creator of Commes des Garçons,  is probably the most original designer living today and her husband and president of the company, Adrian Joffe, is a savvy 'in-a-league-of-his-own' retailer.
Thinking out of a very unpredictable box, they do things other fashion brands wouldn't dare or consider.
TheEye is a big fan.
The opening of the new 'flagship' store last week in the Haymarket was an all day affair and packed with eager designers, journalists and customers.
In the mid-80s, TheEye bought a 'Commes' coat which still looks as contemporary as anything designed today. Apart from a slightly threadbare velvet collar – well, it is nearly 25 years old – it remains one of TheEye's most treasured items of clothing. The  same can't be said of a jacket in a Commes 'loose threads' collection – which featured unfinished bedraggled threads hanging from the hem. Yes, I did get rather miffed when innumerable 'do gooders' pointed this out to me and I was forced to explain it was no accident, muttering under my breath 'and if you knew how expensive it was, you would really be laughing.'
The truth is, Rei designs for some particular customers – those that don't mind putting two legs in one trouser opening, and no arms and often no back on a jacket. These are the statement pieces, TheEye sticks to Commes 'classics' rather than the more outlandish items which would make her look like a pathetic clown. Often the collections are difficult to understand, sometimes bordering on the comical. But she has a singular vision and an inspiring creativity – a genius at retail as well as design.
Dover Street Market has relocated to the old Burberry building in The Haymarket which Burberry vacated in 2004 moving to Old Bond Street. For a high fashion store, Haymarket is most definitely an 'off-piste' location. The New York store, another iconic building, is also in another 'wrong side of fashion town'.
For the moment, DSM stands alone, but will others follow..?
You can use the term destination.  It's an awkward location to get to but, in the words of Burberry's Christopher Bailey, 'create something beautiful and people will come'. Rei Kawakubo's original concept was to create a 'market' (no carrots or potatoes), which de-coded translates as bringing together creators from various fields under one roof who share a strong personal vision. Brands as diverse as (amongst others), Paul Smith, Lanvin, Balenciaga,  sportswear, odd tribal masks (albeit embroidered), jewellery books, magazines and so on. 'An ongoing atmosphere' ,according to her,'of beautiful chaos' and from what TheEye saw on opening day in the new Haymarket store, she has scored again.
AND THEN THERE IS THE ART.…..
Art and fashion are a marriage. Dover Street Markets act as galleries as much as shops.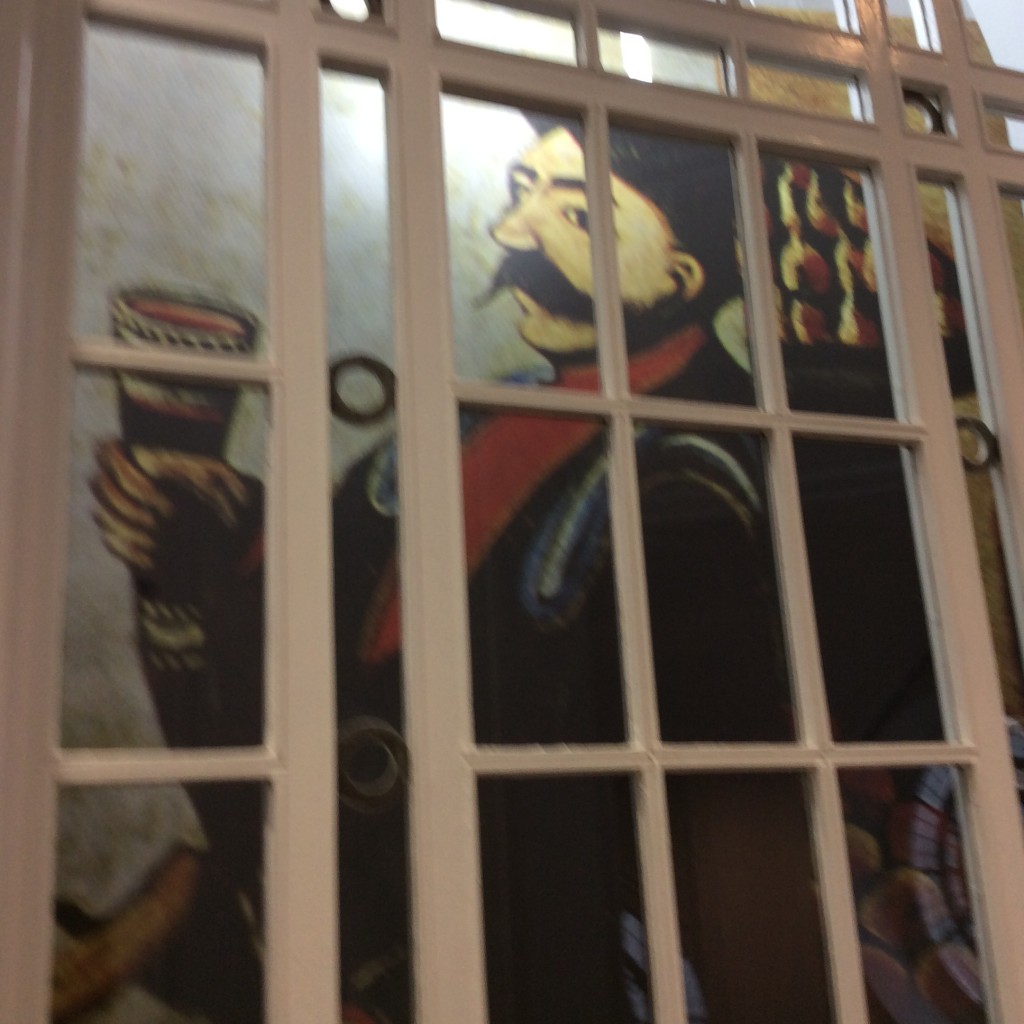 MERCHANDISE
NOT YOUR STANDARD ITEMS
EAGER SHOPPERS ON PREVIEW DAY
AND FINALLY.
… HEALTHY DELICIOUSNESS AT
THE ROSE CAFE
Drinks and tasty bites were served all preview day in the ROSE CAFE owned by Rose Carrarini (the sister of Adrian Joffe) and her husband Jean-Charles. Like their original Paris cafes, the food and baked goods (sweet and savoury) are 'homey' in the best possible way. Not fancy or overdone. If only home baked were as good? Great from breakfast onwards.
TheEye was taking everything in, but there was a lot to absorb, and she will be returning to make a purchase or two!
TheEye doesn't buy much online.
Her philosophy is simple, if she's going to spend money, she wants it to be an enjoyable experience. Gazing at a screen, scrolling and clicking, are not an enjoyable experience. Hardly an experience at all. Fine for books or box sets, but DSM offers a really fun, almost theatrical shopping experience and that is what their customers appreciate.
Serious clothes excitingly and creatively displayed in an atmosphere of surprise and entertainment. Wandering around the store is a journey of discovery.
'HIGH FASHION IN A STORE REMINISCENT OF A STREET MARKET'.
Rei
herself was apparently 'not visible' but 
TheEye 
spotted her twice outside the building nervously pacing up and down wearing dark glasses, trying to avoid chit chatting with her avid fans.
Rei says 'I do not believe in fame' and rarely gives interviews. Even TheEye resisted taking a photo.
Some people deserve their privacy.