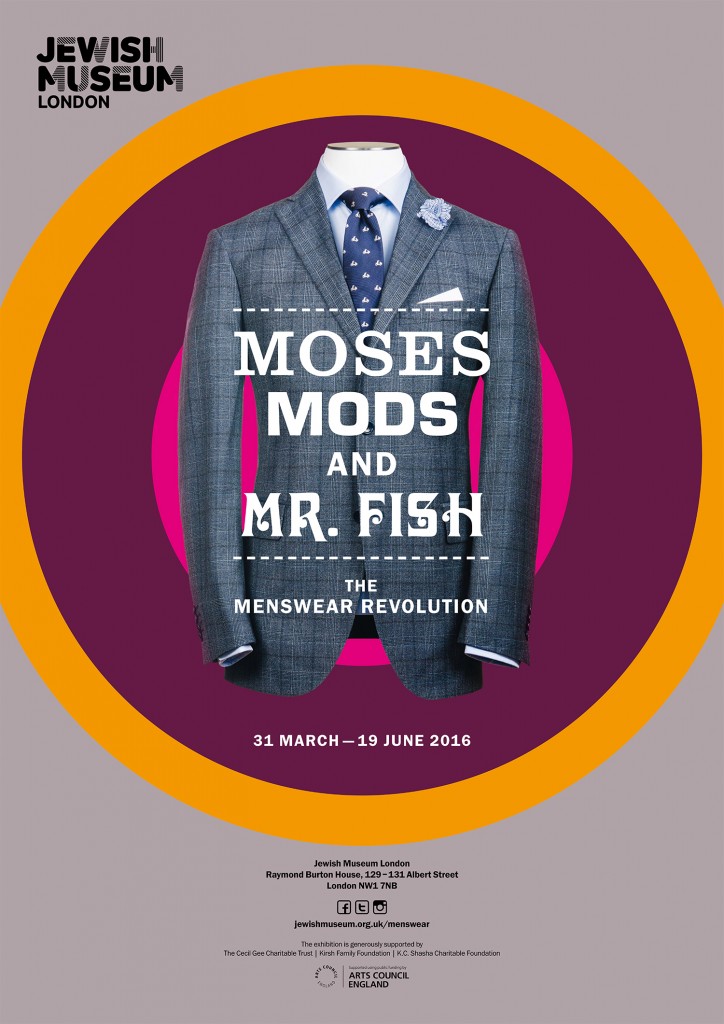 TheEye had a special interest in the exhibition at THE JEWISH MUSEUM in Camden Town.
'Moses Mods and Mr. Fish – The Menswear Revolution' explores the Jewish contribution to design, manufacture, retail and marketing of men's clothing, from the early 19th century to the late 20th century, when Britain led the world, and most of the most influential figures who dominated the industry were Jewish.
From the late 19th century tailoring was a key area of employment for Jewish immigrants, particularly in Leeds and the East End of London, and many immigrants set up their own businesses.
For TheEye it was a nostalgic trip down Memory Lane.
Growing up in Leeds, her family was part of this important sartorial (and social) history.
Everyone she knew was involved some way in the schmutter trade. Factories in areas like Dewsbury, now better known for its association with the Islamist Jihadis, were the centre of menswear manufacture. TheEye has hazy memories of going with her father to visit his factory and being amazed by row upon row of female machinists beavering away like worker bees and the loud clatter of machinery. Those were the glory days, before cheap labour and materials from Asia closed it all down.
Many factories produced clothes for their own retail outlets. However, the curator of the exhibition concentrated on telling the stories of only a few out of many companies at the forefront of the developments and changes taking place during this important era.
E. Moses & Son, B.Hyam & Co pioneered many of the principles upon which men's high street fashion was founded.
Chains such as Montague Burton 'The Tailor of Taste', Jackson the Tailor,  John Collier, the very popular Fifty Shilling Tailors shops and Neville Reed really made their mark on high streets all over the U.K. They changed not only the way men looked and dressed but how they shopped.
Mass-produced suits, while no means the cheapest on the market, were certainly inexpensive: In the late 1920's the highest quality bespoke suit could cost over £12 while a Burton suit, for example, was abut 50 shillings (cash payments required) making them affordable to both lower middle class and better off working class customers. Some firms offered factory-made 'made to measure' for as little as 25 shillings.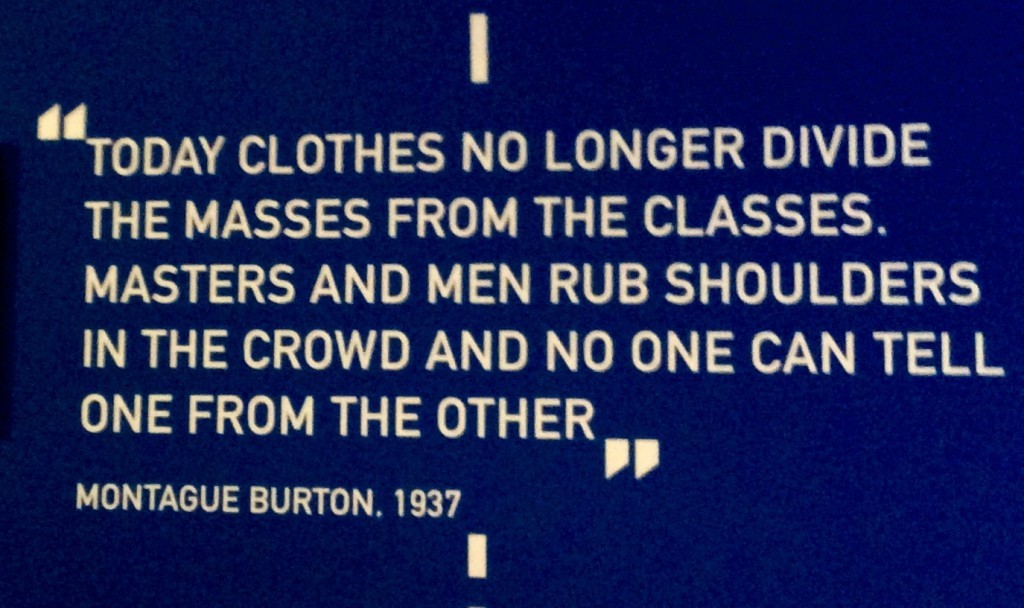 According to Montague Burton, 'cheapness at the expense of service and satisfaction is valueless. Thinking men demand more for their money and we (Burtons) are giving it in the only way that counts – quality woollens, superb cut, superb tailoring craftsmanship, as well as….reduced 'service' sale prices.'
It was a competitive market. Neville Reed always had a celebrity to open a new branch usually from the sporting world – boxers, footballers and occasionally a 'big' show biz name, such as the actor/ toff, Terry Thomas.
The openings were always much fan fared and ensured huge crowds outside the store.
The other well-known tailoring name selected by the curator for the most attention was Sasha Goldstein – who later changed his name to Cecil Gee. A Lithuanian Jew, he came to the U.K. in 1913 and was probably the first to experiment with new concepts. Gee was innovative and artistic with groundbreaking ideas. His first menswear shop in Commercial Road in 1929 stood out from the crowd.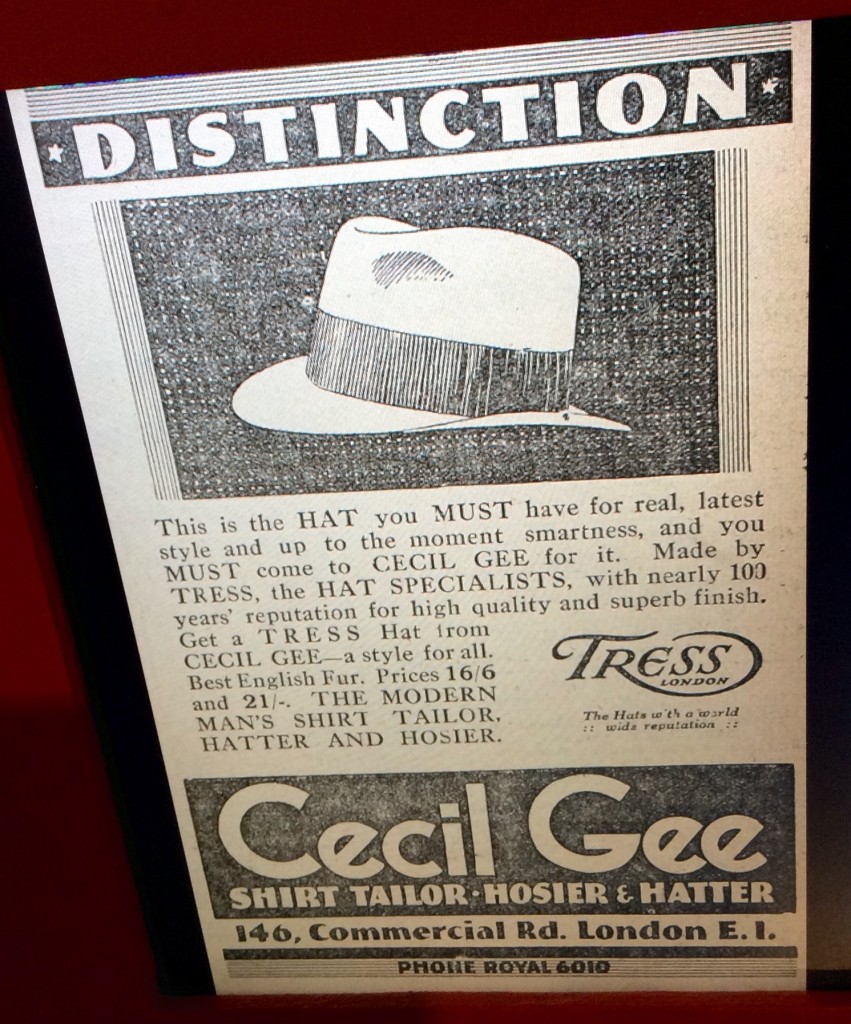 The business was an immediate success and Cecil Gee built up a chain of shops in the East End – he wasn't afraid to be bold and sold off-the-peg suits in daring styles (most uncommon at the time). In the 1930's young people travelled to the East End especially to buy the latest look from one of his stores. Things were tough during the war years and the fabric was rationed and hard to get. Men were either dressed in military uniforms or sombre black or grey suits. But when the 'Yanks' came in 1943, things changed. American films had a big influence and Cecil Gee copied what Hollywood stars like Cary Grant and Clark Gable were wearing.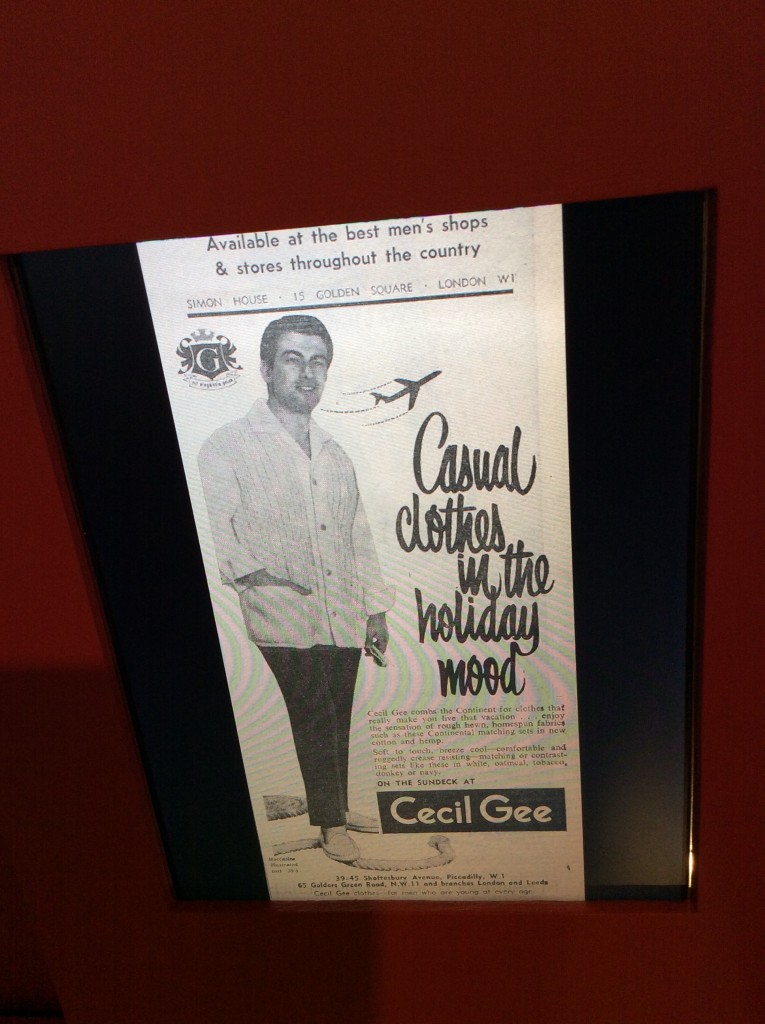 Cecil Gee was a trendsetter. If everyone else was selling blue, he sold red. If everyone else was selling green, he would sell brown. 'He wanted to make shopping a pleasure'. His upbeat catchy slogan 'Forget the Blitz, here comes the Ritz' ,became a catch phrase. Customers included Danny Kaye, Bob Hope, and Jimmy Durante. He began to dress big show band leaders such as Joe Loss and black musicians appearing in nearby Soho Jazz Clubs.
Cecil Gee was cool before cool had even been invented.
A 16-year-old window dresser at Cecil Gee's Charing Cross Road store, John Simons, a part-time art student at nearby St Martin's, capitalised on the American Look and imported brands which included Brook Brothers (inventors of the button down shirt), Bass Weejun Loafers and Levi Jeans. He was a regular visitor to Ronnie Scott's club in Soho, a stone throw from the Charing Cross shop.
The look spread around the coffee bars and dance halls in the early 1960's and demand grew.
 MODS STEP OUT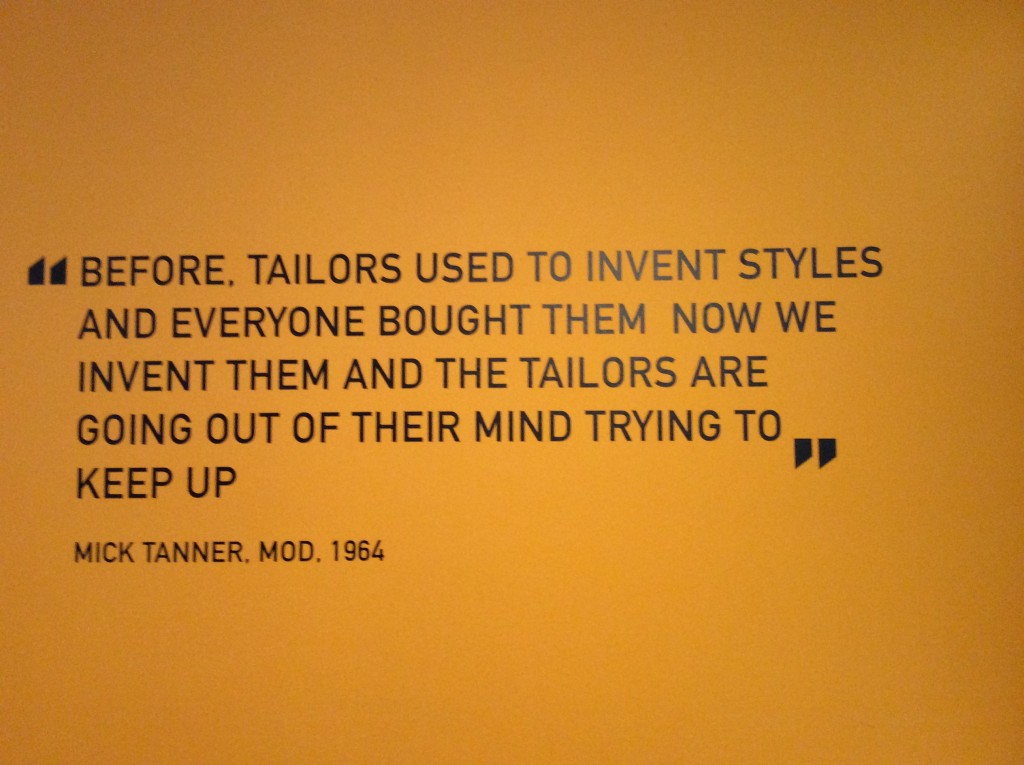 Mods sometimes bought clothes from high street stores and had them altered.
Customising off-the-peg clothes was a way of asserting their individuality which mods prized above all else.
One destination was C&A and even Woolworths.
Many Jewish retailers made their names with the Mod look- John Simons,  Harry 'Sonny' Bilgorrie and Ben Sherman, who migrated from their origins in East End street markets to Carnaby Street. Other names from this iconic period included Warren and David Gold, better known as Lord John and Irvine Sellars. They were fearless entrepreneurs with a flamboyant style.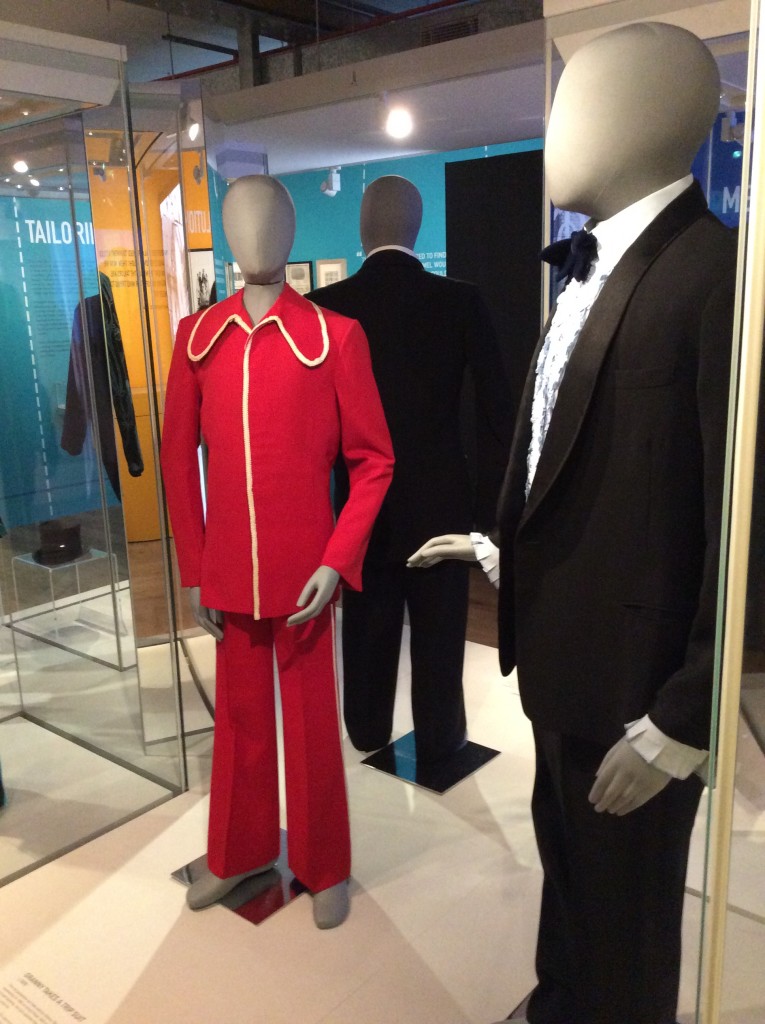 Red suit – GRANNY TAKES A TRIP in the Kings Road.
'Being mod is a frame of mind. You can't just buy it off some geezer in a shop'.
FROM CARNABY STREET TO THE KING'S ROAD
MOVING WITH THE TIMES
In the second half of the 1960s, the appeal of Carnaby Street was waning. Swinging London had become a tourist attraction, the Carnaby Street sign was London's best selling post card and the street itself was now better known for spectacle rather than quality.
Celebrities and discerning shoppers had moved on to a 'new' area – Chelsea and the King's Road – a part of London that had historically been home to artists, bohemians, and the aristocratic avant-garde. According to Mary Quant, 'Chelsea ceased to be a small part of London: it became international; its name interpreted a way of living, a way of dressing far more than a geographical area.'
The male peacock. Blue suit from MR FISH
Decadent dandyism was the name of the game with stores like GRANNY TAKES A TRIP and MR FISH. Flowing shapes, floral patterns, and luxurious fabrics appealed to customers who included David Bowie and Mick Jagger.
Hard to believe, but true……The 'menswear revolution' which began in the tailoring workshops of Jewish immigrants in the mid 19th century has continued to expand to such an extent that it's a faster-growing market than womenswear.
MOSES MODS AND MR. FISH
Well worth a trip to Camden Town where the exhibition is at Jewish Museum until mid-June!