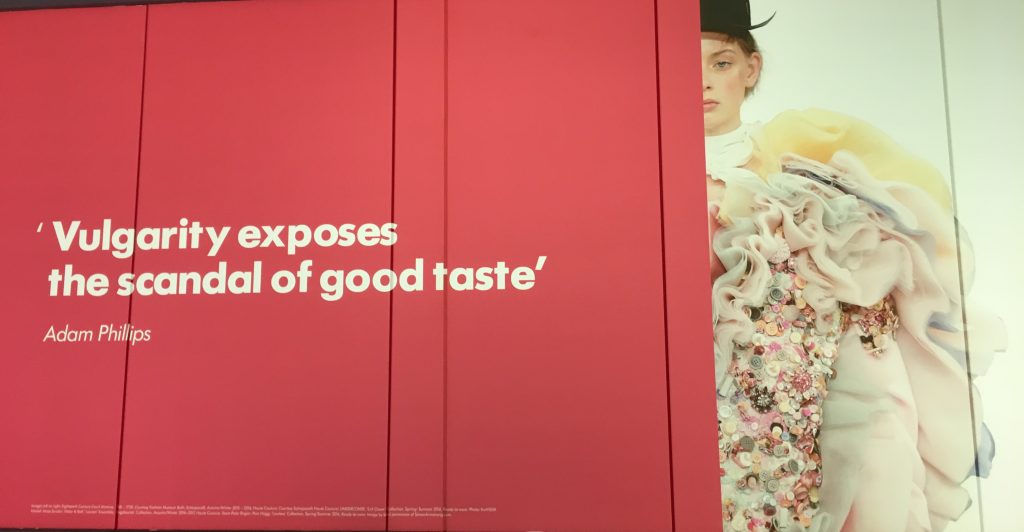 TheEye has long been intrigued with the rather nebulous issue of taste.
Who dictates whether taste is good, bad, or simply tasteless, and who actually cares?
Looking at fashion magazines, it's clear that the spectrum of opinions is wide.
Put simply, taste is no more than an expression of individuality and if the rest of the world looks disdainfully well…the truly stylish will not care.
Take the late wonderful Isabella Blow, famous for her outrageous hats and Daphne Guinness, both fashion 'one-off's' who stuck their middle fingers to the world. To quote Rhett Butler in 'GONE WITH THE WIND' – 'Frankly my dear, I don't give a damn!'
There are also the Taste 'Fuhrers' – from Stephen Bayley (self-appointed title bearer of the second most intelligent man in the U.K. – although opinions differ on this) to Peter York to just about every fashion editor. But then, fashion magazines have their own rules – the difference between what is on the pages of Grazia or Hello and what you will find in Vogue or Tatler.
All TheEye can contribute to this debate is that she has her own style and frankly doesn't give a toss what others think but rarely agrees with the Fashion Dictators who set themselves up as arbiters and authorities on the subject – those whose views shall be obeyed.
VULGAR: FASHION REDEFINED at The Barbican co-curated by Judith Clark and her husband, psychoanalyst Adam Phillips.
The exhibition spans 500 years of fashion, from The Renaissance to the present day, and is a must for the fashion faithful.
Vulgarity, like beauty, is a question of personal judgment.
According to Adam Phillips, in rather ponderous psychoanalytical speak, 'The vulgar assures us that the one thing money cannot buy is CLASS and so it reminds us of our strange fear of being nothing special'
Phillips has much to say on the subject (making TheEye curious as to who has been lying on his consulting room couch). Now THAT would be fascinating.
'Vulgarity is always (according to Phillips) MORE of something and never less. It exaggerates, it never understates'. Well, that makes sense.
Video interviews with fashion luminaries such as Hussein Chalayan (Vulgarity according to him can be condensed into three words, 'greed, insensitivity, immodesty") and extravert milliner, Stephen Jones ("there is nothing more boring than a dull meal – it needs 'spice' and it's the same with fashion – it's the 'spice' that makes it interesting").
The late iconic editor of U.S. Vogue, Diana Vreeland, summed it up perfectly.
'Vulgarity is a very important ingredient in life…it's got vitality – a little bad taste is like a nice splash of paprika…it's hearty, it's healthy, it's physical – I think we could use more of it. No taste is what I am against'.
Zandra Rhodes, who has been on the fashion scene for what seems like a lifetime. No shy retiring violet, Rhodes is a colourful sight and according to her 'vulgarity is in the eye of the beholder' but should also be tremendous fun.
TheEye agrees. Better be vulgar and stand out in a crowd than be safely dressed in a neat suit, matching bag and shoes.
Vulgar wins over boring any day.
There are some wonderful old books in the exhibition.
THE LADIES BOOK OF MANNERS (circa 1880) has a wonderful chapter entitled ETIQUETTE FOR LADIES….with some sound advice for its readers.
You might say 'reader beware' and I quote: "Well dressed people do not often dress in what is called 'the height of fashion' as that is generally left to dandies and pretenders."
Quite so….
Whether you aspire to look like a Kardashian or would rather die than look that way…THE VULGAR is definitely an exhibition worth making your way to The Barbican to see.