TRINIDAD, CIENFUEGOS, SANTA CLARA…
It's a five-hour drive from Havana to Trinidad, with a stop at CIENFUEGOS, a gracious UNESCO HERITAGE SITE.
Wide boulevards, lovely spacious squares with trees, flowers, and plenty of benches for sitting and contemplating life, and the gracious turn of the century buildings. There are charming houses painted in sunshine shades of yellow, pink and aqua blue; many are now guest houses for the many tourists who flock to the city.
The Teatro Thomas Terry, a well-preserved Art Nouveau building in the centre of the city, attracted famous performers such as the Great Caruso and Sarah Bernhardt and still functions.
After lunch, overlooking the sea (bizarrely, no fish available on the menu!  But that's Cuba.) we were on our way to Trinidad passing fields of mangos, citrus fruits and tobacco. A sad truth about Cuba is there is no production of fruit and vegetables because there is no machinery or power. Horse and carts aren't a tourist attraction – just a normal means of transportation in rural areas.
There is little traffic, not a truck in sight, and few people working in the fields.
TRINIDAD is a tourist attraction. You see them sitting on the steps in the main square on their cell phones because apparently, you can get rare-to-find internet connection (if you are lucky). We were introduced to a woman who smuggled a booster into Cuba from the U.S. and people go to her house (she also cooks) and buy time and have an excellent cup of coffee whilst they 'get connected'. Almost anything and everything is available on the Black Market. TheEye wishes she had packed some of her old 'cast offs' and set up shop. It would have covered the cost of her holiday…almost.
Like most of the best things we saw and did in Cuba, it was not planned or pre-arranged. Wandering off the beaten track in Trinidad, we encountered street markets with hairdressers, barbers, and beauticians, alongside butchers, fruit stalls, and sweet vendors, making the fried dough specialities much loved by Cubans.
CHILDREN'S NURSERY DAY
This really was a question of taking the wrong turn on our way to the internet lady's house and encountering something wonderful. A square filled with children in fancy dress dancing and singing, balloons, clowns, photographers, home-made toys, vendors selling ice cream and sweets. A happy celebration in praise of Fidel Castro and his pre-school care programme.
This is what is so confusing.
Cuba is still a Communist country and the legacies of Fidel Castro and Che Guevara haven't diminished. Their faces are everywhere.
The hardships and repressions of the former regimes have undoubtedly relaxed, but not disappeared. People are poor, basic supplies in short demand, but everyone receives a free education and the free medical care makes the NHS look shameful. An odd notion of entrepreneurship wafts in the air. Whether it's restaurants in private homes or hole in the wall coffee 'houses', buying internet, or the wonderful toys we saw at Children'sFree Nursery Day celebrating 25 years of free nursery education for the children of working parents and a scheme for teachers to go to individual houses to show them how to educate their children at home.
Imagine if that were on offer in the U.K.?
We left Trinidad stopping briefly in Santa Clara to see the Che Mausoleum and Museum and then back to Havana and time to go.
A memorable trip packing so much into a short time.
Surprising in every way.
EYELIGHTS
TheEye was told off by a famous photographer she bumped into in Trinidad for taking photos of the glorious cars because it's what naff tourist do. But shucks, TheEye had to face the truth – she IS a naff tourist and loved the cars!!
So here's a taster….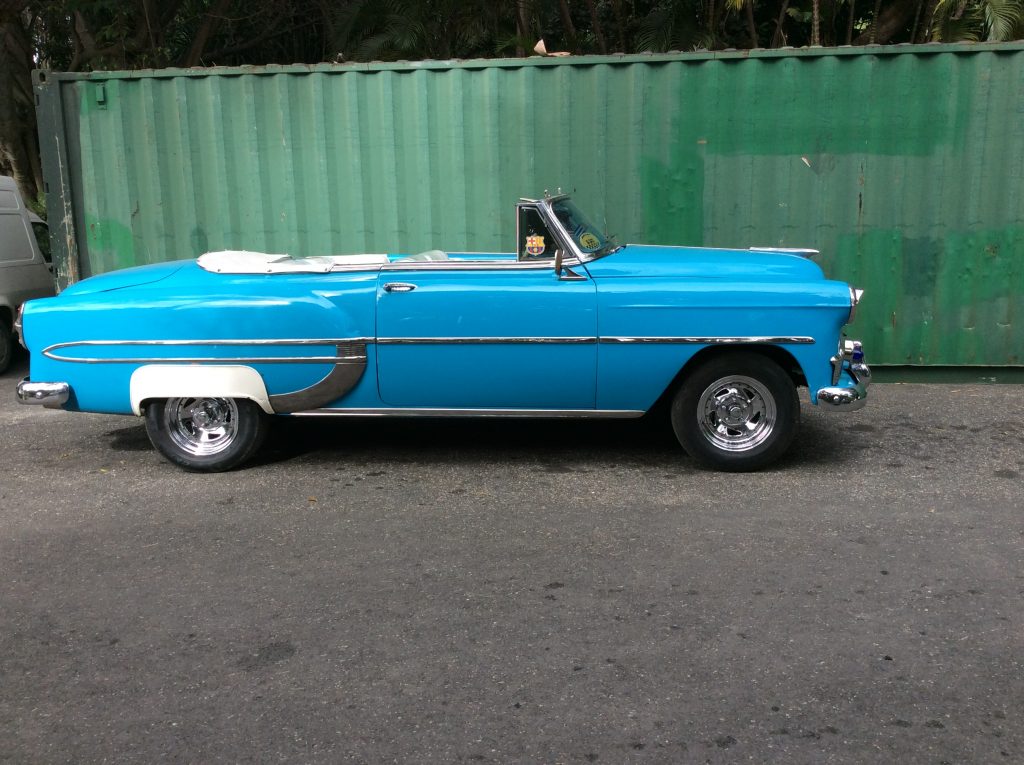 AND GOODBYE CUBA – IT'S BEEN GREAT!