The Ferryman and Anna's hair
THE FERRYMAN, at the Royal Court, for a limited season (before it transfers to The Gielgud Theatre), is more than 'just a play' – it's an experience. Tickets sold out in one day. And according to most reviews, 'all the fuss was largely justified'.
TheEye must have been in the right place when the box office opened (buying sheets at Peter Jones maybe?) and bought two tickets.
Set in County Armagh, in 1981, at the height of the Troubles, the play has a cast which includes some extraordinary child actors, a baby, a goose and a rabbit. Sounds gimmicky..?  It could easily have been a bit corny – so many typically 'Irish' characters, dancing, singing, drinking, storytelling and recruiting for the I.R.A. But far from it. It's a slow-paced, rich tapestry of a modern almost folkloric tale, with a harsh, violent background. From the start, you are aware of how the I.R.A. brought up people's lives.
Writer Jez Butterworth and director, Sam Mendes, suck you in and its length (three hours and 20 minutes with a short 15-minute interval) passes with no inclination to fidget or surreptitious glancing at watches. The plot twists and turns, surprises and shocks and keeps the audience gasping.
It all makes perfect sense in this absorbing story which takes place in the farmhouse kitchen of ex-IRA activist Quinn Carney and his wife and eight children. Included in the household are Quinn's sister in law, Caitlin and her son Oisin, whose husband, Seamus mysteriously 'disappeared' ten years ago.
Set at the height of the Bobby Sands hunger strike, the play manages to interweave not just one story, but many, all absorbing and intense.
Personal (the relationship between Quinn and Caitlin, the non-relationship between Quinn and his sickly, sad wife, Mary.)
Political – the power and ruthless control of Muldoon, and his IRA henchmen.
Old age – Aunt Maggie Far Away, whose entertaining and insightful conversation with the fabulous cast of children, all swearing like troopers, is one of the highlights in a production full of highlights. How baby Bobby Carney, aged nine months, and played in rotation by five babies, is able to gurgle adorably on stage without a tantrum, is nothing short of a miracle.
One of the tenderest characters is the touching, slow-witted, lugubrious gentle giant, Tom Kettle (played by John Hodgkinson), taken in by the Carney family when he was 12 years old and destitute. He is the only non-Irish character and there are some heart-wrenching moments – he is clumsy and bungling, soft and sad.  'I collect rainbows actually' is one of his lovely poetic lines.
This is a magical evening and one of those rare theatrical experiences that will stay in the memory forever.
But to end on a more frivolous note. Sitting in the row in front of TheEye was the immaculately coiffed and groomed and ever so thin, Anna Wintour, in London to receive her Damehood from HRH. The Queen of England and the Queen of Fashion.
It was a very disconcerting experience for TheEye who counts her hair not just as her crowning glory but probably the only asset she has to be proud of, to see someone whose 'classic bob' (according to my hairdresser – a man who knows the perfect bob when he sees one) is indeed a work of art. Not even a wisp out of place. When the lights were on, TheEye was transfixed. However, have been reliably informed that a hairdresser visits Dame Anna every morning after her 6 a.m. tennis game to blow dry and keep each lock perfect.
So it's been decided that when TheEye wins the lottery (which she doesn't do), or the pools (which she doesn't do) or robs a bank (which she hasn't done so far, but who knows?), it will be daily hair maintenance as a reward.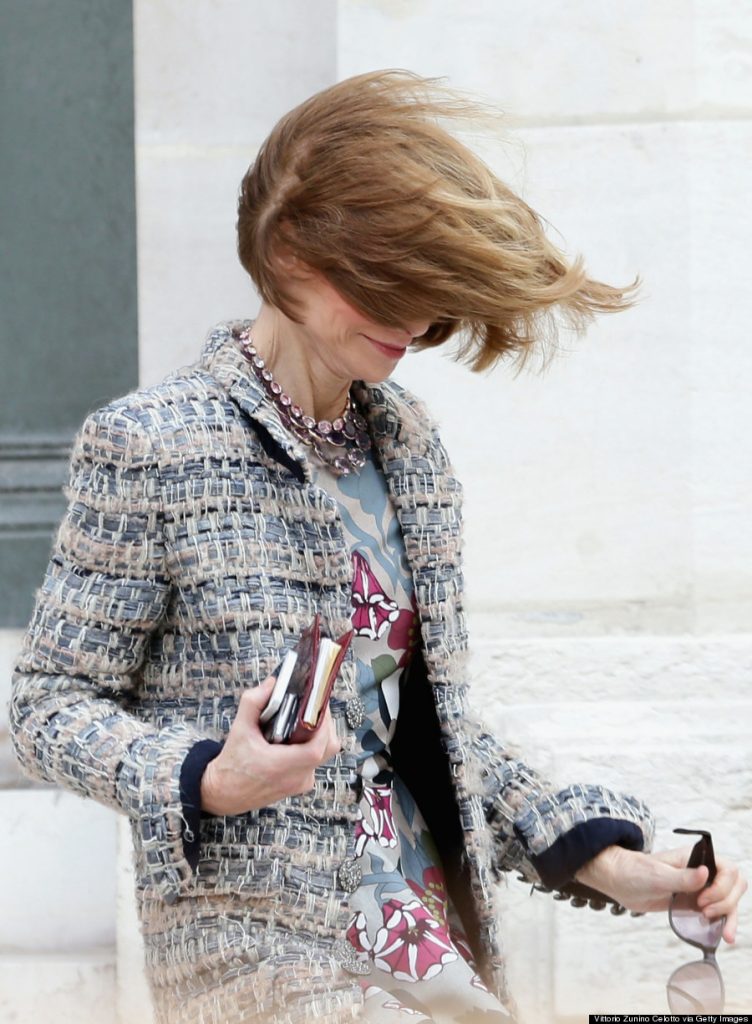 It was reassuring to see these pictures of a windblown Dame.
Nature is a great leveller. If there's a gale, your hair looks a mess whoever you are!! Fact of life.