Glyndebourne Grayson and graduation shows
It's taken TheEye a bit of time to get into the mood for writing this blog. Somehow nothing feels quite the same after the appalling fire at Grenfell Tower. Although there was an instant, genuine, heartfelt and spontaneous offer of help – money, food, clothes, household goods… everything, nothing can bring back lives lost and families in despair.
We are in a period of monumental uncertainty from one day to the next. But in true British style, we are encouraged to get on with life.
So here goes:
A surreal evening at Glyndebourne
A beautiful night. Picnickers on the lawns, men in evening suits and women in long dresses. So far so Glyndebourne. But what were a man in full Arab dress, a Middle Eastern bride and a photographer snapping their pictures wearing a hijab doing? A wedding at Glyndebourne, what was the world coming to…? Then another couple was also seen posing having their picture taken, then another… and more. It turned out to be a clever prank to set the scene for an opera by Francesco Cavalli first performed in 1678. The very daft story centres on the 50 daughters of the King of Argos who are married off to the 50 sons of his brother on the understanding they kill their husbands on their wedding night… nice?
The music is not to everyone's taste and certainly not TheEye's who was clearly in a minority judging by the rapturous applause. Oh well, you can't win them all, and the production was certainly novel.
The Serpentine Gallery
The Most Popular Art Exhibition Ever! (or The Gospel, according to Grayson Perry)
The shy retiring social commentator, potter and avant-garde clothes horse has done it again.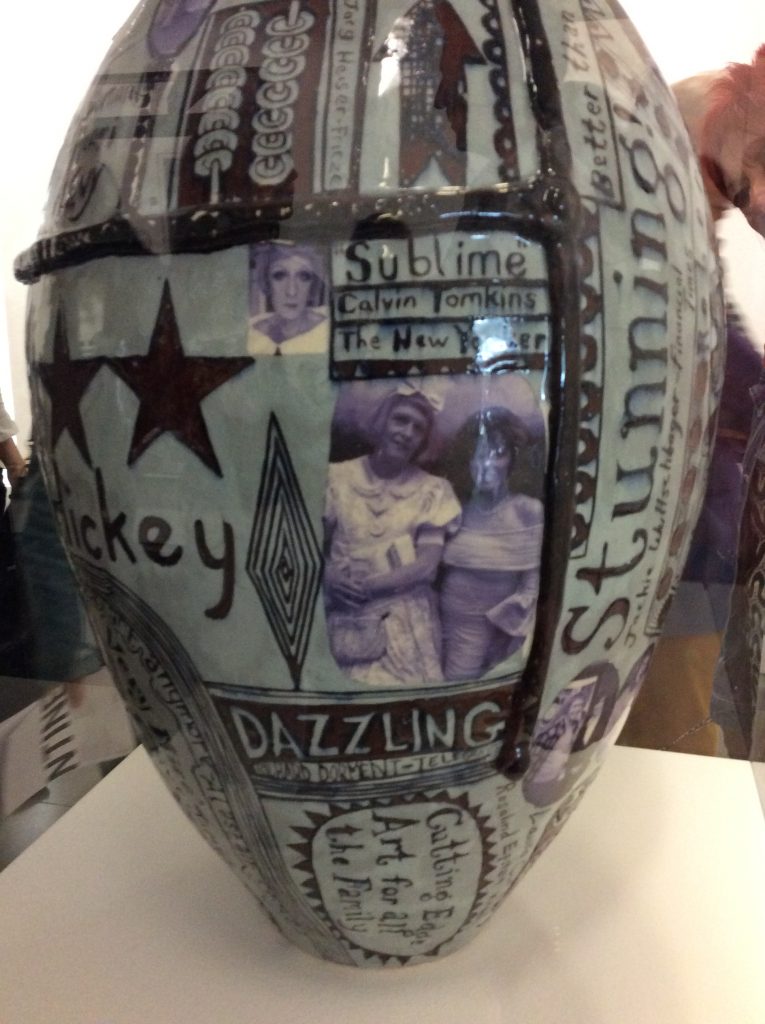 Brilliant and perceptive with razor sharp observations, Grayson/Clare, remains an enigma for TheEye. Will the REAL Grayson Perry please stand up whoever he or indeed she, really is? Whilst not being slow in criticising the rich, it's a case maybe of biting the hand(s) that feed him? His pots, embroidery and words (which sell for top bucks) give immense pleasure to many and his following and fans make him the art world's number one rock star. Were he to appear at Glastonbury, he would attract a bigger audience than Jeremy Corbyn. To quote art critic Laura Cumming in The Observer, 'The pots are the visual equivalent of nonstop talking… it's a kind of evasion, a way of saying nothing too specific, of appearing provocative while in fact remaining comfortably even-handed – keeping everything up in the air'.
But (and there are very few 'buts') TheEye loved the exhibition and, whatever her qualms, Grayson Perry is, without a doubt, a genius and certainly a national treasure.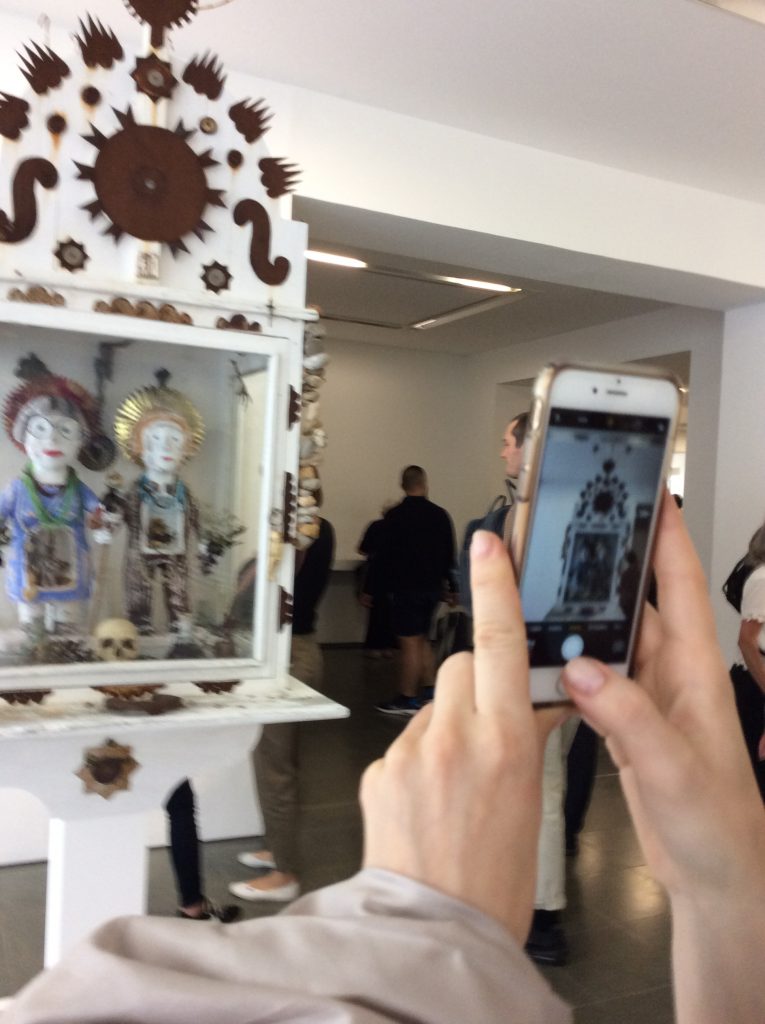 Graduate Shows
RCA Battersea and Kensington campuses
Ceramics, jewellery and fine art graduates had their graduation show last week.
It's always an important event spotting the stars of the future. Things are changing at the RCA with work that is far more complex, technically focused and less accessible across the board.
Ceramics remains strong and there was real diversity. Senior tutor, Felicity (Liz) Aylieff, is a wonderful potter herself who sells through the Adrian Sassoon Gallery and a truly inspirational teacher.
CENTRAL SAINT MARTINS
TheEye loves the energy of CSM. It hits you straight away as you walk through the doors in the impressive Kings Cross campus. Maybe they pump it through the ventilation system?
Work in all the disciplines is always of a high standard, well-made, but with tongue in cheek cheekiness at the same time. Course leaders (Caroline Broadhead in Jewellery, and recently retired Professor Rob Kessler in ceramics) are top designers in their own rights and thoughtful, nurturing tutors.
Simon Fraser, course leader of the MA Jewellery, Furniture and Ceramics department at Central Saint Martins is not only a gifted designer but a wonderful tutor who understands and respects his students in a way that brings out the best in them.
I always go to the graduate show with high expectations, and this year was no exception.
And for the opportunity to see the best of graduate work from all over the UK, visit New Designers exhibition at the Business Design Centre, Islington. The show gives a great overview of disciplines and is divided into two parts
PART ONE June 29th – July 1st and PART TWO July 6th – July 8th.
LAST (but definitely not least)
YOUNG MASTERS at THE CYNTHIA CORBETT GALLERY
ROYAL OVER-SEAS LEAGUE until September 8th.
Painting, photography, video, sculpture and fine ceramics.
Invest in the future… and…
ENJOY