Tiger Leaping Gorge, Lijiang's fabulous food market, and oh! that altitude!
It was quite a relief to leave the desert, smog, and pollution and arrive in the picturesque old city of Lijiang close to the Tibet border. The altitude is high (TheEye was gasping), cool and the air fresh and clean. Also, a joy to see green fields, flowers, fruit trees, corn, and rice paddies.
We stayed in our first international luxury hotel – the Banyan Tree. After a few fairly rough places (a mouse in my travelling companion's bathroom), hotel guests chain-smoking in bedrooms leaving their doors open so the fumes could circulate everywhere (very generous of them to share), threadbare carpets and one 'buffet' breakfast where the bread was still rock hard frozen and the orange juice warmed up squash and absolutely no fruit, not even a banana in sight, it's wonderful how you really appreciate the finer comforts of life.
A visit to the Tiger Leaping Gorge was quite an experience. TheEye had visited waterfalls and gorges before and rather naively thought maybe she should take her swimsuit. However, it wasn't quite as expected. An exhausting walk down hundreds of steep stairs with the river thrashing below was somewhat alarming. One slip and… well, who knows, but TheEye might not be around to tell the tale.
Some were carried by human rickshaws which must rate as the bottom of the employment barrel.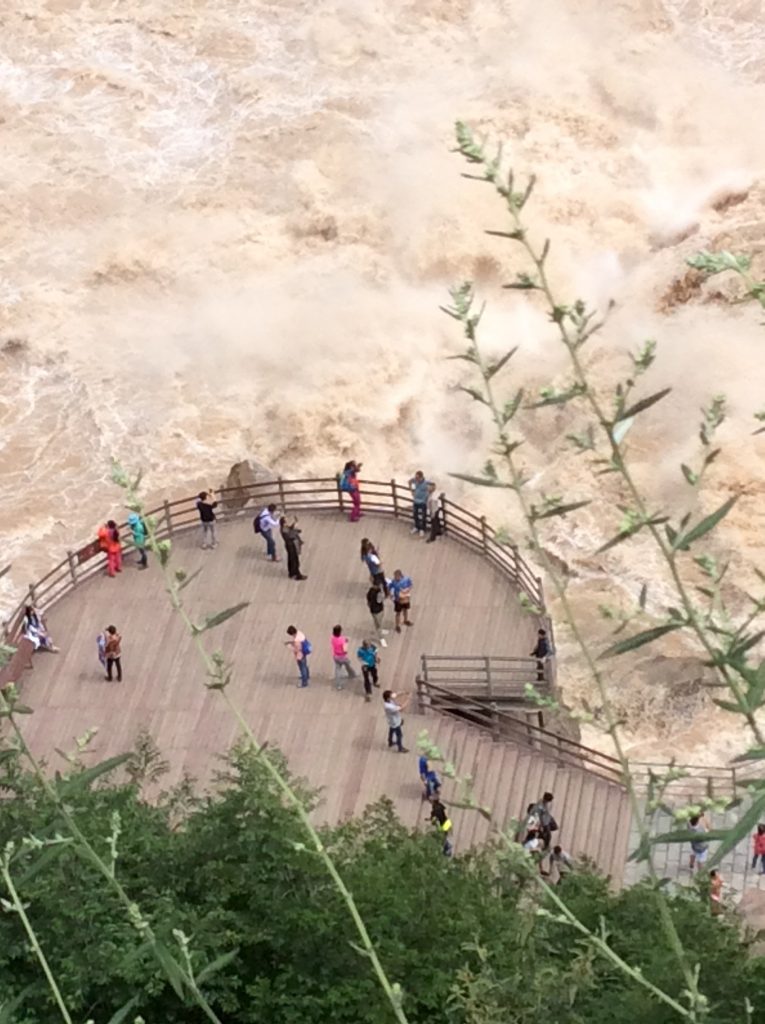 Lijiang Food Market
A huge daily market selling vegetables, fruit, meat, fish, and dry goods. Lots of strange roots and fungi for medicinal purposes, to say nothing of dried snakes, frogs and a variety of gruesome intestines. And lovely flowers. It was the chrysanthemum festival when we were there and brilliant displays in gorgeous colours. A separate area adjoining the market resembles Covent Garden with a similar lively atmosphere. Packed with shops, boutiques, and cafes it is teeming with young fashionable Chinese tourists.
BAISHA EMBROIDERY CENTRE
Baisha Embroidery Centre is in a rural hamlet outside the bustle of Lijiang. Three or four young members of one family work together. Their skill is brilliant but, sadly, they mostly copy old master paintings they have found on the internet of the Laughing Cavalier variety. TheEye is good at seeking things out and found a corner hidden away in a back room of some lovely original abstract work in black and white thread. Abstract and double-sided. Well, of course, she couldn't resist and had it taken from its frame and rolled and now being framed in West Hampstead.
SHAXI (PRONOUNCED SHASHI)
A couple of hour's drive to this small rural town, popular with Chinese holidaymakers, students, and backpackers.
Very pretty and our hotel, The Old Theatre Inn, still has a theatre and stage where music is performed.
A tranquil courtyard. The bedrooms were minuscule. A great deal of strategic planning was required as to where to put our cases. TheEye will be able to give packing seminars soon with all her experience.
It was a steep climb to visit an extraordinarily beautiful 9th Century Buddhist Temple at the top of a high hill with several caves containing fascinating rock (sandstone) carvings on Buddhist and secular themes, well preserved for the most part…
Our 'taste' of China couldn't  have ended in a more pleasant way.
A zillion thoughts and impressions to process about what we had seen and discussed on our travels. Positive and negative in equal measure.
To quote the supremely powerful, Winnie The Pooh lookalike (Winnie The Pooh, by the way, is banned in China), President Xi Jinping, 'Don't worry, in China, we have only one gear, and it's forward.'
It was off to the bright lights of Hong Kong – a cultural world away.