ALL I (don't) WANT FOR CHRISTMAS (OR CHANUKAH)
THE FESTIVE SEASON IS UPON US AND PRESENT BUYING HAS REACHED A CRESCENDO.
Most people are wrapped up and exhausted. Here are a few tips for gifts TheEye would prefer not to receive (lots she would).
Having spent the last few months chucking away an accumulation of treasures, here we are in the Festive season with every newspaper and magazine offering suggestions about what to buy our nearest and dearest and those not so near and dear. This has been the case since October: retail pressure gone mad! TheEye has been doing her own research and the list of  'please don't waste your money' items gets longer.
Some young, eager (unpaid) intern who can't believe her or his luck at having landed the task of trawling through mountains of P.R. blurb extolling the unique, amazing qualities of their products is responsible for some of the more idiotic suggestions. Most are one-minute wonders and will probably be making their merry way to the Oxfam shop when post-Christmas gloom descends.
TheEye has been keeping her eye out for some of the gifts luring us to buy.
Current 'must haves' seem to be designer key rings. Would TheEye be thrilled to open a Prada/ Gucci/ 'you name it whoever' box to find a fluffy bulky key ring knowing it had cost  £hundreds, possibly more? NO. Definitely an item she would waste no time in returning. Fortunately, no one would even think of giving her such a present.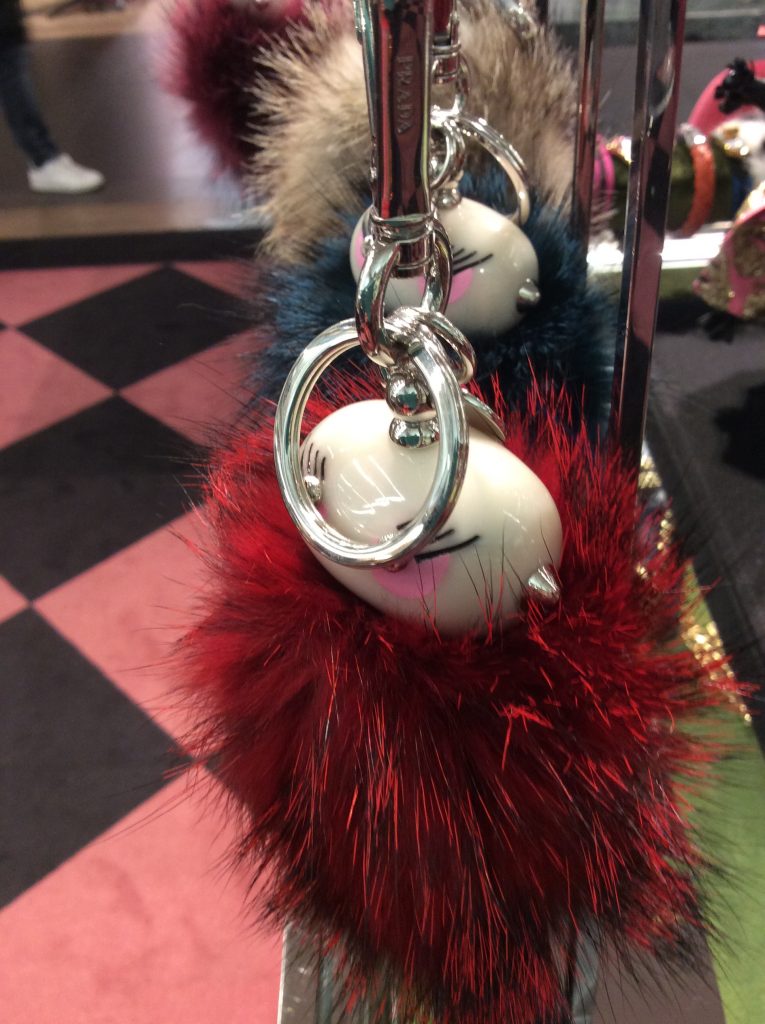 It's been years since TheEye visited Harrods. What was once, alongside Fortnum and Mason, the ultimate retail experience with its hallowed marble banking hall, marble toilets, incredible food halls, is now – judging by a quick pre-Christmas dash – a rather bling department store, high on jewellery shops that sparkle like illuminated cash registers on the ground floor adjacent to the rather inferior food halls with endless food concessions – everything from fish and chips to sushi and caviar. A mishmash food experience and certainly not like 'the good old days'.
However, TheEye has to confess to a day out at Bicester Village where she and a friend literally shopped till they dropped and had the best time. Bargains? Plenty. But you need to have a beady eye and be disciplined or you will waste more money than you save.
Apparently, Bicester Village is the most popular tourist destination after Buckingham Palace for Chinese tourists and they were on the train well equipped with 'wheelies' and suitcases and looks of intent on their faces. Many come over for special shopping trips. Rather Bicester than Harrods for TheEye.
Time is running out and it's already the second night of Chanukah – as they say 'it's not the receiving it's the giving' – and maybe a generous donation to a charity (Syrian Relief, Shelter or Crisis) is a more rewarding gift than a fluffy key ring?
And we haven't even broached the tricky subject of 're-gifting'. Best not. But, if you are considering re-gifting books, make sure someone hasn't inscribed it to you…
Have a very happy one whatever you are celebrating and TheEye will be back in the New Year.