There's More To Los Angeles
There's more to Los Angeles than most people imagine and it's taken TheEye a while to discover and appreciate some of the less obvious pleasures.
THE MARCIANO ART FOUNDATION
Los Angeles' newest (and funkiest) art gallery is housed in a converted Scottish Rite Masonic Temple, a grand building, famous for its accumulation of strange and definitely weird theatrical objects. The Marciano is now privately owned and shows work from their own collection as well as 'hosting' other exhibitions. 'The Jim Shaw Wig Museum' is as whacky as it sounds.
Loved it, but didn't have a clue what was going on!! Is that what is meant by ignorance is bliss??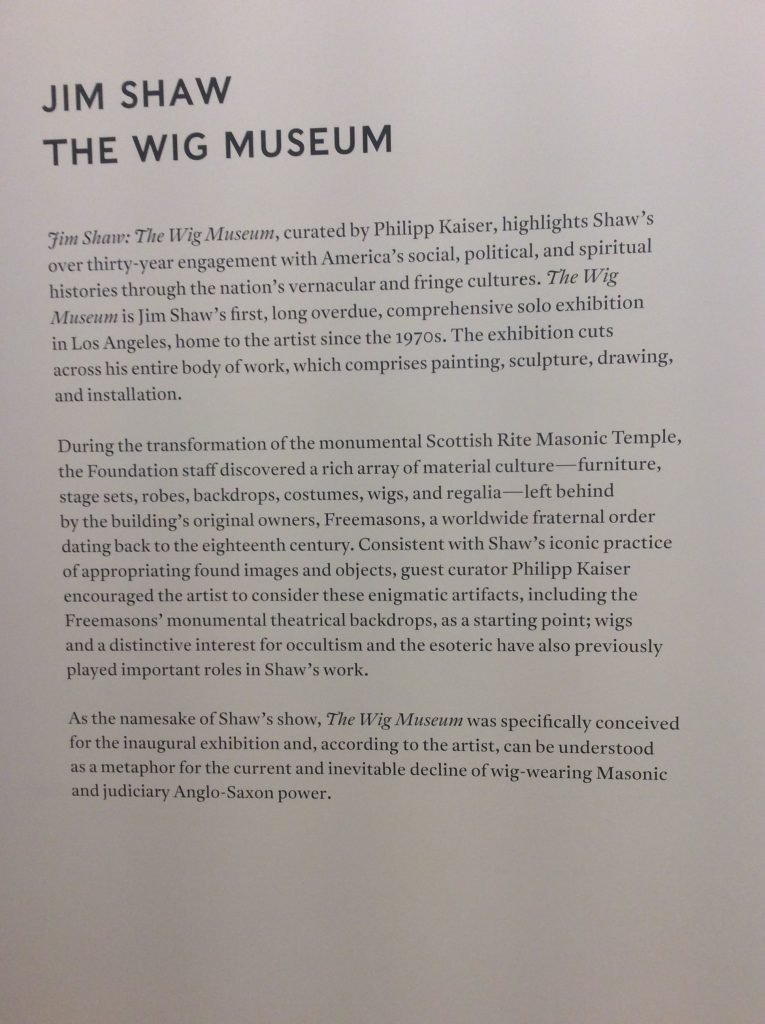 L.A. has a dubious reputation, being dominated by 'industry people' and indeed it's swarming with them, particularly at this time of year, known as 'Awards Season'. Every attractive waitress and waiter is an actor 'waiting' for their moment, serving tables to pay for acting classes and their rent. Then there are tables of earnest people in huddles, 'doing meetings' in bars, restaurants and coffee shops. All with projects to sell.
And, of course, countless Wannabe 'Gwynies'. Honed, bronze with washboard flat stomachs tucking (well maybe 'tucking ' is overdoing things) into a bowl of kale, hold the dressing, of course. And as for alcohol? It's more likely to be a turmeric and ginger spritzer (turmeric is currently the 'new' healthy must have.) Bed by 9 p.m. It's what is supposed to be the glam life but to TheEye it's a NO FUN LIFE?
L.A. is a paradise for architect lovers. TheEye was unaware of the city's Frank Lloyd Wright and Arts and Crafts Movement roots. Stunning, well-preserved examples that rival the U.S. City of Architecture, Chicago.
It's possible to visit these homes and there are excellent guided tours available. They are in different parts of the city (and distances are vast, traffic is dreadful) and all have different somewhat obscure opening times. Appointments need to be booked well in advance.
For TheEye the biggest treat was the beautiful turn-of-the-20th-century Gamble House designed by brothers Charles and Henry Greene in Pasadena and the closest to Arts and Craft perfection as you might hope for.
Not just the structure of the house itself, but every item of furniture including cupboards and lighting. Garden landscape, sleeping porches, overhanging eaves and leaded stained glass. The Greene brothers had perfect clients in David and Mary Gamble (of the Procter and Gamble company). They even oversaw the positioning of the furniture, including vases and accessories, with a meticulous attention to detail. The Greene's 'primary language' was wood which they exploited to its fullest potential – cabinetry, panelling, carvings, structural timbers and so on. Detailing which demonstrated their expertise in the art of woodcraft. If hinges and bolts are 'your thing', you will feel you have died and gone to joinery heaven.
Frank Lloyd Wright designed several homes in Los Angeles. The first and most important was The Hollyhock House commissioned between 1919 and 1921 by oil heiress, theatre producer and philanthropist, Aline Barnsdall. A woman way ahead of her time, independent and a single mother.
Frank Loyd Wright came to California for this project which he called his 'California Romanza' period. Client and architect endured a stormy, emotional, bizarre, relationship which resulted in the house going seriously over time and over budget with a bitterly acrimonious end. Aline Barnsdall refused to live in the house. Frank Lloyd Wright, no easy bunny himself, was enraged.
In revenge and thanks to her enormous wealth, she gifted the house and the 12 acres of grounds to the city of Los Angeles. The house and gardens cost around $150.000 to construct in the early '20s, around $15 million today.
Iconic furniture designers Charles and Ray Eames designed and built a house and studio on a  piece of land overlooking the beach and ocean in the 1940s.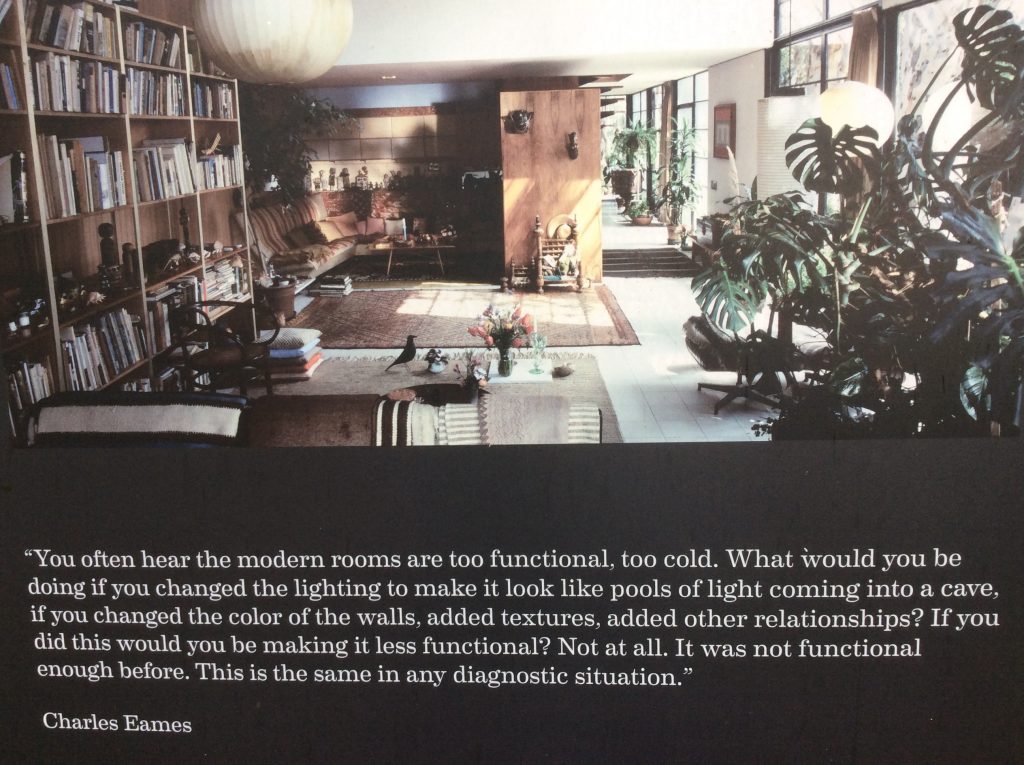 Other architectural highlights included the Neutra houses built between the 1940s and '60s and the early Schindler House with its intriguing social history.
MARC CHAGALL
Marc Chagall was commissioned by the Metropolitan Opera in New York to design sets and costumes for one opera (the Magic Flute) and three ballets which he threw himself into with great passion and enthusiasm. The vibrant colours, delicate fabrics and hand stitched materials such as dyed feathers are ravishing.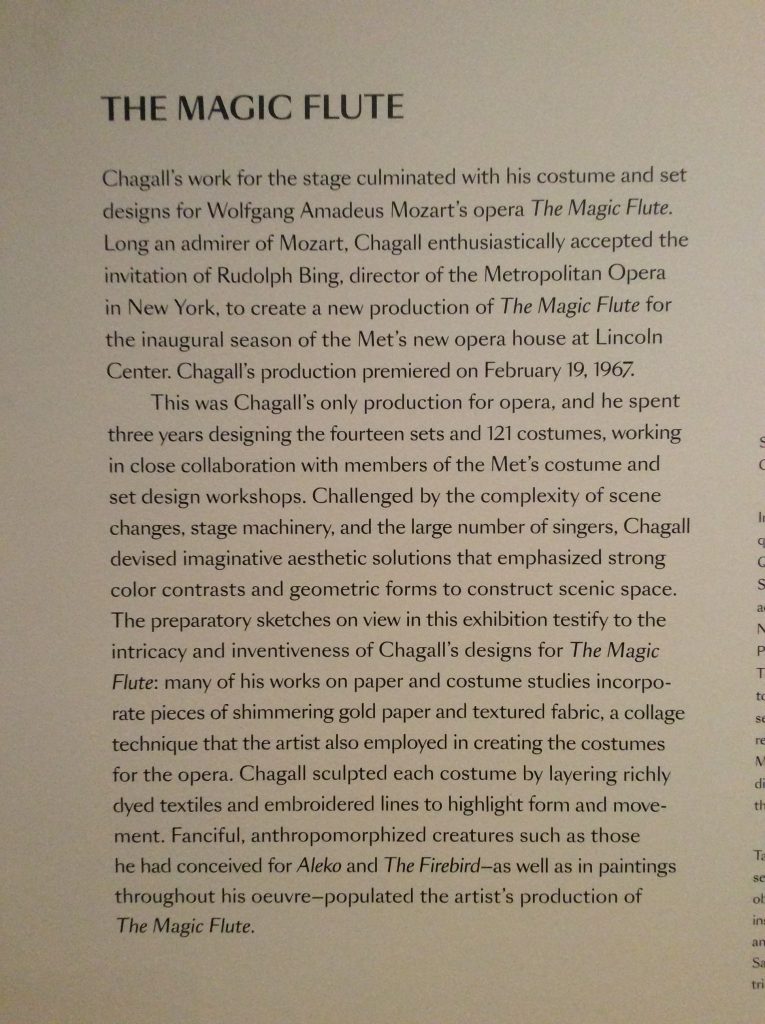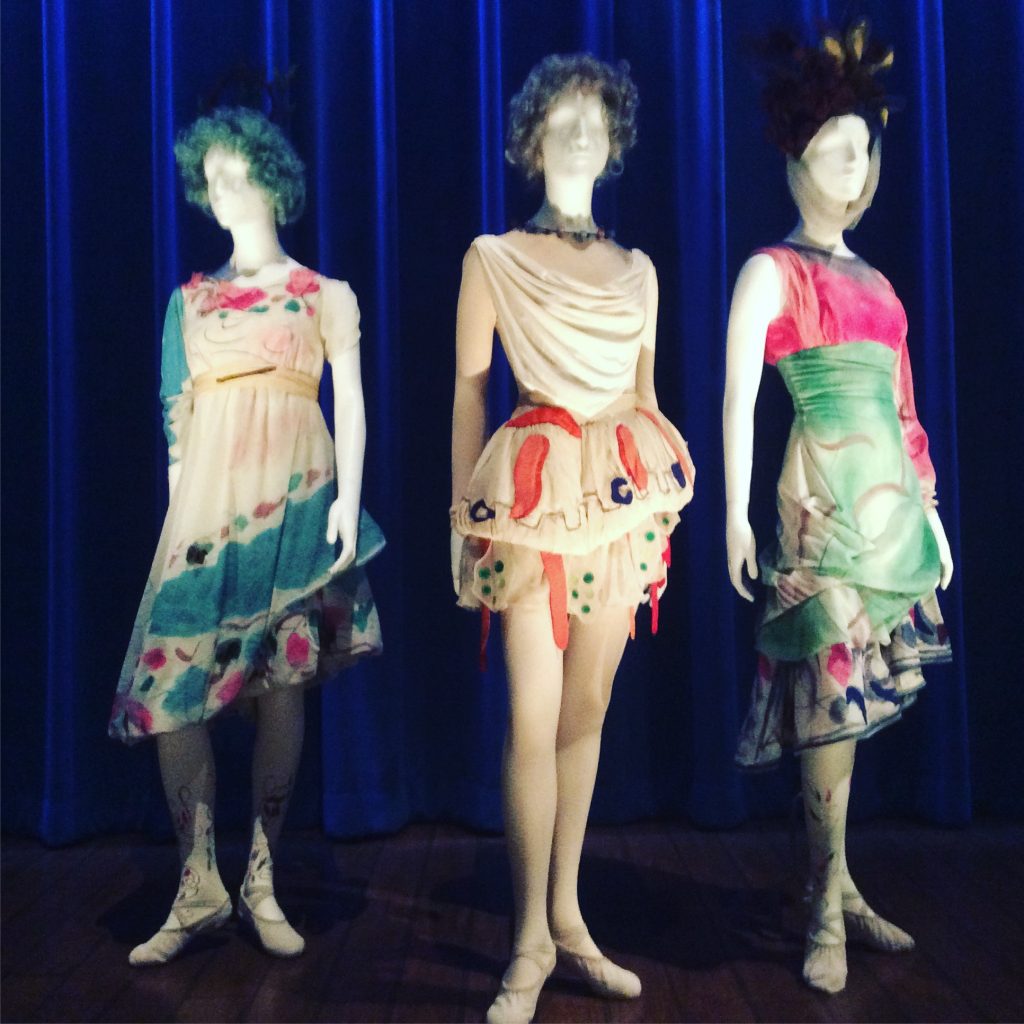 Well, so much for high culture …. downhill all the way!!
DISNEYLAND
Yes, your eyes aren't deceiving you – (after all, theeyedoesn'tlie).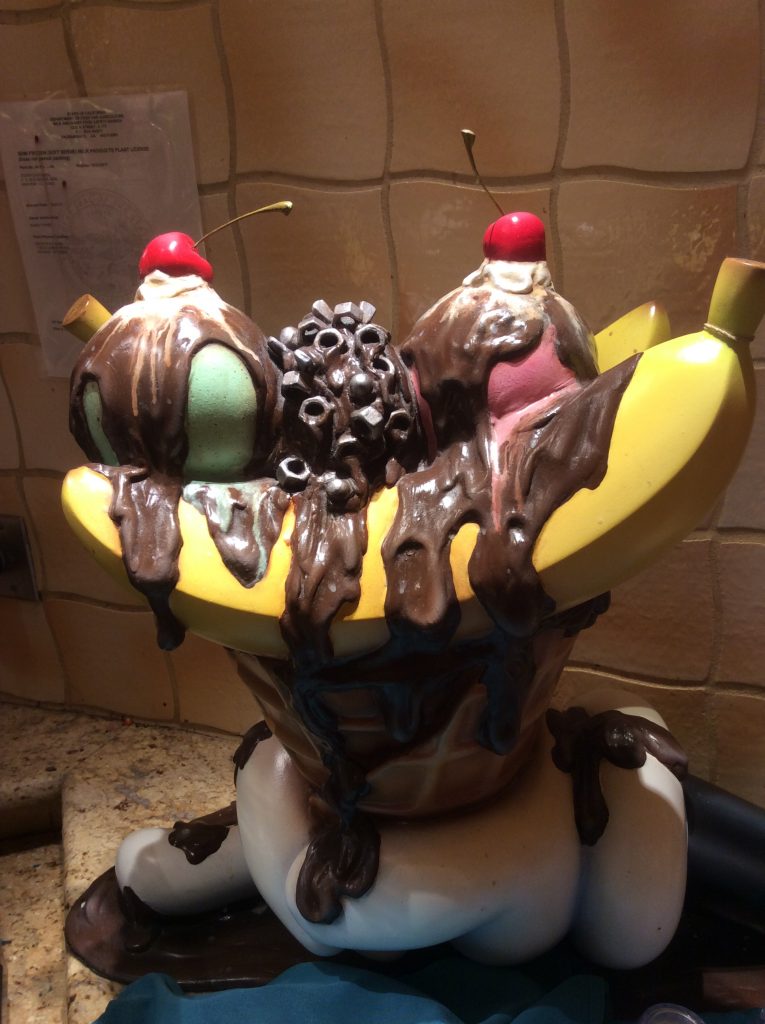 TheEye accompanied two young men who had the best time and loved every second. I believe a tear or two was shed when it was time to leave. TheEye was shedding tears of relief.
We started the day with … THE DISNEY BREAKFAST (healthy it most certainly WAS NOT)
They had a ball starting with Mickey Mouse waffles and peanut butter and jelly pizza for breakfast served by Disney characters.
DISNEY CUSTOMERS…
Some people spend two weeks there – one night suited TheEye.
These are Los Angeles people who aren't drinking turmeric and kale smoothies.
SOME OTHER HIGHLIGHTS
Food in Los Angeles can be delicious, creative and inexpensive, particularly in smaller cafes and 'pop up' places shooting up all over the city and usually only open in the daytime. Los Angeles is such a melting pot of nationalities and the interesting cuisine reflects this. Most don't take reservations and it's usually necessary to queue, but worth it for deliciousness on a plate.
There are more and more excellent produce markets in the city selling locally grown fruit and veg. Nothing beats the taste of oranges straight from the tree, pineapples and avocados that haven't been transported in refrigerated crates and shipped hundreds of thousands of miles before they reach a shop near you.
KOREAN SPAS
TheEye was very sceptical when friends raved about Wi Spa, a Korean spa open 24 hours a day, seven days a week. But being of a curious nature, she decided to 'give it a go'. It's an experience and a great one. 'After being scrubbed and buffed your skin feels as soft as a baby's bum', she was told, and they weren't exaggerating. Lying naked on a slippery bed for half an hour followed by a divine massage and hair wash (almost the best part), TheEye was squeaky clean and glowing. There are hot tubs, saunas and steam rooms. Spotless and far less expensive than the swanky places that aren't nearly as good. TheEye couldn't wait to return. Pure bliss. I think she could become addicted.
BLUEGRASS
Whilst the Golden Globe Awards were taking place (spare me all those sanctimonious acceptance speeches) at the Hilton Hotel in Beverly Hills, TheEye was at a bluegrass party in a friend's house a few minutes away.
About 12 musicians jamming away on a variety of instruments which included guitar, mandolin, banjo, ukelele, harmonica, violin, double bass and more. The group who in 'real life' are composers, artists, writers and a nurse with a divine voice, a comedy writer and a lawyer. Great music, great food and great foot-tapping fun.
Sadly all good things come to an end – and it's back to reality in London … jet lag, a nasty cold, grey skies, and rain.
BYE BYE LOS ANGELES!!
But it's a New Year and TheEye is ever optimistic, let's hope 2018 is a good one…Are you hearing me, Mr Trump?