JUNYA ISHIGAMI —
THE VISIONARY ARCHITECT WITH A SOCIAL CONSCIENCE WHO MAKES YOU FEEL HAPPY
TheEye is rather wary of architectural exhibitions and finds looking at endless perfect models of unknown, unbuilt, buildings sometimes rather dull. Like looking at doll's houses, but without the fun. As most architectural models are made for competitions and it's a serious and expensive business, fun isn't really a priority.
Finding herself in Paris and not being wildly excited to visit any of the exhibitions at the major galleries (Guernica at The Picasso Museum, but without the great iconic painting, which rarely leaves its home at the Prado in Madrid, for example).
The Foundation Cartier on a bright spring day seemed a perfect place to go, a luxuriously spacious glass structure designed by architect Jean Nouvel. Light floods into the airy galleries.
Having read a glowing review of the Japanese architect Junya Ishigami (of whom TheEye knew nothing), it seemed a good idea. And a GREAT idea it turned out to be, as surprises often are.
Junya Ishigami, winner of the Golden Lion Award at the Venice Architecture Biennale in 2010, is really an architectural poet. This might sound somewhat pretentious but Freeing Architecture is anything but pretentious. Specifically designed for the Foundation Cartier, it presents nineteen projects from Asia and Europe with about thirty models, sketches, and films. The exhibition was not just revelationary, but incredibly enjoyable. Ishigami conceived and selected these examples to represent his work specifically for Jean Nouvel's building.
He regards surrounding environments as an integral part of each of his projects and incorporates scenery into all of them. In the Botanical Farm Garden in Tochigi Japan, for example, he uprooted and removed more than three hundred trees and replanted them on a former adjoining meadow.
The projects are grouped together in a similar manner to chapters e.g. 'The world of childhood' is twinned with his kindergarten projects and it is precisely what makes this exhibition so easy to understand. Visitors wander along a winding road on a constant adventure of discovery.
Ishigami's models are witty and tongue in cheek, which make them all the more easy to appreciate. He has a true vision of the future which makes real sense and which most people can understand and relate to.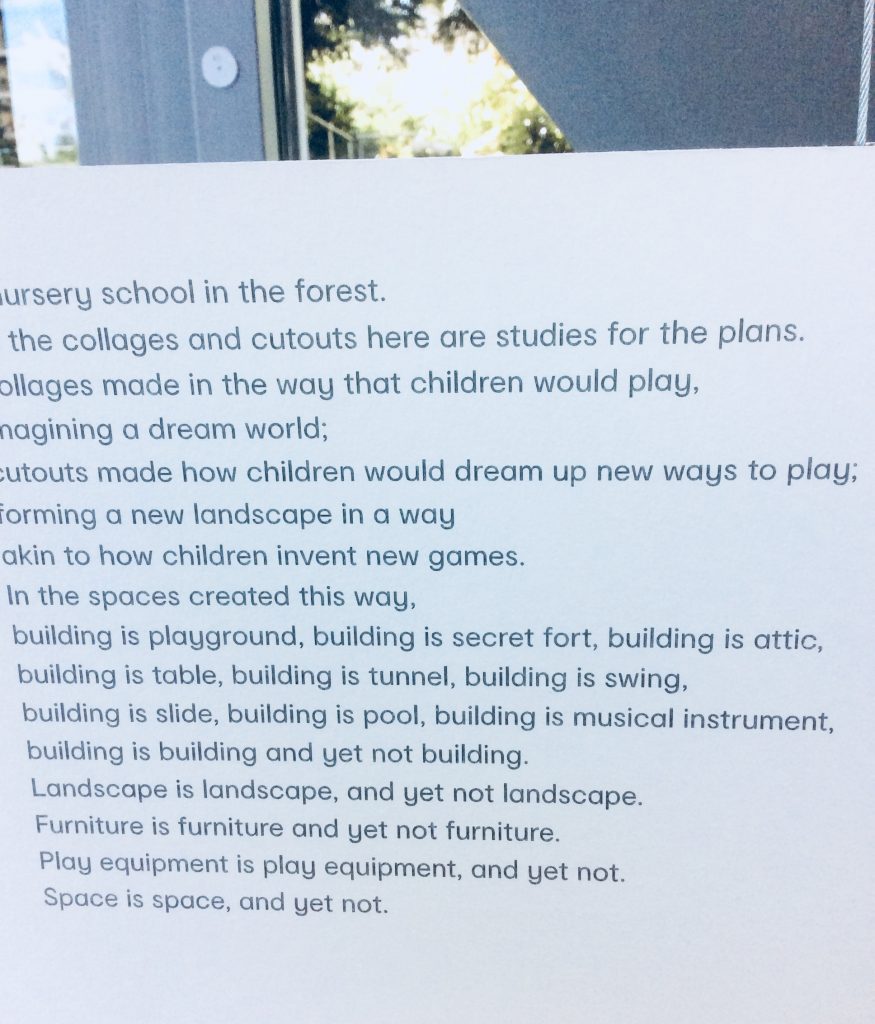 Junya Ishigami says he sees a future where new roles and conditions for architecture materialise that have never previously been imagined. In his view, it is necessary to consider what architecture is for. Is it for everyone or specific individuals, for humans or all animate beings?
Ishigami believes architects need to listen more carefully to people's voices in this fast-changing society and think beyond the stereotypes of what architecture is considered to be.
Seeing this exciting and thought-provoking show demonstrated how good exhibitions about tricky subject matter should be: challenging spectators to ask themselves questions which at times aren't easy to answer.
Freeing Architecture runs until June 10th and well worth a day trip to see it.
And of course, Paris is Paris. At its best in the glorious sunshine.
TheEye timed her visit for the May Day festivities when lily of the valley (the traditional May Day flowers) are all over the city. She brought armfuls back, which miraculously survived the train journey and are filling her home with their delicate fragrance.