Is it an age thing? A hideous thought, but now all TheEye seems to do is blink and time has flown by. It certainly doesn't seem a year since she was writing about the graduation shows, and blow me down, here she goes again.
CENTRAL SAINT MARTINS
TheEye says it every year, but you can never repeat good things too often. The CSM campus at King's Cross is an extraordinarily creative environment. You feel the energy pulsating as you cross the plaza with fountains, food trucks and, of course, the canal.
BA Ceramics has always been a strong department with students working in numerous styles from conceptual to domestic. Jewellery under the professorship of Caroline Broadhead is outstanding. You get the sense that these jewellery and silver graduates are not only talented but will be going well prepared into the commercial world.
Simon Fraser, Senior Tutor running the MA Furniture, Jewellery and Ceramics department is remarkable and hands on. Students are handpicked from all over the world and encouraged to share their skills and cultural backgrounds in a generous and collaborative way.
NEW DESIGNERS
New Designers is a two-week event held in the Business Design Center in Islington and for TheEye it's unmissable. An opportunity to see graduate work from colleges all over the U.K. What is so fascinating (and shouldn't be surprising) is the high standard of creativity from places most of us 'London-centric' snobs barely know to exist. Loughborough University excels in textiles, as does Edinburgh, Glasgow and The University Of Dundee. We ignore at our peril Blackpool (yes, there is more than a pier, sticks of rock and the illuminations),  The Royal College of Needlework where TheEye saw the most exquisite embroidery. The list goes on and the quality impressive. The graduates were informed, friendly and happy to be approached. They are clearly well briefed by their tutors and what a difference it makes.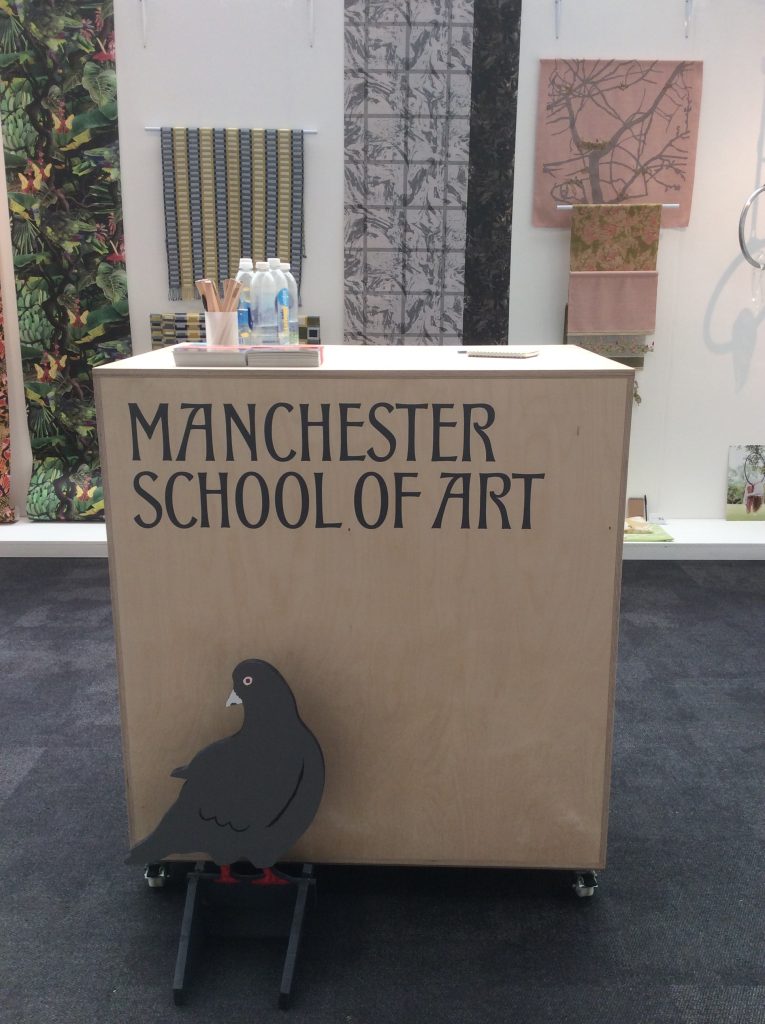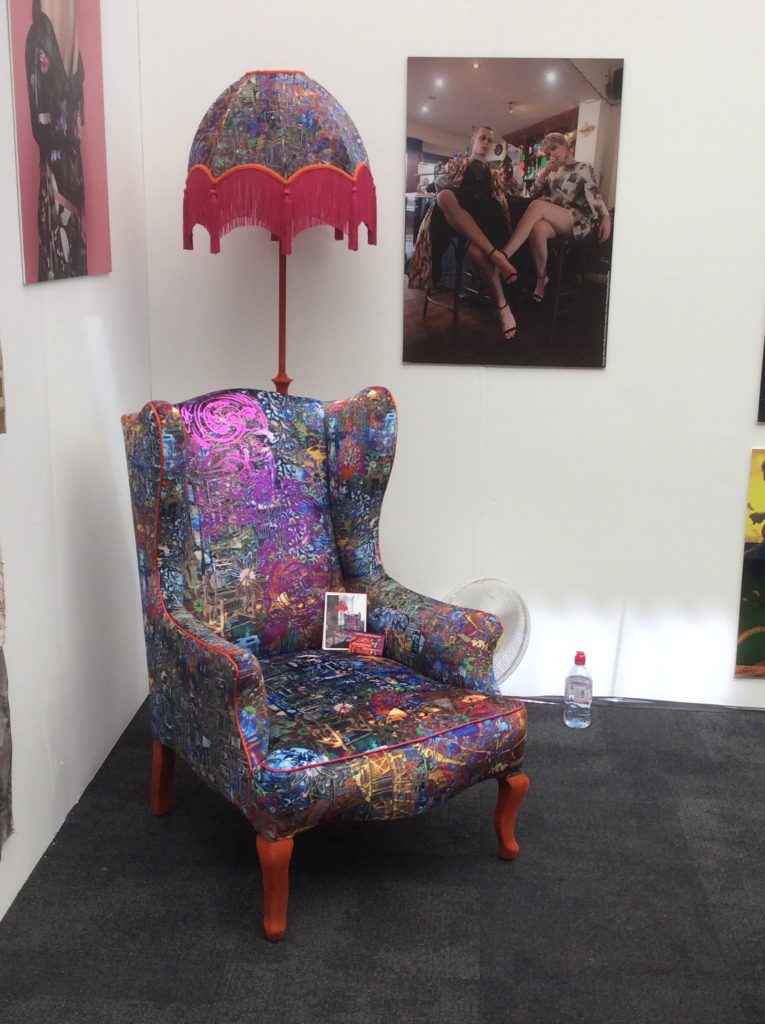 In the years when TheEye curated selling exhibitions at Sotheby's, one of her pleasures was trawling degree shows seeking out talent. She never missed a trip to Edinburgh and Glasgow, both excelling in jewellery, glass, textiles and in the case of Glasgow in particular painting and photography. The Charles Rennie Mackintosh School of Arts functioned, as Mackintosh had intended, with its beautifully detailed interior. The library and studios. It was inspirational just to be there. Bad enough that there was one devastating fire a few years ago that gutted many glorious rooms. Money was raised and re-building nearly completed. But the shocking fire a couple of months ago has caused worse devastation. There is talk of this iconic landmark being re-built again but the amount required will be so vast, one can but hope.
ONE YEAR IN showcases selected designers who have made the transition from graduation to starting their own businesses and studios. Interesting to see how they are getting on. Pretty well from this year's exhibitors.
THE ROYAL COLLEGE OF ART
The RCA is the only postgraduate arts establishment in the U.K.
Not surprising that the standard is high and so are expectations. Over the last couple of years, there have been noticeable changes.
Technology plays a more important role than years gone by when the Design Products Department meant just that and under the professorships of Ron Arad and Tord Boontje, some of the country's most influential designers emerged – Ed Barber and Jay Osgerby, Studio Glitheroe, Martino Gamper, Simon Hasan… The list is formidable. Now sights seem focused on careers in Silicone Valley. Hardly surprising, as the New Chancellor is Sir Jony Ives.
There is no underestimating the importance of technology and we now live in a digital age, but to ignore craftsmanship and product design seems a short-term goal – one should benefit the other. Well, that's TheEye's view.
As she was leaving the School of Art and Photography, TheEye spotted Charles Saatchi, flanked by a minder about to make his rounds. Did he buy?
When speaking of outstanding departments and tutors, Glass and Ceramics in The School of Arts & Humanities, led by Felicity (Liz) Ayelieff, herself a gifted and successful potter, must rank as one of the RCA's best. After a disappointing last year with a department head that came and swiftly went, it is now back in poll position.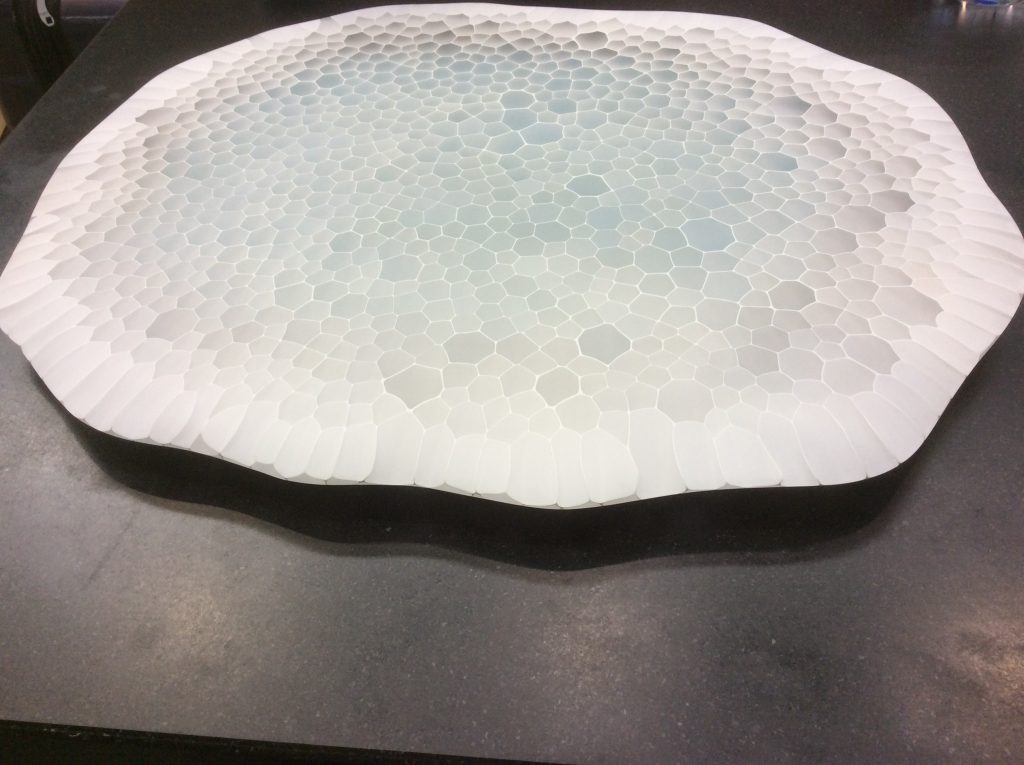 After spending several hot days going to different colleges, looking at a variety of work, excellent, good, and indifferent, and spoken to countless students until her eyes start to cloud over, when you are about to pat yourself on the back for perseverance, if you are lucky you will get your Eureka moment and this happened at the RCA to TheEye. You know it when you see it.
Ian Thompson, a painter turned decorative potter, deserves high profile representation.
His fastidiously painted pots are full of detail. They are wonderful and would not be out of place at one of the major art galleries. Glass designer Sarah Cable has perfected a unique glass-making technique and seems already on her way to success.
So that's it.
School's out and the students are packing up their studios. Some for new studios sharing with others and many still deciding 'what next'. It's a daunting prospect.
TheEye wishes them all well and a relaxed happy summer.