FASHION AND THE CATHOLIC IMAGINATION
HEAVENLY BODIES
FASHION AND THE CATHOLIC IMAGINATION
It might not be a well known fact, but throughout history, fashion and the Catholic religion have been inexorably intertwined,  resulting in some of the most innovative creations in the history of fashion.
An extraordinary show at THE METROPOLITAN MUSEUM AND THE MET CLOISTERS.
According to sociologist Father Andrew Greeley, 'Catholics live in an enchanted world, a world of statues, and holy water, stained glass and votive candles, saints and religious medals, rosary beads and holy pictures.'
The majority of the designers in Heavenly Bodies were raised in the Roman Catholic tradition and while many no longer practice their religion and their relationships to it vary considerably, most acknowledge its significant influence over their imaginations.
On the surface this influence is apparent in the use of explicit Christian symbolism such as the cross and the crown of thorns: on a deeper level, it expresses itself through the designer's reliance on narrative or storytelling, and specifically on the trope of metaphor.
The clothes, many elaborately beaded and encrusted with stones, with exquisite embroidery and lace, are displayed in the Medieval Galleries at the Met and shown alongside the museum's great collection of tapestries, alter pieces, and large scale Gothic sculptures as well as paintings by such masters as El Greco. It is fascinating to see how contemporary designers have been influenced and inspired by the richness of the fabrics – the embroidery and colours – deep reds, pinks, and purples.
For TheEye, one of the highlights of the exhibition is a video showing a scene from Federico Fellini's film Roma (1972), of an ecclesiastical fashion show. A satirical presentation of carnivalesque styles that reflect the 'holy ordering' of the Roman Catholic Church with 'clergy' gallivanting around a runway on roller skates and bicycles looking mad as hatters. Apparently it had a huge influence on designer's imaginations and having watched it, TheEye appreciates why…can't wait to get the film and watch it at home. Hilarious and visually stunning.
Soutanes were worn as daily dress for secular clergy dating back to the 12th Century and hold a particular fascination for designers such as Raf Simons, John Galliano (for Christian Dior), Dolce & Gabbana and Alexander McQueen. They adapt perfectly to contemporary and elegant minimalist designs.
There is a separate exhibit in the newly named (or in the spirt of this show – baptised) Anna Wintour Galleries (no photography permitted – Anna rules). A great pity as the lavish papal garments including footwear and jewellery are breathtaking in opulence and (dare one use the word?) bling.
The role of dress in the Catholic Church is made much of in this part of the exhibition and pictures of Pope Benedict XVI as a religious-fashion icon, riding in the 'Popemobile' with red Prada loafers under his cassock and Gucci  shades, featured in an article, 'The Pope Wears Prada' in the November 2005 issue of Newsweek Magazine.
The Met Cloisters in Northern Manhattan is a magical place which has been in existence since 1938. Because of the inconvenience of its location, it's not high on most tourist's must see list. A great shame.
It's hard to imagine that it's in New York with its rarified environment, displays of Medieval Art, and stunning stained glass windows.
TheEye hasn't visited The Cloisters for years and Heavenly Bodies was the perfect opportunity to return.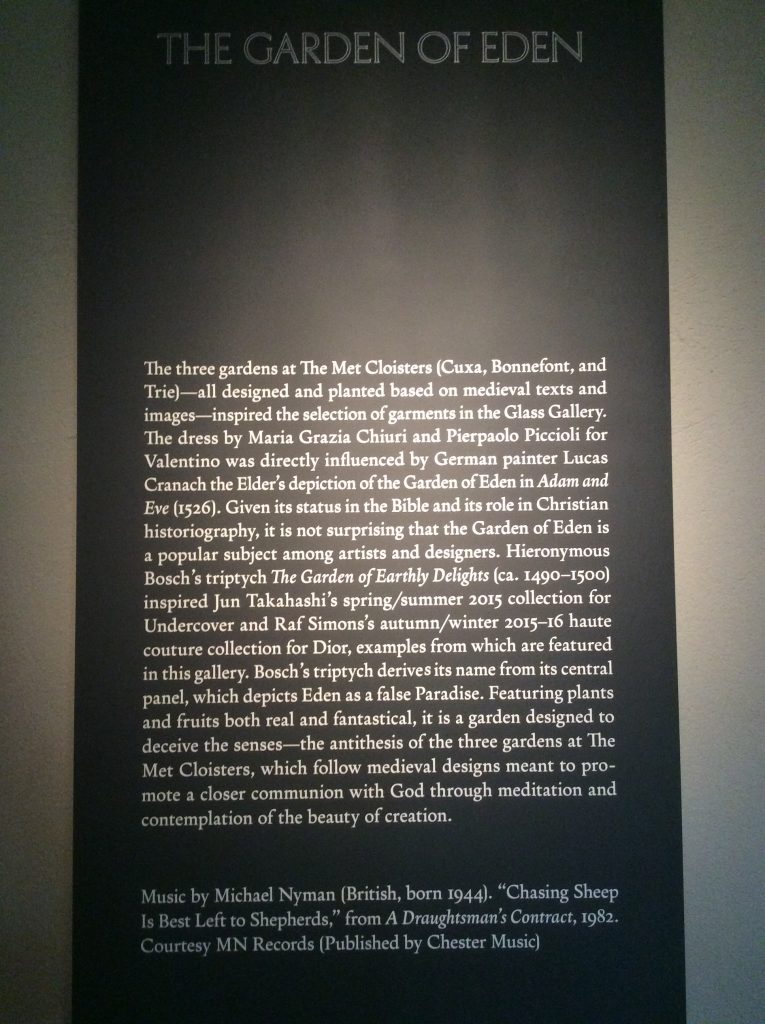 It's a tranquil and spiritual place, with gardens evoking the Middle Ages. Orchards, enclosed meadows, fountains, medieval apothecary and vegetable gardens.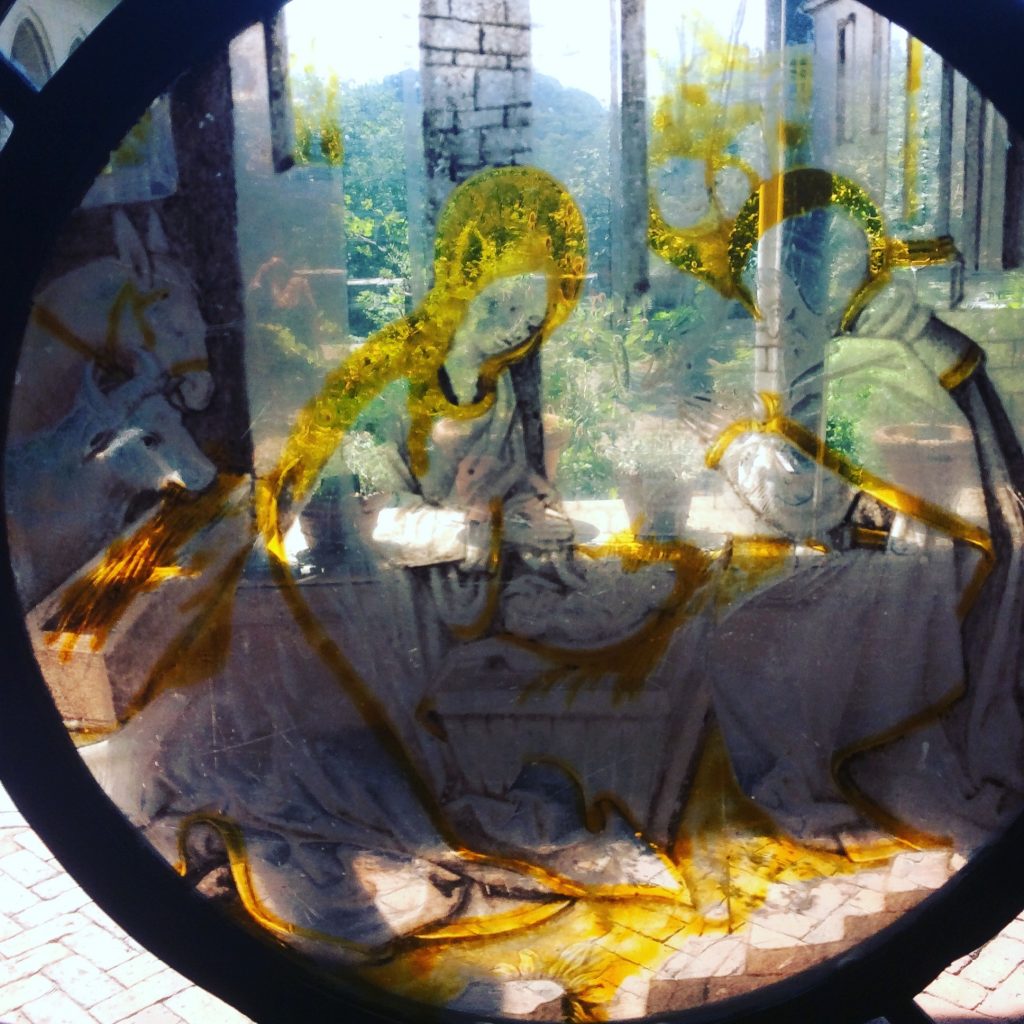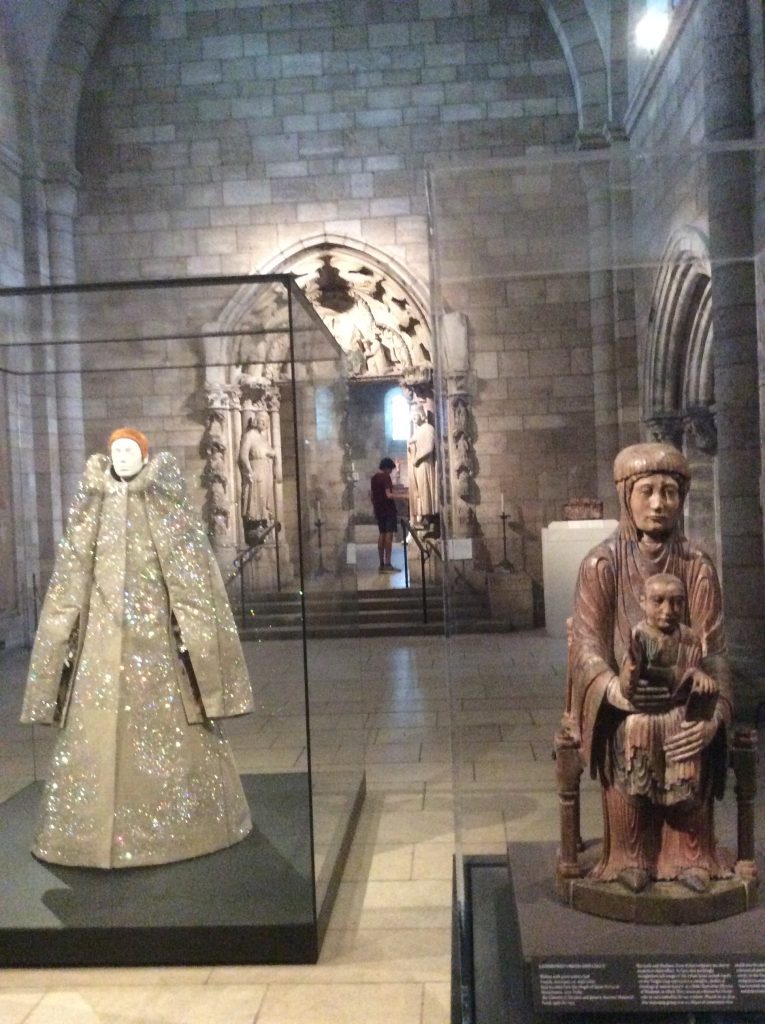 This incredible exhibition was three years in the making, but what an achievement. So many loans from so many (notoriously difficult) couture houses around the world. But most amazing are the loans from The Vatican, without doubt a first.
Heavenly Bodies ends on October 9th.
If you are fortunate to be visiting New York before then, and haven't yet seen this, make a speedy bee-line to the Met.
It's a unique opportunity to see wonderful clothes, artefacts and to step inside a world normally shrouded in mystery and allure.