You couldn't wish for more. Paris in October with weather more like spring than autumn. Blue sky and almost too hot, but hey…no complaining, it was glorious.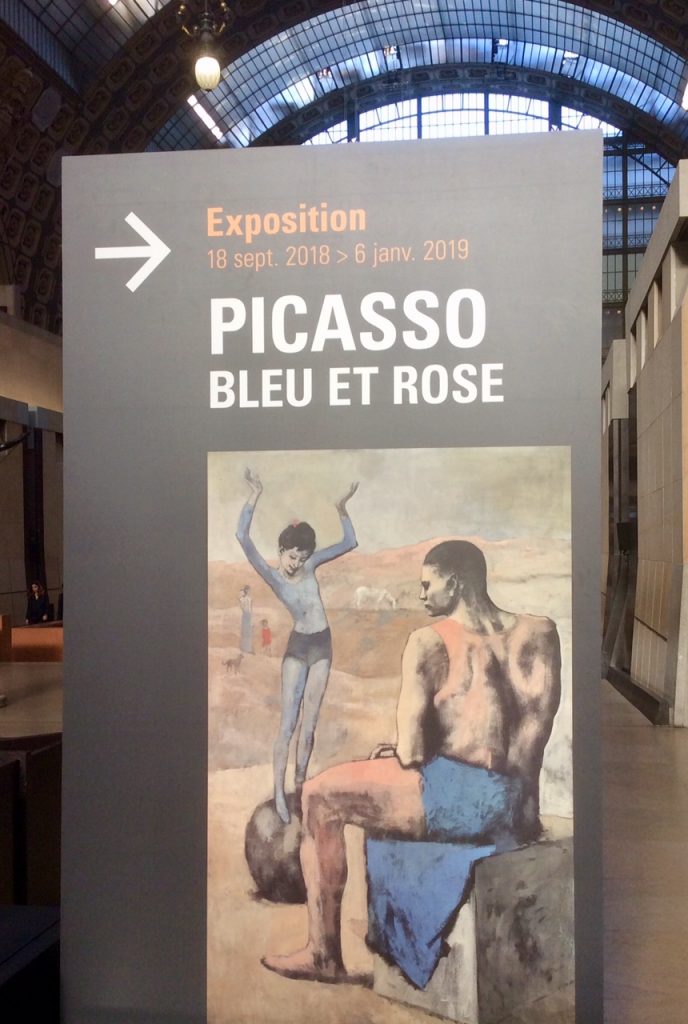 The PICASSO Bleu et Rose exhibition at the Musee D'Orsay focuses on the years 1900 – 1906 during which the young Picasso, born in Malaga in 1881, found his artistic identity and in this very short period of time fulfilled a self-made promise – 'I wanted to be a painter and I became Picasso'. A genius, but never modest.
The Musee D'Orsay was heaving with humanity. The doors open 'officially' at 9.30 but when TheEye arrived on the dot there was a huge crowd impatient to get in. Even ticket holders had to stand in line until 10 a.m. D'Orsay galleries are quite small and there was no control as to the number of people entering. TheEye found herself elbowing her way to get near the paintings.
A tip – Do not go at weekends! Plan your visit carefully, BUT such a brilliant, uplifting show. Well worth a trip to Paris. It travels to The Fondation Beyeler, Basel which will certainly be well organised. After all, it is Switzerland!
Picasso was influenced and inspired by the artists and writers he met in Montmartre.
Picasso painted his friends and the down and outs he observed in bars – prostitutes, pimps, addicts.
Picasso was greatly affected by the suicide of his friend Carlos Casagemas, during his second stay in Paris, in the latter half of 1901, and it radically influenced the direction of his work.
After a successful debut at the Vollard Gallery, Picasso became obsessed with the plight of the underprivileged – the poor and destitute –  which he painted in shades of blue, from sky blue to ultramarine.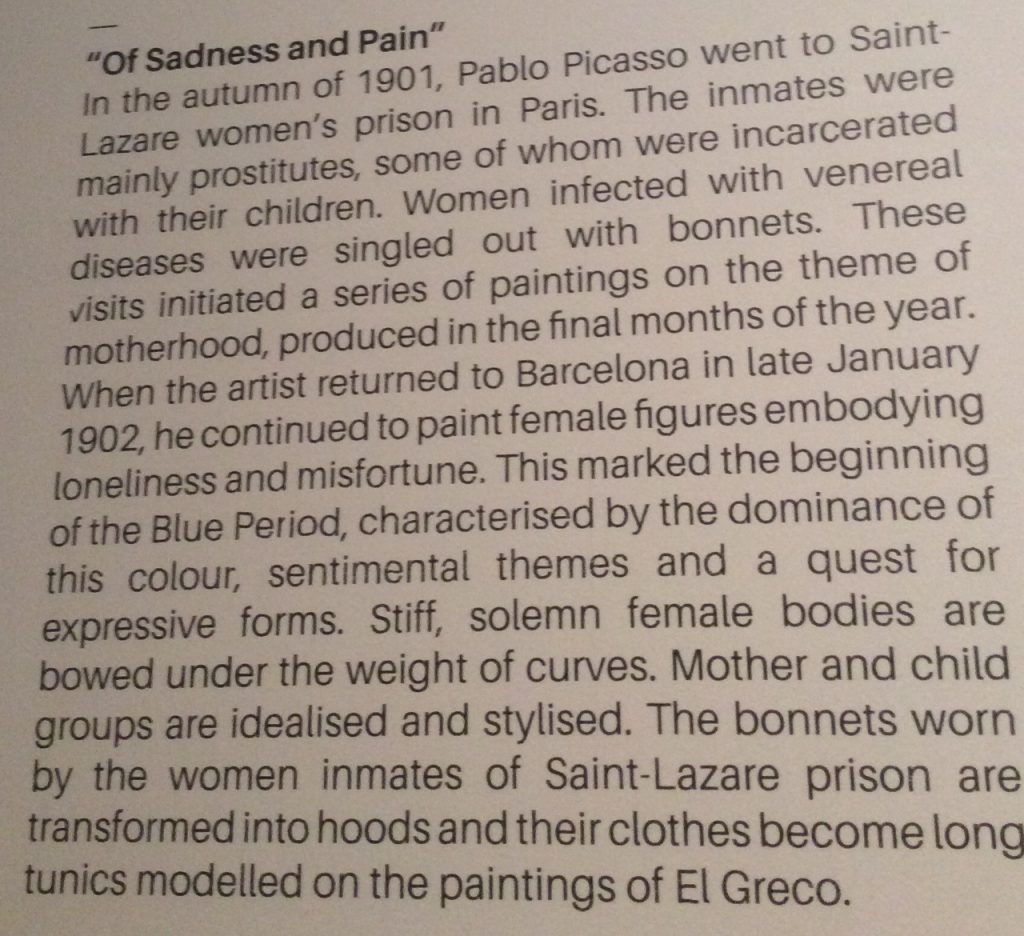 Picasso was influenced not just by low life, but circus performers and harlequins too.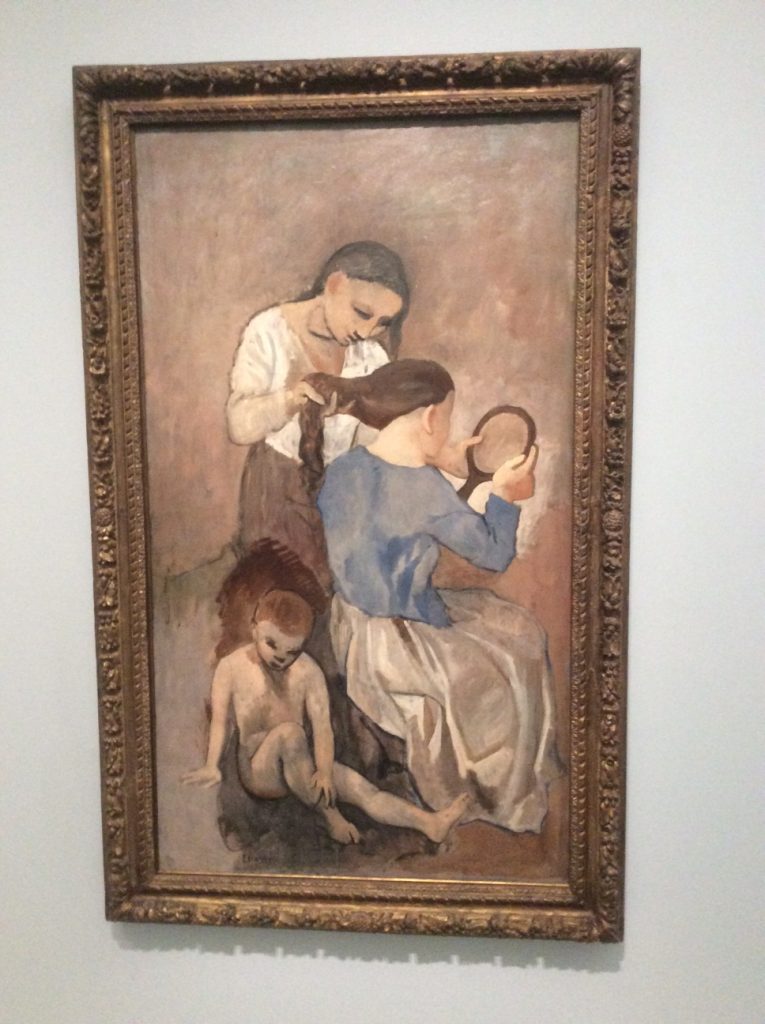 He also became obsessed with hair and hairdressers.
TheEye loved the exhibition. A rare opportunity to see so many of these well known paintings 'in the flesh' and together in one place. She loved it so much she returned the next day, but still a mob scene.
And then it was off to the Fondation Louis Vuitton, designed by Frank Gehry, one of TheEye's favourite buildings.
A 'double bill': Jean-Michel Basquiat and Egon Schiele.  
Not a pair with much, you would think, in common, but they both died at the tender age of 28, leaving behind prolific amounts of work. In many respects their rub with low life also linked them and they are now two of the most collected artists in the world.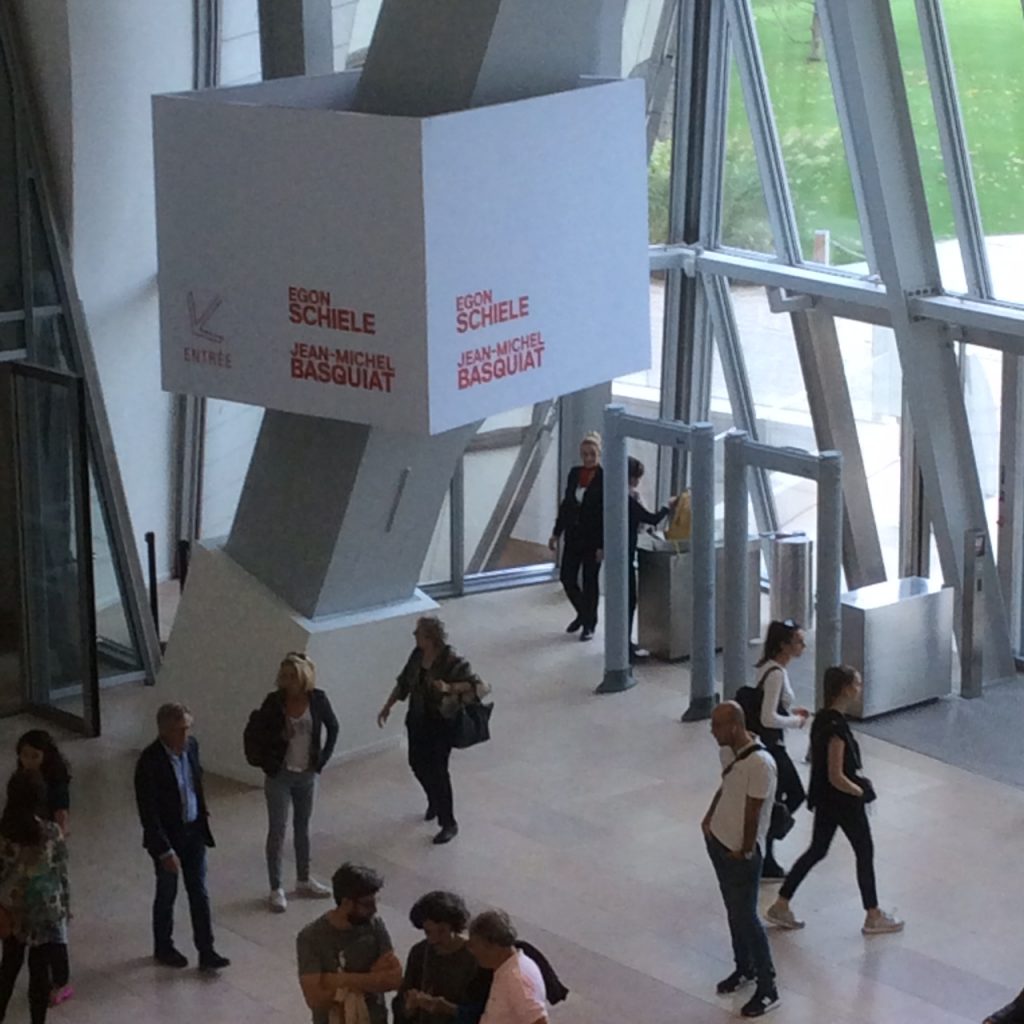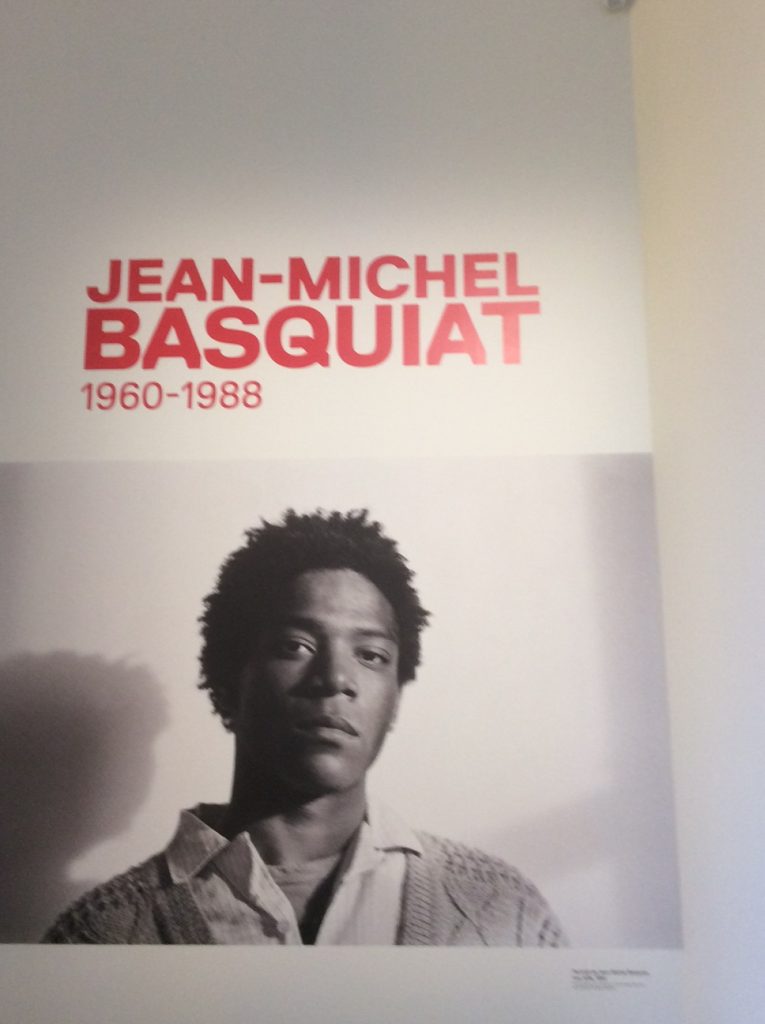 JEAN-MICHEL BASQUIAT
Basquiat was a street artist but soon his observations and bright, bold, provocative, pictures introduced him to New York's artistic elite. His collaborations with Andy Warhol were for TheEye some of the most interesting pieces in the large exhibition. Has TheEye mentioned how prolific Basquiat was? Well, she will repeat herself. Almost unbelievable how much he produced in his short life.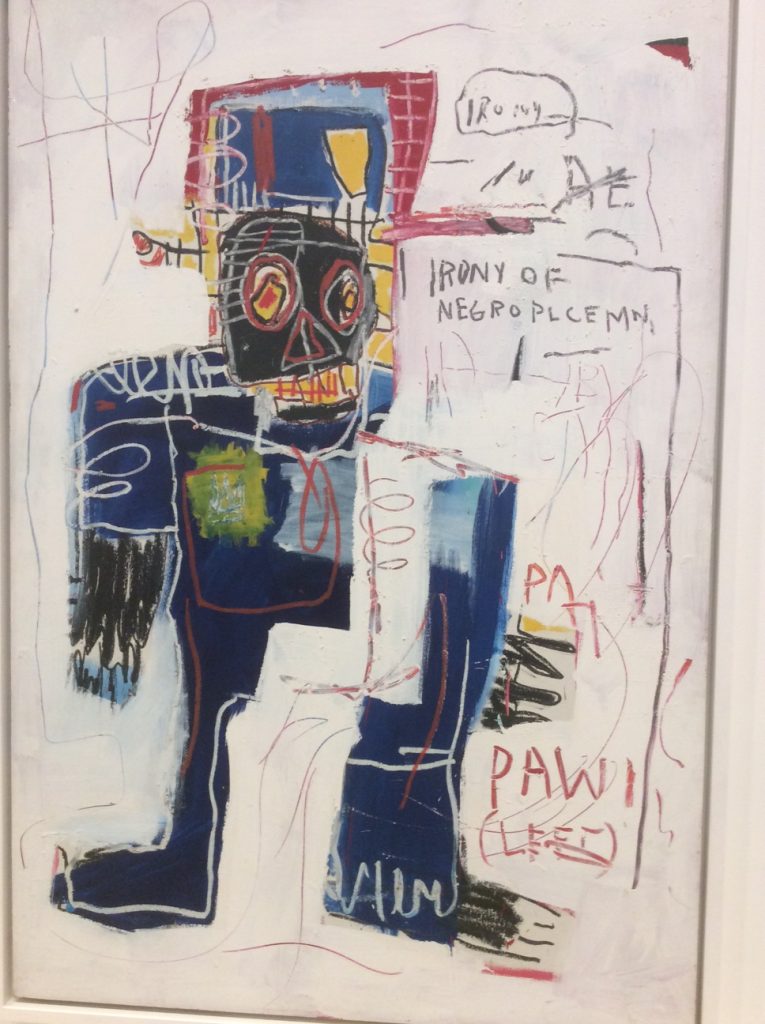 Basquiat was a fan of two legendary boxers who were a great inspiration to him  – Cassius Clay (Mohammad Ali) and the great Sugar Ray Robinson.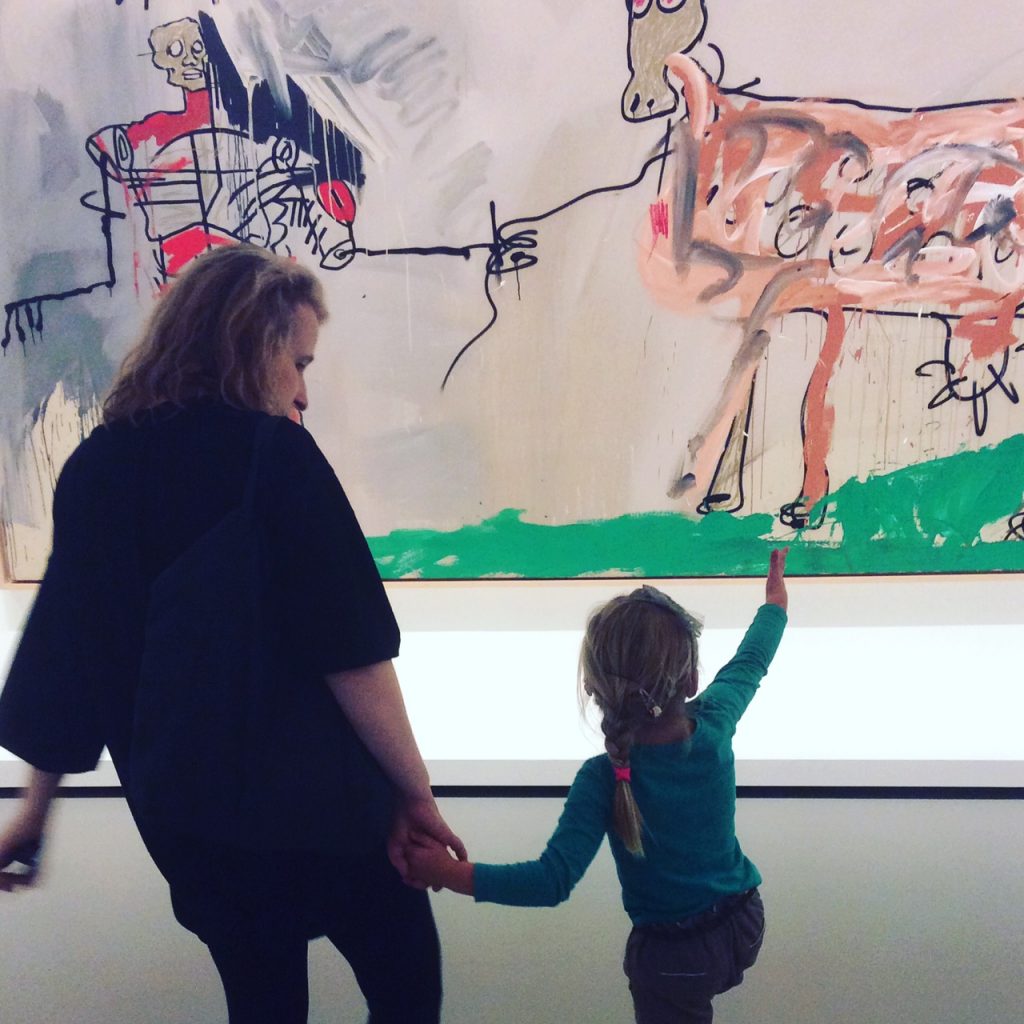 EGON SCHIELE
Schiele had an unhappy life. He died of Asian flu aged 28, three days before the death of his pregnant wife. His life was tragic. Imprisoned for twenty four days for seducing an underage girl and exhibiting pornographic material to minors, he was eventually released without charges.
'I do not deny I have made drawings and water colours of an erotic nature, but they are always works of art. Are there no artists who have done erotic works of art?
The body of work Schiele created in his lifetime is extraordinary. Portraits and landscapes are all painted in the same distinctive, unique style which defied conventional beauty. His early pictures influenced by his contemporary, Gustav Klimt, are similarly decorative and TheEye was fortunate to be in Vienna earlier in the year when they both had exhibitions.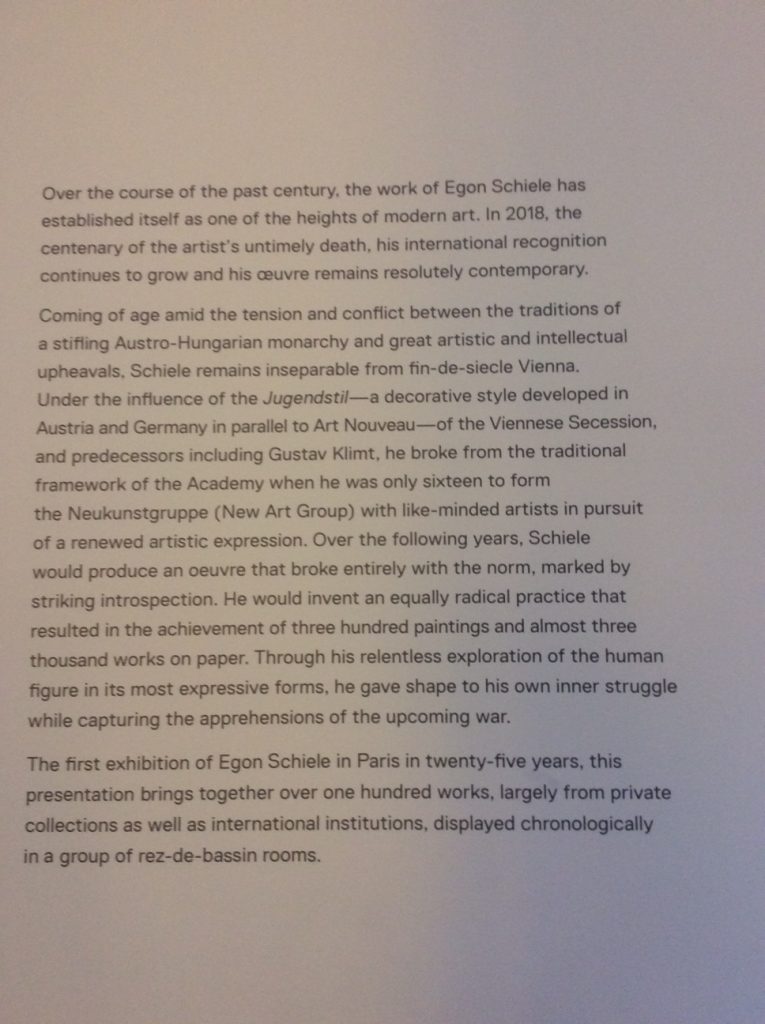 A short but very sweet visit to Paris.
Great shows, great weather, and great shopping – what more can you ask for?