A Happy Japanese Christmas
Well, as expected, there was a rather prophet of doom reaction from some quarters to TheEye's plan to go to Japan in December – ' it will be freezing cold/ wet/ grey… and possibly worse'. In fact, it was glorious – blue skies and warm temperatures. So warm that heeding the 'doom prediction', TheEye packed all the wrong clothes. Then there was the 'Christmas in Japan??? They don't celebrate so it will not be festive.'
Really???
Forget the awfulness of Oxford Street, the Japanese love a good celebration and the shop tills were working overtime with Christmas purchases, Jingle Bells blaring.
TheEye had never visited the Nezu Museum in Aoyama, probably because it's on a street more famous for designer stores, such as the Prada shop designed by Herzog & de Meuron, Commes des Garçons, several Miyake shops etc.
It was a real treat, with a special exhibition of tea ceremony objects going back hundreds of years and looking so contemporary. The large gardens behind the museum building, with magnificent trees and shrubs and scattered tea houses, were lovely. Particularly as leaves were still on the trees in glorious autumnal colours. Perhaps global warming ?
A highlight of TheEye's few days in Tokyo was discovering a long street with small idiosyncratic shops specialising in plastic food used by  restaurants to tempt customers with samples of the dishes they offer.
Not only could you buy dishes of everything from lamb chops, tempura, pasta oozing tomato sauce and meatballs, ice cream sundaes and sweets, but there were demonstration classes to learn how to make these plastic food samples. Sadly, when TheEye arrived, the class was full.
TheEye always heads for the best paper shops and there is no shortage. Paper in Japan is beautiful and they take it seriously. It can cost a fortune.
TheEye is somewhat addicted and always brings several sheets  home carefully folded which she can't bear to use!
The Odawara Observatory founded and designed by photographer, sculptor, and architect, Hiroshi Sugimoto is part of his Odawara Art Foundation, an hour and a half drive out of the city. It's also possible to go by train and shuttle bus. It's not an easy place to visit, but definitely worth the hoops you are put you through, which involve booking months ahead, pre-payment (non-refundable) and, most annoying, they rarely pick up the phone to make a reservation and allow few visitors at a time. Backing onto the Hakone mountains and overlooking Sagami Bay, the Enoura district of Odawara is an important natural heritage site.
The Observatory centres around the changing seasons and solstices. According to Sugimoto: 'I believe that if we turn once more to our ancient observations of the heavens, we will find glimmers that point the way to our future'.
It's beautiful, peaceful and tranquil.
Tokyo is safe, clean and well-ordered. No one crosses a road on a red light, even when no cars are approaching.
Subways are spotless – no eating or drinking allowed. It's the speediest way to get around the city as traffic is humungous, and whatever the hour, you feel totally safe.
THE FOOD …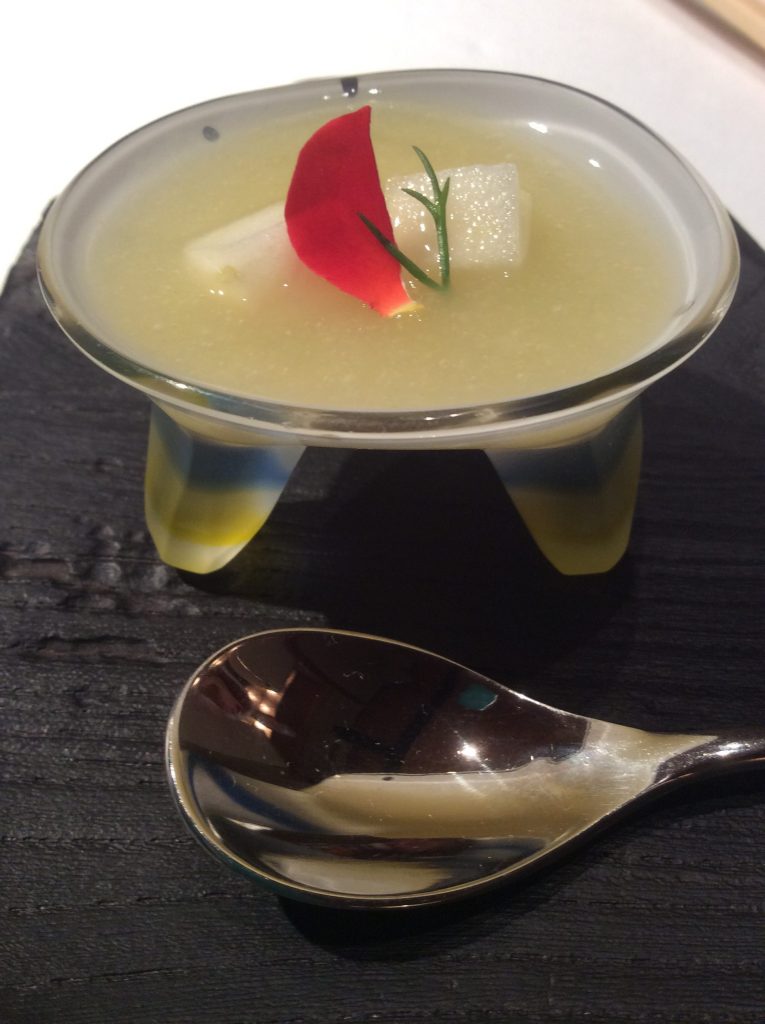 And last but certainly not least:
MAGIC!
In a difficult to find location (which involved asking at least six passer-by's, whose English matched our Japanese), you'll find it on the second floor of a nondescript building. Opening a door, you are in a tiny bar with 16 people crammed around the counter, watching the most amazing magic tricks to the blasting  background music of ABBA.
Doesn't sound promising?  Well, if like TheEye, you love (good) magic, you will be in heaven and perplexed by every trick. All done in great humour.
A memorable evening.
Tokyo seemed to whizz past, but we still have Kyoto to look forward to.
And TheEye will be taking you there tomorrow, by Bullet Train, of course.