PALM SPRINGS MODERNISM WEEK
The annual Modernism Week is a design voyeur's dream come true and TheEye had been longing to come since she first visited Palm Springs many years ago.
However 'no pain without gain' and the first obstacle was getting there through the desert covered in snow.
Most unusual.
Driving through Morongo Canyon from Rimrock and Yucca to Palm Springs with the snow-covered San Jacinto range of mountains in the background.
Very beautiful, but not if you were hoping for sunshine and warmth.
Palm Springs became popular in the 1930s with Hollywood celebrities and wealthy residents of Los Angeles wanting to escape the city. It was a haven where they could relax and party away from prying eyes in exclusive privacy. As someone observed, 'the liquor store and pharmacy were across the road from one another. You drove into town, visited both and you were set up for the weekend'. A nice combo of booze and drugs.
The climate was perfect, golf courses were built, and soon architects were designing and building homes that expressed the 'inside/outside' style of living. Private resorts such as La Siesta Villas designed by Albert Frey, one of Palm Springs most famous architects, was considered a modern Garden of Allah.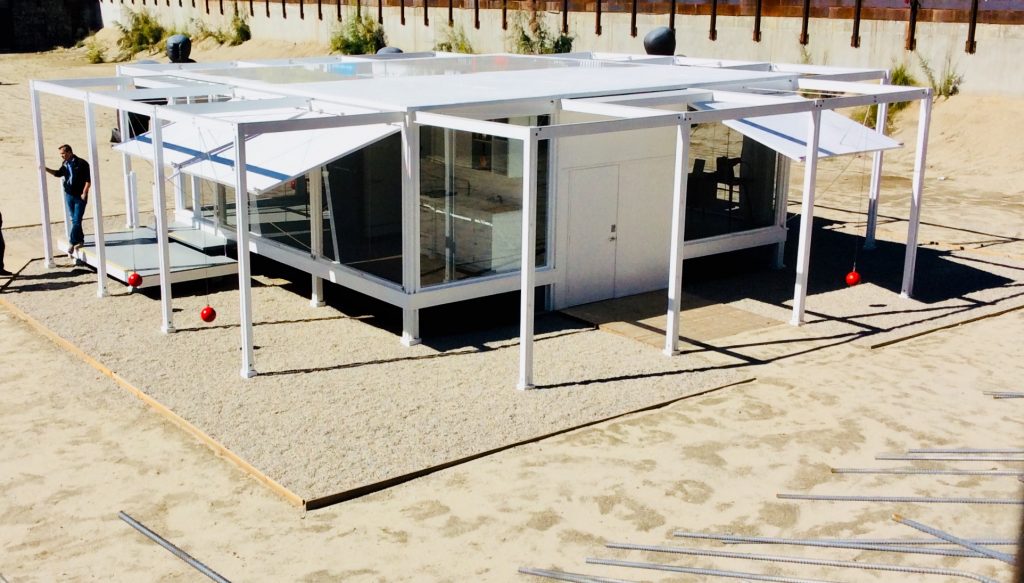 Small summer house designed by PAUL RUDOLPH (24×24 feet) 'as near to sky, sand dunes and sunshine as a house can be'.
Modernism Week is a design voyeur's dream come true
The Forgotten Frey House
Albert Frey was known for his fascination with what, at the time, were considered state-of-the-art industrial materials such as corrugated fibreglass panels and industrial green and yellow asbestos-cement sheets. The colour palette of the house – beige, tan, sage green – were the colours of the desert, bringing the outdoors in. The house was designed to minimise the impact on the surrounding environment.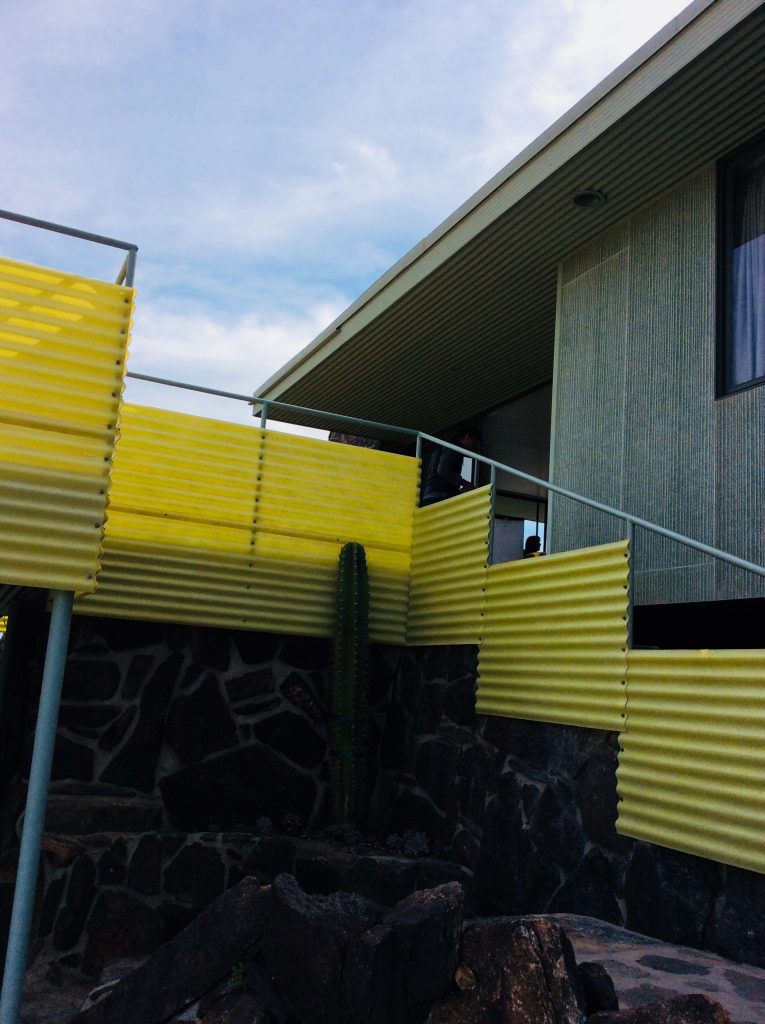 Perched precariously into the mountain overlooking Palm Springs and Cathedral City, the Cree house, built in 1955, recalls details from Frey's work on one of Le Corbusier's masterworks, The Villa Savoie.
1955 residence by architect Albert Frey for Raymond Cree, a former school superintendent turned property developer. This was the first year the Cree house was open to the public.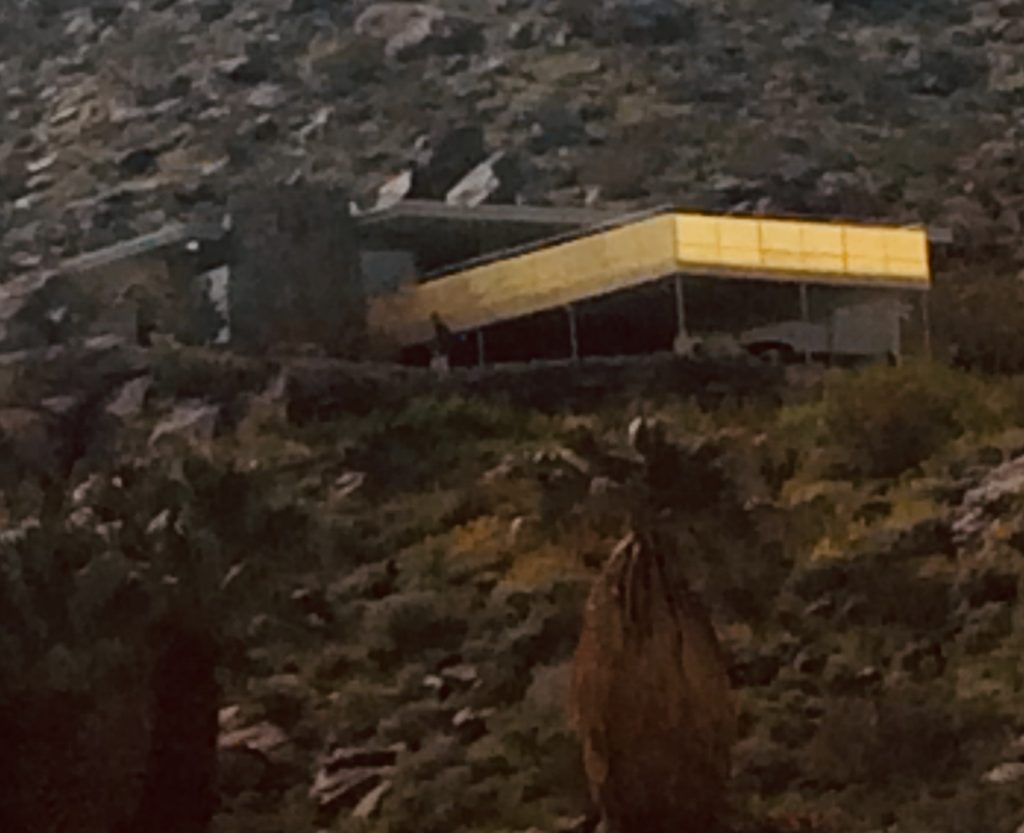 Tours such as A Peek Behind the Hedges, Old Las Palmas have to be booked well ahead of time and the tickets are not cheap. This is a unique opportunity to go inside eight houses normally closed to the public.
Old Las Palmas is one of the oldest and most historic neighbourhoods in Palm Springs with more 'celebrity homes' than any other, designed by many acclaimed architects – from the Silent Movie Era of the 20s and 30s to its midcentury growth in the 1940s to 60s to its revitalised present.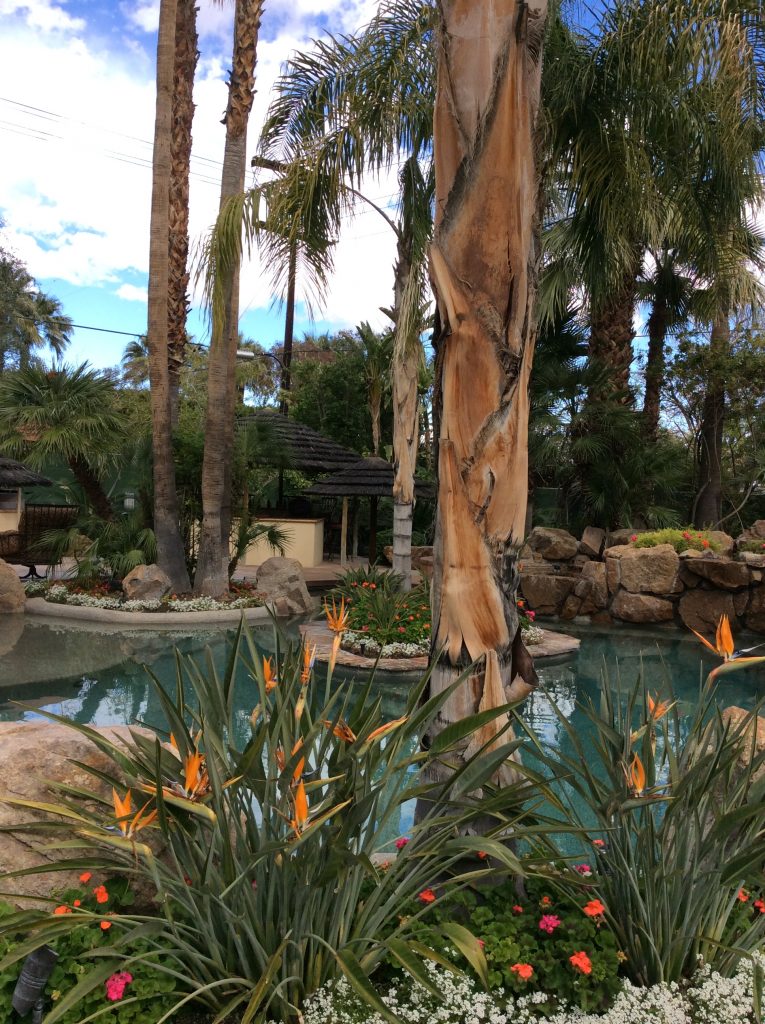 Liberace lived at 1441 Kaweah Road from 1968-1974 and renovated the original property, built in 1936.
The decor is pretty much as you would expect – minimal it is not – gold plated swan fixtures in the bath, a piano-shaped patio and postbox, but clearly, Liberace was a boy that wanted to have fun.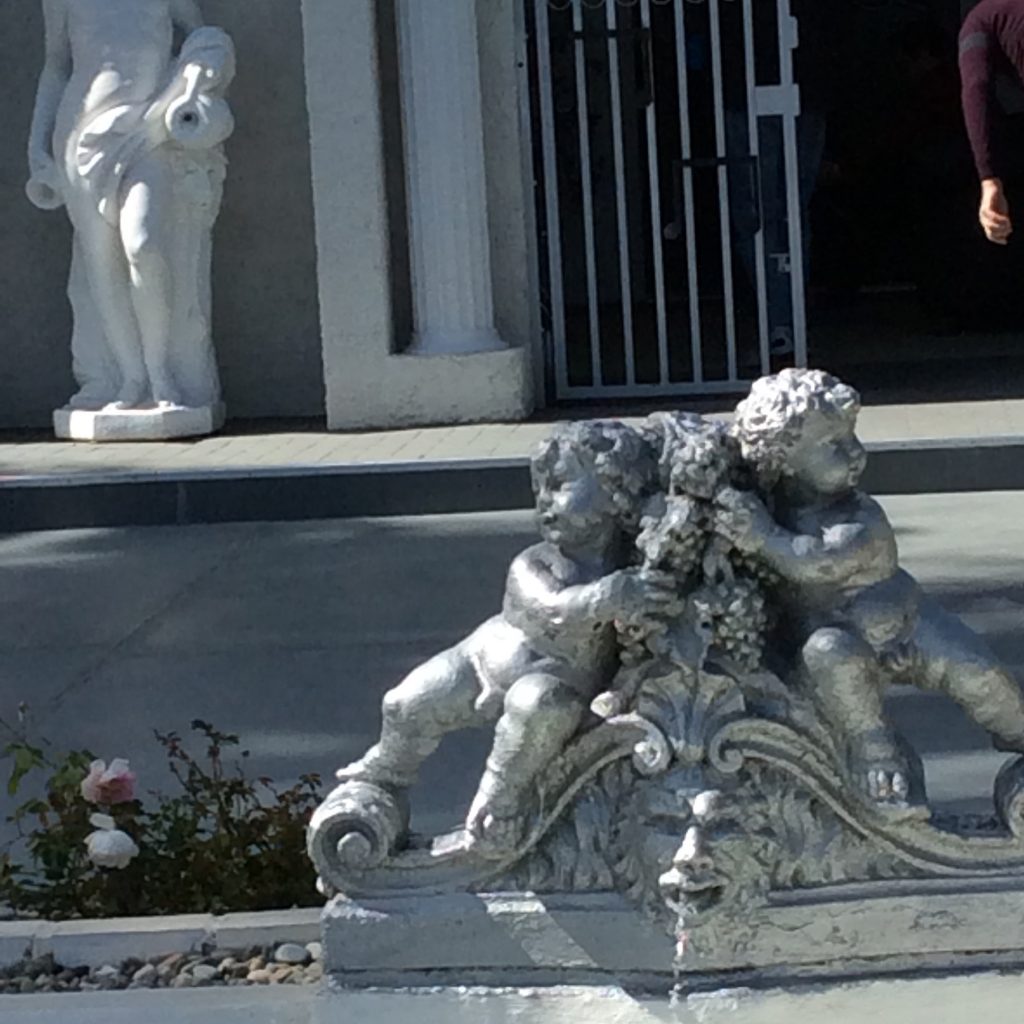 Durante House
Built in 2016 and one of the rare new homes in one of Palm Springs' oldest neighbourhoods. A long collaboration between visionary clients who wanted grandeur and cosiness and 'an inspired architect' (in his own words!), Narendra Patel. The house has a 'floating roof – a canopy that soars above the interior, with natural light that provides a Zen-like sense of calm.' The views are to die for.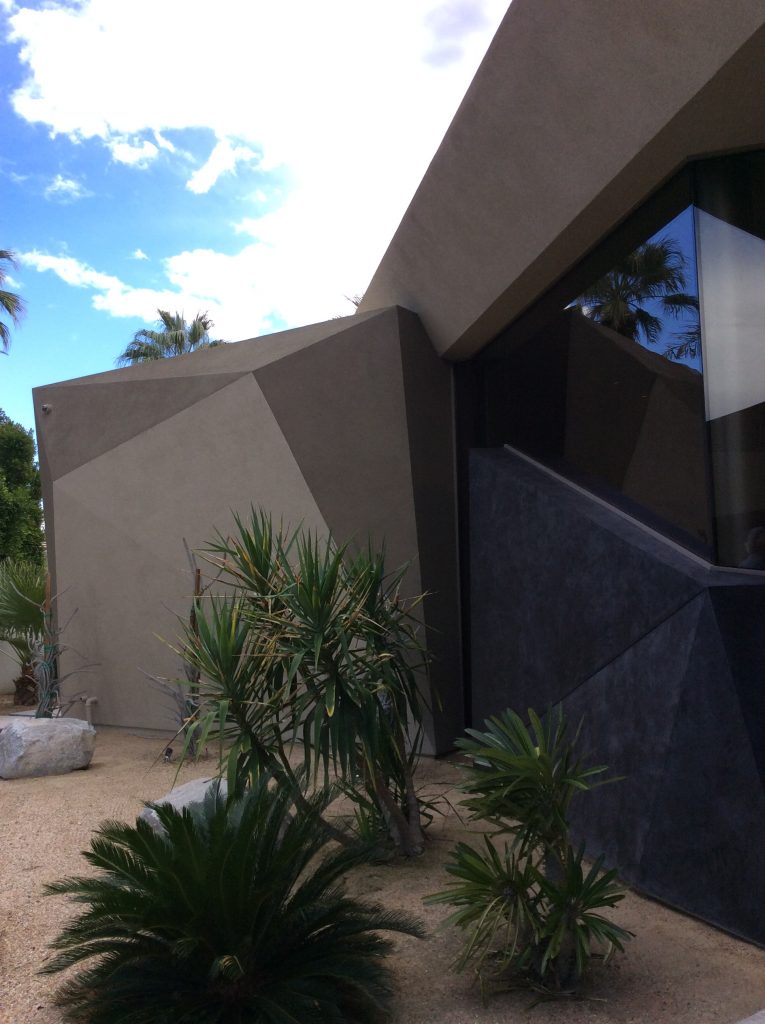 The wonderful Aqua Lilies
Great fun if you are a fan of synchronised swimming. Don't mock, it was a sell-out event at the Olympic Games.
In the pool of a private house, the Aqua Lilies smiled performed their aqua ballet and posed for the enthralled audience sitting round the pool in spite of the chilly weather.
Their routine owes much to the aquatic prowess of the late great, Esther Williams, for anyone who remembers her.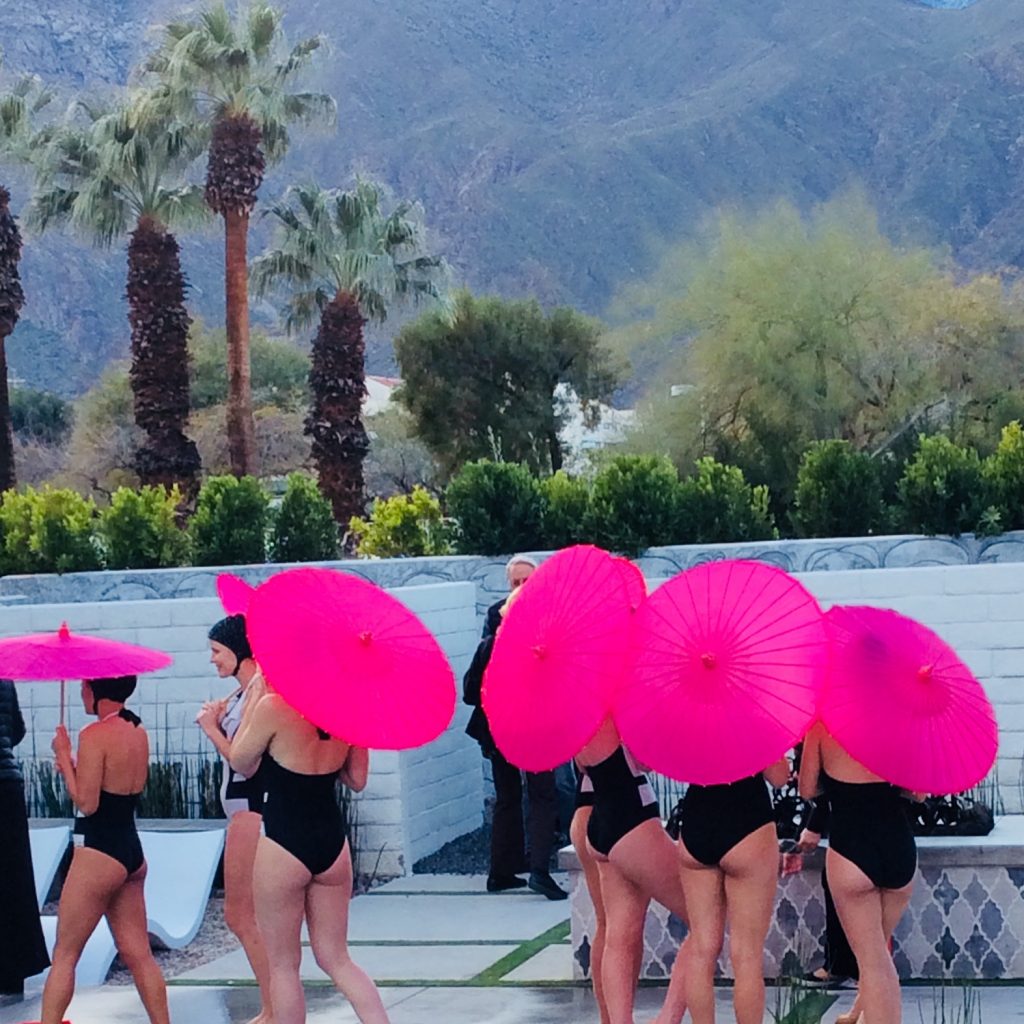 DESERT X
Art in the desert
Lovers Rainbow 2019. Pia Camil, a multimedia Mexican performance artist who creates work that references urban Mexico, modernism, and their relationships to retail and advertising.
If TheEye had to pick a 'highlight' of the week, it would have to be exploring the art installed on a temporary basis in the diverse landscape of the Coachella Valley.
Artists were invited to respond to this rocky, wild terrains which, as J.G. Ballard observed 'possess a particular magic, since they have exhausted their own futures, and are thus free of time.'
Drive-In, 2019. SuperFlex, an artist collective that creates projects known as 'tools'.
Desert X only happens every other year and installations are temporary. At the end of April, they will be removed.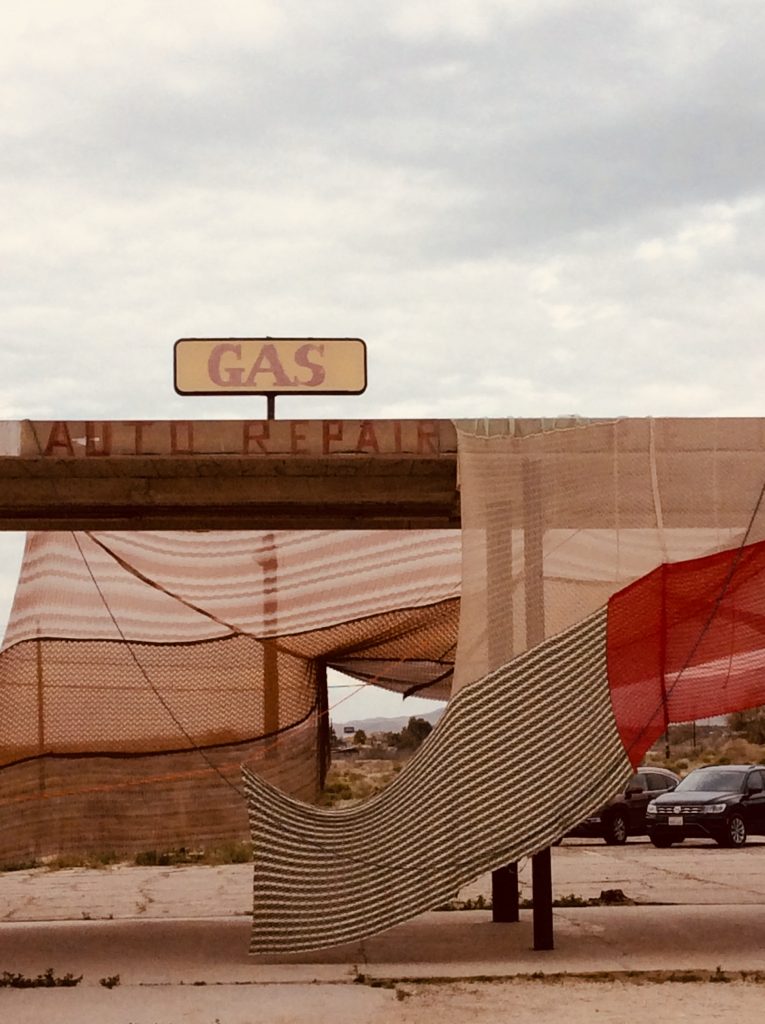 'Halter' 2019. Eric N. Mack. New York-based artist. His work focuses on sculpture, painting and fashion. 'HALTER' is Missoni fabrics installed in a disused car repair and gas station in the middle of the desert.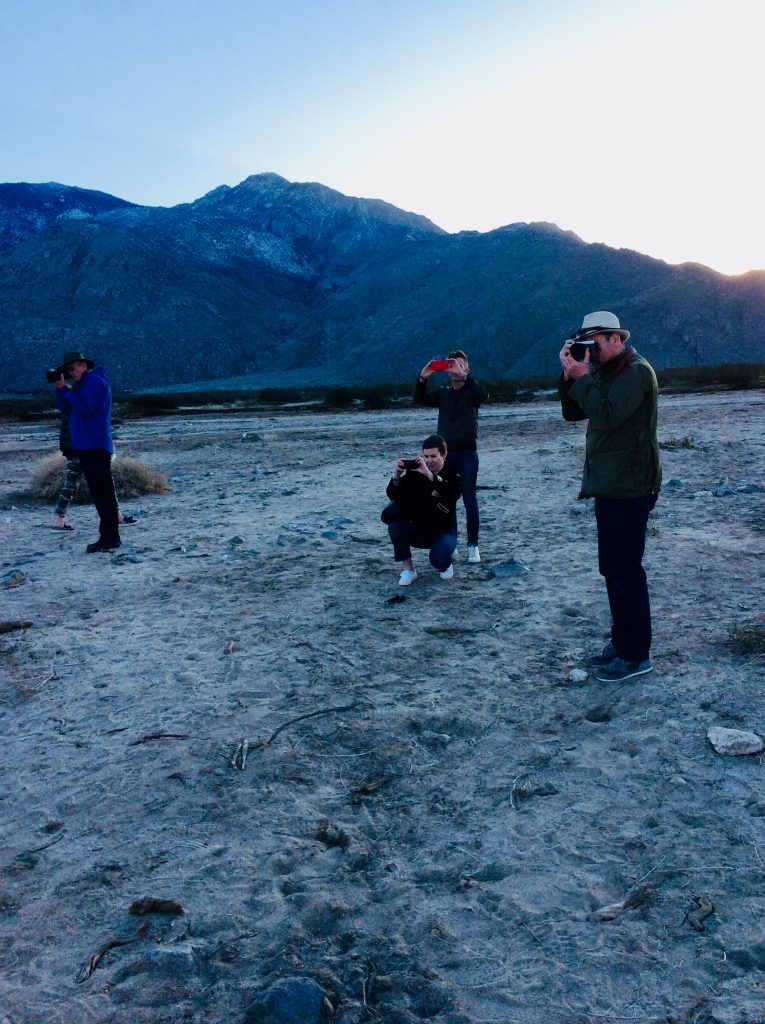 Snapping Sterling Ruby's Specter
Sad to think all these installations will only stay up until the end of April and the desert will return to its natural state – arid and rocky.
'Specter' 2019. A fluorescent orange monolith which creates a strange optical illusion. Sterling Ruby, L.A. based artist (much liked by TheEye) who utilises a variety of media, often combining graffiti and craft techniques.
'A Point of View' Ivan Argote, a Paris based artist who creates installations, sculptures and films that explore the relationships between politics and history that construct our public and personal lives.
Western Flag, situated at the gateway to Palm Springs and the Coachella Valley, depicts the site of the Lucas Gusher, the world's first major oil find in 1901 located in Spindletop Texas, now barren and exhausted. The site is recreated as a digital simulation. The centre of which is marked by a flagpole spewing an endless stream of black smoke
Ghost Palm is an echo of a natural form.
Artist/sculptor Kathleen Ryan created a meticulous reconstruction of the largest palm species native to California in a plot of low desert, between the foreboding San Andreas Fauls path, and a line of tamarisk trees.
Sadly all good things come to an end and it was time to head back to Los Angeles.
Modernism Week lived up to its expectations – and more. So many interesting events, talks, dinners to cram into what seemed a very short time. People come from all over the world and even if you can't make this particular time in mid-February, it's worth tagging on a weekend, if you are going to L.A. to see the unique architecture in a glamorous time warp.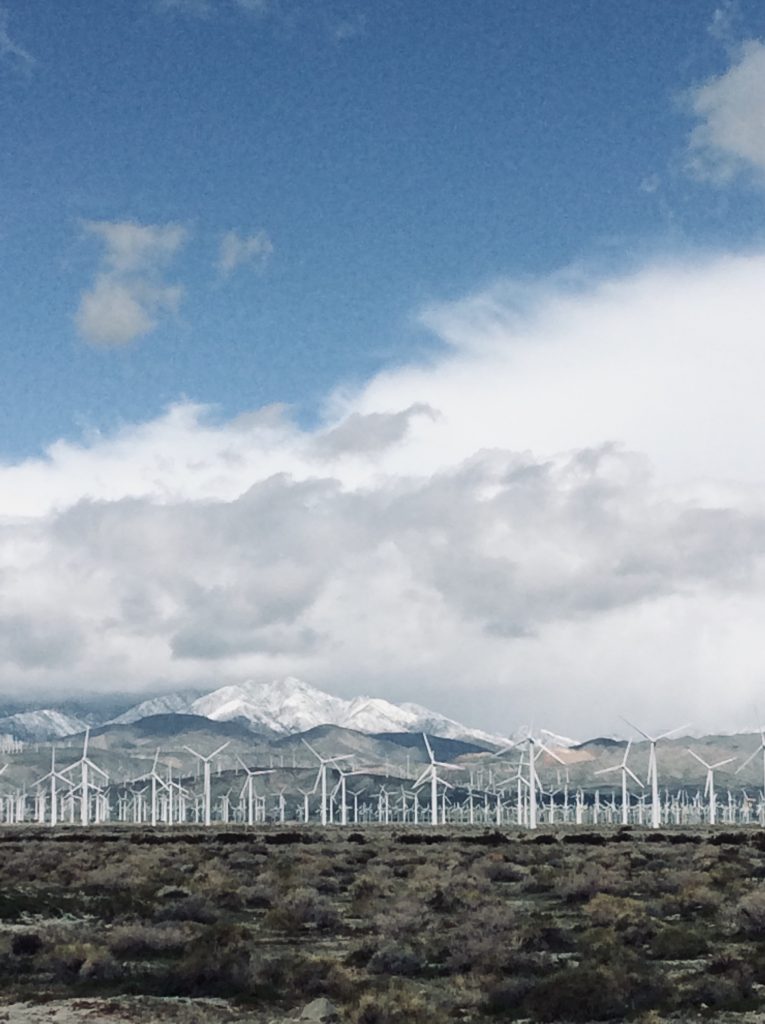 Wind turbines in front of the snowy peaks of the San Jacinto mountains.
So here we are – back in the Big Smoke – L.A. with Oscar excitement in the air!