Magical DIOR and buzzing COLLECT

Well, it's certainly been all go since TheEye returned from Palm Springs and, bizarrely, the weather was better in London than Los Angeles. No snow for a start.
'Dior's New Look — the outfit that says it all and caused a storm at the time. It was met with mixed opinions: Was it liberating or an insult to women?
After the years of austerity, not everyone was in favour of the billowing skirt and nipped in waist. It was fashion icon, Carmel Snow, the powerful editor of Harper's Bazaar, who came up with the description in 1947  …'Oh, Christian, she said, ' I love the NEW LOOK'!
Dior Designer Of Dreams at the V&A is currently the hottest ticket in town following its transfer from Paris. Going early in the day was an opportunity to see the gorgeous creations without having to elbow and push and it looks magnifique. If TheEye has one criticism it would be: some people not familiar with the history of the House of Dior, might not be aware after he died, there were six very different designers.
Yves Saint Laurent (1957 – 60), Marc Bohan (1960 -89), Gianfranco Ferre (1989-97), John Galliano (1997-2011), Raf Simons (2012-1015), and the current Creative Director – Maria Grazia Chiuri. Visitors at the V&A should look very carefully at the showcase cards as some of the names are buried in the text and it could be confusing.
Dior loved England and Scotland and many garments are a homage to this infatuation and his admiration of the Royal Family. Particularly the young, very beautiful, Princess Margaret, who looks simply divine wearing a Dior ball gown for her 21st birthday ball, photographed by Cecil Beaton. There are ballgowns aplenty encrusted with delicate and intricate hand embroidery and beading. This artistry and craftsmanship, which features so much in haute couture, brings TheEye neatly on to another celebration of craft and work made by hand.
COLLECT 2019
Collect 2019 has certainly upped its game, with more diversity both in the work on offer and in the standard of displays.
There was a global feel, with galleries from Japan, Korea, the U.S. and Europe, many showing for the first time. As a result techniques and materials were bolder and the work was more experimental and interesting than in previous years. Stands were packed with serious customers and word has it that sales were 'excellent'.
Craft has always maintained an awkward position in the art world. Not 'arty' enough for contemporary collectors who remain cautious. Although this is slowly changing (exceptions, of course, include Edmund de Waal, Grayson Perry and a handful of others with international reputations and powerful gallerists to promote them) and judging by Collect, the future is optimistic.
The Crafts Council building in Pentonville Road opens a new space where work will be showcased and Natalie Melton has been appointed Creative Director of the Crafts Council. Natalie was one of the founders of The New Craftsman and instrumental in the successful collaboration with Burberry. If any enterprise exemplifies how craft, design, and fashion are perfect teammates, this is proof. Collect also has a new Fair Director, Isobel Dennis.
TING-YING was established in 2016 by ceramic designer Peter Ting (Creative Director of Thomas Goode and previously at Asprey) and writer Ying Jian as a gallery dedicated to presenting limited-edition works in Blanc de Chine porcelain from Dehua, China. The porcelain is so fine you feel uneasy about breathing on it. The integrity of Peter Ting both as a designer and supporter of the craft was why TING -YING was awarded BEST STAND AWARD 2019.
COLLECT gets bolder and more confident each year and this is the best so far in TheEye's opinion. The mix of disciplines created a good balance.
Three judges awarded three prizes – Best Individual Work went to Mathieu Ducournau an extraordinary textile artist who shows at The Gallery Chevalier in Paris, specialising in antique tapestries, but they also exhibit work by contemporary artists. Mathieu Ducournau's delicate threaded portraits and other images are unique and special. They captivated the judges and it was good to make this award go to a gallery making their debut at COLLECT.  Although it was a collective decision, one judge did question whether it was too much of an 'artwork' – maybe more art than craft. Exactly the point as far as TheEye was concerned. She will be following Ducournau's progress with great interest.
Bullseye Projects based in Portland, Oregon, explores contemporary glass through art, design, architecture and education. They have artist residence facilities across the U.S. They assist artists seeking public commissions and support makers of all ages to expand their creativity through glass. Joshua Kerley is a second-year student at the RCA.  Enormously talented and already sought after by collectors. In the judges' opinion, Joshua was a very close runner-up for Best Individual Artist and some were sad not to be able to officially give him the award. His turn will most certainly come.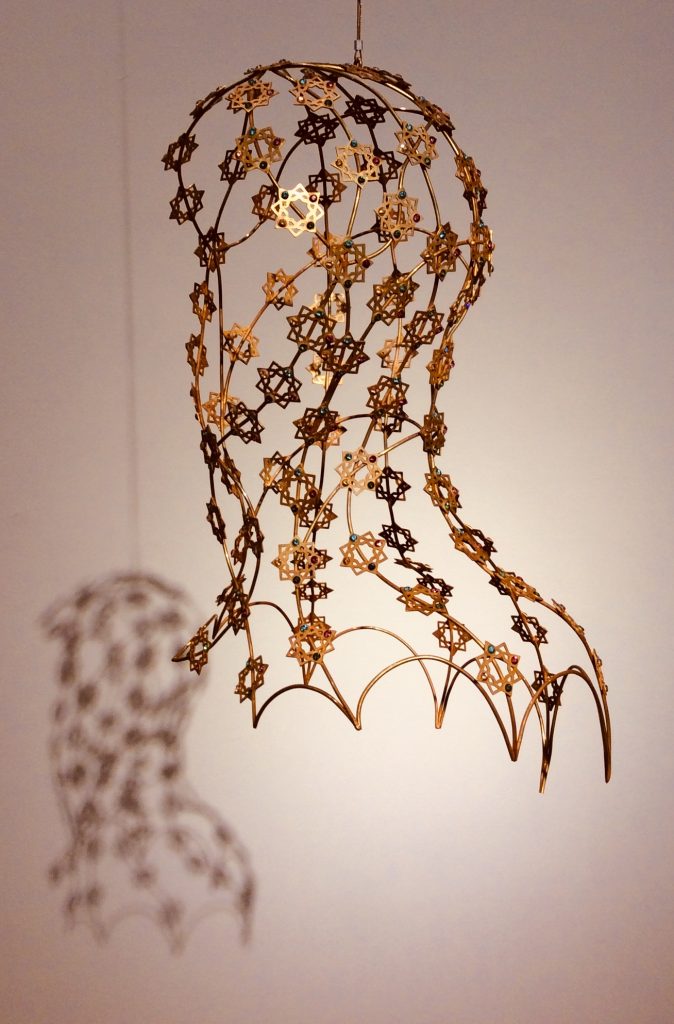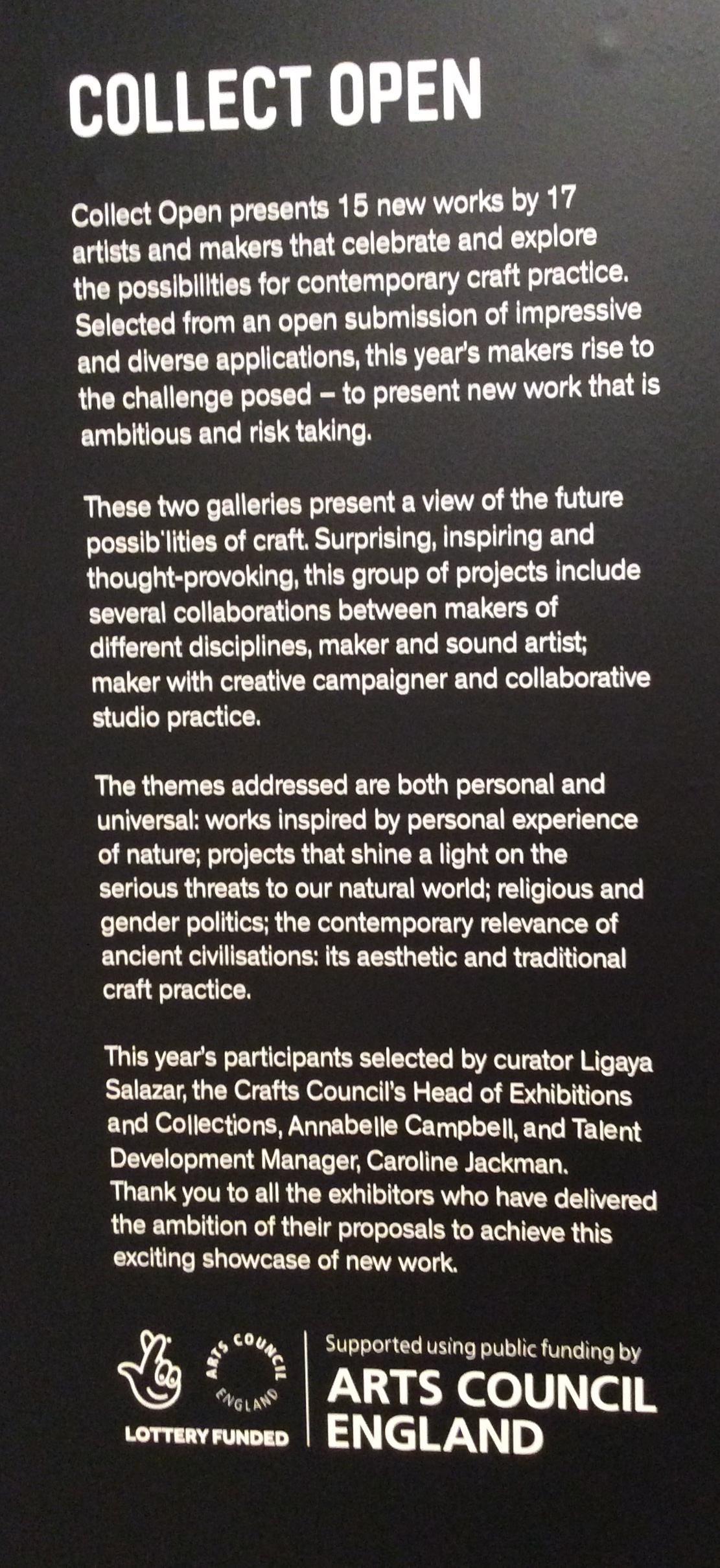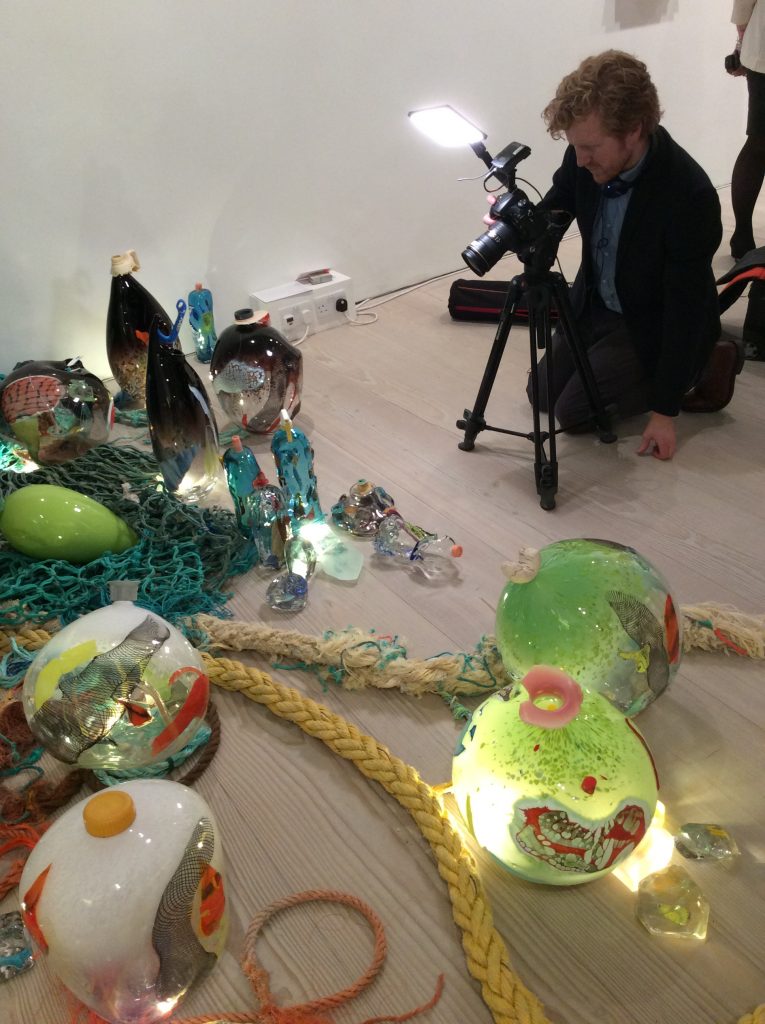 Collect Open Award Winners: A collaborative installation between creative designer and campaigner, Sophie Thomas and highly acclaimed artist, Louis Thompson.
BROKEN OCEAN AND THE SEVEN STAGES OF DEGRADATION.
Goodbye until next year.
TheEye is already looking forward to COLLECT 2020.