London Craft Week 2019 had a real buzz about it with more than 240 events taking place over five days in unexpected locations.
The most interesting aspect was how global it was, with crafts from countries such as Korea, Taiwan, Portugal, Denmark, Iran, Italy and beyond.
Japan aimed at preserving the 'crafting beauty' of the country and TheEye was intrigued to discover that England and Japan share a rich history and love of picnicking (and we're not talking soggy sandwiches and the odd banana). During Craft Week, Japanese craftspeople invited guests to bring their favourite craft object, such as a cup or dish, to use during a picnic in the Chelsea Physic Garden, with special Japanese food and drink. Despite the random 'April showers' in May, at times torrential, the joyous event was not a washout.
Elegant JAPAN HOUSE hosted an exhibition focussing on the Yoshioka family who have been dying textiles with dyes harvested from flower petals, stalks, leaves, roots, tree bark, nuts and other natural materials for six generations. Taiwan presented 'The Science and Art of Pottery', the debut U.K. exhibition of Taiwanese ceramics master, Jui-Fang Hsueh.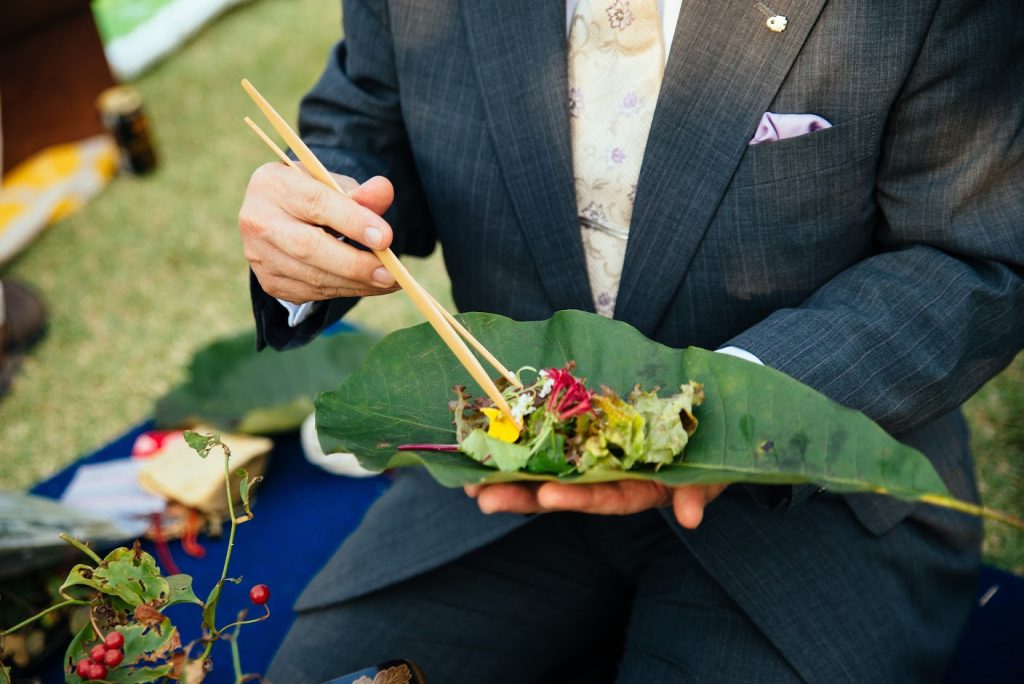 According to Guy Salter, founder of London Craft Week, 'Our hunch when we started was based on two things. Firstly that many of us were hungry for something more than the restricted diet of the unremarkable, or lookalikes, found in similar shopping streets, malls and re-commerce sites. Secondly, that there was an iceberg of exceptional talent and richness of human ingenuity which could more than satisfy that demand.'
TheEye couldn't agree more.
London Craft Week venues vary from institutions such as St Paul's and the V&A to more off piste settings such as the Dunhill leather factory in Walthamstow and Coal Drops Yard Kings Cross. The Chelsea area celebrated the neighbourhood's unsung creative community of seamstresses, ice cream makers, jewellers, and artists. British gunmaker Purdey held a series of demonstrations covering shoemaking, calligraphy, gun engraving and stick whittling. TheEye has always yearned to be an expert stick whittler and was thrilled at this unique opportunity to study the finer points of the craft.
LUXURY
London Craft Week was a perfect opportunity to demonstrate the sometimes unexpected connections and collaboration between exclusive luxury retail brands and imaginative makers.
The Dior exhibition demonstrated how exquisite embroidery and beading are an integral feature of haute couture, but hand craftsmanship is in fact a skill and deserves to be celebrated in its own right.
Some well-known designers including Erdem who is exhibiting some of his personal art collection which 'explores the relationship between craftsmanship and fine art', Roksanda, who showcased Danish ceramics designer Christine Roland's hand-built porcelain and stoneware in the designer's signature colour palette, sculptural drapes and shapes. Anya Hindmarch's in-house craftspeople demonstrated the intricate weaving technique used to make the handcrafted totes of the Neeson collection.
To say there was a wealth of brilliant and unusual craft work on show would be an understatement. There were speakers at all the events who offered fascinating insights into their work and how they got to where they currently are. The question 'how did you get started and what motivated you and what were the hurdles you encountered on the way' is intriguing. It can (and usually is) a long, hard journey before success happens and even then, it's still a question of survival in a competitive creative world.
Spanish leather goods company Loewe hosted California-based mother and daughter duo Shizu Designs for a week of traditional Japanese weaving demonstration showcasing their basket making and knotting techniques, transforming leather and rocks into art.
At the Paul Smith shop in Albemarle Street the man himself launched Stack, a collaboration with 1882, for their ICON collection. As Emily Johnson, the fifth generation of the family says, ICON consists of  'impossible to make, expensive, limited editions', with people such as Max Lamb, Grayson Perry and now, Paul Smith known for his cheeky sense of humour and irony.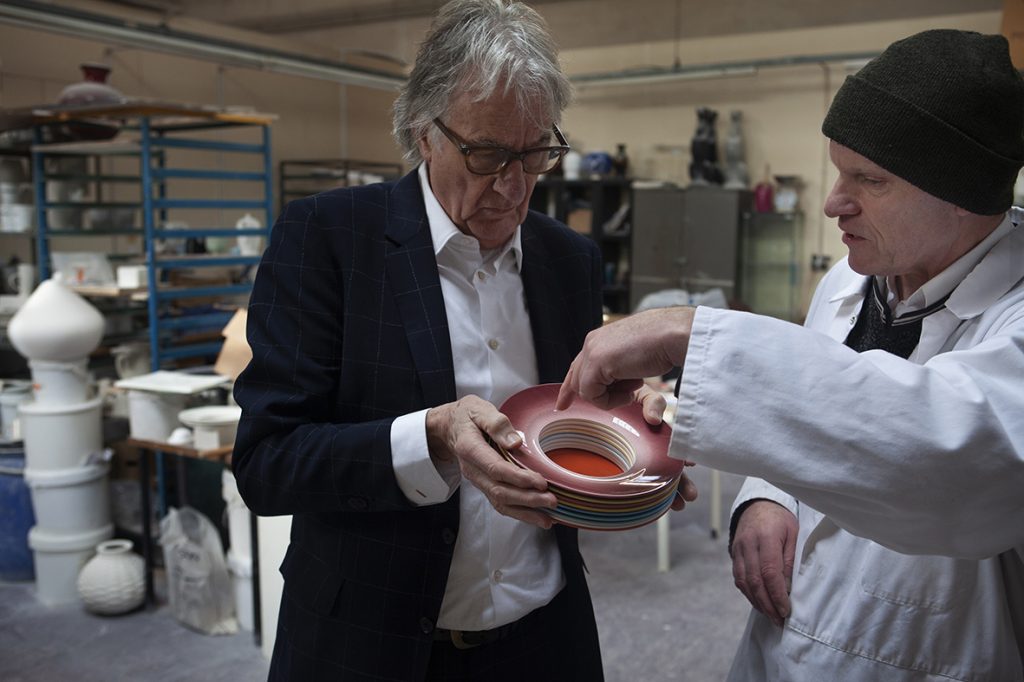 Paul Smith explained 'The decision to collaborate with 1882 Ltd was a very instinctive one…our first piece together is inspired by the simplicity of the firing of plates in a kiln, something the 1882 team do very regularly. Looking at the stack of plates in a kiln a natural stripe seemed to follow and so the rest followed from there'. Stack is in fact a clever, visual trick. Not simply a stack of plates (that would be too obvious), but works of art in themselves, they also function as vases.
SCORCHED at Fitzrovia Chapel
Sarah Myerscough guest-curated an exhibition of scorched wood pieces by leading contemporary artists and designers.
The traditional process of 'shou-sugi-ban' otherwise known as 'yakisugi' is a technique originating in Japan in the 18th Century which involves the slight charring of the surface of the wood. Although it carries a strong cultural significance, the exhibition had a strong Western perspective.
Making the Modern Using The Traditional: The Materiality of Mosque and Church at the Shahporam Masjid and Islamic Centre
Sahed Saleem and Alex Sherratt, architects of the Shahporan Mosque Hackney and Mildmay Shoreditch Tabernacle, allowed visitors an insight as to how a religious site can capture community identity. It's important events such as this that really can 'build cultural bridges'.
The New Craftsmen Gallery in North Row has been at the forefront of the changing perception of craft.
Natalie Melton, now Creative Director of the Crafts Council, was formerly a founding director of the gallery and instrumental in the amazing Burberry exhibition in the old Foyles bookshop.
The exhibition was a huge success and one of the first exhibitions to bring craft alive and make it so vibrant and accessible. The current exhibition in their beautiful gallery was curated by Charlotte Kingsnorth, a young designer and artist whose work melds functionality with a personal exploration of materiality, form and the subversive. Charlotte's designs are  exciting and adventurous. TheEye admires her independent pioneering spirit. The lichen patina furniture collection, which is on show in the gallery, was developed in collaboration with New Craftsmen.
TO SUM UP
This was the fifth anniversary of London Craft Week with hundreds of venues across the capital. Without doubt its biggest, boldest and most ambitious so far.
What started somewhat tentatively as an experimental enterprise in 2015 has earned its place in the arts calendar. It has given craft a real profile working with the big luxury brands.
No longer will craft be looked down on somewhat patronisingly, but as an art form to be admired and collected. In the words of curator Brian Kennedy when asked the best way for people to patronise craft – 'Buy it!'
It's true… now go shopping!