All happening in Yorkshire
We Londoners are rather smug about what we regard as our cultural supremacy and, it's true, we are spoilt. But 'another world' does exist, and arts are flourishing all over the country. Yorkshire is no exception.
The Yorkshire Sculpture Park in Wakefield is, according to critic Will Gompertz, 'One of the best art visits in the world. It really is that good'
TheEye agrees and is only ashamed this was her first visit.
It is magnificent. One of the best places in the U.K. to experience modern and contemporary sculpture, showing work by some of the world's major artists set in over 500 acres of historic beautiful parkland, in addition to six indoor galleries.
Amazingly, it's free. What is even more remarkable is the thought and sensitivity that went into the planning  – whether it's the indoor galleries, landscaping of the outdoor sculptures, even the cafés and shops.
Incredibly well-maintained, the staff are friendly and helpful with a cheerful 'can do' attitude, sadly often lacking in London galleries. Is it the bracing Yorkshire air? It's very low key and unpretentious. It was a nasty, wet day, but it didn't deter the families enjoying a day out with their children and dogs, tramping through the soggy grass looking at Damien Hirst sculptures and Giuseppe Pennone's Tree, which is part of a larger exhibition in the Underground Gallery. There was a mix of young and old and many people in the cafe having a well-prepared, healthy lunch. Spotless.
TheEye also observed how generous the visitor donations were and Yorkshire folk have a reputation for being 'tight'.
From the number of £5, £10 and £20 notes in the donation box, that didn't seem to be the case.
Events range from artist's talks and sculpture courses to family workshops and landscape tours.
The Weston Gallery, which opened in March at a cost of £3.6 million (visitors to the Park contributed £50.000), is a beautiful light-filled building designed by architects Feilden Fowles and built on a historic quarry site. Comprising a restaurant, gallery space and shop it was designed to have minimum impact on the site and to fit sympathetically with the historic landscape and stunning views across the park. Naturalistic planting, including a wildflower roof, was inspired by 19th Century Yorkshireman and plant adventurer Reginald Farrer. The programme when TheEye visited included Delhi based artists Thukrai and Tagra with an interactive installation and Giuseppe Pennone's 'A Tree In the Wood'.
Yinka Shonibare 'Criminal Ornamentation' in the Longside Gallery focused on the the cultural and social implications of pattern in art.
The Yorkshire Sculpture Park is part of the Yorkshire Sculpture Triangle: there is also the Henry Moore Institute, Leeds Art Gallery and the Hepworth in Wakefield.
HAREWOOD HOUSE :  'USEFUL/BEAUTIFUL'
 WHY CRAFT MATTERS
Whether you pronounce it 'HaRRwood' or Harewood (as the locals do) is of no consequence, Glorious Harewood House is hosting Useful/Beautiful, to challenge the preconceptions about the role craft can play in cultural identity and society.
Why Craft Matters
In the words of Hugo Macdonald, curator of Useful/Beautiful:
'Craft is a powerful word. Over a thousand years its meaning has evolved to describe strength, skill, force, cunning magic, deceit, knowledge, science, trades, professions, boats, decorative arts and domestic hobbies. Today we see historic craft in museums and contemporary craft in galleries. Fashion, design and technology brands market their craft. Craft describes architecture, beer and sausage rolls. The word is everywhere.

In the inaugural exhibition, 26 individuals, studios and brands practice a craft in some form and 'we' asked everyone to respond to the statement 'Why craft matters' to them today.

Each had an inspiring story and strong opinions, proving that craft has a vital role in society. To craft something means to understand a material: how to use it effectively for a particular purpose. It means learning,  practising and passing on knowledge of the mind, hand and heart. Craft is an approach, not an object, it can teach us crucial lessons for contemporary life: resourcefulness, respect, resilience, repair. Today, we are entering the age of automation and artificial life. Craft is not only something to be rescued from the past, these innately human processes can help us shape our future too.'
1882 Max Lamb ceramics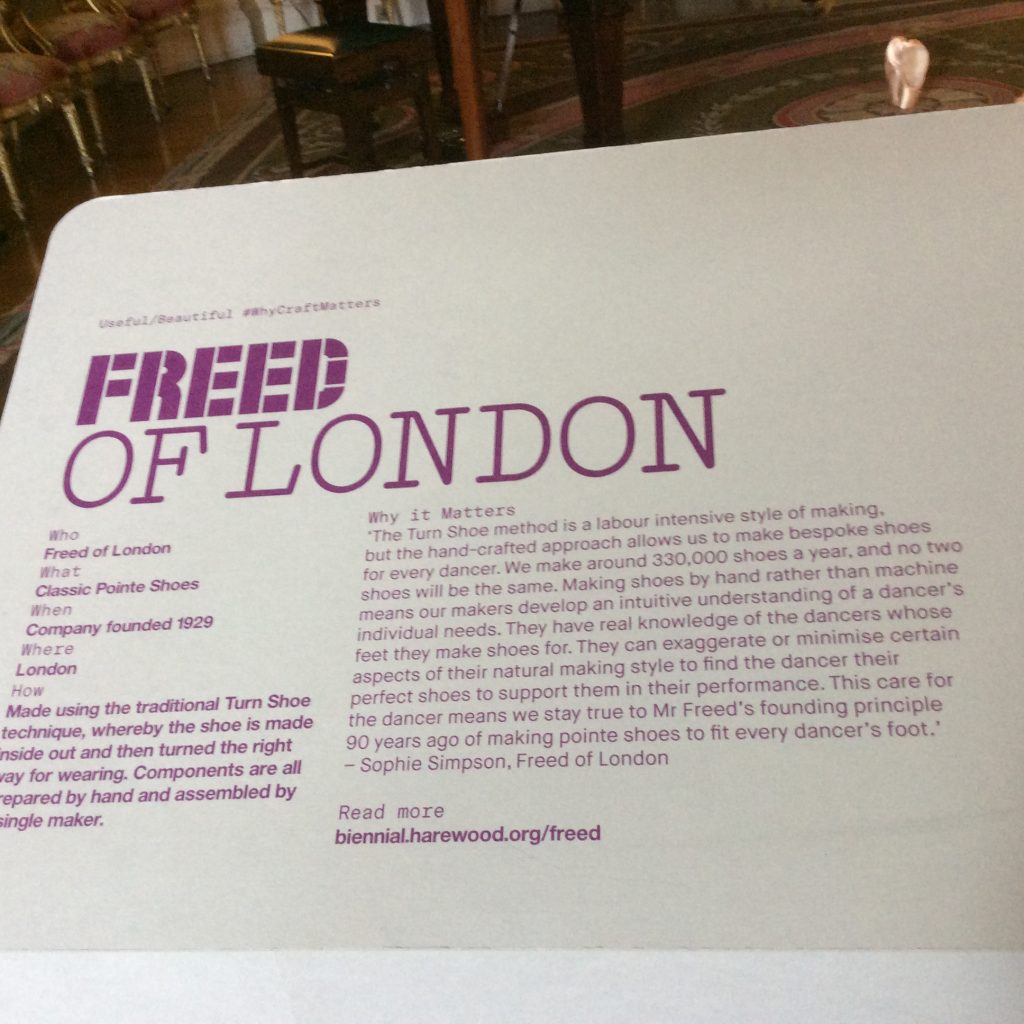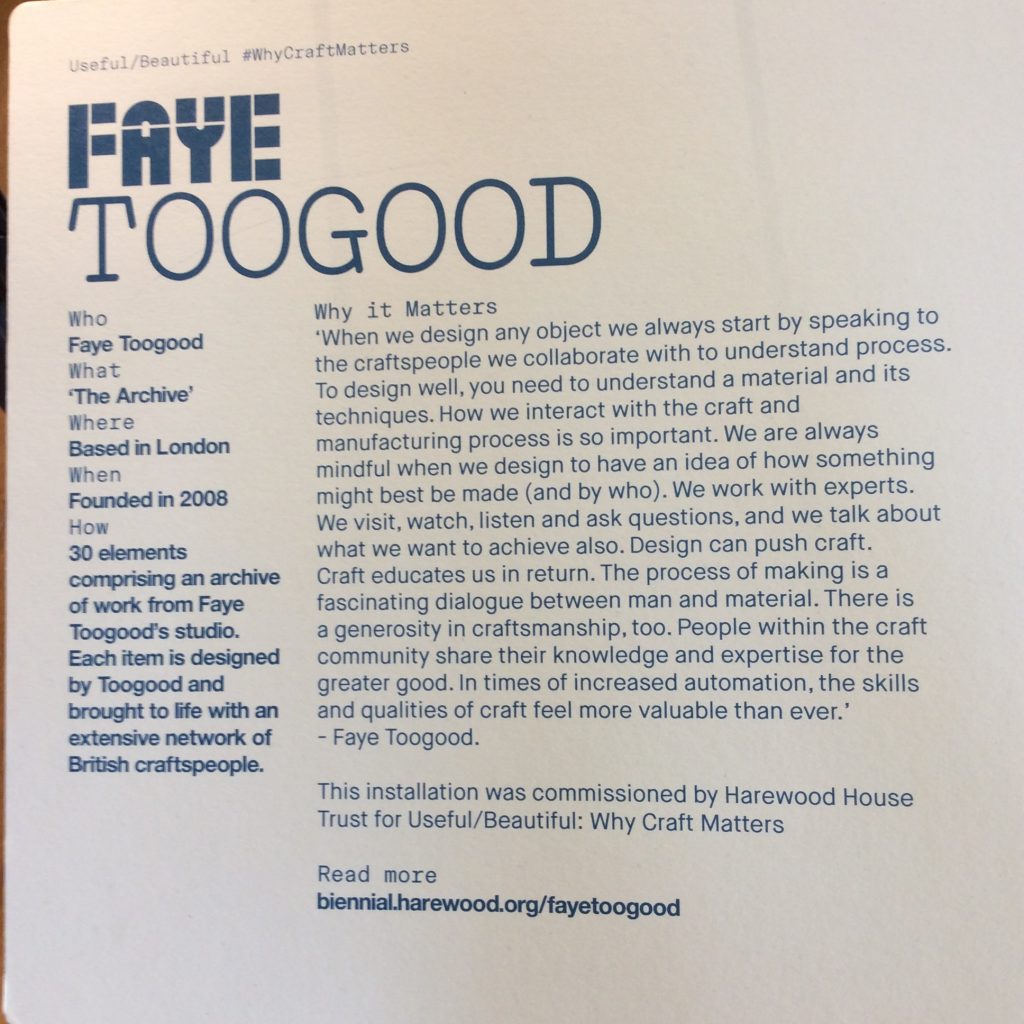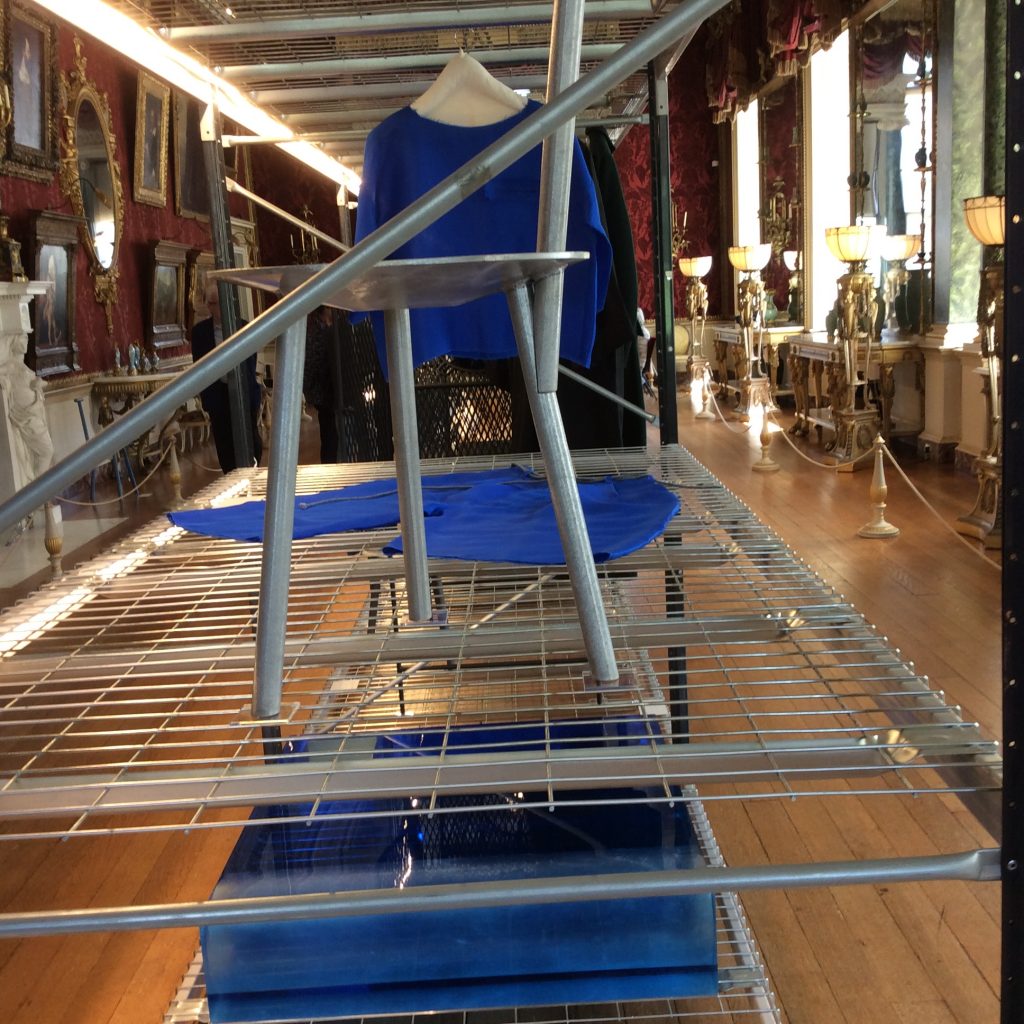 Jenny King embroidery
People are often unaware of the work that goes into a couture dress. Jenny King's work for Erdem sums it up so well.
It is a wonderful experience to see so may diverse crafts in the rooms of this glorious house. The exhibition runs until September 1st. Well worth the journey.
Ilkley Playhouse:  TUESDAYS WITH MORRIE
To the charming town of Ilkley for an amateur dramatics production of Tuesdays With Morrie. The heartwarming true story of the relationship between Professor Morrie Schwartz, dying of a degenerative nerve disease, and his student Mitch Albom. It makes you laugh, it makes you cry.
Amateur it most certainly wasn't. The two actors, Stephen Brown (Morrie) and Rob Edward (Mitch) were superb – Stephen Brown exceptional. The West End awaits.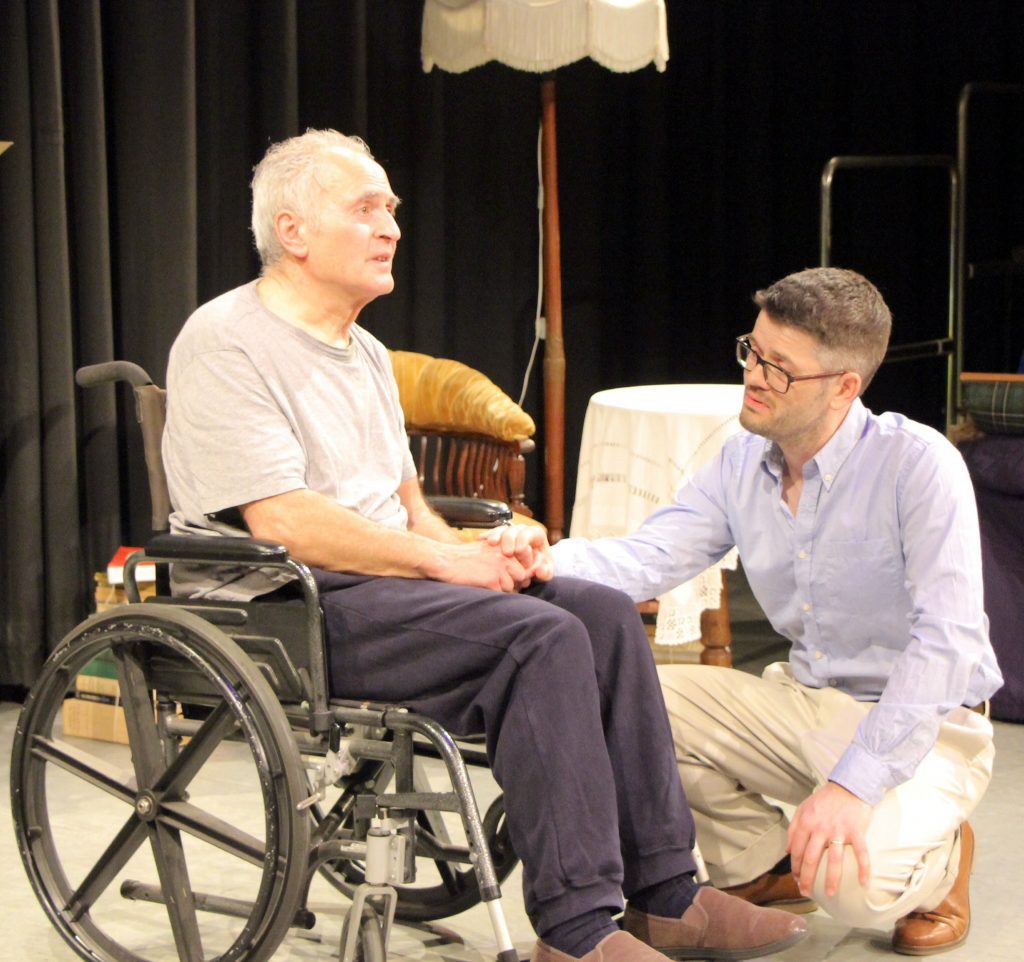 A perfect couple of days in the unspoilt Yorkshire countryside – good weather, great food, art and theatre.
And no elbowing our way through a crowded airport – bliss.