Lively Tel Aviv and Historic Jerusalem
There's so much to say about Israel – it's an extraordinary, unique country. Since TheEye's last visit (working with talented students at Jerusalem's Bezalel Academy, founded in the late 40s by Bauhaus alumnae escaping Nazi persecution). A great deal has changed for the better, but sadly not the politicians.
This was a short visit – Tel Aviv (Jaffa) and Jerusalem with a side trip to Bethlehem. The sky was blue, the sun was shining and a good time was being had by all.
Young Israelis are attractive, friendly, hardworking and polite, which is definitely an improvement on the grumpy old men that largely made up the taxi driver community in years gone by and whose policy seemed to be 'the customer is always wrong'. Tel Aviv is a dynamic city, pulsating with energy. You could be in Rio walking along the seafront alongside joggers, cyclists and early morning surfers, sailors and kayakers. Unlike Rio, it feels safe apart from the high speed motorised scooters manufactured in Israel. They are the new craze and watch your step  – they are incredibly fast and it's a case of pedestrians get out of the way. The food is delicious and, again, very different from the past when it was, to be blunt, grim, similar in fact to the way things used to be in Britain. But Tel Aviv is not typical of Israel. It's a buzzing, hedonistic metropolis where 'anything goes'. It has the reputation of being the gay capital of the world and gay tourism is a big money-making industry. Gay clubs and bars attract huge numbers. Tattooing is also big business and most young Israelis are covered in tattoos. Some bodies resembling human art galleries! But what amazing bodies.
Culturally, there is a huge amount to entice you to leave the beach  – The relatively new Steinhardt Museum Of Natural History is a revelation in the way it opens visitor's eyes to nature through interactive displays which highlight the implications of urban development and climate change. A magical dream come true for children- apparently at weekends when it is full of families, guards have to be on extra alert to stop children from hugging the exhibits. It is one of the most exciting museums TheEye has visited.
The Design Museum in the otherwise dreary suburb of Holon is another great place – not only for Ron Arad's architecture. An undulating building in bronze coloured steel would be reason enough to visit, but the constantly changing exhibitions are always relevant and fascinating. Currently, it's The Conversation Show.
The markets are wonderful. The variety of produce, nuts, spices and bakeries made TheEye wish she could bring it all home. Frustratingly, she could only manage some nuts, a couple of small bottles of rose water, aromatic spices and some special Halva. No wonder her clothes now smell of smoked paprika and ginger!
Jerusalem is another story and it's like walking backwards in time.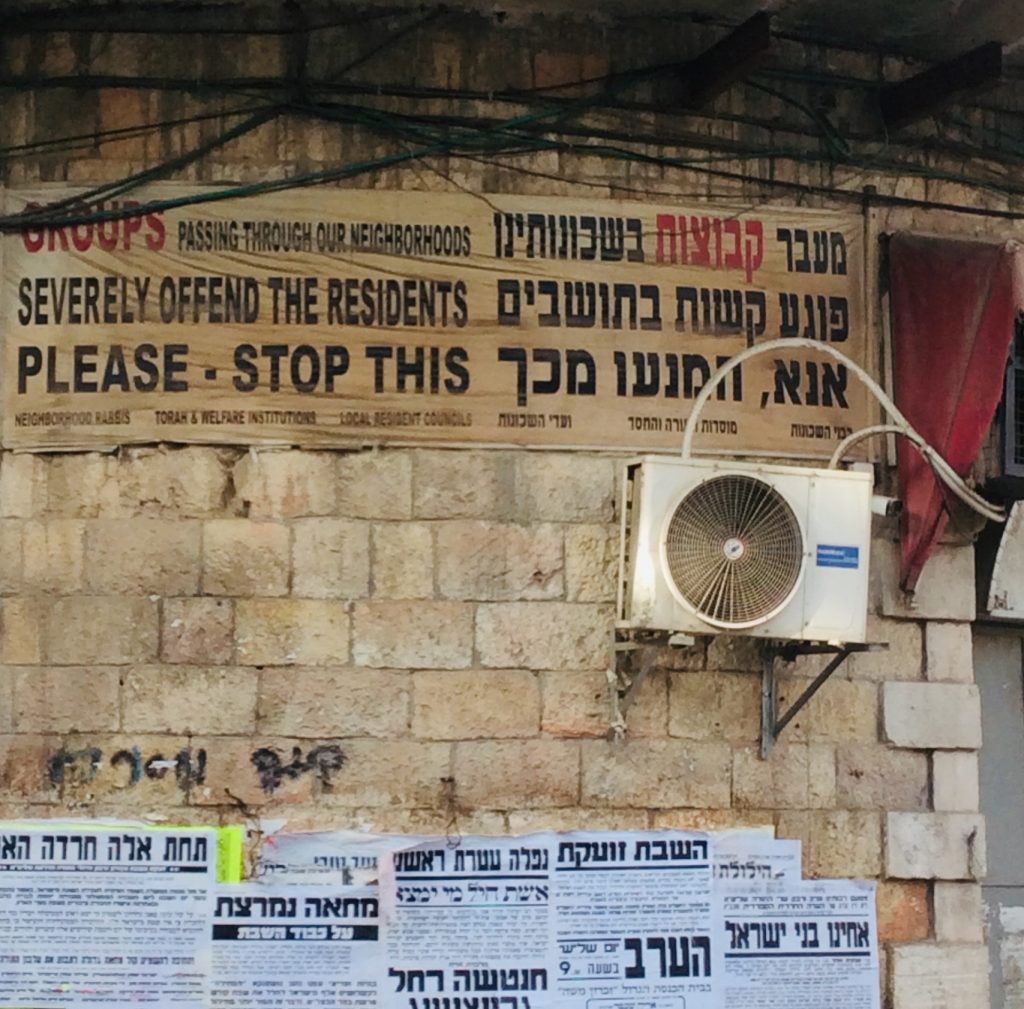 If you are in Jerusalem on Friday evening or Saturday, walk around the ultra-Orthodox area of Mea Shearim. For anyone who watched the Netflix series, Shtisel, it is pure Shtisel territory. Hassidic men in long black coats and tall, wide-brimmed hats with their curly ringlets, known as payots, peeping out. On High Days and Holy days, some wear frock coats (for want of a better description) in beautiful gold fabric, white socks and high brimmed fur hats which apparently vary in cost according to the quality of the fur. Interestingly, Jean Paul Gaultier based one of his collections many years ago on these outfits. They look incredibly dapper and elegant, in a Fiddler On The Roof-kind-of-way. The men walking together and women likewise –  modestly clothed with their arms, legs, and hair covered. Often accompanied by a gaggle of children. If you choose to go you really do need to be respectful and honour the rigid dress code rules or chances are some fanatic will pelt you with stones.
TheEye narrowly avoided this unpleasant fate, taking photos – another 'no no'. No stones thank goodness, but some angry shouting and her camera was swiftly hidden from view.
Bethlehem
The Church of the Nativity is visited by large groups of Christian pilgrims and it's possible to visit the crypt with the manger and spot where Christ was born.
First stop in Bethlehem was the Walled Off Hotel, conceived by the inscrutable Banksy.
The hotel faces The Wall which Banksy and his crew covered with political graffiti.
Uncomfortably provocative and if it makes you feel uncomfortable, that is the point. The hotel is full of Banksy's artwork and objects, including a carefully curated small museum and gift shop.
How you react to the museum's powerful messages depends on your views. Banksy is very clear about this and he is a brilliant communicator.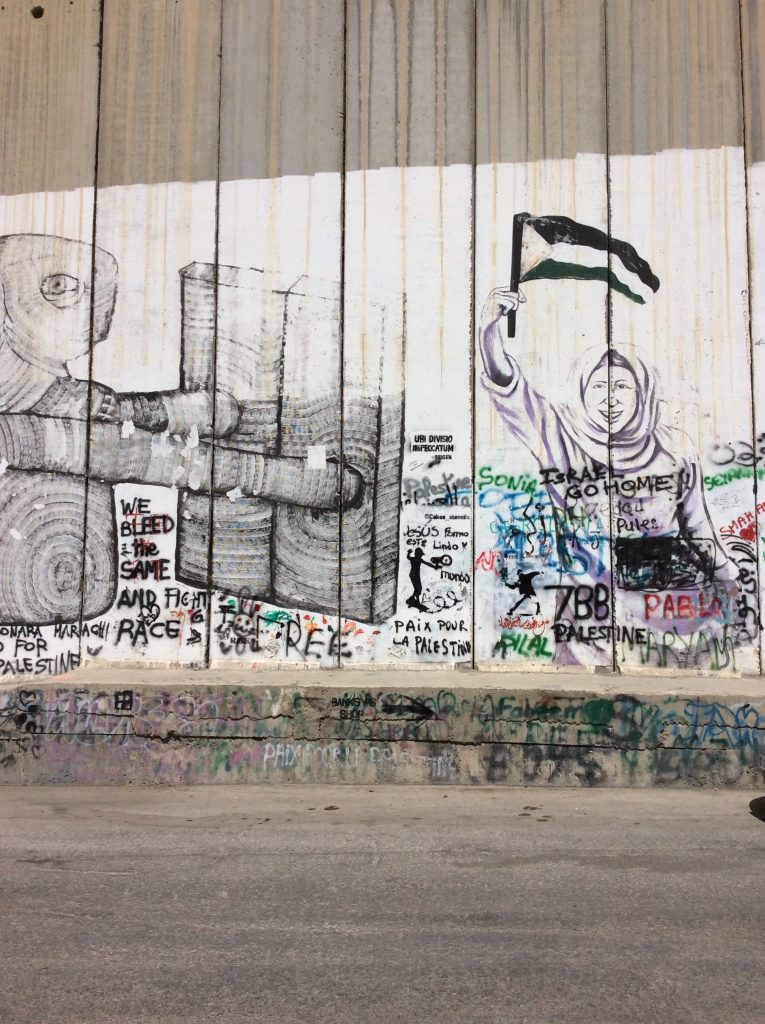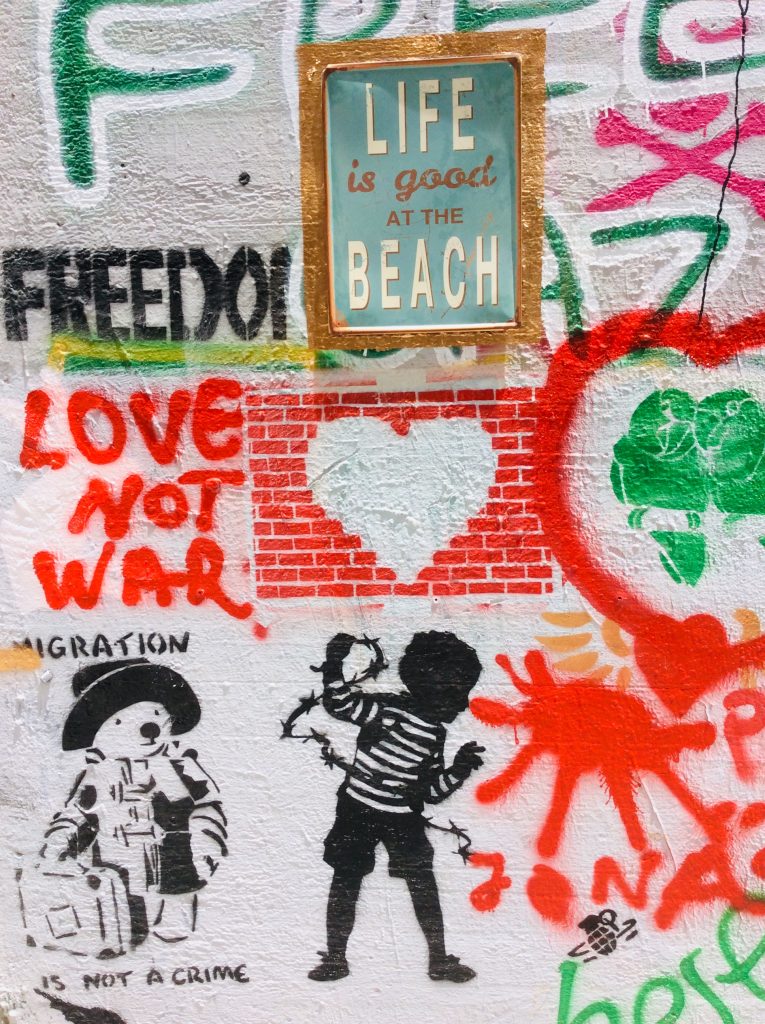 Settlements
TheEye had no idea what a 'settlement' really implied. A group of houses, with perhaps a small provisions store? A village with more houses and a few basic shops? Or something like a town suburb?
No, they can be the size of cities accessed by the settlers who are free to go in and out of Israel. Israelis are not allowed beyond the wall.
Israel is an extraordinary, progressive, impressive country. High profile creatives such as maestro Daniel Barenboim, whose East-Western Divan Orchestra funded in 1999 started as an experiment for Israeli, Palestinian and other musicians from Arab countries to replace ignorance with knowledge and understanding and imagine a better future of co-existence through music. The experiment succeeded and the orchestra travels the world. Dance companies, such as Hofesh Schechter. Chefs Yotam Ottolenghi and Palestinian-Israeli Sami Tamimi bring their delicious blend of Middle Eastern cooking into our lives. These Israelis and Palestinian and numerous others work together and collaborate with mutual respect and a common goal: to overcome the hatred and mistrust on both sides.
If only politicians were willing to follow their example.