So here we are – early July and 'school's out'.
For many students graduating from art colleges throughout the U.K., the question most are asking themselves is, 'how did the time fly by so fast' and 'what on earth do I do now?'
And no denying, it's going to be tough. Looking around the shows, (and TheEye tries to see as many as possible), she never ceases to admire the creativity of students, their optimism, hard work ethos and ambition and also the high standard of teaching.
It is also a fact, particularly in London, many students are from overseas – Asia – in particular, China and Korea.  This has both an up- and a downside. On the positive side, overseas students pay much heftier fees which is good for colleges who are all struggling financially, and they also contribute a different cultural aesthetic resulting in very interesting dynamics. On the negative side, it means some U.K. students are deprived of places at the top colleges because they rely on grants. Often students from the Asian countries cannot speak good enough English which makes it problematic for tutors and also means they tend to stick together rather than integrating with their Western counterparts. The worst part is most have to return to their home countries after graduation because they are unable to renew their visas.
A disappointment to them and a loss to the U.K.
CENTRAL ST MARTINS 
A good place to start. Walking across Granary Yard on a summer's day with the fountains splashing and students relaxing in the sunshine it really does seem, in spite of ghastly Brexit and the high probability of Prime Minister Boris, all is right with the world. Creatively, the U.K. is riding high.
St Martins has an excellent jewellery department, having gained a strong reputation under Senior Tutor and multidisciplinary artist and designer, Caroline Broadhead, who recently retired to focus on her own successful career. Caroline's pioneering creative output was an inspiration to her students and happily, the same high standard of originality and craftsmanship continues.
Ceramics has always been a St Martin's strong point and its reputation increased with Professor Rob Kessler (ceramicist, photographer and crypto-botanist) and Senior Tutor Katherine Hearn, now focusing on her own ceramics career. Current course leader, Tony Quinn, believes that students today are dealing with diverse and complex issues that face contemporary society and their work reflects these concerns. What has always made attending the CSM  graduation shows special is the very obvious close bonds between students and tutors. Simon Fraser is the charismatic course leader of the M.A. Design department (ceramics, furniture and jewellery) and it's always a pleasure to visit him and look at the work of his student's graduation projects, many drawing from their ethnic backgrounds to produce original work in furniture, jewellery and textiles. Jacqueline Barbosa's jewellery, for example, uses recycled diamonds and gold and reflects her Brazillian background, Fan Goa's collection was inspired by Chinese 'Iron Girls' of the 1960s and '70s and Dilhan Hanif's bracelets, earrings and rings using techniques from Istanbul, are merely a taste of the high standard of original work and TheEye loved Angie Thirkell's Arpeggio range of ceramics – 'a marriage of sound and ceramic, producing a rich bell tone when struck with a sculpturally crafted mallet'. TheEye could have stayed all day enjoying the tinkling, calming sounds, but it was time to move on to textiles — another strong St Martin's department and where you see manufacturers and designers on the prowl, headhunting talent.
ROYAL COLLEGE OF ART
The RCA is the sole postgraduate arts college in the U.K. and was recently rated the world's leading art and design university for the 5th consecutive year. So, obviously, standards are high and the Department of Ceramics and Glass always excels. Senior tutor, Felicity Ayelieff, a successful ceramicist, represented by top dealer Adrian Sassoon, is also an outstanding and respected teacher, gently but firmly guiding her students without imposing her own ideas. With her experience she also understands the gallery system, and what is involved when clients want to commission something (tricky when you aren't accustomed to the process and misunderstandings can result) and such basic essentials –  how to read a contract, how to price your work, how to present it and so on. Sounds obvious, but some students are still not fully prepared for 'the real world'.
The jewellery department at the RCA has settled in well after the retirement of long-standing senior tutor and conceptual designer – the one and only Hans Stofer. Like his work or not, Hans did things 'his way' and it was always challenging, amusing, interesting and unique. This year's crop of graduates showed a healthy blend of the fanciful with some very wearable, well-designed, commercial jewellery.
But change is afoot with the appointment of Professor Rebecca Harvey, formerly Chair of the Art Department at Ohio State University.  Professor Harvey becomes the head of Applied Arts, overseeing both the ceramics and glass department and jewellery and silversmithing.  According to the RCA press release describing her contribution during her tenure at Ohio State (and I quote)  'In this role, she (Professor Harvey) has facilitated a broad cultural shift towards consensus and positive engagement combining disciplinary excellence with curricular fluidity and connectivity'. TheEye has to admit: she has no idea…a case of lost in translation?
NEW DESIGNERS
An opportunity to see Colleges from all over the U.K. under one large roof in Islington and no need to travel the length and breadth of the country. The exhibition is divided into a two week period covering different disciplines. TheEye visited Week One where she saw textiles, jewellery and ceramics also One Year In, exhibiting the work of ex-graduates a year into establishing their ways in the world.
Of particular interest were colleges which, for those thinking of anything north of Watford Gap is another planet, would be proved wrong – certainly no less creative and imaginative
Esther Mason, a graduating student in woven textile design from Heriot-Watt University in Scotland, weaves Harris Tweed which is already finding interest from designers and fashion houses and rightly so.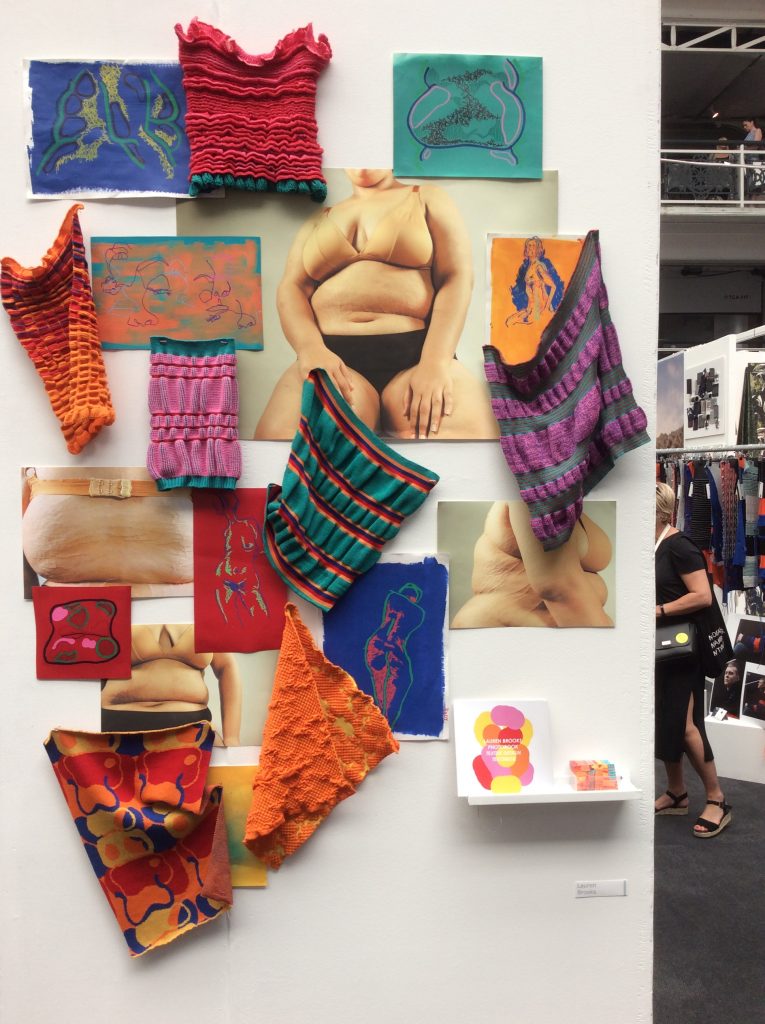 TheEye was fascinated by Caitlin Cross's dolls 'that aren't really dolls'. Caitlin incorporates fragrant herbs into the garments of the dolls which are proved to have healing properties for those with mental health problems, dementia etc. Her grandmother knitted shawls for some of the dolls.
This is a wonderful and humane idea.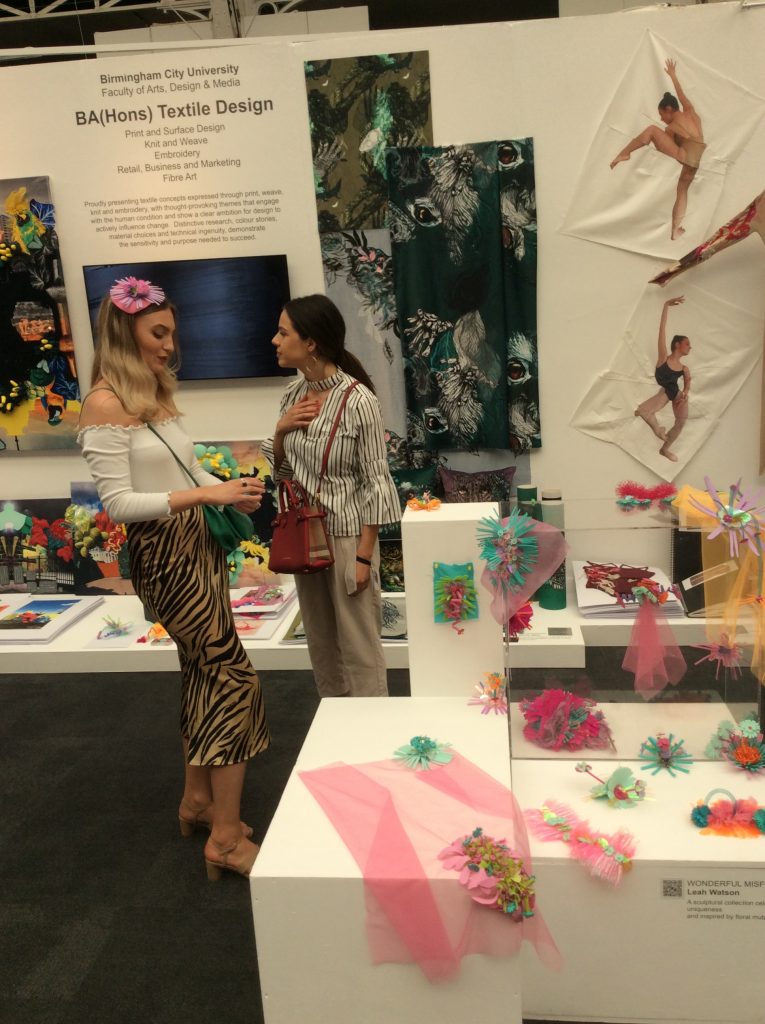 Holly Nowak (The Hungry Ghost) produces 'sensory, knitted sculptural textiles'. The CactEye Forest Chair, evolved from her interpretation of an old Buddhist folklore tale, should end up in a good home but it's BIG and the 'good home' also needs to be a big one ( a museum?)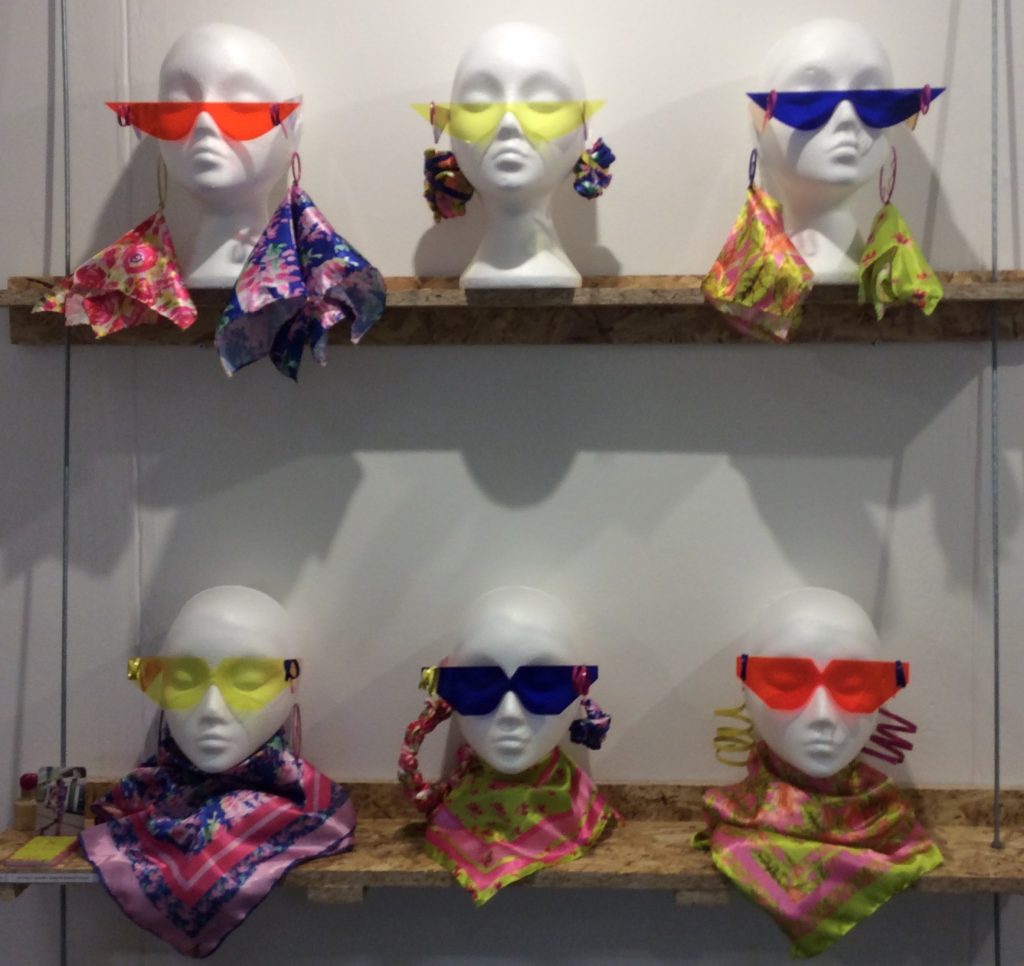 Cool shades.
ONE YEAR IN
Curated for the first time by Emily Skinner, who also provides mentorship and business guidance to each designer in the exhibition before and during the show based on her own experience of exhibiting in One Year In four years ago, with an emphasis on sustainability. Colour was a strong feature of this year's exhibition.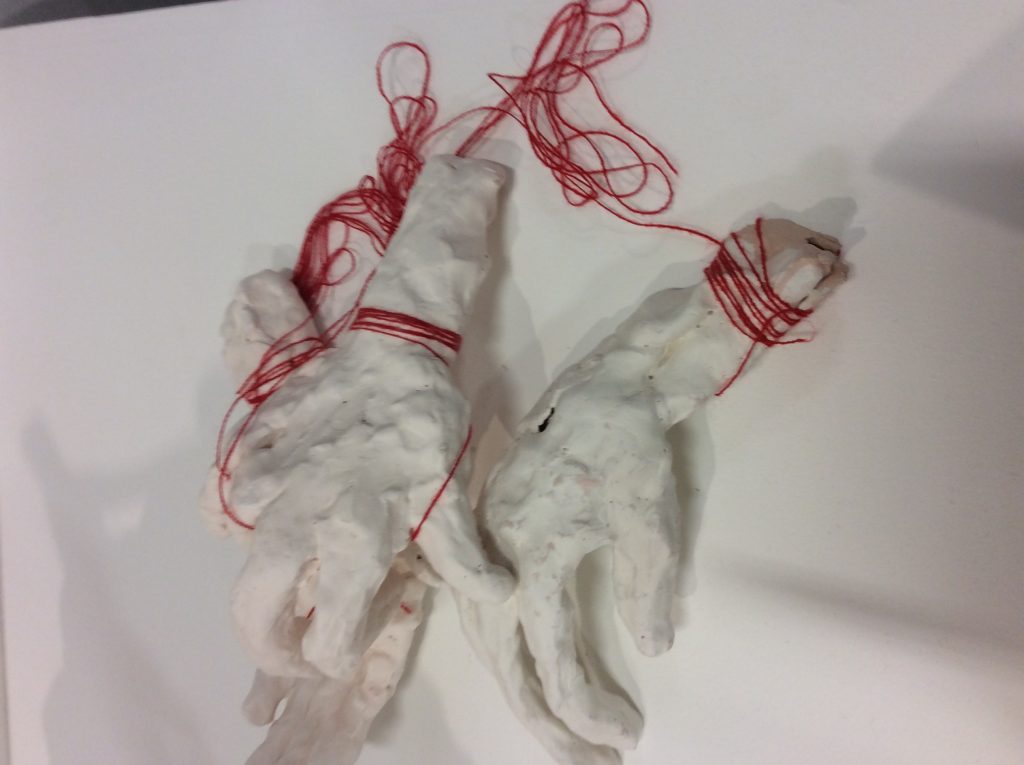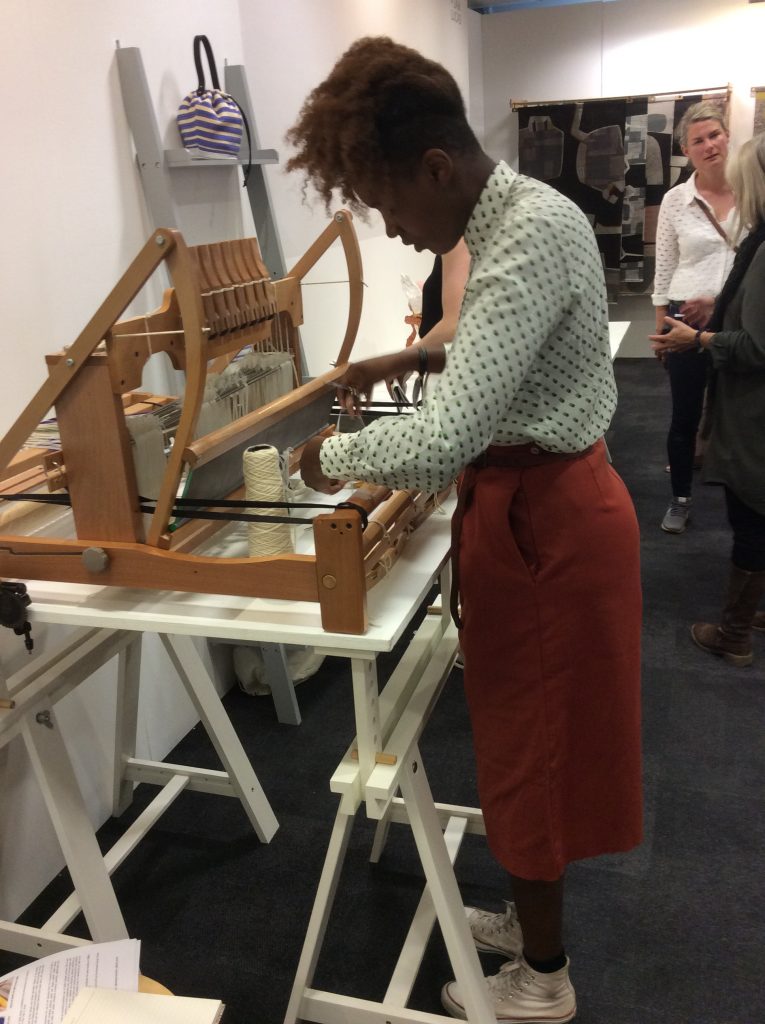 Such a wealth of talent. Impossible to mention everyone, but a real pleasure to see the overall high standards and serious  focus on sustainability. Some college departments really do stand out and deserve a special mention – Blacksmithing Department at the University of Hereford for example. TheEye remembers being intrigued by this many years ago when the college exhibited for the first time at New Designers and she wrote about it for the Weekend FT. A reader commissioned a student to make a pergola for her beautiful garden and his career never looked back. The degree also focuses on business. A great combination. Likewise, Costume Design at Edinburgh is a fabulous niche department where the talented graduates are able to start careers in film, theatre and opera, well equipped with knowledge and background.
TheEye says the same thing every year – good luck to you all!