MUCH TO CELEBRATE AT THE EDINBURGH FESTIVAL
Every August for the past goodness knows how many years TheEye has said 'next year we are going to the Festival' and guess what? This year she finally made it. Was it a disappointment? Au contraire, far better than anticipated. Bigger, livelier, buzzier and an overwhelming variety of things to see, hear, do. Whatever your taste, high or low brow – it's there.
Is it all good? Of course not – but it's a place for experimentation and that's why it's so exciting.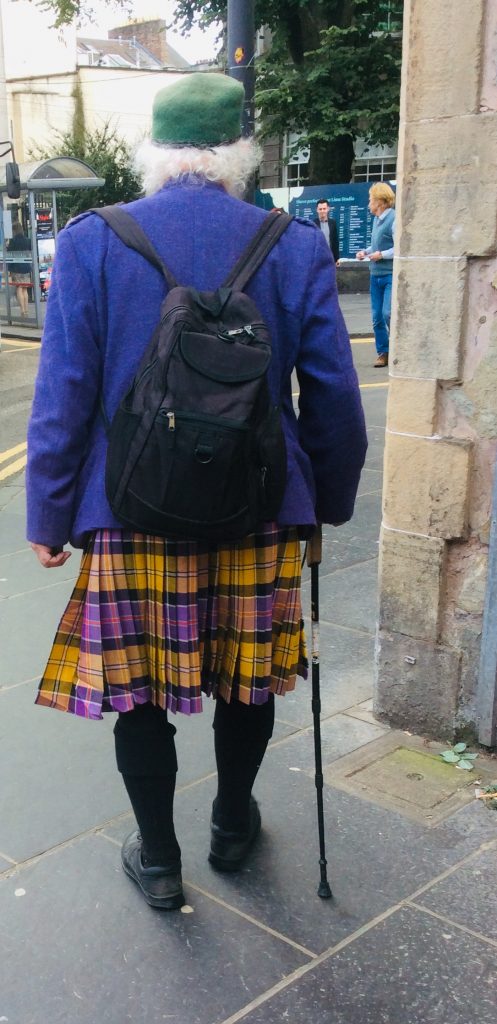 We arrived and hit the ground running – after all four days is not long with so much to see and do.
First on the list was the renowned Canadian pianist Angela Hewitt playing Bach's 'Well Tempered Clavier' and next day more Bach, this time in the beautiful St Cecilia's Hall –  a museum of rare instruments –  for a recital of J.S. Bach's concerto for harpsichord.
After that it was Fringe, Fringe, Fringe. Reading the reviews and trying to book the things that sounded most appealing was quite a task – everyone else was at the same game and it was quite competitive!
You need to have the Festival app and your finger on the button.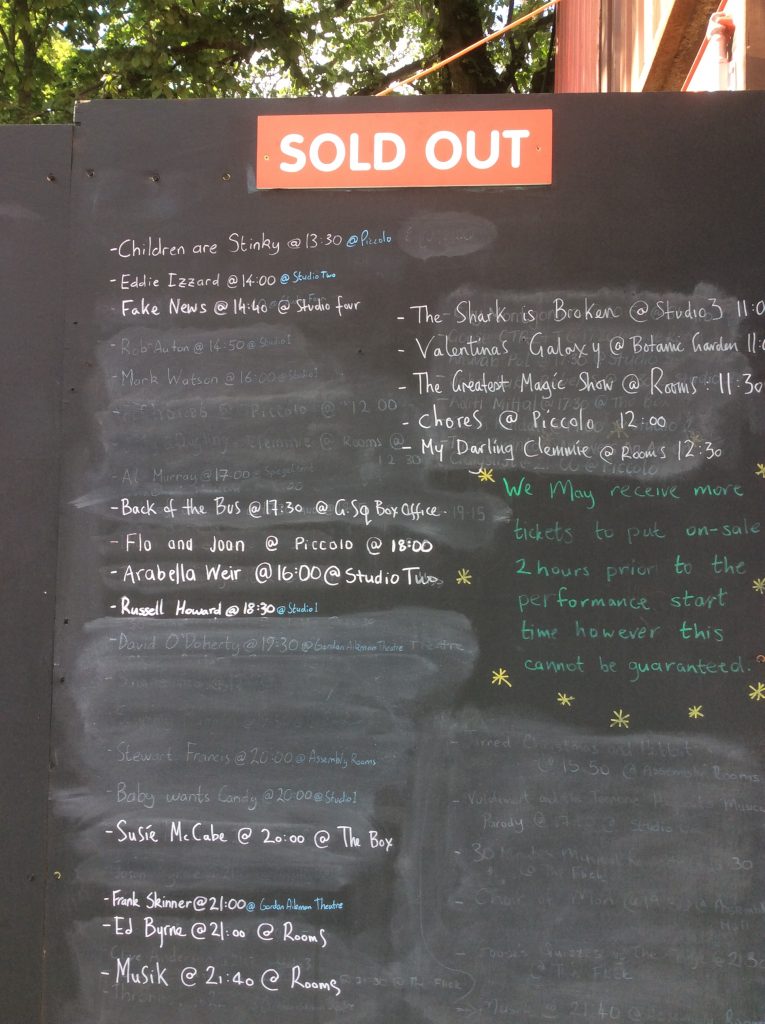 Here are a few of TheEye's hits and misses, but there were many regrets of 'sold outs' she wasn't able to see or shows that were on before she arrived. The Festival runs throughout August and many things are only on for a few days, some at the beginning and others at the end, and there's no way of telling. Whenever you go, you will miss something
The Patient Gloria at Traverse was a a pantomime-style telling of a true story about recently divorced Gloria Szymanski who, in 1965, went through psychotherapy with three different  therapists (not at the same time!!) and consented for the sessions to be filmed to be shown to students for teaching purposes only. She later discovered they were also screened on television and cinema. Playwright Gina Moxley crossdresses as the three shrinks presenting them as smug, randy egotists. It was a well-received show, even a 'hot ticket'. Did TheEye agree with reviewers about this 'waywardly funny drama' originally shown at Dublin's Abbey Theatre?' In a word: No. Even though the acting was excellent and it was certainly a slick, well-paced, clever production.
The Shark Is Broken (Assembly George Square) is a behind-the-scenes look at the 1975 filming of Jaws and even begins with the iconic 'OO-a, ooo-a, Da da da da da' music (you would instantly remember). Two men who look as if they might be the original actors, Richard Dreyfus and Roy Schneider, are sitting on a red-leatherette banquette griping because the mechanical shark has broken down and not for the first time. They are joined by the far more erudite, sophisticated and educated Robert Shaw, an impressive drinker with a phenomenal capacity. This witty short play (75 hilarious minutes) was written by Ian Shaw, son of Robert Shaw, the writer of Jaws, using his father's diaries for inspiration and accuracy. This was set in 1975 and the film was directed by the young, 'upcoming' director Stephen Spielberg. The dialogue is fast and furious and this is a play which, with a bit of tightening up, could end up transferring to a much larger theatre – and deserves to.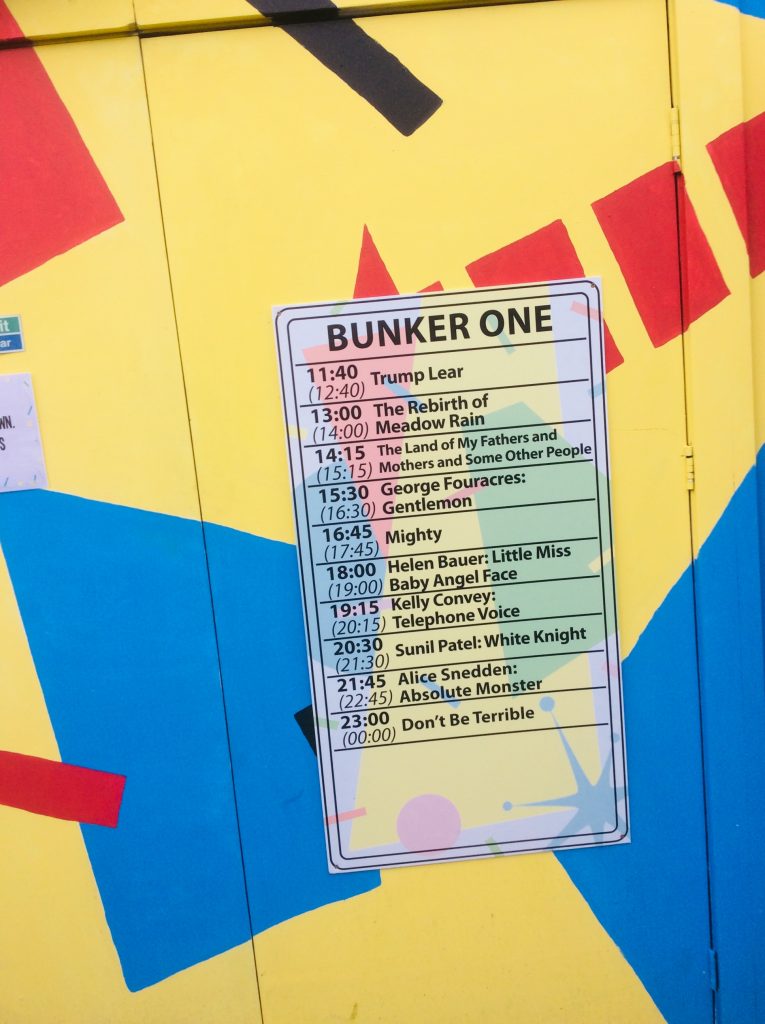 'Just Checking In', set in a fictitious top luxury hotel, gives impressionists Ronni Ancona and Lewis McLeod the perfect opportunity to take the piss out of the famous 'guests' past (Marilyn Monroe) and present, who have (allegedly) stayed in the hotel – McLeod does a brilliant 'Donald' whilst Ronni flips from Melania to Kirsty Wark presenting Desert Island discs and a fabulous Olivia Colman, with every nuance of their personalities meticulously observed. No one is spared.
Why I'm Never Going into Politics is a brave one-woman show by Grace Campbell, daughter of Alastair and Fiona Campbell. No one could doubt the pressures of growing up 'competing with other people for Dad's attention' and she cites her father's boss, Tony Blair, as her main rival. Appearing at the Fringe for the first time in a solo show must be a nightmare for anyone's confidence, but Grace is funny, insightful and honest and the audience was definitely on her side.
Hitler's Tasters (Greenside) was one of TheEye's surprising favourites. Who would imagine that in 1942 a group of well-connected young women were selected with the dubious honour of tasting Hitler's food to confirm (all vegetarian as the mass-murderer was a veggie) it hadn't been poisoned and was safe for him to eat.
An idiosyncratic and disturbing play (there are disturbing parallels between the present time and then), it was also slick, smart and very funny. Best of all were the outstanding, charismatic performances by four young unknowns all destined for great acting careers – watch out for Hallie Griffin, Mary Katherine Kopp, Kaitlin Page Longoria and Hannah Mae Sturges.
As they say: 'you heard it here first'!!
Saving the best for last (at least in the opinion of TheEye) is Atomic Saloon.
This raunchy adult themed circus, burlesque and vaudeville extravaganza, inspired by 19th century European cabarets is 'trying out' in Edinburgh before it opens in Las Vegas. It is described by the producers as 'the most abnormally sexy but sensationally amoral troupe of entertainers on Earth'. With a cast of 40 incredibly talented aerialists, hand balancing acts, singers, dancers, pole dancers and a fantastic ping-pong-ball juggling 'nun' called Fofo – every single character is spot on and has the audience in stitches. Loved every second. Unmissable if you aren't the shockable type – it's very naughty (but very nice).
TheEye's least favourites…
The New Full Throated Adventures of  Reginald D. Hunter had been hyped as a Fringe 'must-see'. Alas, for TheEye it was more a case of a notsee – full of self-deprecating, not very funny jokes, it lacked content, and this was a nominee for the Edinburgh Comedy Award in 2003. Reg confesses that at 50 he is starting to establish his career again – or trying to,  and admits, 'the thing I fear most is not being awful, but being average, being mediocre'. Sorry to be the bearer of bad news, Reginald, but it's a average/mediocre coalition.
Anguis 
Written by Sheila Atim, the Olivier award winner for her performance in The Girl From The North Country, this is a female power struggle between Cleopatra (yes, you did read it correctly) and her modern day interviewer/scientist, Kate. The play's punchlines centre around Cleo's love interests – Mark Antony and Julius Caesar and the truth about her death from a snake (bite). Much admired by many in the audience, it had TheEye squirming in her seat and looking at her watch with the very burning question 'where should we have lunch' in her mind.
And best of the rest...
Street entertainment in Edinburgh can be as good as any show you pay to see. Busking, mime, performers doing their best to catch the attention of the crowds and you don't have to have a ticket.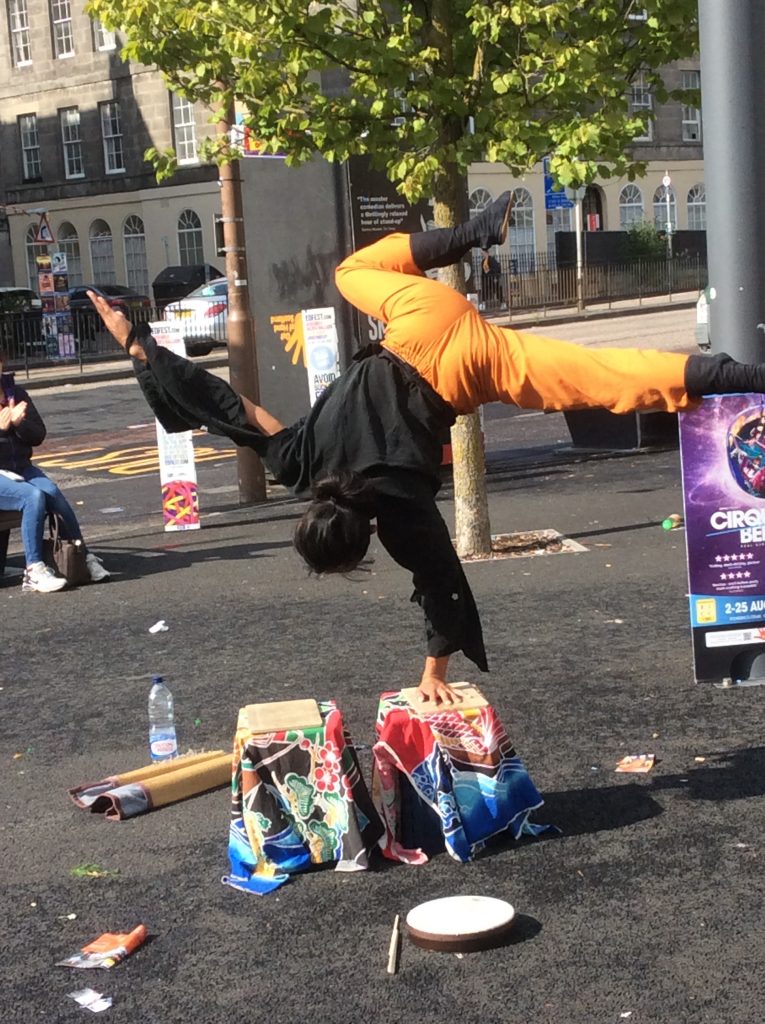 Brilliant Japanese contortionist/ gymnast had the crowds enthralled with his skill and also his humour poking fun at his fellow Japanese.
This is the sort of high level act you encounter during the Festival – even in the rain.
STREET FOOD AND WINING AND DINING
Whatever appeals – including some great restaurants – Fhior with a Michelin Star or maybe two, The Timber Yard and The Garden Cottage all excellent, expensive and quite formal.
BUT there is a huge variety of other places to tempt the taste buds and the fish and chips at one of the Alandas trucks include grilled fresh lobster by the way – delicious.
ART
Sadly all good things come to an end – too much to see and not enough time. Better than the other way round.
A great, memorable week. TheEye is already forward planning to next year. Should she go at the beginning of August, in the middle or at the end for the  choreographed firework display? It's always nice to have something to worry about.