'May You Live In Interesting Times'
VENICE  BIENNALE 2019
It was a case of 'better late than never' for TheEye to visit this year's Biennale and the title 'May you live in Interesting Times' could not have been more appropriate.
I think many of us wish 'the times' were a little less interesting.
Colourful visitors to the Giardini enjoying the sunshine.
And a pick of some Pavilions…
Mondo Cane at Belgian Pavilion
Highly original, witty and quite profound. Most of us don't credit Belgians with a sense of humour and irony. But it's always nice to be proved wrong.
As anticipated overall standards at the Biennale are uneven, there are always some 'hits' and quite a few 'misses', particularly in the Giardini which is, for many people, the main event. Amongst unexpected hits was Mondo Cane (by Jos de Gruyter & Harald Thys) representing Belgium, Martin Puryear for the U.S. who interpreted liberty in a sculptural, visual way and was excellent, Israel, Spain and the Netherlands. Video and photography were a strong presence but, in some disappointing cases, the work was plain silly and trivial, but as in everything, it's all subjective.
Cathy Wilkes was the British representative occupying six rooms of the rather grand Pavilion. In her words,
'On both the left and right there is nothing worth seeing and nothing worth hearing. I return home to wait in place and draw forth what is yet to come'.
Give us a break Cathy. If this sounds like art then speak gobbledegook – that's what it looked like. A pretty weak display.
ARSENALE
Some interesting work. A great deal of photography and video filling the vast space. Some exciting, original artists from countries showing for the first time.
Ghana was particularly surprising in a space beautifully designed by (Sir) David Adjaye with a diverse selection of Ghanan artists. TheEye was taken by the studio portraits of women dressed in their finest clothes from the 1970s. It was worth the long hike to the far end of this huge space (well, it was formerly a rope factory!)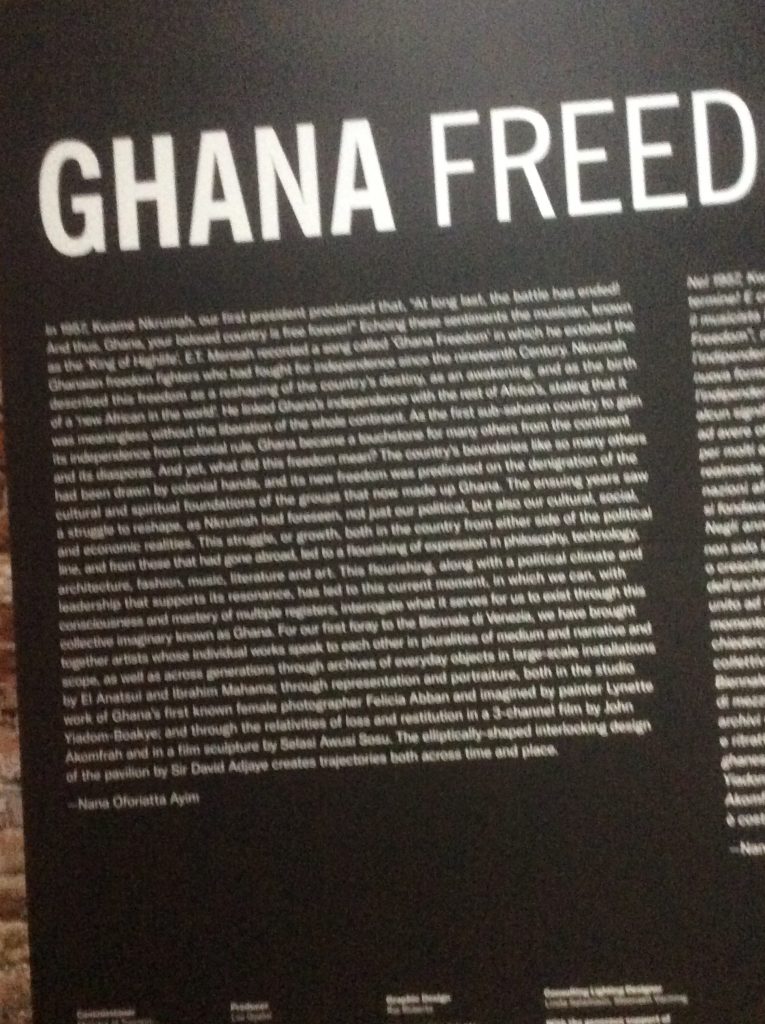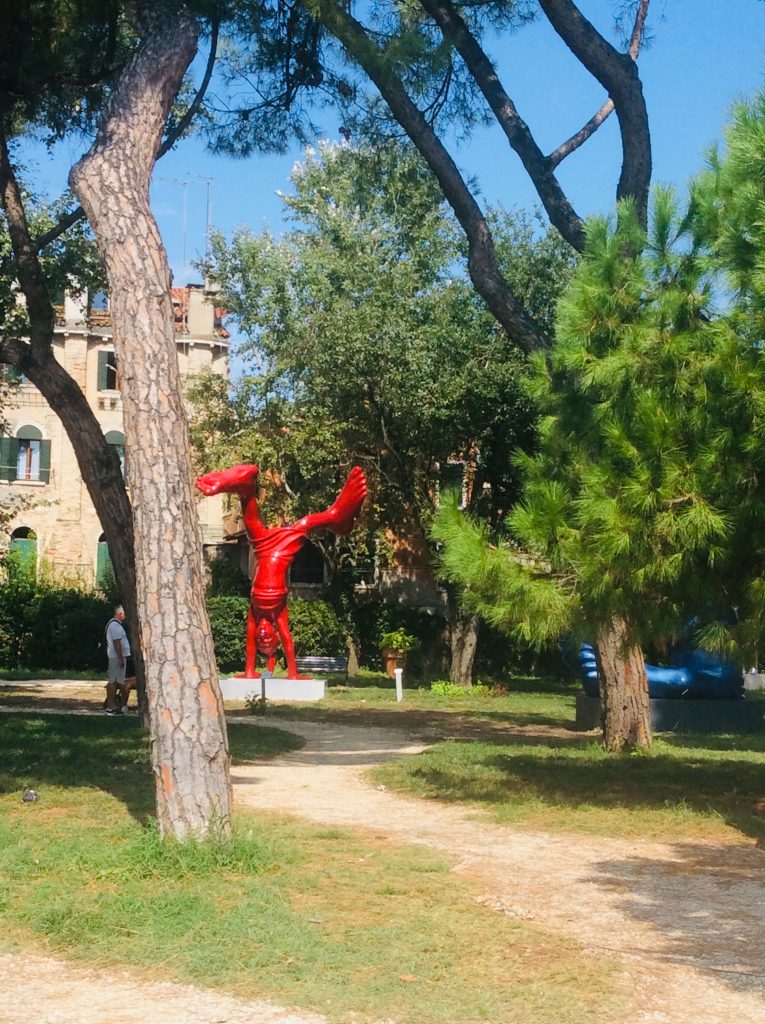 Luc Tuymans – La Pelle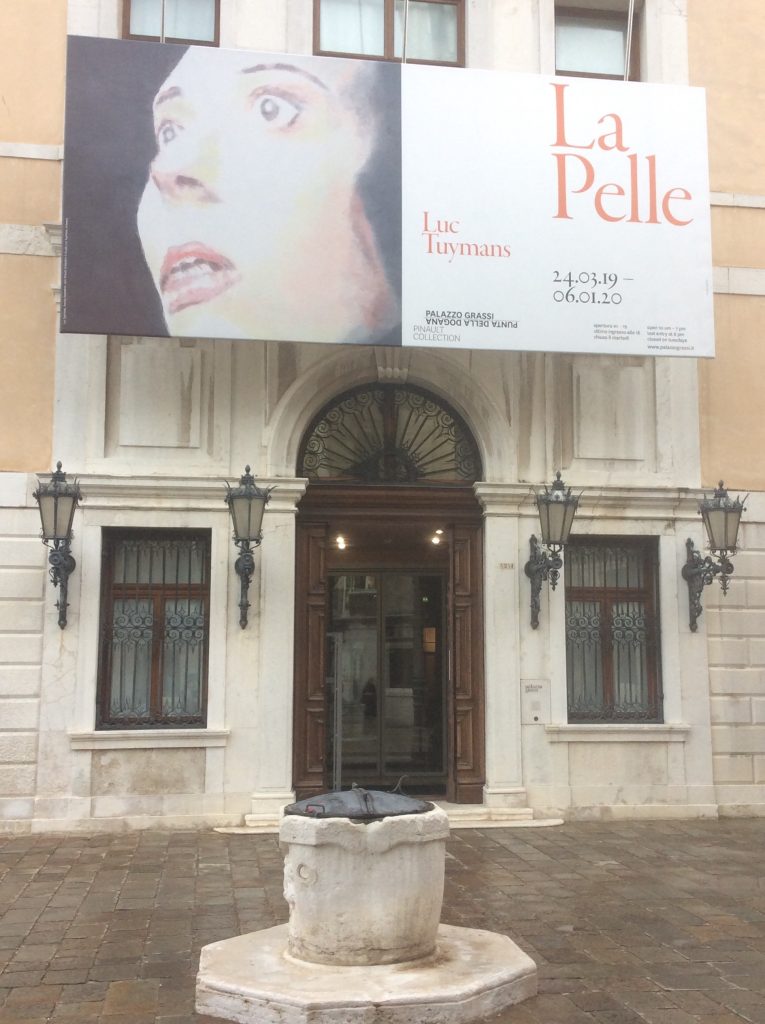 PALAZZO GRASSI
SEAN SCULLY
An unexpected and beautiful installation in the breathtaking Palladian Church of San Giorgio. A huge tower of colour which greeted visitors in the entrance of the Church was stunning. Also, paintings and stained glass windows in ravishing, bold colours. There were some figurative paintings – a new departure for the artist.
Fondazione Giorgio Cini
THOMAS STEARNS:
'A YOUNG AMERICAN ARTIST AT VENINI'
Thomas Stearns spent a short time working in Venice with the esteemed glass company Venini but he was way ahead of his time in terms of technique and sadly, as with many artists ahead of their time, his work did not sell and he returned to the U.S. and pursued other artistic directions. The exhibition shows the development of his work.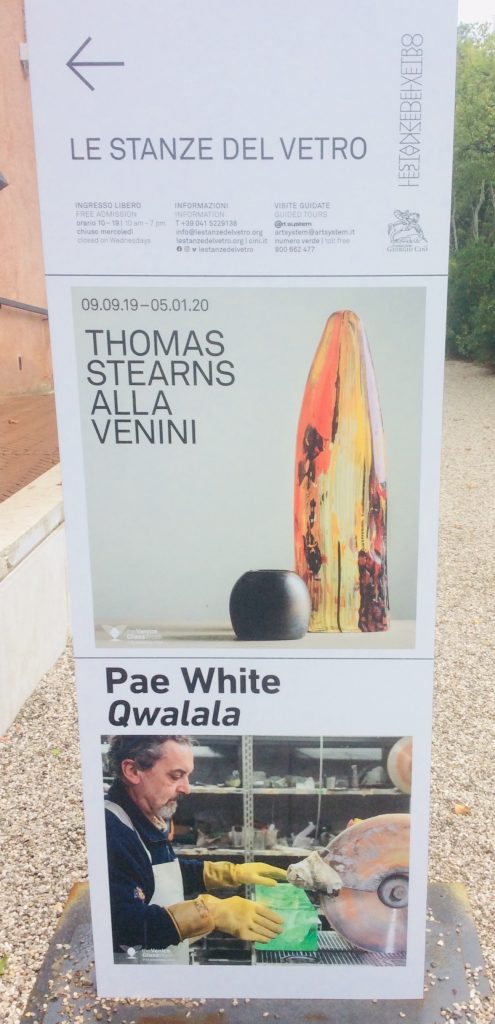 MARIA KENNEDY– 'INVINCIBLE TRUTH'
Decorative and well-designed at the Fondazione Giorgio Cini.
NOMAD PROJECT
How lucky TheEye was to hear about Nomad and to time her visit to coincide with the short time (only four days) to see this interesting mix of international design galleries at the Palazzo Soranzo Van Axel, a Gothic palace built-in 1437 in the Cannaregio quarter of the city. With 3.500 square metres over four floors, this magnificent building took over seven years to renovate. Nomad travels the world with many special projects and galleries offering unique work.
 DAVID GILL GALLERY FOR NOMAD 
David Gill showed a collection of pieces designed by Mattia Bonetti made in Venice combining the local glass blowing techniques with contemporary interpretations of Venetian motifs (Grecian designs in a palette of greens, golds, yellows, whites and blues redolent of watery reflections, Italianate interiors and the architecture of Venice). David Gill and Mattia Bonetti have collaborated for three decades.
EDMUND DE WAAL:
PSALM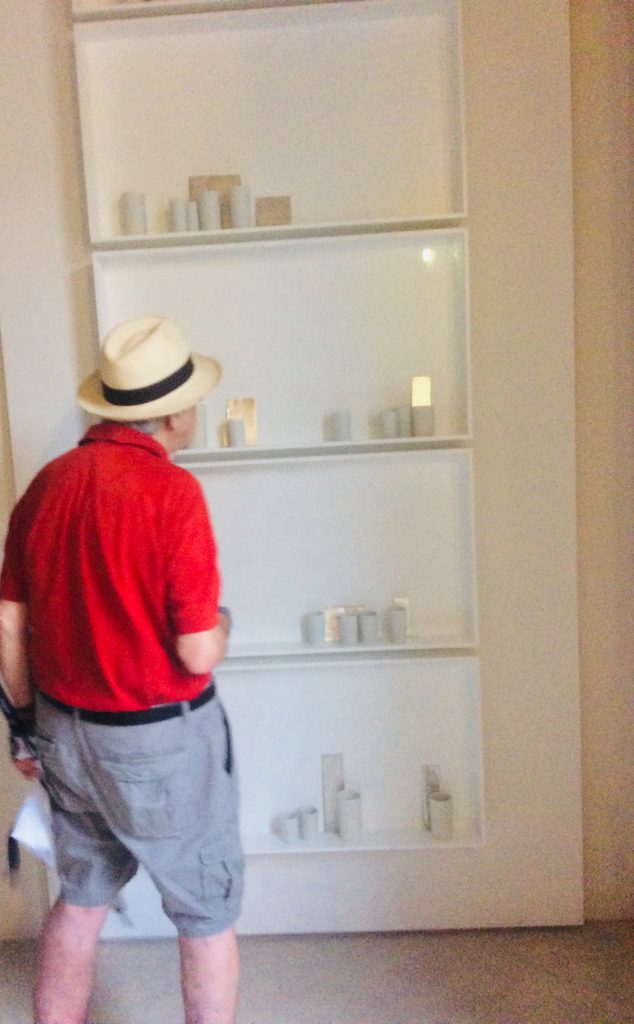 Edmund de Waal's moving installation in the Women's Gallery of the Canton Scuola, one of the ancient synagogues in the Venice Ghetto was everything and more of what you would expect from this sensitive, outstanding potter and the main reason for TheEye's visit. There is also an installation in the Ateneo Beneto library – in the centre of the city. A new-made, squarish white box containing books in translation by writers who, in one way or another, have been exiled.
The Ghetto was a place of connections, the plurality of languages and cultures: German, Flemish, Persian, Ottoman, Spanish and Portuguese Jews alongside Italian. Noisy with debate, learning, poetry and music.
Edmund de Waal has created installations to reflect the sound in the spaces of the Canton Scuola in different individual spaces.  For example, one is discreetly tucked away high up on a wall of a staircase, another consisting of eleven vitrines, each one holding a thin sheet of gilded porcelain and a piece of translucent white marble. Then other installations recall poems of remembrance with words scribbled into pieces of porcelain, brushed over with gold leaf.
The structure of the Sukkah, which is usually set in a garden, has its own permanent home in the Synagogue waiting for the festival of Sukkot when it will be decorated with branches, leaves and flowers and where many have their meals for the nine days of the festival. This is covered with porcelain vessels – which Edmund describes as 'a sanctuary of towers'.
In spite of torrential rain, thunder and lighting, this was an experience TheEye will never forget.
Psalm is the 'poetry of exile' movingly interpreted by this outstanding potter and writer.
A short, but memorable, visit to the 58th International Biennale of Venice and we certainly are living 'in interesting times'.