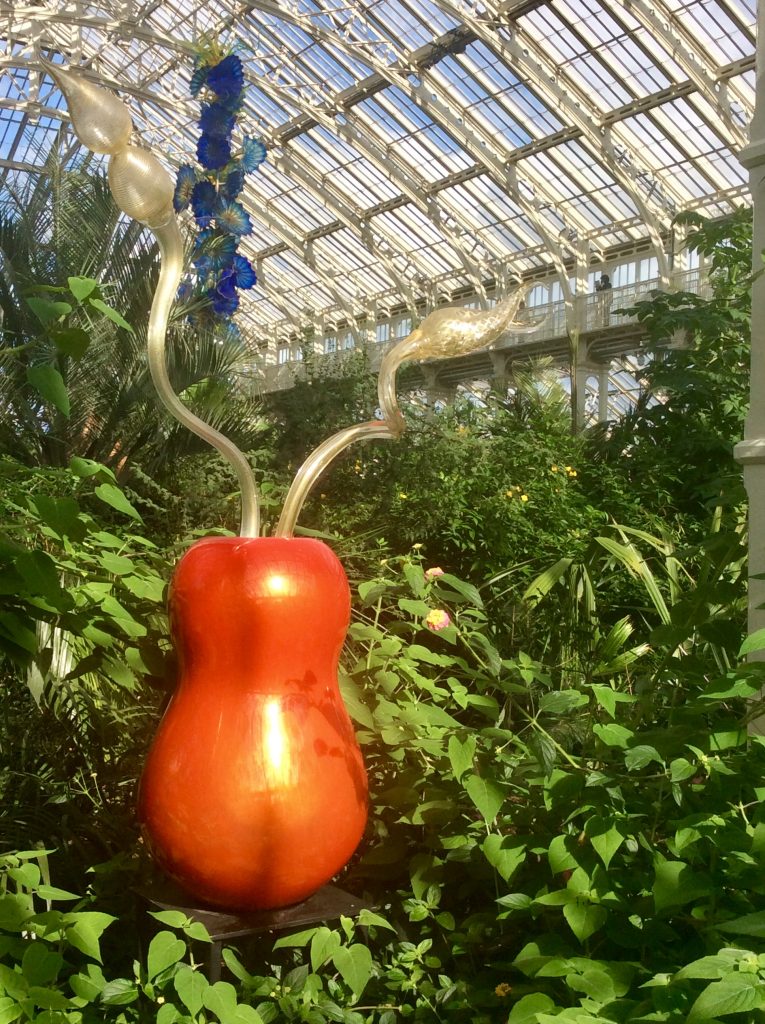 Amidst the frenzy of London Art Week, the 'ooh-ing and ah-ing' at some beyond belief auction prices, the chaos of ever-changing Brexit manoeuvres and questions about our esteemed Prime Minister's pole dancing friend, TheEye went to see Dale Chihuly's retrospective Reflections On Nature in Kew Gardens. And oh, the bliss of the soul-restoring qualities of nature. The exhibition covers a 50-year period of work by the Seattle-based glass artist, in the glorious setting of Kew and brings his mind-blowing colourful glass sculptures alive to their true glory. Brilliantly and sensitively installed, they appear to be 'blooming' in Kew's flower beds, lakes and greenhouses.
'Bold and beautiful, surreal and seductive.' This is Chihuly's second exhibition at Kew. It was in 2005 when TheEye saw his first exhibition at Kew and was bowled over by its impact. Having only seen his work displayed in rather sterile galleries, never outdoors, it was a revelation to her. At the time she was embarking on curating the first outdoor sculpture exhibition (Beyond Limits) in the glorious grounds of Chatsworth House and was so inspired by Chihuly's work that she commissioned him to make a sculpture which was the 'star' of the show. A vintage wooden canoe filled with glass bowls and other shapes (shipped over from Seattle) was floating in the lake with the 20-foot high natural water fountain and Chatsworth House behind it. Stunning. TheEye became a novice Chihuly technician installing the delicate glass in the rather wobbly canoe in very muddy shallow water.
TheEye was intrigued to learn how Chihuly and his team made their decisions where to place the sculptures in the Kew grounds. Chihuly says, 'I start with the space – both interior and exterior opportunities – creating statements, colour and form that go beyond conventional ideas of function and beauty.' There is such boldness in scale. It takes guts and confidence!
He says: 'I want my work to appear like it came from nature so that if someone found it on a beach or in the forest, they might think it belonged there' and that is exactly why it is so mesmerising.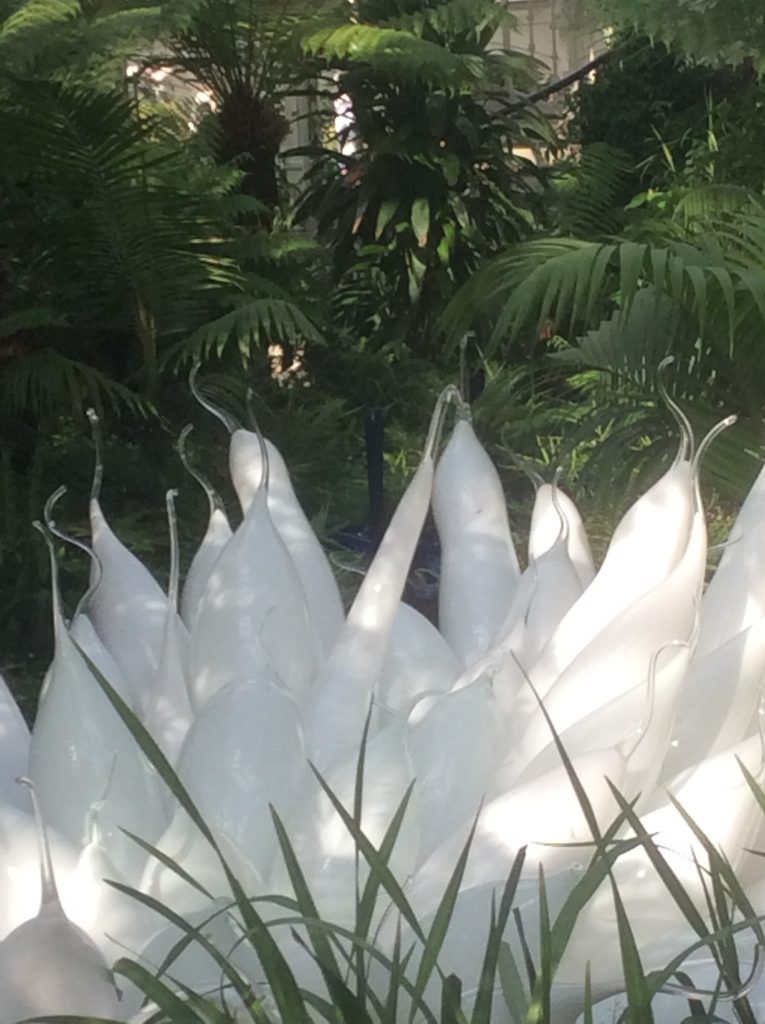 The showstopper is undoubtedly the 9-metre long pendant of intricate blue-green suspended from the ceiling of the recently restored Temperate Glasshouse and created especially for the Kew exhibition. There are other powerful, less ostentatious, pieces nestling amongst the greenery in the Temperate House. What is so unique about Chihuly's range is how he works on a variety of different scales and how he is so inspired by nature and creatively motivated by the notion of pushing glass to the 'edge of its technical abilities until it's so hot it is almost collapsing'.
Dale Chihuly has always pushed the boundaries of glass, experimenting with forms and vibrant colours, blowing glass until it's impossibly almost wafer-thin. This powerful, but also understated work sits beautifully at home in the lush greenery and vegetation of Kew.
This is glass, but not as you have ever seen it.
Go treat yourselves with a visit to Kew before Reflections On Nature, ends on October 27th.