MOMA – BIGGER, BETTER…MORE COMPLICATED
TheEye couldn't have timed her trip to New York better. It was certainly not intended but it coincided with the re-opening of MOMA after a lengthy period of renovation and a $450 million expansion programme, which included a 'completely re-conceptualised' (MOMA's words) installation of its permanent collection. Curators have made a point of shaking things up and breaking down the traditional divisions of the collection in favour of "more inclusive themes" – 'Responding To War' or 'City as Stage' etc. There is a somewhat self-conscious juxtaposition of different media and periods, as if to labour their point that a formalist approach is no longer relevant, and now films and photography are shown alongside works of early modernism (Picasso's Les Demoiselles d'Avignon on a wall facing a re-discovered American feature film from 1913, which was probably found stored in a box in the basement of the museum). It's a bold experiment.
Many people will regard this curatorial mash-up as sacrilegious. Others, including TheEye, will favour the unorthodox approach and new spaces. According to the New York Times, 'the plan is to keep the collection as much in flux as the temporary shows. Every six months a third of the permanent galleries will be reinstalled. But the first iteration – with new acquisitions, unfamiliar works long-buried in storage, and startling pairing and concentrations – is bound to generate surprises, some disappointments, and plenty of arguments. The Euro-American narrative is still too prominent and the museum is still too enamoured of Conceptual Art." TheEye more or less agrees.
Other interesting juxtapositions are placing masters, such as Picasso, alongside Louise Bourgeoise and Faith Ringgold and a decision to display works rarely shown because of their fragility  – Henri Matisse's blue cutout 'Swimming Pool' is one example.
Taking the Thread For a Walk' (a quote from Paul Klee, who had been a Bauhaus instructor) is an important installation of textiles, fibre art and industrial design.
On show are tapestries, screenprints, woven textiles and fabric designs, many by women including Anni Albers and Gunta Stolzl (a Bahaus School Master.) The exhibition with its bounteous collection is impressive and demonstrates 'the endurance of style and how art history gets woven'.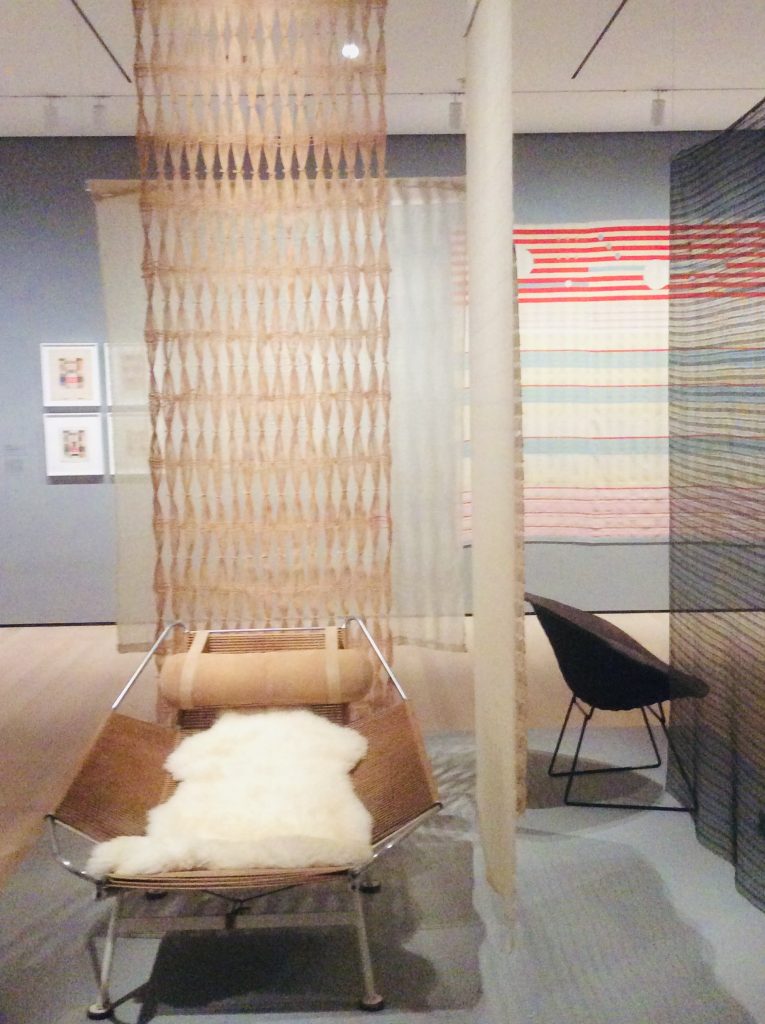 For TheEye one of the most exciting aspects of the 'new' MOMA was discovering artists she had never before encountered. All right, maybe it's ignorance, but how many of you have heard of Betye Saar, a collage and printmaker from Pasadena California. In the 1940's she said, 'Art was just one of the things black people didn't go into – they didn't study to be artists.'
Faith Ringgold said for years she struggled to find any takers for her work and when 'everybody's trying to tell me what to do, I'd say 'To hell with all of them. I'll do it my way."'
Yoko Ono
It was impossible to take everything in on one visit. Each of the numerous galleries has its own character and some display works in several mediums and from different times or periods which can be confusing. There are more non-male, nonwhite and non-Western artists. New acquisitions and loans.
There are, of course, many 'opinions' and points of view from experts – Sheena Wagstaff, Chairman of Modern and Contemporary Art at the Metropolitan Museum of Art commented on the 'more inclusive presentation of work that is open-ended, more responsive to a changing world' and Donna De Salvo says 'what the museum gets right here is an architectural construct that supports what it claims will now be an on-going, open-ended investigation of ModernISM and ModernISMS as well as art of our time.'
The Times gives the curators a 'gold-plated A + for effort, they have set a new path for their successors…this is only the beginning of a new beginning'.
TheEye's opinion is that this is an exciting step forward for MOMA. The space is awesome and it takes confidence and guts and even humility for curators and decision-makers to be experimental in some radical new installations and hanging styles. It seems a very democratic approach – admitting they might not have got everything right at the beginning and asking the visitors to 'bear with them' whilst they try things out.
Exciting!