There's nothing TheEye enjoys more than unearthing a true, thoroughbred eccentric and, in every sense, she struck gold with Gerry Dalton and his amazingly imagined version of Pompeii. Hidden from the world in a ground floor flat in West London, Gerry worked on hundreds of miniature buildings and collages and a long wall of sculptures. Thanks to her friend, artist Richard Wentworth, who shares TheEye's appreciation of the not quite normal and otherworldly, there are many people entering Gerry's 'magic kingdom'.
Nothing prepares you for the extraordinary interior of Gerry's flat. Every room is crammed with toddler height replicas of iconic buildings, homemade from concrete and wood. Gerry created his own fantasy world, which, as it grew, began spilling out onto the garden and beyond, to the banks of the Grand Union Canal. In cold weather he would work inside, painting pictures for his walls and  modelling some of London's iconic buildings – Hampton Court Palace (made with a hammer, chisel and a saw –  the only tools he had), St Paul's Cathedral which stands next to a brutalist tower block (according to Gerry, 'this was a bit of a difficult one to do"), Buckingham Palace fills an entire bow window and Windsor Castle takes up half of a back bedroom. Admittedly the rooms aren't large.
According to a neighbour, 'Gerry was not only a beautiful and lovely man who made our street a rich and loving place to be but an artistic genius of a remarkable and coherent vision, who brought out of nothingness a magical world  – portraying the subconscious and the dreams of history itself."
Being poorly educated, it was up to Gerry to go to museums and galleries to acquire knowledge about history, architecture and art, which he did with great passion. He credits an early local employer, Colonel Harry Rice, a rich, retired bon vivant with a taste for landscape gardening, who he worked for as a handyman and assistant gardener. 'Colonel Rice', he said in an interview, 'inspired me, he really did'. He knew the names of famous military heroes, poets and even Roman emperors. Many of his ideas came from museums and watching the Trooping of the Colour at Buckingham Palace. He was a magpie for objects that could be incorporated into his sculptures – toy parts, doorknobs, bits of wallpaper samples – really anything that caught his eye). Almost every inch of space is put to creative use. Shelves are crammed with figurines and plastic busts, repainted and labelled. On the walls are hundreds of collages constructed from reproductions of historical paintings.
Many people notice Gerry's garden, which can be seen from the towpath running beside the Grand Union Canal with the backdrop of Trellick Tower looming against the horizon.
This miniature sculpture park is hard to miss, paths lined with statues of subjects including Jonathan Swift, Napoleon and Oliver Cromwell. But the people had no idea about who Gerry was or the statues' significance.
It became more of a landmark to walkers by and passing boats.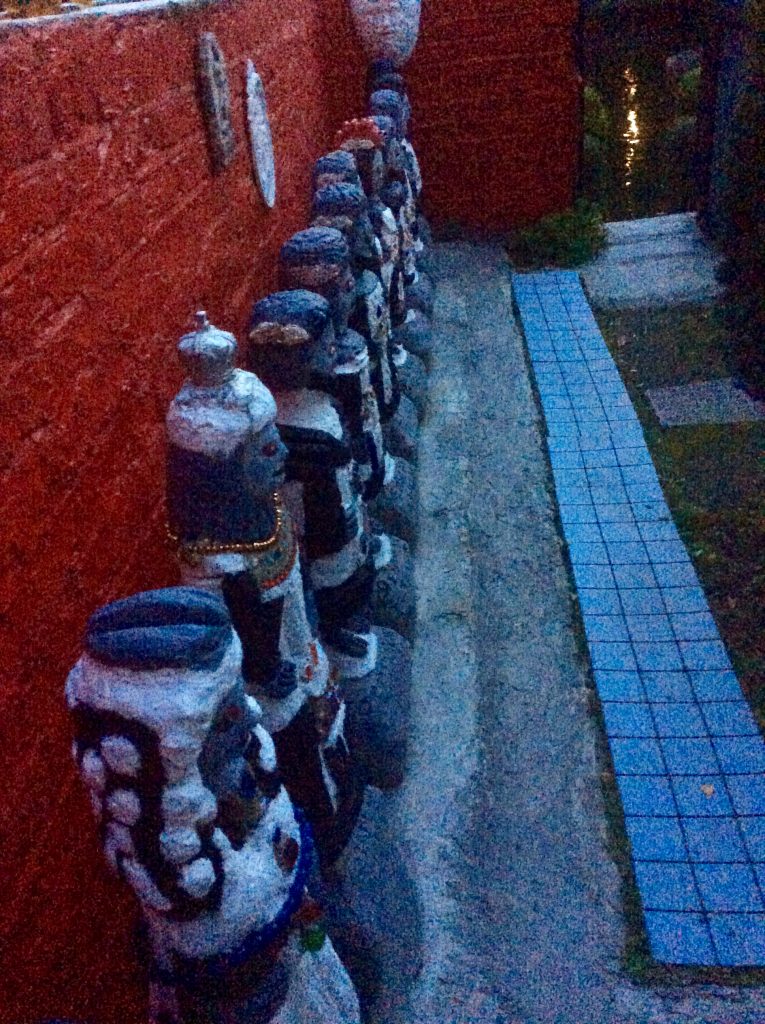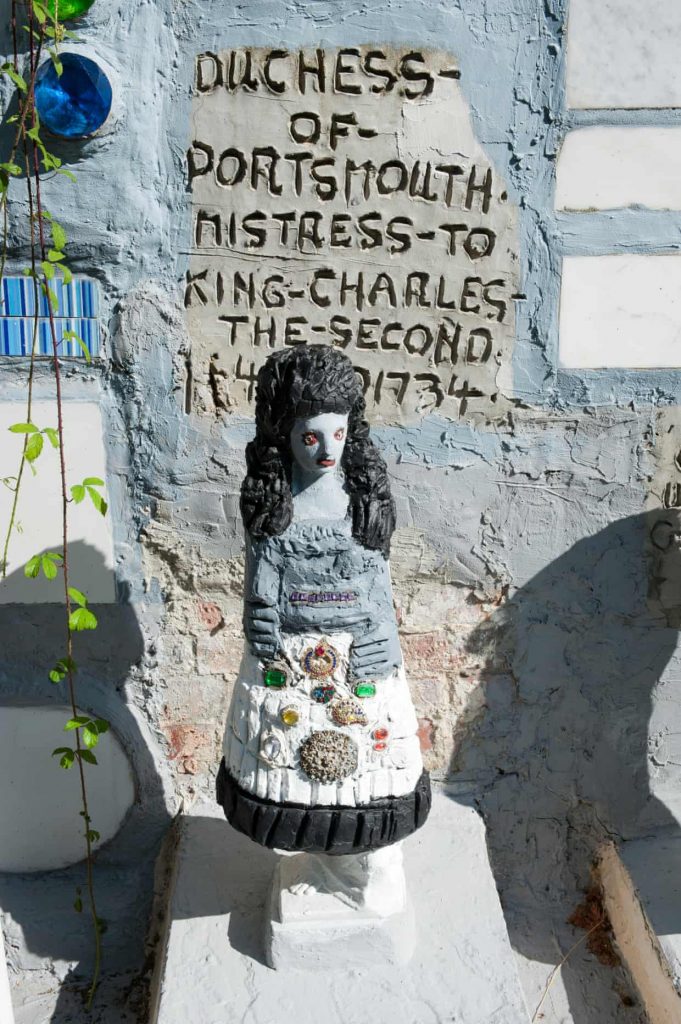 A small courtyard leads out of the basement door, with a  brick wall painted red, shrubs, a palm tree and brightly coloured flowers. But it's the 60-foot long towpath which Gerry cleared when he moved into the flat that is so remarkable. When he moved into Hormead Road, the canal bank was a dumping ground for old mattresses, bottles and a mountain of garbage. It took him six months to clear and dispose of the mess and level off the ground.
A local builder provided the sand and cement. Gerry plastered the wall which he embellished with decorative tiles, crystal doorknobs, plaques and bric-brac found in Goldborne Market. This is where there is the line up of Gerry's hand-made statues, fabricated with concrete in a line rather like tall chess pieces.
Gerry's work is hard to pigeon hole and the art world is very pernickety about labels  –  According to Alys Fowler in the Guardian 'it's part outsider art' (whatever that really means,)  'part folk art,  and wholly his own. He created an elaborate and visionary sense of place from very little in terms of both space and material…his work is intricate, puzzling and utterly joyous'.
Gerry died in August aged 83.
There is now a campaign (gerryspompeii.com) to save the artworks and to preferably keep them together in their 'home'. But time is about to run out. The housing association that owns Gerry's flat is about to repossess the property and the only slim hope is to raise the money to buy it. Charles Saumarez Smith, until recently chief executive of the Royal Academy of Arts, visited Gerry's flat and called it 'a folk version of The National Portrait Gallery. Many visiting artists and those prominent in the arts have been equally awestruck.
TheEye adds her name to this list.